Opera in New York City This Week - October 7-October 14
October 7, 2018 - by CG Directory Editor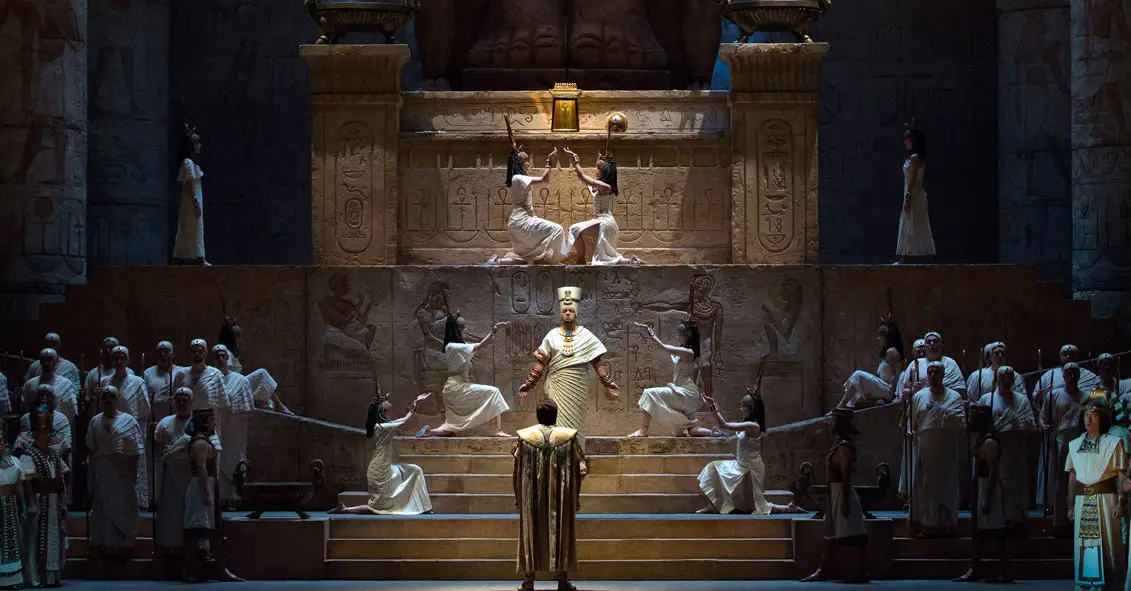 The Metropolitan Opera is world-class and world famous, and it's among the comprehensive opera listings you can find on City Guide's calendar. In addition to the famous season of the Met Opera, full of huge opera stars, famous classics, and world premieres, you'll also find listings for the New York City Opera and operatic performances at places like Lincoln Center and Carnegie Hall.


Feast of Saint Francis and Blessing of the Animals - Cathedral of Saint John the Divine
October 07, 2018 - New York
The Cathedral of St. John the Divine celebrates the beauty of the animal kingdom and the dignity of all creatures with a ceremony and special blessing for animals large and small, at the 34th annual Feast of Saint Francis and Blessing of the Animals on Sunday, October 7th from 11 a.m. to 4 p.m. at the Cathedral of St. John the Divine, located at 1047 Amsterdam Avenue (at 112th Street) in Manhattan. This signature Cathedral service features the Missa Gaia (or Earth Mass), composed by Paul Winter and Paul Halley. The Paul Winter Consort is joined by a massed choir of hundreds of voices conducted by Director of Cathedral Music Kent Tritle, with modern and traditional African dance performances by Forces of Nature Dance Theatre. The unique ceremony concludes with the Procession of the Animals down the Nave of the Cathedral. The day is a celebration of the life of Saint Francis of Assisi and his advocacy for harmony between human beings and the natural world. Following the procession, guests are welcomed to enjoy an outdoor fair from 1 p.m. to 4 p.m., with pet blessings, activities, refreshments and performances. Guests are encouraged to bring their pets to the Cathedral to b... (read more)
Explore NYC's new Rosé Mansion! - Rosé Mansion
Through October 07, 2018 - New York
This summer we're making all of your Rosé dreams come true. Wander the rooms in the mansion while sipping Rosé from around the world. Each room will transport you to a different place and time. Along the way you will learn about the history, science, and economics of this magical beverage. Travel to Ancient Rome, stop by the Finger Lakes, blend your own wine, swing from a gold chandelier, and more before you end your journey in the greatest Rosé wine bar on the planet. Buy a ticket for a specific date and time. All tickets include entrance to the experience and wine samples equaling about two glasses of wine. Additional glass, bottles, and snacks are available for purchase in the Grand Tasting Lounge.
CALVIN KLEIN x Amazon Fashion NYC Market - Flatiron Plaza
Through October 07, 2018 - New York
Free of admission to the public at Flatiron Plaza, in front of the historic Flatiron building. The space will feature branded stalls with interactive games, prizes, technology, and a focus on CALVIN KLEIN JEANS. CALVIN KLEIN x Amazon Fashion NYC Market Come by for an immersive brand experience Together in Denim. #MYCALVINS Friday, Oct 5th, 5PM-10PM EST Saturday, Oct 6th, 11AM – 9PM EST Sunday, Oct 7th, 11AM – 9PM EST
Down Dog Disco - Brooklyn Bazaar
October 10, 2018 - Brooklyn
Shimmy your way into downward dog for this incredible pop-up DISCO YOGA event, supporting two NYC-based charities, Souljourn Yoga & SOAR Institute! Expect a sensational live band, glitter stations, snacks, drinks and a 60-minute yoga class that'll have you giggling all night! There's a serious case of Night Fever going around and it's contagious...
D.S.Destiny - Cipriani
Through January 06, 2019 - New York
Created by Moment Factory and co-produced by Cipriani comes an experience like no other. Set sail on a vast, dream-filled ocean when a landmark building is turned into a ship. Discover worlds in this 360-degree environment that expands as far as your imagination. On from now until January 2019.
Escher: The Exhibition & Experience - Industry City
Through February 03, 2019 - Brooklyn
One of the world's greatest graphic artists, M.C. Escher will be unveiled at Industry City from June 8th, 2018-February 3rd, 2019. Exploring the intersection between art, mathematics, science and poetry, Escher's works have fascinated and astounded generations of artists, architects, mathematicians, musicians and designers alike.
Looking for Free Group Planning Services?
Get free advice on planning your group's trip to New York.
MORE Activity Planner ARTICLES
RESTAURANTS

Multi-concept restaurant offering modern Japanese cuisine, a...

THEATER

Kander and Ebb's "musical vaudeville" in which Roxie Hart ga...

SHOPPING

The world's largest source of cameras, camcorders, and more ...

SIGHTSEEING

Hop aboard these environmentally friendly twin-hulled catama...