This Week in NYC (4/24-5/1)
April 17, 2019 - by City Guide News Desk
(4/24-5/1) Looking for what to do in New York? We've got the latest on all the goings-on in NYC this week, from concerts to museum exhibitions to comedy to the best in city sightseeing. Read on for our picks for the best of this week in New York City.
THE BIG EVENT
(4/27-4/28) The Sakura Matsuri Cherry Blossom Festival at the Brooklyn Botanic Garden: this beloved fest will be celebrating its 38th anniversary this year. Sakura Matsuri incorporates both modern and traditional Japanese culture, and it offers the perfect opportunity to check out the garden's famous Cherry Esplanade. bbg.org
PLUS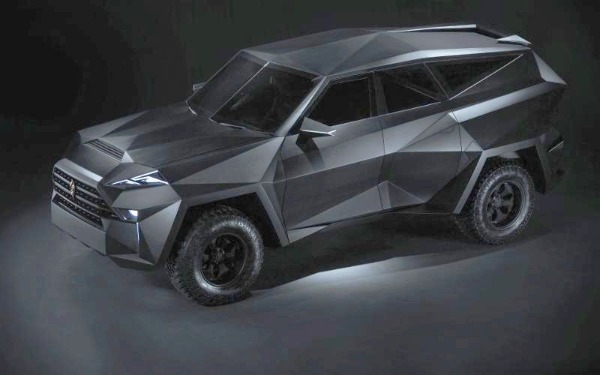 Karlmann King is the world's most expensive SUV, with a price tag of $2.3 million.
(Now-4/28) Final weekend! The New York International Auto Show is home to an awe-inspiring display of technology and design, as 1,000 new cars and trucks are arrayed across the acreage of the Javits Convention Center. You can check out all the latest models from a hands-on, driver's seat vantage. The show also features the hottest exotics, joined by futuristic concept cars and a few shiny classics. Some 60 world and North American debuts can be found at this year's show! You'll even leave with a gift bag or two. Open Mon.-Sat., 10am-10pm, Sun. until 7pm. autoshowny.com
(Now-4/28) Final weekend! The Orchid Show celebrates its 17th year at The New York Botanical Garden with a tribute to Singapore, the "City in a Garden." Thousands of flowers pay homage to Singapore's innovative garden designs, floral displays, and advances in cultivation. Two iconic architectural elements take inspiration from the show's two Singaporean partners: the "Supertrees" of Gardens by the Bay and the famed "Arches" of Singapore Botanic Gardens' National Orchid Garden. The energy and nightlife of Singapore also come to the Bronx on Orchid Evenings, with music, cocktails like the Singapore Sling. The garden, just a 20-minute Metro-North ride from Grand Central Terminal, also features more than one million plants. nybg.org
(4/24-5/5) The Tribeca Film Festival returns.
(4/26-4/28) The WFMU Record Fair. Luxuriate in the presence of over 200 record dealers selling vinyl and CDs; beloved Jersey institution WFMU also has its own tables selling LPs, 45s, CDs, DVDs, and books, including $1 LP and CD tables. Great films and live performances, live WFMU broadcasts, food and drink. Brooklyn Expo Center, Greenpoint, Brooklyn.
(4/25) The hit sketch show Denied from New York is back with its yearly "Best of" Show. Featuring an all-star cast from UCB and The PIT as well as musical guests like Taylor Ortega (Disney Channel's Kim Possible), this show celebrates taking rejection and making rejectionade. The PIT Underground.
(4/28) The 9/11 Memorial Museum Run/Walk and Community Day: after the run there's a free festival with kids' activities and entertainment and it helps bring some economic growth to FiDi.
(Ongoing) Winter is here. Game of Thrones returns to HBO. All six episodes will be an hour+ long, it's been confirmed by director David Nutter. Visit the HBO Shop store to get the latest GOT gear. Use our coupon and save! #Forthethrone
EXHIBITION OF THE WEEK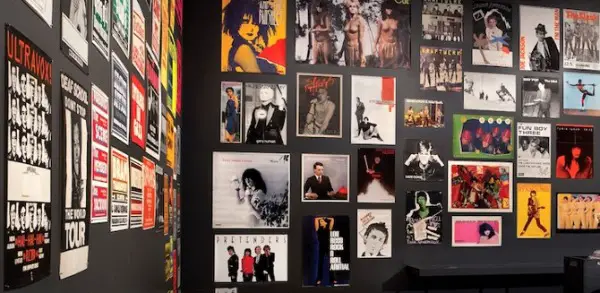 (Now open!) Too Fast to Live, Too Young to Die: Punk Graphics, 1976-1986 at the Museum of Arts and Design. More than 40 years after punk exploded onto the music scenes of New York and London, its impact on the larger culture is still being felt. Born in a period of economic malaise, punk's energy coalesced into a powerful subcultural phenomenon that transcended music to affect other fields, and especially graphic design. Too Fast to Live, Too Young to Die explores the visual language of punk through hundreds of its most memorable graphics, from the shocking remixes of expropriated images and texts to the DIY zines and flyers that challenged the commercial slickness of the mainstream media. #PunkGraphics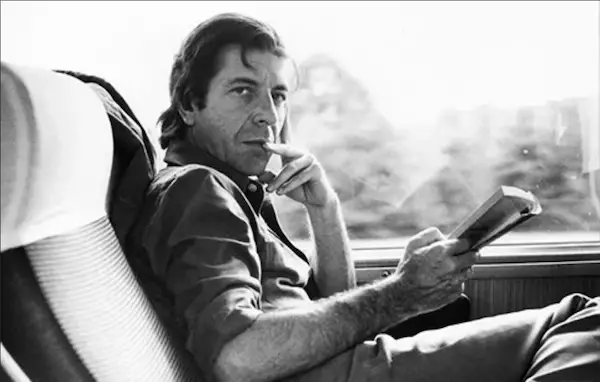 (Now-9/8) Leonard Cohen: A Crack in Everything at The Jewish Museum is the first exhibition entirely devoted to the legacy of the influential singer/songwriter, man of letters, and global icon from Montreal. The exhibition includes commissioned works by international artists inspired by Cohen's style and themes, a video projection showcasing Cohen's own drawings, and an innovative multimedia gallery where visitors can hear covers of Cohen's songs by musicians like Lou Doillon, Feist, Moby, and The National with Sufjan Stevens, Ragnar Kjartansson, and Richard Reed Parry.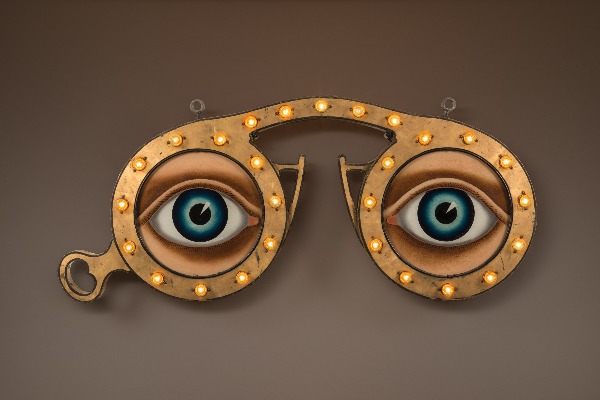 Optician's Trade Sign, E. G. Washburne & Co. 207 Fulton Street, New York City, c. 1915. Paint and gold leaf on zinc and iron, with glass and light bulbs 26 x 54 x 4". Collection of Penny and Allan Katz. Photo by Gavin Ashworth, New York.
(New!) Folk art may seem like something that flourishes best in isolated areas, but it's been a vibrant tradition in the heart of New York City for centuries. In fact, many objects associated with the heartland were originally manufactured by artisans here. A new show at the American Folk Art Museum, Made in New York City: The Business of Folk Art, uses some 100 works by self-taught artists to tell the story of how New York became the commercial and financial capital of the country, as seen through the lens of the folk art that was made here. From stoneware cast in the West Village to advertising figures made on Canal Street to weathervanes forged in the Bronx to carousel animals carved on Coney Island, see how New York City was the center of it all.
(4/26) FREE! Best of the Boroughs: Queens at the American Folk Art Museum: the museum hosts a Friday with beer, treats, gallery talks, live music, and a special family scavenger hunt, all inspired by the county of Queens.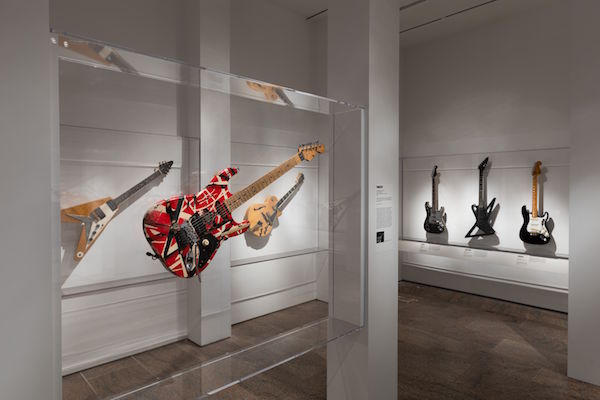 (Now-10/8) Play It Loud: Instruments of Rock & Roll offers a wail of a good time the Metropolitan Museum of Art.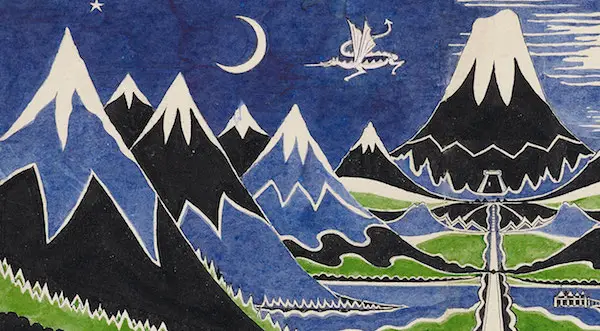 J. R. R. Tolkien (1892–1973), Dust jacket design for The Hobbit [April 1937], pencil, black ink, watercolor, goache. Bodleian Libraries, MS. Tolkien Drawings 32. © The Tolkien Estate Limited 1937.
(Now-5/12) "In a hole in the ground there lived a hobbit." With these words Oxford professor J.R.R. Tolkien ignited a spark that's burned for generations of readers. From the children's classic The Hobbit to the epic The Lord of the Rings, Tolkien's tales of hobbits and elves, dwarves and wizards have introduced millions to Middle-earth, a world that Tolkien populated with creatures, languages, and histories. Tolkien: Maker of Middle-earth at the Morgan Library & Museum is the most extensive public display of original Tolkien material in decades, stocked with family photographs and memorabilia, maps, draft manuscripts, and Tolkien's original illustrations.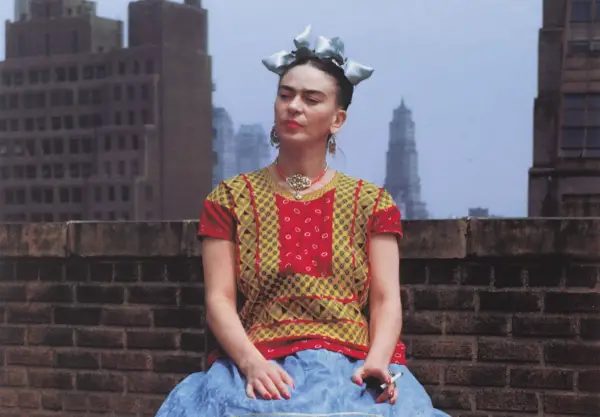 Nickolas Muray (American, born Hungary, 1892–1965). Frida in New York, 1946? printed 2006. Carbon pigment print, image: 14 x 11 in. (35.6 x 27.9 cm). Brooklyn Museum, Emily Winthrop Miles Fund, 2010.80. Photo by Nickolas Muray, © Nickolas Muray Photo Archive. (Photo: Brooklyn Museum)
(Now-5/12) Mexican painter Frida Kahlo (1907-1954) lived and worked in a manner which challenged the political, social, and sexual norms of her era. Kahlo held her national identity dear and used traditional Mexican dress as a fixture of her public persona. Her large body of self-portraits created a mythos of self (some say she invented the selfie). New at the Brooklyn Museum is Frida Kahlo: Appearances Can Be Deceiving, a lush exhibition that shows off Kahlo's art, in addition to personal artifacts like her cosmetics, letters, jewelry, and clothing. Additional context is provided by items from the museum's Arts of the Americas collection, including Aztec sculptures, ceramics made in Guadalajara in the early 20th century, and an ancient Colima dog sculpture of a Xoloitzcuintli, a Mexican hairless dog that Kahlo had an affinity for.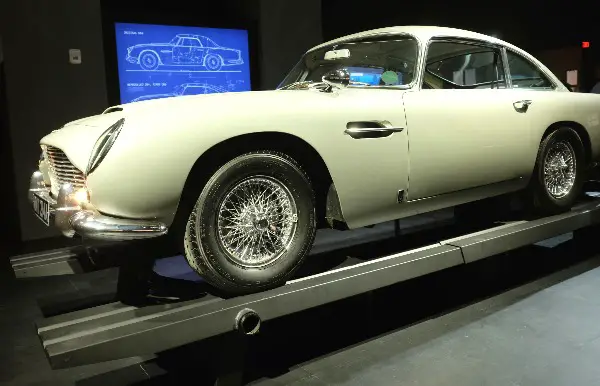 (New!) You can experience the world of history's most famous spy at 007 x SPYSCAPE: Driven, a brand-new exhibition inside New York's spy museum, SPYSCAPE. This immersive exhibition brings you into the Bond universe with sets, props, and insights about the creation of the ageless secret agent. Among the highlights: an Aston Martin DB5, the lab of Quartermaster (or Q), M16's gadget master, concept art from Oscar-winning production designer Sir Ken Adams, and an exploration of 2012 Bond film Skyfall's unforgettable final scene.
(Now-7/10) Photographer Robert Mapplethorpe, who died 30 years ago of complications from AIDS, is the subject of Implicit Tensions: Mapplethorpe Now, now displaying the first installment of a two-part retrospective at The Solomon R. Guggenheim Museum. Mapplethorpe is known not just for his images, but for the controversies they incited. In 1989, after his death, his work became the centerpiece of a national debate about artistic censorship and what kinds of works public funds should cover (ironically, it was the debate that led to his widespread fame). Many of the images are graphic and retain the ability to cause discomfort, but time has lessened the shock; it has also brought to the forefront Mapplethorpe's technical proficiency and his ability to capture deeply insightful looks at his subjects.
Photo: Jin Lee
(Ongoing) Sports in America provided a unique form of solace after the seismic losses of the terrorist attacks of September 11th, 2001. Comeback Season: Sports After 9/11, a special exhibition at the National September 11 Memorial & Museum, delves into uplifting moments at games in the aftermath of the attacks. Explore the stories of Mike Piazza's home run during a New York Mets home game, President George W. Bush's first pitch at a World Series game at Yankee Stadium, and the New York City Marathon on November 4th, 2001. Video, artifacts, and moving images help provide context for a nation coming back together. Open Monday.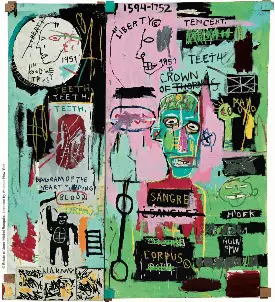 (Now-5/15) Jean-Michel Basquiat at The Brant Foundation Art Study Center in the East Village. Eighties it-painter Jean-Michel Basquiat, a Brooklyn product, created passionate, bold street art and canvases. He died at only 28. Organized in collaboration with the Fondation Louis Vuitton and curated by Brant Foundation founder Peter M. Brant and Dr. Dieter Buchhart, the inaugural exhibition will bring together Basquiat's most important masterworks from the Brant Collections joined by contributions from international museums and private collections. No walk ins. Get tickets here (FREE). Note: there is a waitlist.
COMEDY
(4/26-4/27) Pat McGann at Gotham Comedy Club.
PLUS
(4/26-4/27) BET Comic View's Kenny Williams at Carolines.
(Ongoing) Check out great comedic talent every night at Broadway Comedy Club! Use our coupon and pay only $5 for admission!
Click here for more comedy shows in NYC this weekend.
KIDS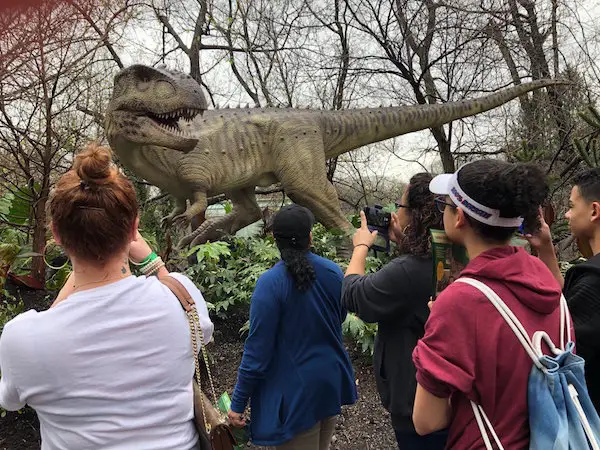 (Now-11/3) Kids of all ages will want to check out the new Bronx Zoo Dinosaur Safari. It's the biggest, most realistic dinosaur safari ride in America. Travel back in time on a guided tour to learn about dinos of the past and descendent animals of the present. The experience will take riders through 2 acres of woods, in which they will meet animatronic dinosaurs, including two 40-foot-long T. rexes, a 60-foot-long herbivore called Omeisaurus, and the Spinosaurus, one of the largest carnivorous dinosaurs to ever exist.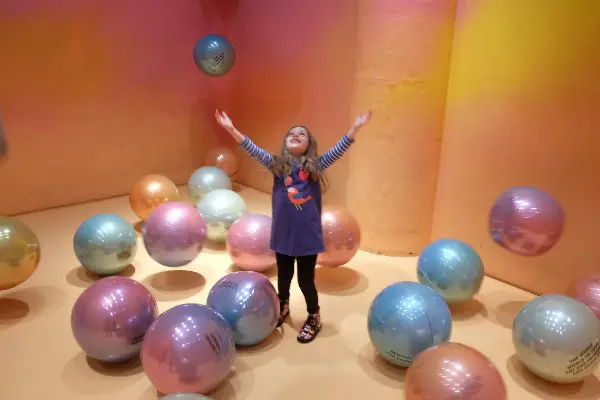 (Ongoing) Color Factory, a massive interactive art space, began in August 2017 in San Francisco. Wildly popular, the project has set up shop in SoHo and is sure to inspire lines as long as the cronut did at nearby Dominique Ansel Bakery. Designed by a wide spectrum of artists, Color Factory walks visitors through 16 rooms devoted to the wonder of color. You're invited to compliment someone using color words, discover your signature color, and read wishes for the world written by NYC school children on varicolored balloons. Each room is equipped with a camera that can take a picture of you and send it to your phone: the better to post with! On view now through August, 2019. 251 Spring St., support@colorfactory.co, colorfactory.co, @colorfactoryco
Updated!! Read about more Instagrammable pop-up exhibits in NYC here.
PLUS
(Now-5/5) Bionic Me at the NY Hall of Science. With hands-on displays and full-body experiences, this exhibition explores the inventive and ingenious medical and industrial breakthroughs that have helped enhance the human experience. Visitors can move a ball with their mind, manipulate a robot arm, race against a Paralympian, use night vision to see in the dark, and explore how technology can provide camouflage and make you invisible.
(4/27-4/28) Family Bowl at Brooklyn Bowl, 11am-5pm. Every Saturday and Sunday. No cover.
(Ongoing) A 7D experience at Madame Tussauds New York, Mission: Undead, tasks you with killing more zombies than your friends! Prevent the zombie apocalypse and survive your first night of work on the force at this state-of-the-art Times Square attraction (13+).
(Ongoing) Exhilarating Family Fun at Stomp NYC. Special discount packages available!
Click here for more events to do with kids this weekend.
For even more kids activities, learn more about the brand new Bronx Zoo Dinosaur Safari, check out our sister site nymetroparents.com!
SIGHTSEEING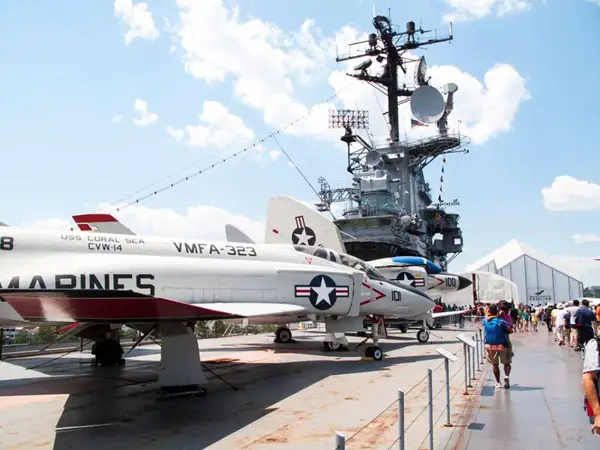 (4/26) Free Fridays at Intrepid Sea, Air & Space Museum. This Friday, visit the Intergalactic Travel Bureau, a live, interactive experience exploring the incredible possibilities of space tourism through personalized space vacation planning. Speak with one of the Bureau's astrophysicist travel agents and plan your ultimate getaway to outer space! It's first come, first serve, for all ages. Later at 7:30pm, the Space Shuttle Pavilion hosts Innovators, where you can hear from entrepreneurs using NASA technology for the betterment of all. Beer and wine are available for purchase with valid ID. Advanced registration is required. REGISTER HERE.
PLUS
(Ongoing) For more than 70 years, Circle Line has been showing visitors the city, including the only cruise that goes all the way around Manhattan: Circle Line's Best of NYC Cruise. One trip will show off five boroughs, three rivers, and more than 20 bridges on the way to 101 New York City sights. State-of-the-art Empire Class ships have recently launched, providing quieter rides, better sound for the personable onboard guides, bigger windows, improved climate control, and more outdoor deck space. (For dining and entertainment, take a ride on Hudson's, a three-story "floating rooftop" that's a Circle Line sibling.)
(Ongoing) The New York Yankees are back! Game tickets may be scarce, but it's easy to get the full stadium experience with Yankee Stadium Tours, which offers exclusive access to historic spots like Monument Park, The Great Hall, and even down to the dugout. The daily tours also bring you close to baseball artifacts like Babe Ruth's bat, Lou Gehrig's jersey, and rings and trophies representing the Yankees' 27 world championships.
(Ongoing) Part show. Part tour. All entertainment. THE RIDE is a one-of-a-kind experience that turns the streets of New York into a stage. Journey through Times Square and midtown Manhattan as the city's landmarks unfold before your very eyes. THE RIDE's theatres-on-wheels also tour lower Manhattan, with THE DOWNTOWN EXPERIENCE Powered by THE RIDE, which lets visitors re-live iconic moments in New York history through the magic of TimeLooper Virtual Reality Headsets. Use our coupon and save $10 off!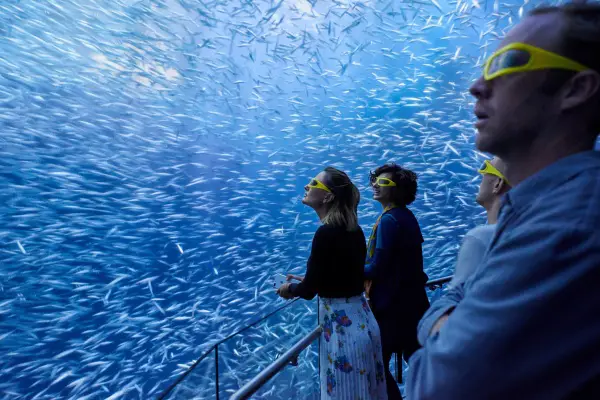 Immerse yourself in the deep, dark depths of the ocean, where Humboldt squid fight to the death, 50 foot whales ride overhead, play with sea lions, navigate a sea kelp maze and more at National Geographic Encounter: Ocean Odyssey! Here's a $10 off coupon!
Bring a loved one to take in the breathtaking view at Top of the Rock.
(Ongoing) The Rink at Rockefeller Center, the most famous patch of ice in the world, welcomes skaters for a very glamorous experience.
(Ongoing) Get all of the best of NYC with the SightSeeing Pass NYC, from CitySightseeing. You can mix and match your way to a complete New York experience, with more than 100 attractions and special discounts to choose from. This is the only pass that includes options for five double-decker loops, Woodbury Common shopping, a horse and carriage ride, or entry to One World Observatory. You can even save on lunch: the pass includes prix fixe meals and other discounts. For amazing water vantages, CitySightseeing offers a Hop-On, Hop-Off ferry tour. Passes are available in digital or physical format and available for one to seven days; check the website for complete details. sightseeingpass.com
FOOD, MUSIC, AND NIGHTLIFE
Photo: Matthew Murphy
(4/25) Beetlejuice opens on Broadway at the Winter Garden Theatre, starring Alex Brightman of Broadway's School of Rock.
PLUS
(4/24) FREE! Off the heels of the viral success of Marie Kondo'ing your life, Moxy Times Square will hold a panel discussing 'Spring Cleaning,' where masters of the mind, body, soul, and home will share insight on how to spring clean your life. Hosted by Fillip Hord, Founder of @Horderly, Ryan Lee, Co-Founder of Rooted NYC, Elizabeth Wolcott of @platinumandprime and Tiffani Moore, Intuitive Wellness Practioner of @healhaus, moderated by Refinery29's Instagram Editor, Laurise McMillian, the discussion will take a dive into implementing clean, organized, and sustainable practices that will in turn translate into positive habits throughout the way you eat, think, and live. 6:30pm-8:30pm. ** To attend, please email rsvp@moxytimessquare.com w/ TALKATMOXY in subject #TalkAtMoxy
(4/25) "I Will Survive"'s Gloria Gaynor at Sony Hall.
(4/25-4/27) ZviDance: On the Road: presented in association with Dancenow's 2019 Dancemopolitan Featured Artists Series at Joe's Pub. Click here for information on Upcoming Performances at Joe's Pub.
(4/27) Loudon Wainwright III presents Surviving Twin at Sony Hall (as seen on Netflix).
(4/27) This Is Spinal Tap screening at the Beacon Theater (part of the Tribeca Film Festival).
(4/28) Apocalypse Now screening at the Beacon Theater (part of the Tribeca Film Festival.)
(4/28) NYC Vegan Pop-Up at Grand Bazaar NYC. Co-hosted by The Seed.
Click here for more nightlife in NYC this weekend.
For information on LGBTQ nightlife, visit our brother site metrosource.com! Planning on being in New York in June for WorldPride? We've got all the WorldPride 2019 info you need right here.
SNEAK PEEK, NEXT WEEK

(5/5) Celebrate Cinco de Mayo with drink specials, live music, dancing, a bottomless brunch. and more at Vida Verde. Read on for other places to celebrate Cinco de Mayo.
PLUS
(5/1) Joan Baez at the Beacon Theater.
(5/4) Come watch the race and sip on Derby-inspired cocktails at The Ribbon Midtown. No tickets required, but be sure to come dressed in your best Kentucky Derby style outfit. The party will feature a DJ and four specialty cocktails: a Woodford Reserve Mint Julep, Keeneland Breeze, Derby Day Bloody Mary, and Watermelon Martini. Stop by for some festive and carefree fun! Read on for other places to Celebrate Derby Day in NYC.
(5/4) The Lemonheads at Brooklyn Bowl.
(5/4) Cherry Blossom Festival at Randall's Island.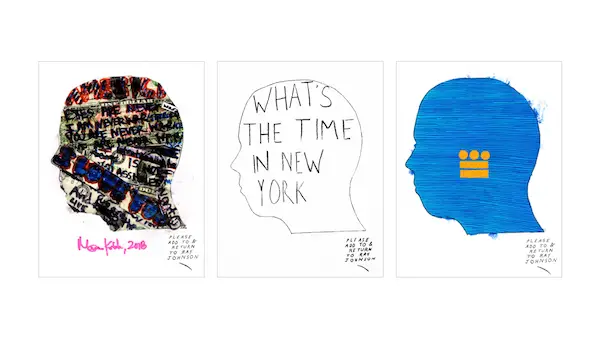 (5/2-5/5) Frieze Art New York. Head over to Randall's Island Park this spring to experience the contemporary art world in an alfresco environment. Interact with public installations, sit in on "Frieze Talks," enjoy the Frieze Art Fair's Reading Room, and, of course, lay your eyes on some of the most talked about artwork in the city. friezenewyork.com
---
Like what you see? Click here for more ideas on The Best Things to Do in April. We've got May covered, too!

Want free advice on what to do and see in New York? Join our Facebook group Everything to Do NYC, a place for people to ask questions and get tips on how to make the most of the city.
Looking for Free Group Planning Services?
Get free advice on planning your group's trip to New York.
RESTAURANTS

Beer hall casual meets craft cocktails with a healthy dose o...

THEATER

Gaston Leroux's famous period thriller is now one of Broadwa...

SHOPPING

Specializing in the great vineyards of California, France, A...

SIGHTSEEING

The only provider of ferry transportation to the Statue of L...