This Week in NYC (12/12-12/19)
December 5, 2018 - by City Guide News Desk
(12/12-12/19) Looking for what to do in New York this weekend? We've got the latest on all the goings-on in NYC, including comedy, museums, holiday exhibits, markets, and more. Read on for our picks for the best of this weekend in New York City.
THE BIG EVENT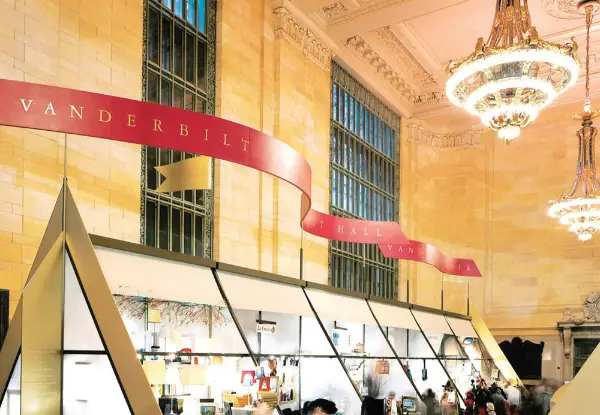 (Now-12/24) The Grand Central Holiday Fair returns to Grand Central Terminal with 40+ artisans in Vanderbilt Hall selling art and home goods; holiday-themed items; bath and body products; toys; and clothing and accessories for men, women, and children. The Holiday Fair is open Monday through Friday, 10am-8pm, until 7pm Saturdays, and 11am-6pm Sundays. Closed Thanksgiving and open 10am-6pm on Christmas Eve.
PLUS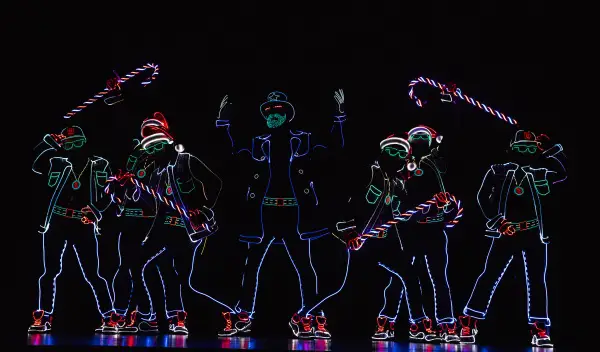 Photo by Joan Marcus.
(Now-12/30) The Illusionists—Magic of the Holidays. No Kris Kringle, elves, or reindeer here, only a handful of the world's best magicians showing off skills we can't begin to wrap our heads around. No two acts or attitudes are alike, but the collective razzle-dazzle at Broadway's Marquis Theatre will make your season shine...enhanced by the illuminating movies of the dance troupe Light Balance, above. Theillusionistslive.com
(Now-1/1/19) NYC perennial holiday favorite Christmas Spectacular Starring the Radio City Rockettes® is back! Fan favorites include "New York at Christmas," where the Rockettes® board a real double-decker bus, and the high-energy tap number "Twelve Days of Christmas." For 2018, the grand finale is a nuevo-techno, mind-blowing spectacle featuring a light show, projections, and (wait for it…) drones! rockettes.com/christmas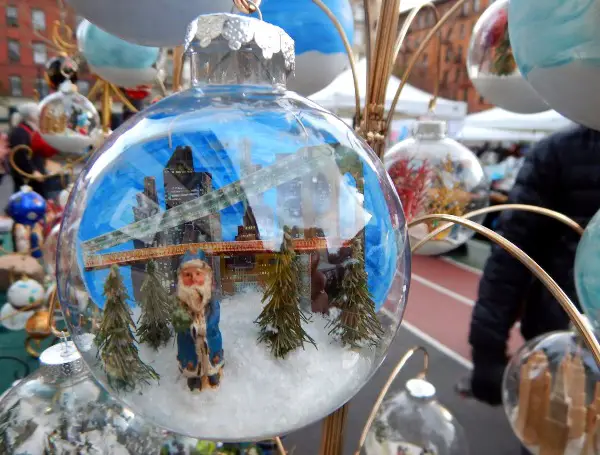 (Sundays, through 12/30) Every Sunday on the Upper West Side you can find Grand Bazaar NYC, the city's largest curated market—and most distinctive! You'll find one-of-a-kind fashion, crafts, collectibles, and handmade jewelry. This Sunday, you'll also find the Grand Holiday Bazaar, featuring unique gifts from 150+ hand-picked, independent local artisans and dealers.
(Now-12/21) More than 400 works are on sale at the Art Students League of New York for very affordable prices. Every December, hundreds of art-lovers and gift-givers bring home great values, choosing from paintings and prints—landscapes, portraits, still lifes, and abstractions—by emerging artists. Open daily at the league's Phyllis Harriman Mason Gallery on West 57th Street.
Read about more holiday markets here.
EXHIBITION OF THE WEEK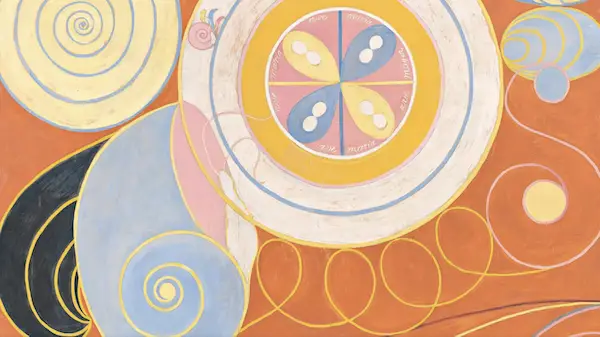 Group IV, the Ten Largest, No. 3, Youth, 1907, from Untitled Series. Photo: Albin Dahlström, Moderna Museet, Stockholm
(Now-2/3/19) Before abstract art was a speck in Kandinsky's eye, the painter Hilma af Klint (1862-1944) was pioneering non-representational painting in Sweden. A spiritualist who claimed to communicate with the dead, af Klint worked in near-obscurity, forbidding her paintings to receive public exposure until 20 years after her passing. Discover Hilma af Klint, a woman before her time, at the new Solomon R. Guggenheim Museum exhibition Hilma af Klint: Paintings for the Future. Over 170 of af Klint's non-figurative paintings are on display, richly colored and often staggering in scale. Many pieces play with geometry and floral shapes that seem to swim across the canvas. As af Klint worked on her series The Paintings for the Temple, she envisioned a spiral temple as their eventual home. She got her wish over a century later with this eye-opening exhibition at the Guggenheim.
PLUS
(Now-1/21/19) One of the city's seasonal favorites is the Holiday Train Show at The New York Botanical Garden. Filling the garden's landmark glass conservatory, the trains travel through a landscape of more than 175 landmarks, all sculpted by hand from plant parts—bark, leaves, and seedpods. This year's exhibition focuses on Lower Manhattan, showing off the Statue of Liberty, Ellis Island, and iconic skyscrapers. One World Trade Center and the historic Battery Maritime Building make debuts this year, along with two vintage ferry boats. The garden (just a 20-minute Metro-North ride from Grand Central Terminal) also features a living collection of more than one million plants.
(Now-1/27/19) Gather round ye muggles and wizards, squibs and witches, tourists and natives: magic is on its way. Harry Potter: A History of Magic, commemorating the beloved series's 20th anniversary, is now open at the New-York Historical Society. One of the most eagerly anticipated exhibits to hit the city since, well, ever, the show comes straight from the British Library in London, where, not surprisingly, it was the institution's most successful exhibition. Artifacts like crystal balls, Leonardo da Vinci notebooks, and the first written record of the magic word "abracadabra" are among the treasures on display, joined by original materials from author J.K. Rowling's archives. Also on view to the public for the first time will be Mary GrandPré's illustrations created for Scholastic's original editions of the novels. Costumes and set models from Harry Potter and the Cursed Child, which opened on Broadway in April, will be showcased in the exhibition. nyhistory.org
(Now-1/13/19) Psst! Catch HP star Daniel Radcliffe, alongside Cherry Jones and Bobby Cannavale on Broadway, in Lifespan of a Fact!

(Now-6/23/19) A City for Corduroy: Don Freeman's New York, now open at the Museum of the City of New York, presents the gamut of Freeman's New York work, from his lively and humane depictions of ordinary New Yorkers and the city in the 1930s, to his illustrated scenes of the Broadway backstage, to his children's books inspired by the city. For the latter, you'll see not just the beloved children's Corduroy books, but also lesser known examples like Pet of the Met and Hattie the Backstage Bat. The exhibition features drawings, paintings, publications, and prints, as well as the artist's original studies and sketches of Corduroy and other characters.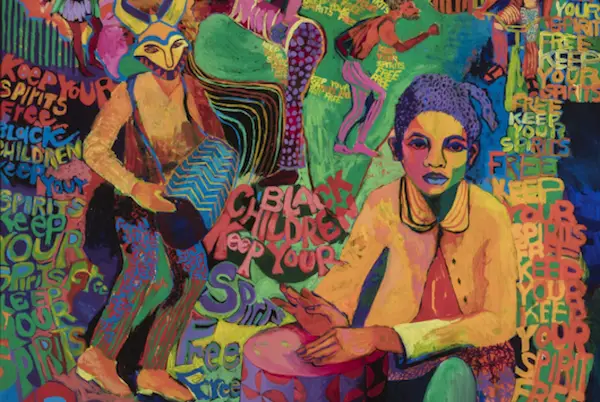 Carolyn Lawrence, Black Children Keep Your Spirits Free. The exhibition, which opened September 14, presents a wide range of painting, photography, and sculpture from over 60 artists on the fourth and fifth floors of the museum. Photo by Michael Tropea.
(Now-2/3/19) A new exhibition at the Brooklyn Museum brings together for the first time the disparate practices of more than 60 Black artists from the revolutionary years of 1963 to 1983. Soul of a Nation: Art in the Age of Black Power offers an unparalleled opportunity to see these extraordinary creations side by side. Among the 150 works on display you'll find a diversity of expression, including figurative and abstract painting, prints, and photography; assemblage and sculpture; and performance art. Although the political and social justice perspectives may vary, the show is tied together by a universal spirit of aesthetic innovation. On October 6th, you can also catch a Target First Saturday, a free night at the museum, which this month will have the theme "Come Together in Honor of Brooklyn's Latinx Communities."
(New!) The first tremors of the American Revolution were felt in New York City, as a group of colonists came together to fight for freedom. The new exhibition at Fraunces Tavern Museum, Fear and Force: New York's Sons of Liberty, tells the story of these early resisters. The show relays the first bloodshed of the Revolutionary War (it took place just a couple of blocks from here), shows off relics like part of the original Bowling Green Park fence present when King George III's statue was torn down, and gives context to pivotal moments in the birth of America.
Photo: Jin Lee
(Ongoing) Sports in America provided a unique form of solace after the seismic losses of the terrorist attacks of September 11th, 2001. Comeback Season: Sports After 9/11, a special exhibition at the National September 11 Memorial & Museum, delves into uplifting moments at games in the aftermath of the attacks. Explore the stories of Mike Piazza's home run during a New York Mets home game, President George W. Bush's first pitch at a World Series game at Yankee Stadium, and the New York City Marathon on November 4th, 2001. Video, artifacts, and moving images help provide context for a nation coming back together.
(Permanent) The Jim Henson Exhibition at the Museum of the Moving Image celebrates the life and legacy of the famed Muppet creator, exploring both his prolific career and the enduring effect his work has on pop culture to this day. Visitors can expect to learn more about the creation of such beloved works as The Muppet Show, Sesame Street, Fraggle Rock, The Dark Crystal, and Labryinth, as well as to discover the cutting-edge experimental works Henson made throughout his career.
COMEDY
(12/13-12/16) SNL's Jay Pharoah at Carolines.
PLUS
(12/12-12/15) Roy Wood, Jr. at Gotham Comedy Club.
(12/13) Apollo Comedy Club at The Apollo Theater.
(Ongoing) Check out great comedic talent every night at Broadway Comedy Club! Use our coupon and pay only $5 for admission!
KIDS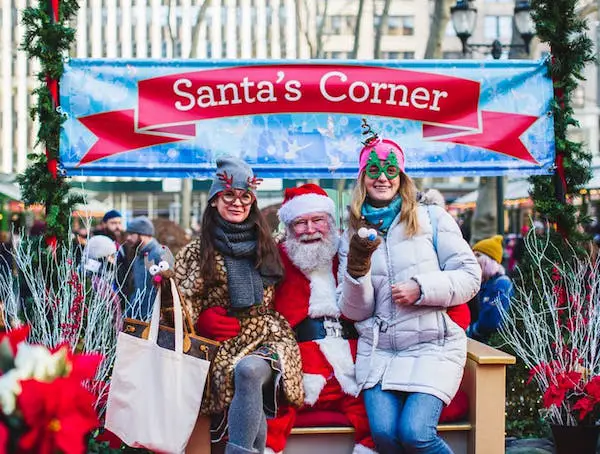 (12/16-12/18) Santa's Corner at Bryant Park. Santa will be stopping by Bank of America Winter Village at Bryant Park for photos! Bring your cameras, or you can download images. 1pm-3pm.
PLUS
(Now-1/27/2019) The Big Apple Circus at Lincoln Center's Damrosch Park is back, and while it's still appealing for kids, it's gotten a makeover, making a concerted effort to drawn in young and old alike. This year there's a selection of high-end cocktails, a VIP tent, and new performers. bigapplecircus.com
(New!) DreamWorks Trolls The Experience, with its world of rainbows, sparkles, and very big hair, has arrived in midtown. Sprawled across multiple floors, this interactive adventure will thrill fans of the movie Trolls and pretty much any kid who likes to dress up, bang on things, collect glitter, or dance. Use our coupon and take $5 off admission now! trollstheexperience.com
(Ongoing) VR World NYC has become one of the most compelling new experiences in New York City. VR World transformed a 12,000-square-foot historic retail space, steps from the Empire State Building, into the largest virtual reality entertainment destination in the Western Hemisphere. VR World features over 50 content experiences spanning multiple genres. Get a free gift when you present this coupon!
(Ongoing) Exhilarating Family Fun at Stomp NYC. Special discount packages available!
Click here for more kids activities this weekend.
For more kids activities, check out our sister site nymetroparents.com!
SIGHTSEEING
(Now-1/6/19) THE RIDE: HOLIDAY EDITION returns, now in its seventh year! THE RIDE'S Holiday Edition is a 21st century sleigh ride that begins aboard THE RIDE'S patented, $1.5 million dollar travelling theaters with technology galore and floor-to-ceiling gigantic glass windows featuring side-facing VIP seating making the streets of New York the stage. Original seasonal music, videos and hilarious Hosts support the dazzling Holiday performances along the 4.2 mile journey through Midtown New York. Get tickets here. Use City Guide's coupon here and save $20!!
PLUS
(Now-1/7) Walking in a Winter ONEderland at One World Observatory! For a limited time, the observatory has been transformed into Winter ONEderland: A Holiday Experience Above It All. The experience (which includes visits from Santa himself) will open to the public through January 7.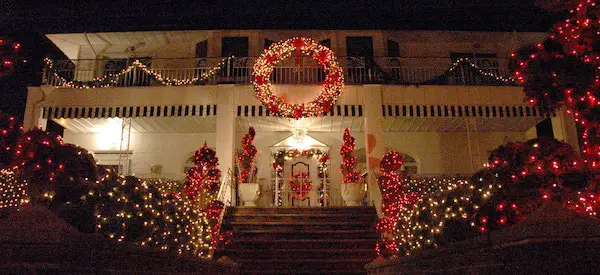 Throughout month of December, check out A Slice of Brooklyn's Holiday Lights Tour, which goes through Dyker Heights, Brooklyn, a neighborhood full of eye-popping displays. Offered every day except Christmas Day. Stock up on holiday treats and gifts on A Slice of Brooklyn's Chocolate Tour as well, offered every Monday, Wednesday, and Friday.
(Now-12/23) Find out more about Festive Fun at 23 Days of Flatiron in NYC.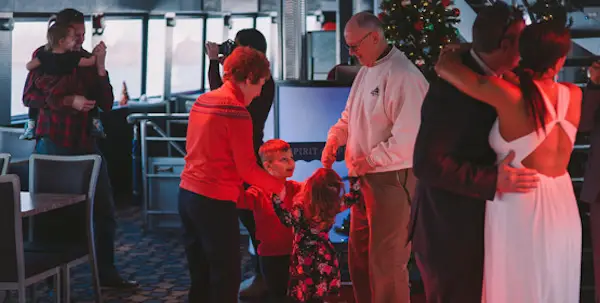 (Now-12/28) Spirit of New York offers a series of December Holiday Lights, Christmas Eve Lunch and Dinner cruises, departing from Chelsea Piers. Jingle Bell Lunch Cruises sail from noon-2pm, from $64.90 per person; their Holiday Lights Dinner Cruise sails from 7pm-9:30pm, from $119.90 per person. spiritofnewyork.com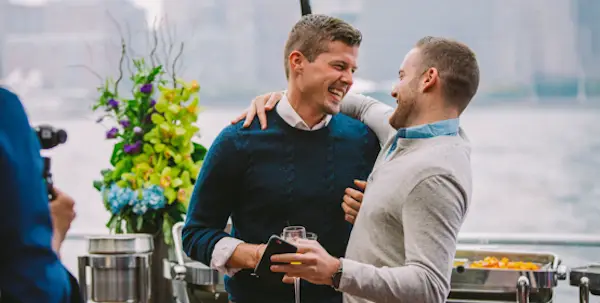 (12/1-1/1) Bateaux New York offers Holiday Lights Dinner Cruise, sailing from 7pm-10pm. Includes a three course dinner, an acoustic quartet and piano performance, and panoramic views. From $149.90. Grab the gang for the Holiday Bottomless Mimosa Brunch, starting at $94.90. Ring in the new year with their New Year's Eve Cruise, from 9pm-1am, starting at $599.90. bateauxnewyork.com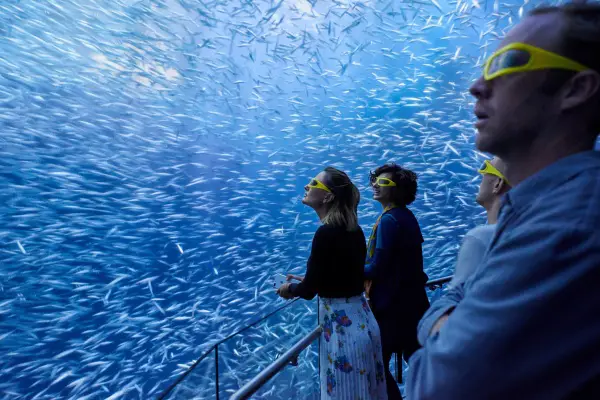 Immerse yourself in the deep, dark depths of the ocean, where Humboldt squid fight to the death, 50 foot whales ride overhead, play with sea lions, navigate a sea kelp maze and more at National Geographic Encounter: Ocean Odyssey! Here's a $10 off coupon!
Bring a loved one to take in the breathtaking view at Top of the Rock.
(Ongoing) The Rink at Rockefeller Center, the most famous patch of ice in the world, welcomes skaters for a very glamorous experience.
MUSIC & NIGHTLIFE
(12/12-12/13) Andrea Bocelli performs at Madison Square Garden.
PLUS
(12/13) La Bohème at the Metropolitan Opera.
(12/13-12/16) Jane Monheit at The Iridium.
(12/13) Dirty Thursday: Y2K at The House of Yes.
(12/13) A screening of The Who's Tommy at Nitehawk Cinema.
(12/13) Les Nubians at Highline Ballroom.
(12/14) Times Square Ghost Pub Crawl, starting at the New Amsterdam Theater.
(12/16-12/17) Los Lobos at City Winery.
(12/14-12/15) Manchester Orchestra & The Front Bottoms at Brooklyn Steel.
(12/15) A screening of the new film on Vincent Van Gogh, At Eternity's Gate, starring Willem Dafoe and directed by Julian Schnabel, at the Museum of Modern Art (MOMA).
(12/16) Vienna Boys Choir at Carnegie Hall.
(12/14-12/16) Gay Men's Chorus Comfort & Joy at the Skirball Center for the Performing Arts.
(12/16)
Noel Nights: Rufus Wainwright, Martha Wainwright and Friends at Town Hall
. The legendary Rufus Wainwright and Martha Wainwright's Christmas show, "Noel Nights," is back in New York City, with guest appearances by Emmylou Harris, Loudon Wainwright III, Teddy Thompson, Sloan Wainwright, Sufjan Stevens, Martha Plimpton, Lucy Wainwright Roche, and more.
(Ongoing) Discover the stories behind holiday beverages of days-gone-by while sampling cutting-edge cocktails of holidays yet-to-come as The Imbible presents the fourth smash year of Christmas Carol Cocktails at the The Producers Club Theaters. The three complimentary drinks included with your holiday show ticket will get you in a celebratory mood.
Read about 10 Concerts to Ring in the Holidays here!
Read about more Instagrammable Pop Up Exhibits in NYC here.
Click here for more nightlife ideas this weekend.
For information on LGBTQ nightlife, visit our brother site metrosource.com!
SNEAK PEEK, NEXT WEEK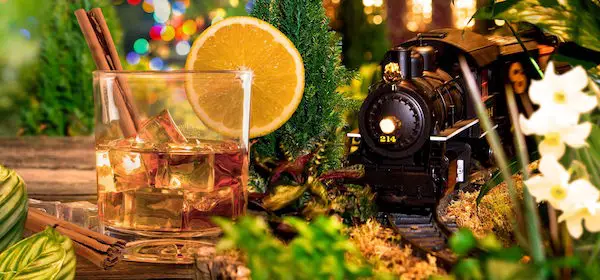 (12/21, 12/28, 12/29, 1/5/19, 1/12/19) On Bar Car Nights, experience the wintry landscape of The New York Botanical Garden after hours. Enjoy cocktails, bites from the Bronx Night Market Holiday Pop-up, and illuminated viewings of the Holiday Train Show, which features miniature trains moving through 175 New York City landmarks, all sculpted by hand from plant parts—bark, leaves, and seedpods. You can also relax around the new Visitor Center fire pits, or sing along to your favorite tunes in the Pine Tree Café (21-and-over).
PLUS
(12/21-12/22) Chris DiStefano at Gotham Comedy Club.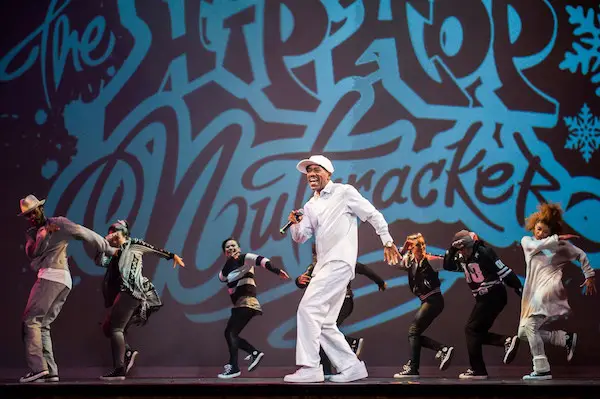 (12/23) The Hip Hop Nutcracker at Brooklyn's Kings Theatre. Celebrate the holiday season with NJPAC's very own holiday smash—an urban dance retelling of the timeless fairy tale, featuring rap legend Kurtis Blow as special guest MC. The Hip Hop Nutcracker resets Tchaikovsky's classic score to explosive hip-hop choreography courtesy of Jennifer Weber. A dozen all-star dancers—plus a DJ, a violinist, and awesome digital scenery—bring the traditional Nutcracker story to new life, but with a distinctly urban twist. This evening-length show celebrates love, community and the magic of the holiday season. Doors open, 5pm, show, 6pm.
---
Like what you see here? Share it with your friends on Facebook! Find out more about what to do in December. We've got January covered, too!
Looking for Free Group Planning Services?
Get free advice on planning your group's trip to New York.
RESTAURANTS

Serving hearty All-American family fare since 1980....

THEATER

A new musical following a wannabe rock star who poses as tea...

SHOPPING

Shop or sell at this weekend bargain hunters' paradise....

SIGHTSEEING

The 9/11 Memorial honors the nearly 3,000 people killed in t...