This Week in NYC (7/19-7/26)
July 19, 2017 - by City Guide News Desk
(7/19-7/26) Looking for what to do in New York? We've got the latest on all the goings-on in NYC, from concerts to museum exhibitions to comedy to the best in city sightseeing. Read on for our picks for the best of this week in New York City.
THE BIG EVENT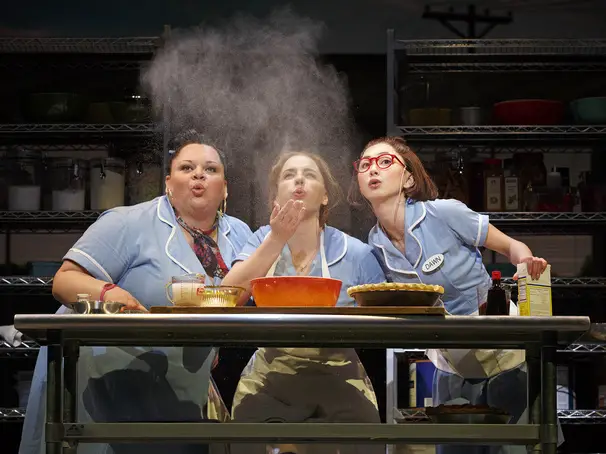 (7/20) Broadway in Bryant Park, with Billy Porter! Also cast members from Broadway hits Waitress, Cats, and Spamilton: An American Parody. Every Thursday. 12:30pm. (FREE!)
PLUS
(7/20) BBQ & Brews Cruise with Circle Line at Pier 83. Hop aboard for the first annual BBQ & Brews Cruise through New York Harbor. Soak up the sun and have a beer while feasting on scrumptious BBQ options from the expert pitmasters at Blue Smoke. Party dockside for one hour followed by a two-hour sail where you can enjoy unlimited beer and incredible BBQ.
(7/22) Ozy Fest at Central Park Summerstage. Described as "TED meets Coachella" by the New York Times, this all-day party in Central Park brings together incredible food and music, provocative ideas, and laugh-out-loud comedy. With Samantha Bee, Malcolm Gladwell, Katie Couric, Sen. Kristen Gillibrand, RuPaul, and many other special guests. ozyfest.com
(7/23) Smorgasburg Prospect Park. 11am-6pm. On Sundays through October 23, over 100 local and regional food purveyors gather on Breeze Hill. This year, Prospect Park Alliance is partnering with Brooklyn Brewery to produce a special Prospect Park beer called Long Meadow Gold.
EXHIBITION OF THE WEEK
(Opens 7/22) At the Museum of the Moving Image, The Jim Henson Exhibition opens. This permanent exhibition will celebrate the life and legacy of the famed Muppet creator, exploring both his prolific career and the enduring effect his work has on pop culture. Visitors will learn more about the creation of such beloved works as The Muppet Show, Sesame Street, Fraggle Rock, The Dark Crystal, and Labryinth, as well as discovering the cutting-edge experimental works Henson made throughout his career.
PLUS
(Now-7/23) Final days! The breathtaking Up Close: Michelangelo's Sistine Chapel allows visitors to experience one of the world's greatest artistic achievements: Michelangelo's renowned ceiling frescoes from the Vatican's Sistine Chapel. An immersive exhibit of 34 pieces artfully reproduced and displayed in near life size invites visitors to experience breathtaking pieces like The Creation of Adam and The Last Judgment as only Michelangelo has; face-to-face. At The Oculus at Westfield World Trade Center.
(Now-1/7/18) The photographs in the new exhibit American Visionary: John F. Kennedy's Life and Times at the New-York Historical Society convey the sensation you've seen them before: JFK in the White House, his kids joyfully playing nearby; JFK with wife Jackie at an event, both of them elegant and assured (in truth, many images here have only rarely been shown). It's part of the famous Kennedy allure, conveying a world that's simultaneously approachable, glittering, and rarefied. This well-curated exhibition charts JFK's trajectory as a politician, as well as the cultural and historical pulse of the times, when photojournalism was at an apex. It's s a wonderful opportunity to observe a world both familiar and lost, and to reflect on where the country was—and is.
(Now-10/1) Frank Lloyd Wright: Unpacking the Archive opens at MoMA. MoMA's acquisition of 55,000 drawings, 300,000 pages of letters, 125,000 photos, and 2,700 manuscripts, along with models, movies, and other memorabilia inspired this exhibit, timed to coincide with Wright's 150th birthday.
(Now-10/29) CHIHULY at the The New York Botanical Garden features nearly two dozen breathtaking works of art by world-renowned artist Dale Chihuly at NYBG in his first major garden exhibition in more than ten years in New York. And on Thursdays in July, enjoy CHIHULY Nights, 6:30pm-9:30pm.
(Now-9/3) World War I Beyond the Trenches at the New-York Historical Society features powerful works by artists like John Singer Sargent, George Bellows, and Georgia O'Keeffe, joined by artifacts from the museum's collection (propaganda posters, letters, sheet music, uniforms, and military gear) that provide insightful context. The New-York Historical Society's Fourth Floor Renovation, now complete, includes a brand new Tiffany Lamps Gallery, in addition to the opening of its Women's History Center.
(Now-10/29) Drones: Is the Sky the Limit? at The Intrepid Sea, Air & Space Museum. It's the first major museum exhibition on pilotless aircraft to open in the U.S. The large-scale exhibition, which will be located in a 6,000-square-foot, custom-designed pavilion on the Museum's Pier 86, will reveal the history of drone technology, from its modern-day origins in World War I and its military development to its current applications in solving complex humanitarian challenges. Take $5 off admission with this coupon now!
(Now-7/23) Final days! Georgia O'Keeffe: Living Modern provides a new look at an iconic American artist at the very institution that hosted her first solo museum exhibition in 1927—the Brooklyn Museum. Presenting O'Keeffe's remarkable wardrobe in dialogue with iconic paintings and photographs, this singular exhibition focuses in on the modernist persona O'Keeffe crafted for herself. With photographs by luminaries like Alfred Stieglitz, Ansel Adams, and Annie Leibovitz, the show reflects O'Keeffe's radical rethinking of female identity, and the artist's commitment to elements of modernism—minimalism, seriality, simplification—not only in her art, but also in her distinctive style of dress.
Image courtesy of BIG Team/Rebuild by Design competition
(Ongoing) The Museum of the City of New York presents NY at Its Core. Ten years in the making, New York at Its Core tells the compelling story of New York's rise from a striving Dutch village to today's "Capital of the World." The exhibition captures the human energy that drove New York to become a city like no other and a subject of fascination the world over. Entertaining, inspiring, important, and at times bemusing, New York City "big personalities," including Alexander Hamilton, Walt Whitman, Boss Tweed, Emma Goldman, JP Morgan, Fiorello La Guardia, Jane Jacobs, Jay-Z, and dozens more, parade through the exhibition. Visitors will also learn the stories of lesser-known New York personalities, like Lenape chieftain Penhawitz and Italian immigrant Susie Rocco. Even animals like the horse, the pig, the beaver, and the oyster, which played pivotal roles in the economy and daily life of New York, get their moment in the historical spotlight. Occupying the entire first floor in three interactive galleries (Port City, 1609-1898, World City, 1898-2012, and Future City Lab) New York at Its Core is shaped by four themes: money, density, diversity, and creativity. Together, they provide a lens for examining the character of the city, and underlie the modern global metropolis we know today. mcny.org
(New) Chocolate aficionado Jacques Torres opens up his brand-new Choco Story New York, the city's first chocolate museum, in SoHo. Admission includes nine premium chocolate tastings of white, milk and dark varieties; original Mayan hot chocolate freshly ground by hand; and handmade chocolate truffles. There's a kids corner, too. $10-$15. 350 Hudson St. mrchocolate.com/museum
(Now-7/30) Muslims in NY at the Museum of the City of New York features 34 images by four photographers who have documented Muslim New Yorkers from the mid-20th to the early 21st century. Works by Alexander Alland date to ca. 1940, a time when New York's diverse Muslim community included Arabs, Turks, Afghans, East Indians, Albanians, Malayans, African Americans, and others. Photographs by Ed Grazda come from his 1990s project "New York Masjid: The Mosques of New York City," and cover both immigrant populations and native New York Muslims, including converts, the long-standing African-American community, and a growing Latino Muslim community. Mel Rosenthal's photographs of Arab New York Muslims from the early 2000s were commissioned for the Museum of the City of New York's exhibition A Community of Many Worlds: Arab Americans in New York (2002). Robert Gerhardt's images, a promised gift to the museum's collections, document Muslim New Yorkers in the early 2010s.
(Now-9/6) The newest show at the Solomon R. Guggenheim Museum, Visionaries: Creating a Modern Guggenheim, provides a chance to explore in-depth some of the key artists of this essential New York institution. Framed by the interests of six leading patrons, Visionaries brings together canvases from masters like Max Ernst, René Magritte, and Yves Tanguy, and sculptures by Joseph Cornell and Alberto Giacometti. In addition, Jackson Pollock's Alchemy (1947) is being shown in the U.S. for the first time in nearly 50 years. More than a dozen works on paper by Picasso and Van Gogh, rarely on view to the public, can be seen in the Thannhauser Gallery, and paintings by Pierre-Auguste Renoir, Paul Gauguin, and Édouard Manet are displayed on the museum's legendary ramps.
(Ongoing) The legendary aircraft carrier that's now the Intrepid, Sea, Air & Space Museum served three tours of duty in Vietnam between 1966 and 1969. Learn more about its experiences in the Gulf of Tonkin, launching aircraft for missions over mainland Vietnam, at the exhibit On the Line: Intrepid and the Vietnam War, featuring many artifacts displayed for the very first time.
(7/21-7/22) Brent Morrin at Gotham Comedy Club.
(7/19) Barely Making It at The Creek and the Cave. Barely Making It is a weekly stand-up show featuring some of NYC's best young stand-up comics. The show is sometimes hosted by a bear and always produced by Meghan O'Malley (Awkward Sex and The City), Adrian Davidson (Actors Project NYC) and Erick Hellwig (MTV, Funny Or Die).
(7/21) No Name Comedy Variety at Otto's Shrunken Head.
(7/15) Every Friday at 10pm check out comedy hypnosis at LOL Times Square Comedy Club. The performance is led by Warren Thackeray, a classically trained hypnotist who has been performing for almost a decade around the world. The show is a fabulous mix of comedy, hypnosis, and laughter, as participants take on wild roles. Maybe you'll be the next star...
KIDS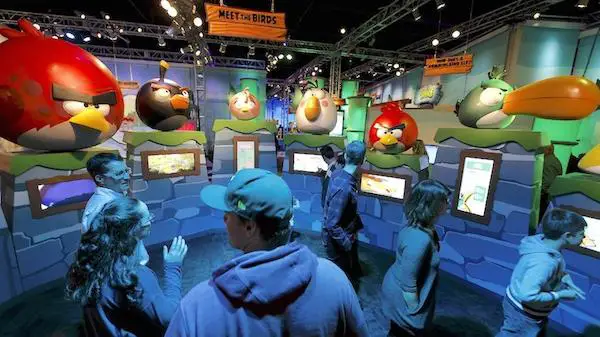 (New! Now-8/27) Angry Birds Universe: fans of the popular Angry Birds games can join Red, Bomb, Stella, and the rest of the flock at the New York Hall of Science (NYSCI) in Queens this summer. The colorful birds land at the museum on July 1 for the U.S. premiere of Angry Birds Universe: The Art and Science of a Global Phenomenon. The summer exhibition uses activities to explore mass, energy, simple machines, architecture, and other science topics. Twenty hands-on exhibits place museum visitors inside the world of the Angry Birds games.
PLUS
(7/19, 7/26) A Summer Movie Under the Stars at Prospect Park Alliance: These free outdoor film screenings on Prospect Park's Long Meadow North will feature live musical entertainment followed by family-friendly films carefully selected by Nitehawk's cinema department, to highlight park themes such as the famed Prospect Park Zoo, summer camps, and little league baseball. On Wednesday the 19th it's A NeverEnding Story, with 1980s music by DJ Jane Elizabeth. FREE.
(7/21-7/23) In conjunction with the opening of The Jim Henson Exhibition, various screenings of The Muppet Movie, The Muppets Take Manhattan, and The Muppet Caper will be screened at The Museum of the Moving Image. On Saturday, 7/22 and Sunday, 7/23 there will be a special workshop where kids can make their own puppets from 11am-4pm.
(now-10/9) Eloise at the Museum reveals the creative collaboration between cabaret star Kay Thompson (1909-1998) and the young illustrator Hilary Knight (b. 1926) that brought the precocious character Eloise to life. The exhibition showcases more than 75 objects, ranging from original manuscript pages to sketchbooks, portraits, photographs, and vintage dolls.
(Ongoing) Blue Man Group at Astor Place Theatre. Best known for their wildly popular theatrical shows, Blue Man Group combines music, comedy, and multimedia theatrics to produce a unique form of entertainment. The hour and forty five minute show is fun for the whole family. The show recently celebrated its 25th anniversary.
(Ongoing) Explore the beautiful interactive exhibit Connected Worlds at the New York Hall of Science in Queens.
For more kids activities, check out our sister site nymetroparents.com!
SIGHTSEEING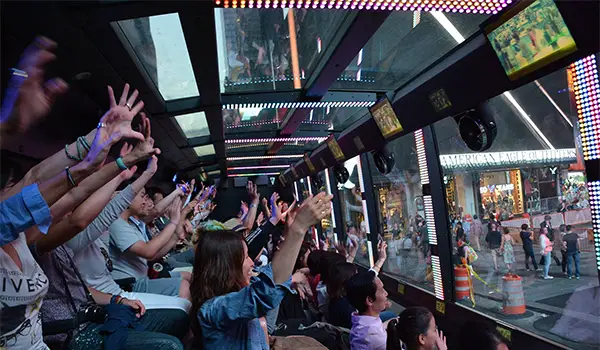 (New!) Take a ride through time and learn about Downtown New York City's rich heritage with THE DOWNTOWN EXPERIENCE Powered by THE RIDE. Enhanced with virtual reality technology (thanks to Timelooper), experience highlight moments in NYC's history like never before! Here's a coupon!
(Ongoing) Experience in the world in miniature, at Gulliver's Gate.
(7/19, 7/26) Summer on the Plaza at Arts Brookfield. Soak up the sun and enjoy a lunchtime concert every Wednesday at One New York Plaza. Curated by New Song Music, Summer on the Plaza features music by the next wave of up-and-coming singer-songwriters. 11am-2pm.
(Ongoing) No trip to New York City is complete without visiting the home of the 27-time World Champion New York Yankees. Game tickets may be scarce, but it's easy to get the full experience with Yankee Stadium Tours, which offers exclusive access to the stadium. The tours also bring fans close to historic baseball artifacts like Babe Ruth's bat, Lou Gehrig's jersey, and rings and trophies. The Yankee Stadium Pregame Tour is a great option for fans who want early access to the stadium with a valid game ticket—fans can enjoy a guided tour through the New York Yankees Museum Presented by Bank of America, private access to legendary Monument Park before it opens to the public, and exclusive access to batting practice in Section 105.
(Ongoing) Day or night, the Manhattan skyline is a sight to behold. Circle Line Sightseeing sails year-round and has cruises of varying interests and lengths, including a 3-hour Best of NYC Cruise, a 2-hour Landmark Cruise, and a Harbor Lights Cruise for a romantic spring evening. Last year, Circle Line added its popular Landmark + Brooklyn Cruise. Guests can purchase food and drink from Brooklyn's famed artisanal vendors, including Brooklyn Brewery, Brooklyn Gin, Brooklyn Cupcake, Blue Marble Ice Cream, and cheesecakes from Junior's. circleline42.com
(Ongoing) Sweets for the sweet! Grab your honey or friend for a cozy ride aboard A Slice of Brooklyn's Chocolate Tour. TripAdvisor's top-rated NYC tour company A Slice of Brooklyn Bus Tours has launched a tour that visits artisanal chocolate sites Jacques Torres Chocolate in DUMBO, The Chocolate Room in Cobble Hill, Raaka in Red Hook, and Li-Lac Chocolates in Industry City, Sunset Park. Offered every Monday, Wednesday, and Friday. Here you can read more about NYC for Chocolate Lovers.
(Ongoing) Read here for more about the Best NYC Hop On Hop Off Bus Tours!
(Ongoing) King Kong has made his way back to New York, the city he once terrorized (at least in the movies!), but this time, it's in wax form. The famed Madame Tussauds New York in Times Square welcomes a wax replica of King Kong's head to its collection, providing visitors not only with a perfect photo op with the notorious gorilla, but an entire KONG: Skull Island experience.
(New) Every year, at 11:59pm on December 31st, people from all over the world are focused on the Times Square New Year's Eve Ball. Millions of voices unite to count down the final seconds of the old year and celebrate the beginning of the new. Now you can get up close and personal with the Times Square New Year's Eve Ball at Ripley's Believe It or Not—Times Square! Press the button yourself and ring in the New Year every day of the year. A home to rare artifacts and thrilling interactive exhibits, Ripley's is for anyone who wants to immerse themselves in the unexpected and the unbelievable. Here is a coupon.
(Ongoing) Grab a date or friend and enjoy the most incredible views of NYC at Top of the Rock.
(Ongoing) Take a one-hour tour of one of the world's most important buildings, the United Nations, now celebrating 71 years. (Tours offered weekdays only.)
NIGHTLIFE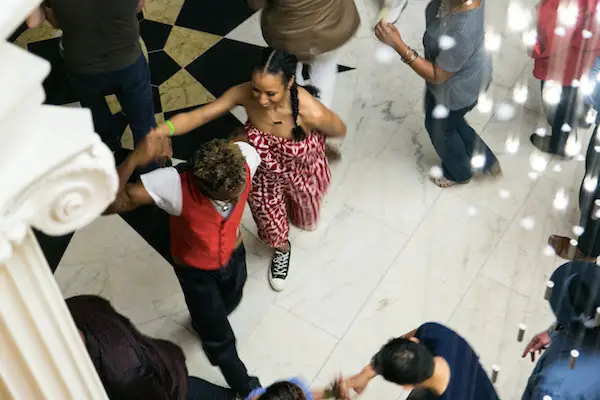 (7/19-8/9) The Museum of the City of New York brings back its Uptown Bounce dance parties for four consecutive Wednesdays. Free with registration. 6pm.
(7/19) Our Name Is Farm has teamed up with Brooklyn experimental beer hall Lantern Hall to create a specialty beer ice cream and sorbet flight by Tipsy Scoop. It's the perfect way to celebrate July's National Ice Cream Month AND National Beer Month at the same time! You can find four frozen treats like the She's a Maniac!, made with honey-lemon sorbet infused with KCBC Janiak Maniac pilsner, for $8 a flight ($6 during happy hour, 3-8pm).
(7/19) Grand Ol' Opera Concert Series at Pioneer Works. Pioneer Works is pleased to present Grand Ole Opera, a performative exhibition by Tennessee-born artists Willie Stewart and Brent Stewart. This post-modern opera marks the Stewarts' institutional debut in the United States.
(Now-8/13) Shakespeare in the Park continues with FREE performances in the Delacorte Theater, now with A Midsummer Night's Dream. *Tickets are required.
(7/19-8/27) See It Big! 70mm! Cool off and enjoy classic blockbusters in 70MM at Astoria's Museum of the Moving Image! Kicking off the programming this summer is a special preview of Christopher Nolan's highly anticipated WWII film, Dunkirk, with Tom Hardy and Cillian Murphy.
(7/20-8/17) Passport Thursdays Outdoor International Dance, Music Film Series at Queens Museum.
(7/20-8/24) Cooper Hewitt Cocktail Thursdays. Enjoy a performance by the National Jazz Museum in Harlem Presents the Jazzmeia Horn Quintet along with drinks in garden.
(7/21-7/22) Metal giants Iron Maiden: Book of Souls Tour stomps into Barclays Center.
(7/24) Muse performs at Central Park Summerstage.
(7/25-8/15) Sunset Salsa with Talia Tuesday nights at Hudson River Park Pier 45 & 46. Beginner Salsa dance lessons from 6:30-7:15pm, DJs start the party at 7:15pm!
Click here for more information on on NYC's Best Jazz Clubs.
SNEAK PEEK, NEXT WEEK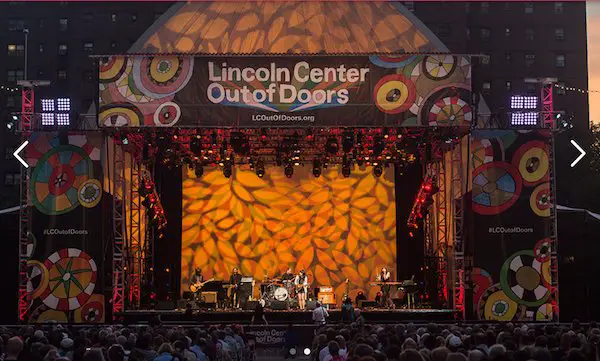 (7/26-8/13) Lincoln Center Out of Doors returns, kicked off with NPR Music's Turning the Tables Live, Paul Taylor Dance Co, a double dutch tournament, An Evening with Rumer, Nick Lowe, a silent screening of The Big Lebowski and much more! lincolncenter.org.
PLUS
(7/24-8/18) NYC Restaurant Week. Take advantage of specially priced three-course lunches for $29 and $42 dinner specials some of NYC's best restaurants.
(7/26) Amateur Night at the Apollo Theater.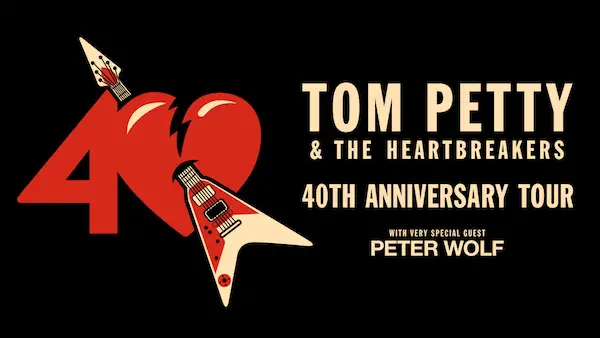 (7/26-7/27) Tom Petty and the Heartbreakers: 40th Anniversary Tour, stops at Forest Hills Stadium.
(7/27) Jerry Seinfeld at Beacon Theatre.
_______________________________________________________________________
Like what you see here? Share it with your friends on Facebook! Find out more about what to do in July. We've got August covered, too!
Looking for Free Group Planning Services?
Get free advice on planning your group's trip to New York.
RESTAURANTS

Guy's American Kitchen & Bar is a dynamic restaurant introdu...

THEATER

Gaston Leroux's famous period thriller is now one of Broadwa...

SHOPPING

Specializing in the great vineyards of California, France, A...

SIGHTSEEING

Hop aboard these environmentally friendly twin-hulled catama...