Do It for the Gram: 14 Instagrammable Pop-Up Exhibits in NYC
January 10, 2019 - by Merrill Lee Girardeau
Instagrammable moments, or should we say "immersive experiences," are taking over New York City these days. They're not quite art exhibits and not quite museums, but these photo ops are awfully pretty and fabulous fun to visit. These walk-through installations are based on themes as diverse as astrology, Grand Theft Auto, and Mickey Mouse. Each will make great fodder for your Insta feed, with neon lighting, patterned wallpaper, and ball pits designed for selfies galore. Below are 14 installations happening in early 2019, only in the endlessly photographable New York City.
Instagrammable Pop-Up Art in NYC | Spider-Man: Into the Spider-Verse Experience
The new animated film Spider-Man: Into the Spider-Verse has already captivated audiences worldwide. Keep the fun going with an interactive experience inspired by the film, hosted by Sony Square in Flatiron. Sony technology puts you into the movie trailer with Xperia 3D. You can also see a scene from the film in this pop-up space. Through January 31. 25 Madison Ave., 212-833-8800, sony.com, @sonysquarenyc
Instagrammable Pop-Up Art in NYC: Power to the God Within
A popup of a different kind, enter a meditative space through a door on Canal Street to experience Power to the God Within. Ghanaian artist Jojo Abot has designed a room covered in fabrics from her home country, complete with pillows for a comfortable recentering experience. A vivid red permeates the room, also outfitted with a video screen, meditation nook, and a stillness you might not otherwise find in the city outside. Selfies will abound, but Abot also encourages self-reflection and community engagement in her Chinatown installation. Admission is free. On view now through February 2. 318 Canal St.
Instagrammable Pop-Up Art in NYC: DVF: Follow the Stars
Fashion designer Diane Von Furstenberg is best known for her chic wrap dresses. This winter, she's welcomed a new installation to her store in the Meatpacking District; now customers can take a few selfies and shop all in the same place. Follow the Stars features murals by artist Konstantin Kakanias and a ceiling of Swarovski crystals. The signs of the zodiac inform these luminous deep-blue designs, which also cover the floor in this mesmerizing space. There's a hanging moon and star in the space for additional photo ops. On view now through February 2. 874 Washington St., 646-486-4800, dvf.com
Instagrammable Pop-Up Art in NYC | ESCHER: The Exhibition & Experience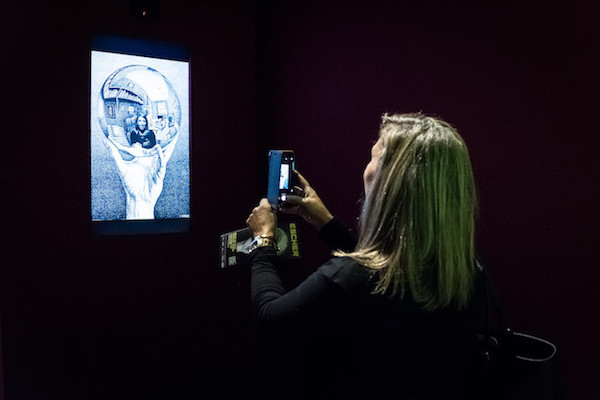 ESCHER, on view now in Brooklyn's Industry City, invites you into the topsy-turvy world of the artist M.C. Escher. Escher was a master of optical illusions and architectural puzzles, and over 200 of his works will be display in the exhibition space of this pop-up. The "Experience" portion of ESCHER throws visitors into mind-bending Escher landscapes. Take a picture in the photo booth with an optical-illusion background, and encounter illusions of scale in the Relativity Room, a la Alice in Wonderland. You can also see your reflection echoing forever in the Infinity Room. Instagramming encouraged! Through February 3, 2019. 34 34th St., Building 6, Brooklyn, eschernyc.com, @eschernyc
Instagrammable Pop-Up Art in NYC: Customizable Realities
If you've ever wanted to immerse yourself in the video game Grand Theft Auto, visit The Hole gallery in Nolita. There, you'll enter a room filled not only with paintings inspired by the game, but also with black-and-white images covering the surfaces of the floor and walls. These images come from Minneapolis artist Mathew Zefeldt, whose eight oil paintings are inspired by his experiences playing the video game. Through February 3. 312 Bowery, theholenyc.com
Instagrammable Pop-Up Art in NYC: Lost in Music
Create a song in minutes just by being yourself at Sony's groundbreaking pop-up. Lost in Music tracks your movements, heartbeat, and interactions with a cutting-edge set as you move through the environment. The experience culminates in a "MeMix" song unique to you. During your experience, you'll also hear Sony's 360 Reality Audio, with sound coming at you from all directions. This pop-up space also hosts Sony musical acts for live performances every week. Lost in Music is free for all. On view now through February 10. 201 Mulberry St., sony.com
Instagrammable Pop-Up Art in NYC | Mickey: The True Original Exhibition

Timeless Icon | Mickey: The True Original Exhibition
It was 90 years ago that the world met Mickey Mouse in the short cartoon "Steamboat Willie." Today Disney's beloved mouse is in the Meatpacking District for an over-the-top pop-up. Inside this multidimensional space, you'll see Shinique Smith's huge sculpture made of plush Mickey Mouse toys. Video artist Brian Bress drew 100 images of Mickey for his video installation at the exhibition. Kenny Scharf's black-lit Cosmic Cavern, inspired by the Mickey Watch, will send you deep into the 80s, while Mickey's gigantic wizard's hat will take you to the world of Fantasia. Tanya Aguiñiga, James Jean, London Kaye, and other artists have celebrated Mickey by creating photogenic backgrounds in other rooms throughout Mickey: The True Original. On view now through February 10. 60 10th Ave., partners.disney.com/mickey-the-true-original-exhibition, @MickeyTrueOriginal
Instagrammable Pop-Up Art in NYC: Dolby Soho
The Dolby Soho space must be seen to be believed. The floor-to-ceiling video installations encourage endless photographs, with panoramic views of sunsets and kaleidoscopic graphics. You can also play games and experiment with other Dolby products at this retail environment. Every Thursday, Dolby Soho hosts events like cocktail hours and DJ dance parties. Admission is free. On view now through March. 477 Broadway, soho.dolby.com, #dolbysoho
Instagrammable Pop-Up Art in NYC: Color Factory
Color Factory, a massive interactive art space, began in August 2017 in San Francisco. Wildly popular, the project has set up shop in Soho and is sure to inspire lines as long as the cronut did at nearby Dominique Ansel Bakery. Designed by a wide spectrum of artists, Color Factory walks visitors through 16 rooms devoted to the wonder of color. You're invited to compliment someone using color words, discover your signature color, and read wishes for the world written by NYC school children on varicolored balloons. Each room is equipped with a camera that can take a picture of you and send it to your phone: the better to post with! On view now. 251 Spring St., support@colorfactory.co, colorfactory.co, @colorfactoryco
Instagrammable Pop-Up Art in NYC | Jump for Joy: Bouncy Castle of Breasts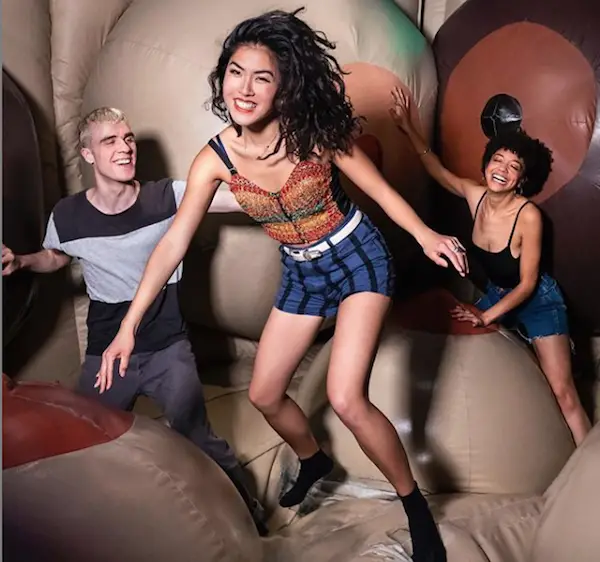 Museum of Sex Instagram
Playful and kinky, the Bouncy House of Breasts will make a perfect Instagram story or video. Inside this unique art installation, you can jump around like a child in a bouncy castle—except the inflatable forms are all breast-shaped (and it's for adults only). This ongoing installation at Flatiron's Museum of Sex was designed by Bompas & Parr, who drew on the hidden eroticism of historic traveling fairs. The designers also encourage body awareness among visitors in the midst of this exuberant anatomical environment. Tickets to the bouncy house are $3.50 in addition to regular museum admission. 233 Fifth Ave., 212-689-6337, museumofsex.com
Instagrammable Pop-Up Art in NYC: Museum of Illusions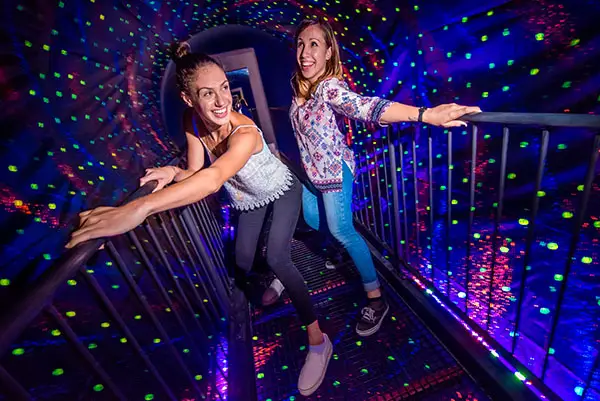 The Museum of Illusions has opened in seven countries around the world with more on the way! The Museum of Illusions NYC will prove to be great photographic fun, as you'll be able to laugh, scream, run, take selfies, and generally do the kinds of things they don't allow in other museums. You (or your prankster friend) can even become a head on a platter. There's also an Anti-Gravity Room, an Infinity Room (a hall of mirrors for the 21st century), and a room where you'll walk on walls. Nothing is as it seems; it's all illusion, and all incredible! The Museum of Illusions opened September 20 on the border of Chelsea and the Meatpacking District. On view now. 77 8th Ave., 212-645-3230, newyork.museumofillusions.us, @moi_newyork
Instagrammable Pop-Up Art in NYC: The Winky Lux Experience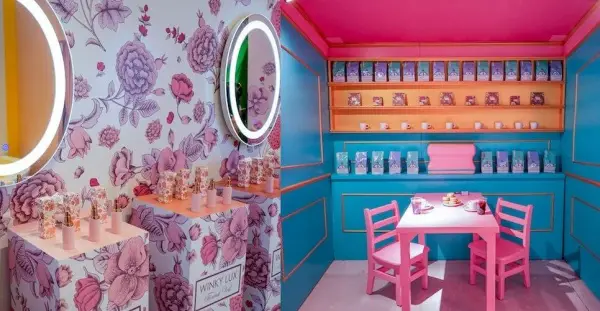 Winky Lux, the smash-hit beauty brand, has opened a pop-up experience in tandem with their Soho retail store. The Winky Lux Experience leads you through seven brightly colored rooms full of fur pillows, splashy rose wallpaper, large flowers, and makeup, of course. Their cheeky philosophy, according to the Winky Lux site: If it didn't happen on Instagram, it didn't happen. Your $10 ticket goes toward the purchase of a beauty product at the end of your journey. On view now. 430 W Broadway, 646-952-0380, winkylux.com
Instagrammable Pop-Up Art in NYC: Google Hardware Store
Google has gotten in on the pop-up retail experience with Google Hardware Store, located near Color Factory in Soho. This retail store sells Google products but also contains setpieces perfect for pics while you're around. Explore a tiny treehouse, a stylish kitchen with a teeny mint-colored fridge, a playful swing set, and a couple of hammocks. It's childish wonder with forward-thinking tech, all in one very photogenic space. There's also one in Chicago if you're headed to the Midwest anytime soon. Open now. 131 Greene St., store.google.com, #googlepopup
Instagrammable Pop-Up Art in NYC: Rebel Rebel: The Secret David Bowie NYC Tour
The late, great David Bowie set the standard for high-wire glam rock in the 1970s and became one of the biggest musical acts of the 20th century. But to Soho locals in NYC, Bowie was just another face on the street. The British rock star lived in New York for twenty years, longer than he'd lived anywhere else, and now there's an immersive walking tour to tell you the tale. Your tour guide Jason, a British historian and Bowie-phile, will take you from the West Village to Soho and speak about Bowie's many musical faces. One stop on the tour is the legendary Electric Lady Studios in Greenwich Village, where Bowie recorded his first U.S. No. 1, "Fame," in January 1975 with his buddy John Lennon on board for support. Available at 12pm on Wednesdays, Thursdays, Fridays, Saturdays, and Sundays. Meet at 178 Seventh Ave. So, musae.me
Looking for Free Group Planning Services?
Get free advice on planning your group's trip to New York.
RESTAURANTS

Beloved midtown spot takes inspiration from local tradition,...

THEATER

Gaston Leroux's famous period thriller is now one of Broadwa...

SHOPPING

Specializing in the great vineyards of California, France, A...

SIGHTSEEING

CitySights' hop-on, hop-off bus tours are operated on a flee...