Opera in New York City This Week - May 13-May 20
May 13, 2018 - by CG Directory Editor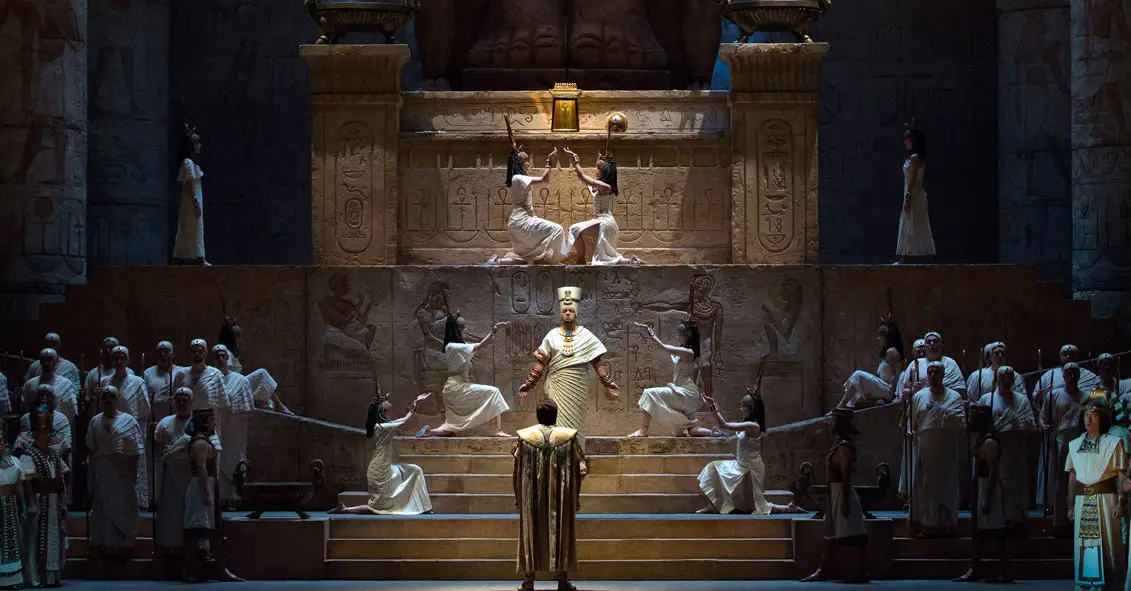 The Metropolitan Opera is world-class and world famous, and it's among the comprehensive opera listings you can find on City Guide's calendar. In addition to the famous season of the Met Opera, full of huge opera stars, famous classics, and world premieres, you'll also find listings for the New York City Opera and operatic performances at places like Lincoln Center and Carnegie Hall.


Queens of Soul - Triad Theatre
May 13, 2018 - New York
Queens of Soul - Queens of Soul: A Tribute Concert To Our Reigning Divas is a Soul Stirring Show featuring some of the Top Powerhouse Vocalists spanning from The Church Choirs to the Broadway Stage. Get Ready for a Memorable Experience as this show will have you on your feet delivering classics from all of the divas: Aretha Franklin, Patti Labelle, Diana Ross, Whitney Houston, Celine Dion to Mary J. Blige and many more! This Show Will SELL OUT! A MUST SEE!
Don Giovanni - Baruch Performing Arts Center
Through May 13, 2018 - New York
While Don Giovanni dances at the edge of a precipice, three extraordinary women pursue him, each seeking their own reckoning, pleasure, and liberation. Is the great seducer destroying or empowering the women he encounters? What story does the sublime music tell? This visceral new production wrestles with Mozart's elusive masterpiece in our present cultural moment.
Fidelio - Baruch Performing Arts Center
Through May 13, 2018 - New York
A black activist is wrongfully incarcerated. His wife, Leah, disguises herself to infiltrate the system and free him. But when injustice reigns, one woman's grit may not be enough to save her love. Featuring the voices of imprisoned people, this daring adaptation pits corruption against courage, hate against hope. Credits Ethan Heard, Stage Direction Daniel Schlosberg, Music Direction Derrell Acon, Roc Malorie Casimir, Marcy Nelson Ebo, Stan Kelly Griffin, Leah/Leo Daniel Klein, Pizarro
Der Freischütz - The Lovinger Theatre
Through May 13, 2018 - Bronx
Bronx Opera presents a production of Der Freischutz that looks at this classic Faustian plot from a modern viewpoint. Michael Spierman/Eric Kramer, Conductors Benjamin Spierman, Stage Director Jessica Schneiderman/Hannah Spierman, Agathe Alessandra Altieri/Halley Gilbert, Annchen Michael Celentano/Daniel Foltz-Morrison, Max Michael Nansel/Brace Negron, Kaspar
Opera: Carmen - Bryant Park
May 14, 2018 - Midtown
Passions flare in this hour-long adaptation of one of the world's most beloved operas. One of four extraordinary hour-long performances produced by New York City Opera, including highlights and previews of Ctiy Opera's upcoming productions.
Insightalt: Opera in Eden - Kaufman Music Center
May 17, 2018 - New York
American Lyric Theater celebrates the 10th Anniversary of its nationally acclaimed Composer Librettist Development Program this season with OPERA IN EDEN, a one-night-only concert featuring three new one-act operas written by ALT Resident Artists, hosted by composer/librettist Mark Adamo and producing artistic director Lawrence Edelson. Tickets go on sale July 19.
Aida - Our Lady of Perpetual Help School Auditorium
Through May 20, 2018 - Brooklyn
Regina Opera Company, Brooklyn's premier opera company, will end its 48th Season with a fully-staged production of Verdi's "Aida". There will be 4 ticketed performances, May 12, 13, 19, and 20 at 3PM with 35-piece orchestra. This is the first time that Regina Opera has presented this opera.
Symphonie Fantastique - HERE
Through June 17, 2018 - New York
Twenty years ago in 1998, Basil Twist debuted his boundary-breaking response to Berlioz's 1830 "Symphonie Fantastique" to universal acclaim, inaugurating HERE's intimate Dorothy B. Williams Theatre. In the two decades since Symphonie Fantastique's premiere, Basil Twist has become an internationally recognized artist in opera, ballet, and on Broadway, and has won countless awards including the illustrious MacArthur Fellowship. Twist will revisit his legendary masterpiece as part of HERE's 25th Anniversary Season. In this revival, accompanied live by the virtuosic pianist Christopher O'Riley playing the exquisite Liszt transcription, Symphonie floats and swirls in a 1,000-gallon water tank neatly disguised as a puppet stage. For the many who never saw it, and for those who relish seeing it again and again, the return of this tour de force to HERE is the event of the season.
Looking for Free Group Planning Services?
Get free advice on planning your group's trip to New York.
MORE Activity Planner ARTICLES
RESTAURANTS

Vida Verde brings the tastes, colors, sounds, and scents of ...

THEATER

Gaston Leroux's famous period thriller is now one of Broadwa...

SHOPPING

At Build-A-Bear Workshop®, it's the most fun you'll ever mak...

SIGHTSEEING

Manhattan's premier all-glass, European-inspired dining crui...