No Cover Live Music in NYC This Week - October 7-October 14
October 7, 2018 - by CG Directory Editor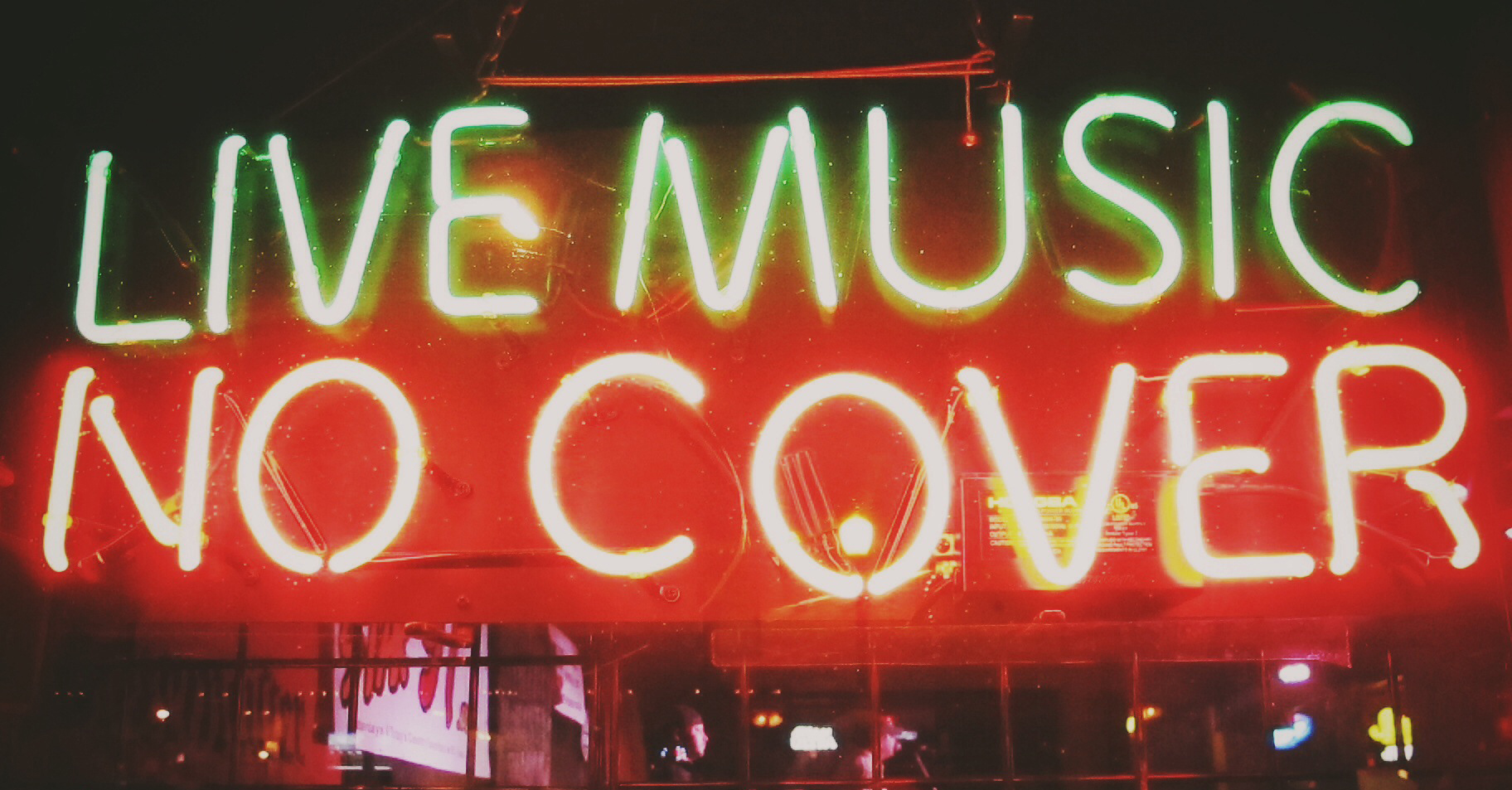 Photo: markheybo/Flickr

Say no to cover charges the next time you're in New York City and looking for live music. From bars to clubs to museum shows, you can catch all kinds of great music without having to pay for a ticket. City Guide's calendar has all the no cover live music in NYC this week rounded up below.


Oktoberfest at the Paramount – $4 Beer, Live Music & Food - The Paramount
October 07, 2018 - Huntington
The Paramount presents an all-day Oktoberfest experience. Transforming the venue into an authentic beer garden – with Live Music (Die Spitzbaum & DJ Beso), German inspired food & décor. And most importantly every beer and every type for $4.00!
Romeo Santos - Barclays Center
October 07, 2018 - Brooklyn
The King of Bachata, Romeo Santos, is bringing his Golden Tour to Brooklyn on October 7.
Jazz for Kids - Jazz Standard
October 07, 2018 - Manhattan
The Jazz Standard Youth Orchestra is a performance driven program that gives talented and dedicated young jazz musicians the opportunity to perform regularly in one of New York City's leading jazz clubs often with guest artists from the New York scene. The visiting guests give a workshop to the band members in addition to providing the experience of playing with the top musicians on the scene. On Sundays during the school year, the students rehearse and workshop in the room before opening the doors at 1:00pm and giving a concert that is free and open to the public at 2:00pm.
Cortelyou Jazz Jam - Bar Chord
October 07, 2018 - Brooklyn
Weekly Jazz Jam hosted by Michael Vitali & Douglas Bradford
Feast of Saint Francis and Blessing of the Animals - Cathedral of Saint John the Divine
October 07, 2018 - New York
The Cathedral of St. John the Divine celebrates the beauty of the animal kingdom and the dignity of all creatures with a ceremony and special blessing for animals large and small, at the 34th annual Feast of Saint Francis and Blessing of the Animals on Sunday, October 7th from 11 a.m. to 4 p.m. at the Cathedral of St. John the Divine, located at 1047 Amsterdam Avenue (at 112th Street) in Manhattan. This signature Cathedral service features the Missa Gaia (or Earth Mass), composed by Paul Winter and Paul Halley. The Paul Winter Consort is joined by a massed choir of hundreds of voices conducted by Director of Cathedral Music Kent Tritle, with modern and traditional African dance performances by Forces of Nature Dance Theatre. The unique ceremony concludes with the Procession of the Animals down the Nave of the Cathedral. The day is a celebration of the life of Saint Francis of Assisi and his advocacy for harmony between human beings and the natural world. Following the procession, guests are welcomed to enjoy an outdoor fair from 1 p.m. to 4 p.m., with pet blessings, activities, refreshments and performances. Guests are encouraged to bring their pets to the Cathedral to b... (read more)
Watermelon Mèlange - Pop-Up in Chinatown (21 Ludlow St.)
Through October 07, 2018 - New York
Artist Mason Roberts and musician Stirling Caiulo present their immersive exhibition and collaboration, Watermelon Mèlange. Guests will be invited to wear wireless headphones to walk through the space and experience the intersection of two creative art forms: figurative painting and grunge-inspired hip hop. Kind of like an art-centric silent disco. The exhibition is being held in Chinatown (21 Ludlow St) on Saturday, October 6 from 7:30 - 10:00pm for RSVPs only and free and open to the public on Sunday, October 7 from 10-5.
CALVIN KLEIN x Amazon Fashion NYC Market - Flatiron Plaza
Through October 07, 2018 - New York
Free of admission to the public at Flatiron Plaza, in front of the historic Flatiron building. The space will feature branded stalls with interactive games, prizes, technology, and a focus on CALVIN KLEIN JEANS. CALVIN KLEIN x Amazon Fashion NYC Market Come by for an immersive brand experience Together in Denim. #MYCALVINS Friday, Oct 5th, 5PM-10PM EST Saturday, Oct 6th, 11AM – 9PM EST Sunday, Oct 7th, 11AM – 9PM EST
Beat Music Series - Showcase - Jazz / Soul / R&B / Folk - Silvana
October 09, 2018 - New York
This two-hour set promises to feature an eclectic mix of hip hop, jazz, soul, poetry, folk, and spoken word artists. The event is hosted by composer/producer Eric Joseph Meyer and poet/emcee Melissa Czarnik.
Down Dog Disco - Brooklyn Bazaar
October 10, 2018 - Brooklyn
Shimmy your way into downward dog for this incredible pop-up DISCO YOGA event, supporting two NYC-based charities, Souljourn Yoga & SOAR Institute! Expect a sensational live band, glitter stations, snacks, drinks and a 60-minute yoga class that'll have you giggling all night! There's a serious case of Night Fever going around and it's contagious...
Lang Lang International Music Foundation 10th Anniversary Gala - Cipriani
October 10, 2018 - New York
Alec Baldwin will host the Lang Lang International Music Foundation™ 10th Anniversary Gala on October 10th, chaired by John Paulson and co-chaired by Judith-Ann Corrente, David M. Hryck, Huda Alkhamis-Kanoo, Bruno Wang, Joan and Sandy Weill, Shirley Young and Ann Ziff. The evening will honor two remarkable people, Joan and Irwin Jacobs with the Foundation's Lifetime Philanthropy Award. The evening will feature performances by Roberto Alagna, Lang Lang, Ledisi, and Wyclef Jean. Proceeds from the evening will expand the Foundation's Keys of Inspiration™ (KOI) which delivers a structured music curriculum to over 6,000 children in underserved elementary schools across the USA. In the KOI piano lab, students build self-confidence, a sense of achievement, and a drive towards excellence. By 2020 they project over 30,000 students in 80 schools participating across the country. Guests are asked to wear black tie.
Nicki Minaj & Future - Barclays Center
October 11, 2018 - Brooklyn
Nicki Minaj & Future are coming to Brooklyn on October 11.
PSIHOMODO POP - The Cutting Room
October 11, 2018 - New York
Celebrating 30 years of their first album "Godina Zmaja", the Croatian rock band Psihomodo Pop, led by the charismatic singer Davor Gobec, is visiting USA and Canada for the very first time For over three decades, they are incomparable successors of the rock style started by their heroes: Rolling Stones, Iggy & The Stooges, Lou Reed, Velvet Underground and Ramones. Their setlist, including highly energized rock 'n roll songs like: »Kad sam imao 16«, «Osje?am se haj, mozak baj, baj«, »Frida«, »Natrag u garažu«, »Telegram Sam«, »Ramona« and »Ja volim samo sebe«, for sure can guarantee a great show not to be missed!
GOYA FOODS presents THE LEHMAN CENTER PERFORMING ARTS SERIES Celebrating the 50th Anniversary of Lehman College TONY! TONI! TONE!, SHEILA E, DENIECE WILLIAMS - Lehman Center for the Performing Arts
October 13, 2018 - Bronx
Lehman Center for the Performing Arts and GOYA FOODS presents three Legendary Soul, Pop, and R&B Acts in one night! TONY! TONI! TONE! ("Feels Good", "Whatever You Want"), SHEILA E ("The Glamorous Life", "A Love Bizarre"), and DENIECE WILLIAMS ("Free", "Too Much, Too Little, Too Late", "Black Butterfly", "Let's Hear It For The Boy") perform in celebration of Lehman College's 50th Anniversary on Saturday, October 13th, 2018 at 8pm. Produced by Lehman Center. This concert continues the completion of the first phase of renovations at Lehman Center for the Performing Arts. Concert goers will find that the lobbies have been upgraded for ADA compliance with new ramps and carpeting, and the interior of the theater will have new seating, carpeted aisles, and finished flooring as well. The $15.4 million dollar refurbishment of the Center, which is expected to be completed by mid-2019, will also include 5,400 square feet of enlarged space, with a new main entrance and a redesigned box office, plus new administration offices and restroom facilities on the first and mezzanine floors, and an elevator. The Center seats 2,278 people in the concert hall and is the largest of its kind in the borou... (read more)
Fall Music Fest - Tompkins Square Park
October 13, 2018 - NYC
Fall Music Fest is a free music show that will be held on Saturday, October 13 at Tompkins Square Park. It will feature some great local NYC groups including GIFTSHOP, the Hell Yeah Babies, the Sloe Guns and Stevie 6String. It will also feature a major "Get out the vote" component and several NYC Council members and others will be speaking.
Sudden Departure Day - Music of the Leftovers - The Town Hall
October 14, 2018 - New York
A rare performance of Composer Max Richter's emotive score for Damon Lindelof's cult HBO series The Leftovers. Richter approaches the show's themes of departure and loss with intimate and achingly beautiful melodies that travel through a psychological and tempestuous landscape with instrumentation of sustained tones, piano, harps and celesta. "Musically incredible and conceptually spot on. Max Richter is truly a modern day musical genius." The Line Of Best Fit Max Richter stands as one of the most prolific figures on the contemporary music scene today with ground-breaking work as a composer, pianist, producer, remixer and collaborator. From synthesizers to full symphony orchestra, Richter has spun a web of innovation to compose music for solo albums, ballets, concert hall performances, film and television scores, video art installations and theatre works.
Vladimir Kostadinovic- Jazz - Silvana
October 14, 2018 - New York
This Band made thanks to Vladimir's inspiration and wish to keep the mix between tradition and modern jazz language. Their aim and goal is deployment and progress of a jazz sound,but first of all approach to the every generation and all the jazz fans. Their arrangements are based on original compositions and some standards, influences of jazz giants such as: John Coltrane, Thelonious Monk, Roy Haynes, Elvin Jones, etc - with a lot of groove walking bass and also admixtion of a modern sound.
Rodgers & Hammerstein's Cinderella - Landmark Theatre
Through February 17, 2019 - Syracuse
Rodgers + Hammerstein's CINDERELLA is the Tony Award®-winning musical from the creators of South Pacific and The Sound of Music that's delighting audiences with its surprisingly contemporary take on the classic tale. This lush production features an incredible orchestra, jaw-dropping transformations and all the moments you love—the pumpkin, the glass slipper, the masked ball and more—plus some surprising new twists! Be transported back to your childhood as you rediscover some of Rodgers + Hammerstein's most beloved songs, including "In My Own Little Corner," "Impossible/It's Possible" and "Ten Minutes Ago" in this hilarious and romantic experience for anyone who's ever had a dream. Audience: Recommended for 6+
Les Miserables - Landmark Theatre
Through March 31, 2019 - Syracuse
Cameron Mackintosh presents the new production of Alain Boublil and Claude-Michel Schönberg's Tony Award-winning musical phenomenon, Les Misérables, direct from an acclaimed two-and-a-half-year return to Broadway. With its glorious new staging and dazzlingly reimagined scenery inspired by the paintings of Victor Hugo, this breathtaking new production has left both audiences and critics awestruck, cheering "Les Miz is born again!" (NY1). Set against the backdrop of 19th-century France, Les Misérables tells an enthralling story of broken dreams and unrequited love, passion, sacrifice and redemption – a timeless testament to the survival of the human spirit. Featuring the thrilling score and beloved songs "I Dreamed A Dream," "On My Own," "Stars," "Bring Him Home," "One Day More," and many more, this epic and uplifting story has become one of the most celebrated musicals in theatrical history. Seen by more than 70 million people in 44 countries and in 22 languages around the globe, Les Misérables is still the world's most popular musical, breaking box office records everywhere in its 32nd year. Run Time: 2 hours and 55 mins including 18 min intermission
Looking for Free Group Planning Services?
Get free advice on planning your group's trip to New York.
MORE Activity Planner ARTICLES
RESTAURANTS

Brings together the character of Hell's Kitchen past with th...

THEATER

Gaston Leroux's famous period thriller is now one of Broadwa...

SHOPPING

An array of quality branded merchandise showcasing HBO's® aw...

SIGHTSEEING

In addition to 360-degree views from Midtown Manhattan, the ...