Where to Eat Near Brooklyn's Barclays Center
March 29, 2018 - by Merrill Lee Girardeau
Even the most hardcore Manhattanites have to trek to Brooklyn every once in a while. Odds are they have tickets for a concert or a game at the state-of-the-art Barclays Center. Since its opening in 2012, the 19,000-seat venue has hosted music acts like Beyonce and seasonal sporting events as the home arena for the Brooklyn Nets and New York Islanders. If you're on your way to Barclays (or BAM, for that matter), why not get a taste of the surrounding neighborhoods while you're here? Park Slope and Fort Greene have some fabulous food and photogenic patios for days. Find below some of the best eats in the blocks surrounding the Barclays Center.
Where to Eat Near Barclays Center: Sweet Polly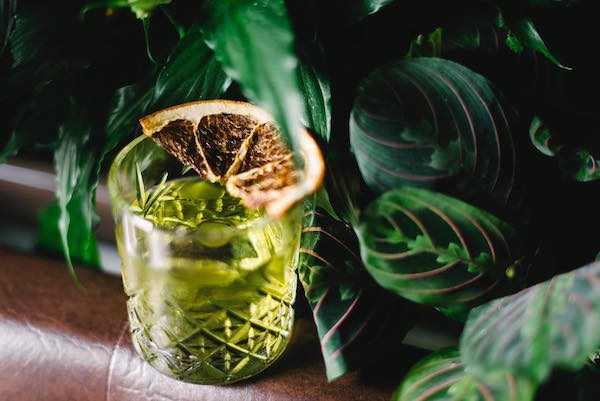 Sweet Polly might seem a bit of a Brooklyn cliche, with mixologists in wool vests, cheeky cocktail names, and a living plant wall. But once you drink one of their signature cocktails (which, fingers crossed, comes in a Darth Vader mug), you'll forget all about optics. These adult beverages deliver on taste, strength, and presentation, and the menu rotates seasonally. Add to that fresh oysters and small plates like pesto cauliflower, and you've got yourself a perfect preamble to your evening event. And for those in the know, happy hour starts at 4pm. 71 Sixth Ave., 718-484-9600, sweetpollynyc.com
Where to Eat Near Barclays Center: Convivium Osteria
Convivium Osteria gets an A+ for presentation. This Italian restaurant embodies the word rustic, with copper pots hanging on the distressed walls, exposed brick in the cellar downstairs, and plenty of dark wood to complete the magically antique atmosphere. But enough about the looks; the food is phenomenal. From apple-cinnamon ravioli with duck to rack of lamb crusted with pine nuts, this is one menu you'll want to come back to if you have Nets season tickets. 68 Fifth Ave., 718-857-1833, convivium-osteria.com
Where to Eat Near Barclays Center: Habana Outpost
Eating outside before the concert? Habana Outpost is your go-to. A fun Fort Greene spot open only in warmer months, this Cuban hangout is best for groups, strong margaritas, people-watching, and mouth-watering tacos. Order the shrimp and pork tacos with the signature corn (but remember it's cash only!). 757 Fulton St., 718-858-9500, habanaoutpost.com
Where to Eat Near Barclays Center: Shake Shack
Your prayers have been answered: Shake Shack is right across the street from the Barclays Center. This constantly crowded iteration of the popular chain serves life-changing shakes, burgers, and fries, courtesy of NY restaurateur Danny Meyer. Go for the Smoke Shack, fries, and a Black and White Shake. 170 Flatbush Ave., 347-442-7721, shakeshack.com
Where to Eat Near Barclays Center: Walter's
If you're a chicken-and-waffles fan, read on. Walter's captures all of Brooklyn's best qualities. From the menu to the design, it's homey but expertly run, retro yet cutting-edge. Whether you're around during brunch (expect a wait) or wanting some oysters and a fig sidecar, walk over to Walter's across from Fort Greene Park and see why the locals flock here. 166 DeKalb Ave., 718-488-7800, walterfoods.com
Where to Eat Near Barclays Center: Miriam
If you're going to a daytime game or just wanting a centrally located Brooklyn brunch, you won't find much better than Miriam. This lovely Israeli restaurant serves organic egg dishes, French toast, and Israeli treats like the bureka, a puff-pastry stuffed with feta and olives. Miriam gets mobbed during weekend brunch hours. In case you'd like to skip the crowds, we recommend stopping by on a weekday (daily brunch until 4!) or coming for an equally delicious dinner. 79 5th Ave., 718-662-2250, miriamrestaurant.com
Where to Eat Near Barclays Center: Don Chignon
Another Latin-American spot, Don Chignon keeps its kitchen open late and the margaritas flowing. Their burritos are some of the best in Brooklyn, particularly the carnitas and chorizo/egg varieties. Tortillas are handmade on premises! Don Chignon also puts grapes and pomegranate seeds in the guacamole—but don't knock it till you try it. 216 Flatbush Ave., 718-576-3521, donchingon.nyc
Where to Eat Near Barclays Center: Patsy's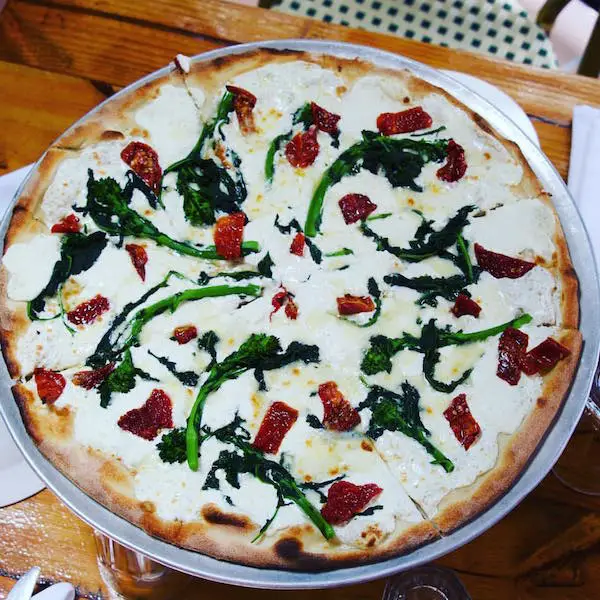 A mere block away from Barclays, Patsy's is the pizza pick on this list. Serving thin-crust pizza since 1933, Patsy's excels in every flavor from margherita to bianca. There's also a back patio for pleasant days, and we hear the happy hour's not too shabby either. 450 Dean St., 718-622-2268, patsyspizza.nyc
Where to Eat Near Barclays Center: Insa
Karaoke and Korean food are both on the menu at Insa, a few blocks from Barclays in the Gowanus neighborhood of Brooklyn. Whether you're going to or coming from your big event, you'll want to linger over the barbecue pork jowl and a tropical Dragon King cocktail. This dining room full of tricked-out picnic tables will awaken your inner chef, as you personally cook your own meat at the table! Reserve one of their 6 karaoke rooms to turn the heat even higher. 328 Douglass St., 718-855-2620, insabrooklyn.com
Where to Eat Near Barclays Center: Olea
Another restaurant known for a dynamite brunch, you might also like Olea if you're in the mood for great happy hour specials or dinner. Go for the halloumi cheese, Spanish pitza, lamb meatballs, or hummus from the pan-Mediterranean menu. Olea is decorated like the adorable kitchen of Greek seaside home and has patio dining for warm weather, so you can sip your sangria and watch the world go by. Happy hour is 3-7pm for drinks and 5-7pm for food, Monday through Thursday. 171 Lafayette Ave., 718-643-7003, oleabrooklyn.com
Looking for Free Group Planning Services?
Get free advice on planning your group's trip to New York.
RESTAURANTS

Brings together the character of Hell's Kitchen past with th...

THEATER

The Tony-winning creators of "Ragtime" transport us from the...

SHOPPING

A premier destination for family entertainment....

SIGHTSEEING

Voted one of New York's most unique attractions, Madame Tuss...