Where to Get Married in New York City
September 21, 2015 - by Linda Sheridan
You've decided to take the plunge and get married. Congratulations! You're in love and committed—that decision was the easy part. The more difficult choices will be deciding when, where, and what to pay for a wedding. We've updated our list for 2016 of some of the best places in New York City to get married, with something for varying sizes, tastes and budgets.
---
City Clerk's Office
Also known as "The Marriage Bureau," thousands of couples go to the City Clerk's Office downtown at Foley Square (141 Worth Street) each year to get their license or get married. As a starting point, a New York State marriage license fee is $35; wedding ceremony fee is $25. Across the street from the office is the "Wedding Garden" where newlyweds can pose for photos.

For information on applying online for wedding licenses, fees for wedding ceremonies, outer borough offices: cityclerk.nyc.gov/html/marriage/marriage_bureau.shtml
---
American Museum of Natural History

©AMNH
Perhaps you'd love to make your own mark on history by marrying in one of the world's greatest museums. Established in 1869, the American Museum of Natural History is also home to the Rose Center for Earth and Space (formerly The Hayden Planetarium), established in 1935.
All wedding ceremonies take place in The Powerhouse. The Powerhouse is a loft space that used to hold the museum's massive coal generators that now opens out to breathtaking views of The Rose Center and the expansive, al fresco section of The Ross Terrace.

* Capacity in The Powerhouse: up to 600 (seated dinner, 315)
* Receptions can take place in The Powerhouse or numerous other halls within AMNH.
* Prices custom to couple's needs.
For more information: 212-769-5350, or visit amnh.org
---
New York Botanical Garden
The breathtaking atmosphere of New York Botanical Garden is ideal for a summer or fall wedding. There are two venues on site to choose from: The Garden Terrace Room is a classic ballroom with hand painted murals and Palladium windows overlooking the Ross Arboretum. The stunning Lillian and Amy Goldman Stone Mill, nestled in Thain Family Forest by the majestic Bronx River offers a unique intimate space. Catering partner Stephen STARR Events, brings the exceptional dining experience of renowned Starr Restaurants Buddakan, Morimoto and Caffe Storico.
*Capacity in The Garden Terrace Room: 300
*Capacity in Lillian and Amy Goldman Stone Mill:115
*Prices custom to couple's needs.
For more information/reservations: 646-741-1400, nybg.org
---
Top of the Rock

The view from the Top of the Rock
Created and bankrolled by industrialist John D. Rockefeller during The Great Depression, the art-deco inspired Rockefeller Center is one of New York City's iconic destinations.
Top of the Rock offers a variety of wedding ceremony packages, for details, go here.
There are three nearby choices for a wedding reception venue: The Weather Room, 620 Loft & Garden, and the Rainbow Room.
Weather Room, photo by Allen Zepeda
* Located 67 stories above Midtown Manhattan, The Weather Room can accommodate weddings for up to 300 (standing/cocktails), or 120, seated for dinner. Windows soar from the floor to the 25-foot ceiling.
* Available Jan-mid-November, Mon.-Thurs. evenings, beginning at 6:30pm
620 Loft & Garden, photo by Roey Yohai
* 620 Loft & Garden offers stunning views of St. Patrick's Cathedral on Fifth Avenue
* Can accommodate up to 165 guests/120 seated meal
* Fees: based on couples' needs
For more information on these two venues, call 212-593-9499.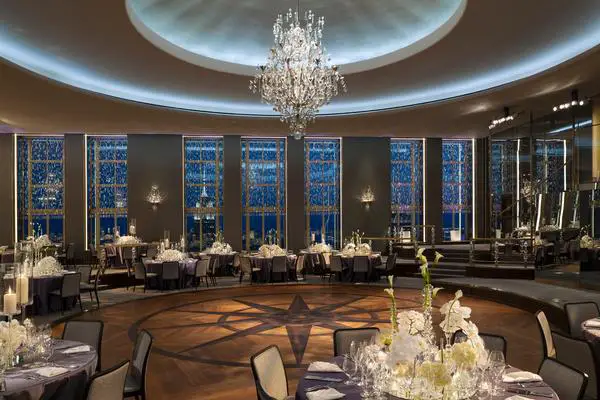 Rainbow Room, photo by Bart Barlow
Famous for its stunning views and legendary status as the quintessential New York venue, the Rainbow Room has been refreshed and reimagined, offering guests an incomparable experience. The extraordinary space and commanding views create an environment that merges longstanding prestige with today's standards of excellence.
For more information, call 212-632-5000, or visit rainbowroom.com.
---
Liberty Helicopter Tours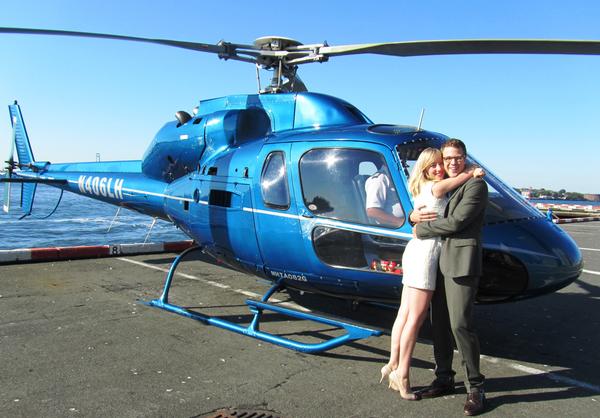 There is no skyline quite as majestic at the Manhattan skyline. Perhaps you and your loved one want to celebrate your vows high above New York City. Liberty Helicopter Tours has a special package, Married over Manhattan, a 20-minute private helicopter flight where you can get married or renew your wedding vows – all in a personalized ceremony right in the helicopter, by a licensed New York City Wedding Officiant.
* Fee: $2,550. For up to five passengers, including officiant. Also includes photo plaque in front of the helicopter and a special gift, and filing of paperwork w/NYC clerk.
* Helicopter Marriages are offered seven day a week from 9am-6:30pm Mon-Sat and from 9am-5pm Sundays from the Downtown Manhattan Heliport located at Pier 6 and the East River.
For reservations, call 212-967-6464 or email Reservations@libertyhelicopters.com, libertyhelicopter.com
---
Governors Island
Just minutes away from Manhattan by water taxi is Governors Island, a 172-acre island in the heart of New York Harbor. Weddings (ceremonies only) are held in the leafy Nolan Park, behind the Commanding Officer's House, overlooking Buttermilk Channel.
* Weddings (ONLY) must take place after closing (5pm), weekends and Holiday Mondays only.
* Governors Island opens each year, after Memorial Day Weekend.
* Two wedding permits are issued per day per site: one between 10am and 2pm, another between 2pm and 7pm.
* Fee: $400, plus $26 Park permit fee (limit 1.5 hours)
* Accommodates: 100 guests
For more information: Call Lynda Realmuto, Director of Special Events and Public Programs 212-440-2225, govisland.com/html/host/wedding.shtml
---
One World Observatory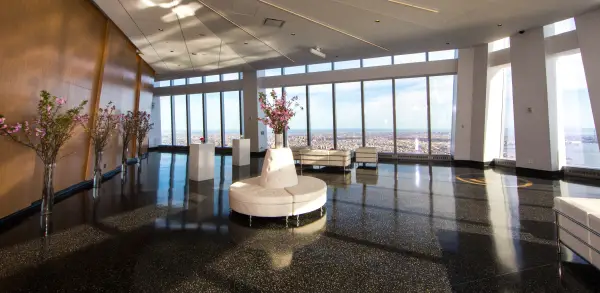 "One size fits one" is the philosophy behind the event space at One World Observatory. Bespoke special occasions are hosted here, from weddings to business meetings, in one of the world's unique places. Flexible spaces, all kinds of onsite amenities, great cooking, and room for up to 300 guests make this an excellent choice. And that's even before taking in the views from the 102nd floor! 285 Fulton St., 844-696-1776, oneworldobservatory.com
---
New York Water Taxi
New York Water Taxi handles transportation to/from Governors Island, accommodating up to 145 guests at a time. NYWT and ZEPHYR offer several options for on the waterfront pre/post wedding festivities. Aboard the Zephyr Luxury Yacht, bridal parties can get together for everything from cocktails and hors d'oeuvres to a wedding ceremony, accommodating up to 600 people.
For more information, call Nancy Zuckerman at 646-380-4245, nywatertaxi.com
---
Central Park /Conservatory Garden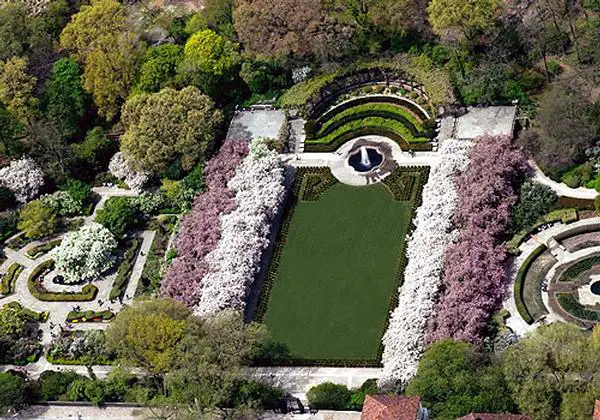 At a sprawling 843 acres, Central Park offers countless picturesque spots for a couple to get married. There are many choices: The Boat House (a private space), as well as The Pond, Cherry Hill, Bow Bridge, Shakespeare Garden, East Green, Cedar Hill, the Mall, Hernshead, 100th Street Pool and Harlem Meer. The most popular site is the Conservatory Garden. It's divided into three smaller gardens, each with a distinct style: Italian, French, and English. The Garden's main entrance is through the Vanderbilt Gate, on Fifth Avenue between 104th and 105th Streets. The iron gate, made in Paris in 1894, originally stood before the Vanderbilt mansion at Fifth Avenue and 58th Street.

* Fees: Permit $400 ($100 extra fee for permission to take photos), plus $26 standard Park wedding permit fee
* For more information: 212-360-2766:
centralparknyc.org/visit/things-to-see/north-end/conservatory-garden.html
For information on arranging for a wedding in other NYC parks: nycgovparks.org/highlights/places-to-go/weddings
---
Bateaux New York
The elegant, all glass Bateaux New York offers several cruise wedding package options- wedding ceremony-only; or reception-only (three hours, with personalized menus, a three piece band with vocalist, wedding cake, coordinator and more), as well as proposal packages. Capacity is up to 300. Bateaux New York departs from Pier 61, Chelsea Piers.
To begin planning, call 866-817-3463 or visit bateauxnewyork.com
---
Brooklyn Bridge Park

Granite Prospect. Photo: Julienne Schaer
A ceremony at Brooklyn Bridge Park offers an incredible view. Wedding ceremonies can be held at the Pier 1 Waterfront Promenade/Granite Prospect, Empire Fulton Ferry boardwalk and Main Street Pebble Beach (only).

* Weddings are limited to an hour and a half (no holidays or holiday weekends)
* Fee $400, in addition to $26 standard Park wedding permit fee. There's a limit of two weddings at a location during the day; one between 8am-2pm; the other between 2pm-8pm.
For more information: 718-222-9939, brooklynbridgepark.org
---
Queens Botanical Garden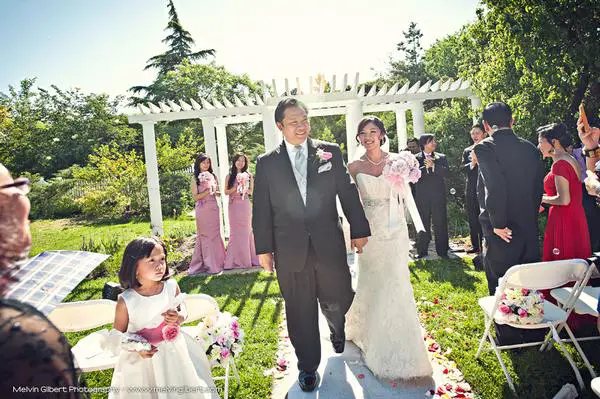 Queens Botanical Garden, photo by Melvin Gilbert Photography
With 18 acres of formal garden areas, the Queens Botanical Garden has been a great location to host elegant, affordable weddings for more than 30 years. Sites within the Garden include the Rose Garden, Wedding Garden, Floral Border, Annual Beds, Four Seasons Garden, Woodland Garden, Ornamental Grass Garden, and Fragrance Walk.

* Garden rental fee: $750
* Accommodates: 80
* Budget option: rent space for photos only, an hour rental; Main Garden, $175, Wedding Garden, $300.
For more information, call Clare Del Monaco at 718-886-3800, ext. 201, queensbotanical.org/about/WeddingsandEvents/weddings
---
Chelsea Piers
Chelsea Piers is well-known for its popular sports complex (it's also home to the original Law & Order set), but did you know its Sunset Terrace is a great location for weddings? Located at the western tip of Pier 61 off the West Ice Arena on the second floor of Sky Rink, Sunset Terrace has the feel of a downtown loft space, with ceiling to floor windows, where guests can view breathtaking sunsets on the Hudson River.
* Accommodates: 75 - 130 guests
* Packages start at $130 per person.
For more information: 212-336-6777, chelseapiers.com
---
Housing Works Bookstore in SoHo & The Works Catering

Photo: Shannen Norman

Established in the late '90s, Housing Works in SoHo has the look of a private library, with dark wood paneling and 20-foot-high ceilings, but only has truly raised the bar as being one of the best places in town for weddings in the last several years, says Matt Nasser, Director of Sales and Private Event Bookings. Many televised weddings and events have been 'hosted' here, from 30 Rock, Sex and the City, Law & Order and other shows. Actress Anne Hathaway had her engagement party there. The Works, a Housing Works Company, caters in NYC with four farm to table seasonal menus.
* Accommodates: "Seated, 150 guests; that includes a dance floor," Nasser adds.
* Weddings take place during the evenings, and can run "as late as you would like."
For more information: 212-780-1942,
email: rentals@housingworksbookstore.org;
Looking for Free Group Planning Services?
Get free advice on planning your group's trip to New York.
RESTAURANTS

Conveniently located in the Port Authority Bus Terminal, the...

THEATER

In a heartbeat, 38 planes with 6,579 passengers were strand...

SHOPPING

Heaven for designers, artists, and antiques lovers....

SIGHTSEEING

Enjoy the best prices for deluxe double decker, hop-on, hop-...