From Bowl to Soul: wagamama Opening in Murray Hill on February 6th!
January 3, 2019 - by Merrill Lee Girardeau
Brand new to the Murray Hill area, UK Asian fusion restaurant wagamama will be opening its newest location in New York on Wednesday, February 6th. wagamama, which has 197 locations across 27 countries, started in 1992 in England. In its early days, serving innovative Asian cuisine and craft cocktails before they were cool, celebrity chef David Chang visited wagamama as a student in London. Later he cited it as an influence in his culinary aspirations, which later turned into a pan-Asian chain of his own: Momofuku.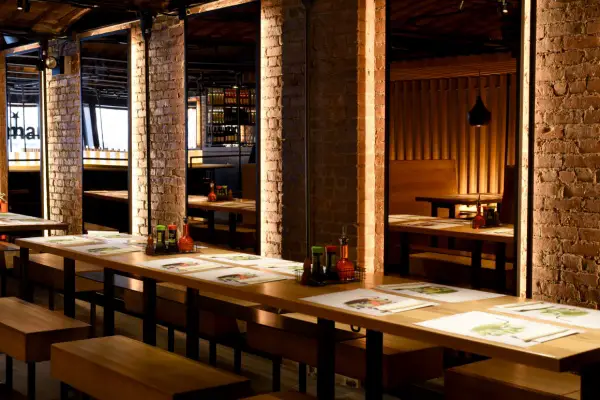 Photo: Danielle Adams.
The wagamama menu blends flavors from Japan, Korea, China, India, Thailand, and Vietnam, thanks to Global Executive Chef Mangleshot. At wagamama you'll get to choose from ramen with chicken bone broth, Korean barbecue buns, and vegan pad Thai.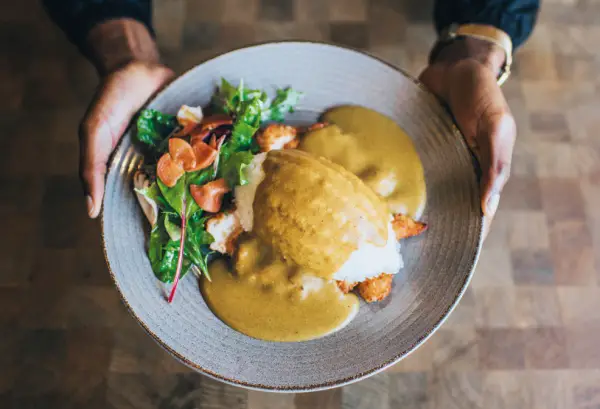 Chicken katsu curry. Photo: Danielle Adams.
The pan-Asian restaurant will enter the food culture of "Curry Hill," where many Indian restaurants thrive along Murray Hill's nearby Lexington and Third Avenue stretches. In honor of its neighbors, the new wagamama will serve an extra-spicy version of its famous katsu curry called Hot Katsu Curry. It will be available at the new restaurant for only the first month of business.
"Katsu Curry is Japanese comfort food," says Chef Mangleshot. "Traditionally the sauce is mild, but ours packs an aromatic punch. In Japan, they modify the dish based on spice preference between 1-10. I dialed it up to 6 for our Hot Katsu as a tribute to the many Indian curry restaurants in the Murray Hill area."
In the UK, the chicken katsu curry is ordered 3.5 million times a year—so you know it's good!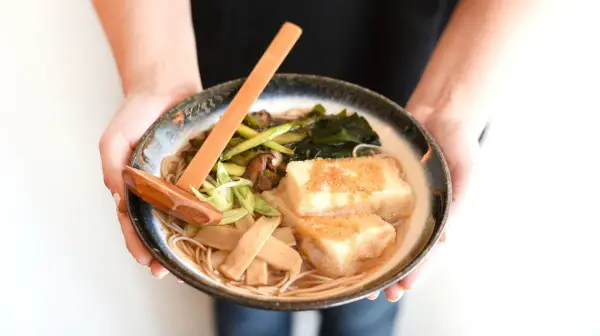 Tofu ramen. Photo: Danielle Adams.
Plant-based eaters can look forward to the new vegan menu at wagamama, featuring stuffed veggie wonton wrappers, Kare Burosu ramen, and Yasai Samla curry with lemongrass, coconut, shiitake mushrooms, and tofu. The ramen at wagamama, including the vegan version, is made with a flavorful broth inspired by the lightness of Vietnamese pho. The Yasai Samla curry won the PETA Vegan Food Award for Best Curry in 2017!
The opening of the Murray Hill restaurant coincides with Veganuary, which started in the UK in 2014 as part of an effort to inspire people to eat more plant-based food. In support of Veganuary, wagamama will feature a special limited-edition vegan dish—Avant Gard'n—co-developed by wagamama's Executive Chef Steve Mangleshot and trailblazing UK vegan chef Gaz Oakley. It will be available for four weeks beginning January 28th (February 6th in the new location) at all wagamama restaurants in New York and Boston.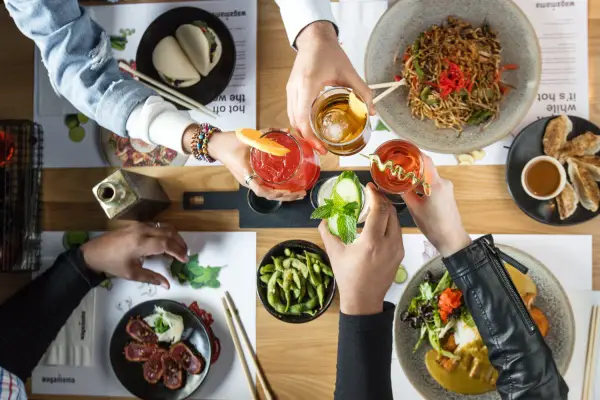 Photo: Danielle Adams.
While wagamama is a casual and convivial atmosphere, it doesn't skimp on quality drinks. NYC mixologist Adam Schuman has assisted in crafting Asian-inspired cocktails like a lychee martini and a yuzu collins with gin, yuzu-flavored sake, and ginger liqueur. Get your whiskey fix with the wagamama old fashioned, made with a blend of three Japanese whiskeys, sherry, and lychee liqueur. The bar will also serve a flight of sakes and bottled beers, including a matcha brew.
Refreshing mocktails include the cranberry blossom with mint garnish, while the fresh-pressed juice menu features green juices like Positive: a sweet blend of pineapple, lime, spinach, cucumber, and apple. To wind down your meal, you can also order one of wagamama's new specialty teas, one with lychee and another with red berry and hibiscus.
Along with its communal tables, modern blonde-wood paneling, and open kitchen, the focal point of the decor is a mural by London street artist Woskerski. In the striking wall-sized image, a child's face peers from behind a white bowl, surrounded by the words, From our bowl to Murray Hill's soul.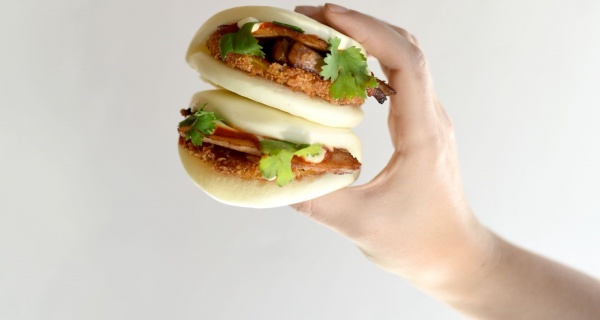 Photo: Danielle Adams.
The new wagamama will be located near Grand Central Terminal and the Morgan Library & Museum. It will be perfect for a convivial dinner with friends and family, a date over drinks, or a party. Wagamama Murray Hill is opening soon. It is located at 605 Third Ave., at 39th Street. Visit wagamama.us for more.
Looking for Free Group Planning Services?
Get free advice on planning your group's trip to New York.
RESTAURANTS

Multi-concept restaurant offering modern Japanese cuisine, a...

THEATER

Gaston Leroux's famous period thriller is now one of Broadwa...

SHOPPING

DataVision is redefining retail with their new, fully intera...

SIGHTSEEING

Opened to the public in 1913 thanks to the ingenuity and amb...