Closing Soon! A Night of 'Uncommon Sense' at the Sheen Center
November 22, 2017 - by Griffin Miller, Theatre Editor
Something spectacularly beautiful and moving is unfolding onstage at downtown's Sheen Center, but only for a few more days. Playing through this coming Sunday (11/26) only – following a critically acclaimed one-month run – Uncommon Sense is an important, exciting, funny and haunting work written by Anushka Paris-Carter and Andy Paris is about autism. More specifically, it shows theatregoers what its like living on the diverse autism spectrum.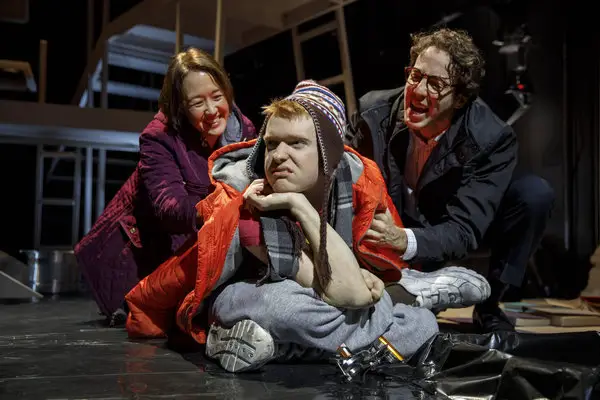 Photo by Joan Marcus
Developed by and performed by the Tectonic Theater Project, the same skilled troupe that brought The Laramie Project to life, this deftly constructed play doesn't simply present characters representing various rungs on the spectrum, at times it goes so far as to take you in to the disparate audio and visual sensations they experience: dreamy perceptions of floating jellyfish; disjointed, abrasive sounds; projections of numerical thought-waves running amok in one's mental ether.
But mostly it is a play about individuals: those riding the autistic spectrum and the people in their lives who desperately "want in": family members… teachers… outsiders.

The performances are all wonderful -- not just a joy to watch, but also full of wonder. Most of the actors play dual roles, with each character so well defined you cannot help believe.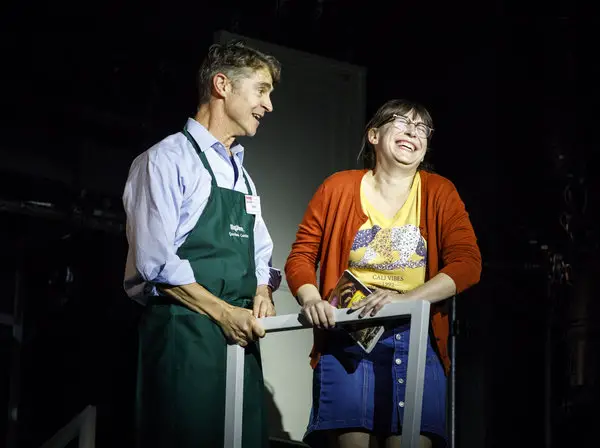 Photo by Joan Marcus
I could go on. I won't. I will just say that if you can see it this weekend, do. And if you cannot, and know someone who can, tell them. Buy them a ticket. In these days where compassion is a gift (sadly unaccepted by some) and understanding is to be cherished and embraced, I can only say this play will, and should, continue to change lives.
And please don't hesitate to bring a friend or family member with autism to see this show. The night I was there they held a post-show talk back and a large group of autistic teenagers were present. They asked the best questions...and they clearly loved the production.
---
I was lucky to bring a close friend to see the production – a woman who has had personal experience with autism. Her insight is the driving force behind what she posted on Facebook post this morning:
"So glad I got to see Uncommon Sense before it closes on Sunday, 11/26. I expected to find it interesting because one of my nephews is on the autism spectrum, but was thrilled to discover that it's a theatrical powerhouse as well: performances and production elements are sublime. A window into the spectrum. Yes. A mirror reflecting the human condition. Yes Yes Yes. Cross your fingers they film this show (and take it on the road) so more of us can experience this incredible storytelling about those who have difficulty telling their own stories."
-- Sue Yocum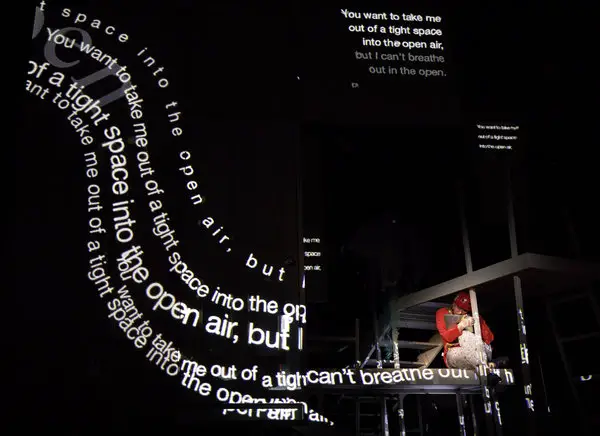 Photo by Joan Marcus
Uncommon Sense is playing at the Sheen Center for Thought and Culture located at 18 Bleecker St. For tickets visit sheencenter.org or call 212-392-1774.
Looking for Free Group Planning Services?
Get free advice on planning your group's trip to New York.
RESTAURANTS

Vida Verde brings the tastes, colors, sounds, and scents of ...

THEATER

Gaston Leroux's famous period thriller is now one of Broadwa...

SHOPPING

A premier destination for family entertainment....

SIGHTSEEING

In the heart of Midtown, steps from Times Square and the The...