Where to Have Post-Theater Drinks & Dessert in Midtown
July 11, 2018 - by Merrill Lee Girardeau
After the doors open on Broadway and you emerge back into midtown Manhattan after a transportative night of theater, you and your partner want a cocktail and something sweet to go with it. Below are your best bets for drinks and dessert in the area, with not a bad choice in the bunch. Enjoy!
Post-Theater Drinks & Dessert in NYC: Ayza Wine & Chocolate Bar
Wine and chocolate bar: the name sells itself. Ayza is a little out of the way from the Theater District, but it's also too perfect not to go on this list. The amount of chocolate here is a tad overwhelming, with chocolate martinis, fondue, raw vegan truffles, and chocolate pizza (all winners). Choose all of these if you're feeling adventurous, but we'd also steer you toward the Dark Magic wine and chocolate pairing. You'll get four generous helpings of red wine with four dark chocolate truffles. Ayza closes at 2 am Wednesday through Saturday and at midnight Sunday through Tuesday. 11 W. 31st St., 212-714-2992, ayzanyc.com
Post-Theater Drinks & Dessert in NYC: Bea
Bea is the ultimate safe-for-all-time-zones pick near Times Square, and we mean that as a compliment. It's a restaurant with great burgers and beer that also provides mouth-watering dessert and elegant cocktails. The flourless chocolate cake is a sure bet, and the chocolate lava cake with fig ice cream is even better. (There are non-chocolate desserts too, but who cares about those?) Wine, beer, and craft cocktails are available as well. One favorite is the Lavender Monk: lavender-infused Tito's with chartreuse, lime, and ginger beer. Open every night until 2am. 403 W. 43rd St., 212-602-1910, beanyc.com
Post-Theater Drinks & Dessert in NYC: Casellula
At Casellula, they know wine and cheese. Their well-curated wine list features pitch-perfect vintages from around the world (fans of bold, dry whites, go for the Writer's Block), and servers are well-equipped to find something for your palette. As for cheeses, the many varieties are broken down into flavor profiles like fresh, bloomy, washed, pressed and cooked, and blue. The pastry case is full not of pastries but blocks of cheese! There are pastries to be had, however, including chocolate cake and pumpkin pie. The chocolate truffles are outstanding as well. Open every day till 1am. 401 W. 52nd St., 212 247-8137, casellulahk.com
Post-Theater Drinks & Dessert in NYC: Aldo Sohm
At Aldo Sohm, you may feel like you've stumbled into a Pedro Almodovar movie, with an animated and elegant atmosphere. Bright pieces of art, glass hanging lamps, and large tan sectional sofa tell you to expect some luxury out of your experience. And expect it you should. Try the unoaked Colombe Malbec or another stellar pick from the extensive wine list. Desserts include the chef's selection of cheeses from Murray's, a chocolate mousse, linzer cookies, and caramelized apple with whipped cream. Open till 11:30 pm Monday through Thursday and midnight on Saturday and Sunday. 151 W. 51st St., 212-554-1143, aldosohmwinebar.com
Post-Theater Drinks & Dessert in NYC: Dianne & Elisabeth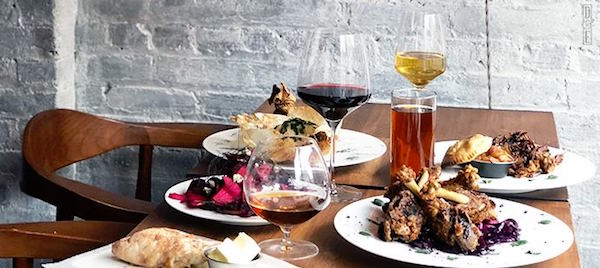 A stylish wine bar with corn dog appetizers? Dreams do come true! Dianne & Elisabeth specializes in wines made stateside, with labels from California, Oregon, and here in New York. They even provide a port and dessert wine list for your after-dinner treat. Craft cocktails include The Bearded Lady (gin, passion fruit, sparkling wine, and brandied cherry) and Granny Smith Collins (citrus vodka, green apple, vermouth, lemon, and smoked cinnamon). The four desserts are uniformly excellent, from hazelnut cookie sammies with ice cream filling to semolina ricotta cake with blackberry sauce. Have lemon via sorbet, curd, and candied peel with the Lemon Three Ways, which all sit atop buttered shortbread. Last but not least, fudge bites. Dianne & Elisabeth is open till 1am on Friday and Saturday and until midnight Sunday through Thursday. 644 10th Ave., 212-247-3039, dianneandelisabeth.com
Post-Theater Drinks & Dessert in NYC: Esca
A seafood-centric Italian place on West 43rd, Esca is open until 11:30pm on Fridays and Saturday. Hopefully, that means you can pop by for some excellent Italian wine and sumptuous dessert during the weekend. Selections rotate, but there are always gelati to choose from, as well as formaggi (cheeses). Right now, order the Baba Al Limoncello with lime sorbet, fresh fruit, and lemon cream. That and a negroni? Perfetto! 402 W. 43rd St., 212-564-7272, esca-nyc.com
Post-Theater Drinks & Dessert in NYC: Gloria
A pescetarian restaurant in Hell's Kitchen, Gloria wows with elegance and fresh ingredients. Though stocked with beer and wine, the cocktail list is a treat to read and to sample. Try the Parker Posey (gin, campari, and lemon) and the What's Love Got to Do with It? (a bubbly mezcal mixture). For dessert, it's pretty easy to fall for the tres leches cake with white chocolate ganache. Gloria also serves lemon meringue pie, fresh berry tart, and panna cotta topped with popcorn. Open till 10:30 pm Friday and Saturday, 9 pm Sunday, and 9:30 pm Tuesday through Thursday. 401 W. 53rd St., 212-956-0709, gloria-nyc.com
Post-Theater Drinks & Dessert in NYC: The Marshal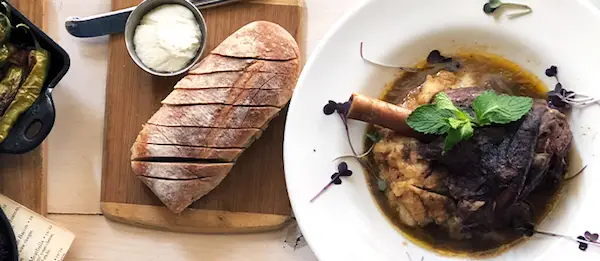 Come to The Marshal for locally sourced ingredients, and stay for the bourbon. This cozy farm-to-table restaurant spikes local apple cider with bourbon and mixes Catskill honey with rye and lemon: just two selections from a tasty, innovative cocktail menu. Wines come from nearby regions like the Finger Lakes and the North Fork of Long Island. Must-try desserts include fudge topped with ice cream and honeycomb, as well as classic s'mores that'll remind you of camp. Open till 11 pm Sunday through Thursday and midnight Friday and Saturday. 628 10th Ave., 212-582-6300, the-marshal.com
Post-Theater Drinks & Dessert in NYC: Joe Allen
The eponymous Joe Allen is the first name in Theater District dining. Even Broadway stars and staffers come here for food and drink at the end of the night. If you're a Broadway nerd in the mood for some celeb-spotting, or you're hankering for a hot fudge chocolate cake (or both!), this one's for you. Joe Allen also has an approachable wine list of bottles that won't break the bank. The dirty martini's not too shabby either. Open till 11:45 pm Tuesday through Saturday and 11 pm Sunday and Monday. 326 W. 46th St., 212-581-6464, joeallenrestaurant.com
Post-Theater Drinks & Dessert in NYC: Toloache 50
Looking for the best frozen margarita in the city? You've just found it. Toloache 50 is perfect for all occasions, whether they involve theater or not. In case you're not a fan of frozen margs, have one of Toloache's special flavors, whether floral or spicy or coconut, with a dessert of tres leches cake, churros, or layered crepes with dulce de leche. Open till midnight Friday and Saturday, 10pm Sunday and Monday, and 11pm Tuesday through Thursday. 251 W. 50th St., 212-581-1818, toloachenyc.com
Looking for Free Group Planning Services?
Get free advice on planning your group's trip to New York.
RESTAURANTS

Beer hall casual meets craft cocktails with a healthy dose o...

THEATER

Kander and Ebb's "musical vaudeville" in which Roxie Hart ga...

SHOPPING

An array of quality branded merchandise showcasing HBO's® aw...

SIGHTSEEING

Hop aboard these environmentally friendly twin-hulled catama...