Radiant New Jewelry in NYC from the PANDORA Shine Collection
March 23, 2018 - by Merrill Lee Girardeau
Whether you're a PANDORA charm fanatic or just a jewelry lover, you'll adore the new PANDORA Shine™ collection, just released in New York City's two PANDORA concept stores. These sunny, irresistible pieces in the Shine collection are sterling-silver electroplated with 18-karat gold. From rings to necklaces to bracelets to those undeniable charms, you'll find your new favorite statement piece among these designs, each of which radiates with summer sunshine.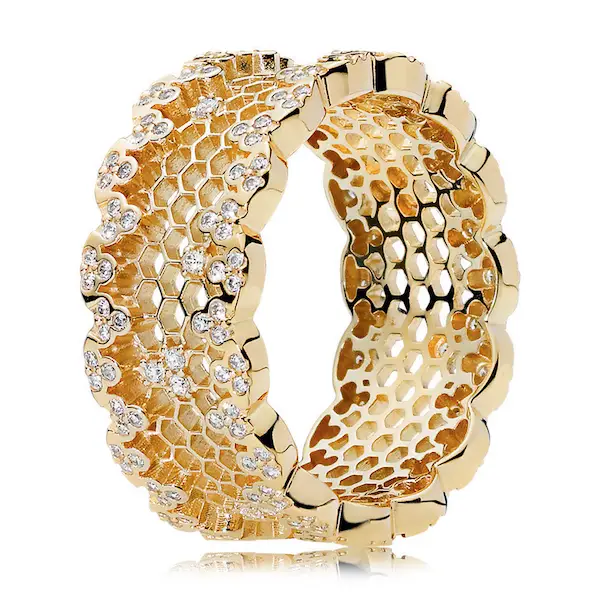 PANDORA's Honeycomb Lace Ring
Several pieces in the Shine collection buzz with adorable bees and catch the eye with intricate honeycombs. The Honeybee Bracelet features hexagons lying end to end across the wrist, with two bumblebees exploring the slender honeycomb. Tiny honeycombs form a golden netting across the skin in the Honeycomb Lace series. The Honeycomb Lace Charm, which also comes in a pendant for necklaces, is a heart-shaped charm for a bracelet with honeycomb pattern and CZs spangling the piece. The Honeycomb Lace Ring is a wide band with see-through honeycomb design and CZs scattered to make it stand out all the more.
Two versatile Shine bracelets make stunning bases for all the charms and clips you like. Check out the adjustable Sliding Bracelet with lariat design, adorned with clear cubic zirconia stones. Or you might prefer the simple Smooth Bracelet with the PANDORA logo on the clasp.
Get charmed with the Shine collection, whether you're adorning a PANDORA bracelet in rose gold or silver or the Shine electroplated 18K gold. The White Waves Charm from the Shine collection is a thick tubular shape and made with white Murano glass. The 18K accent on the White Waves Charm is at the opening in the center and makes for a sophisticated beadlike charm on your favorite bracelet. Another larger charm is the Golden Mix Pave Charm with a mix of clear, yellow, and golden CZs scattered about the gold surface.
You might like a honeybee or two (or three!) on your bracelets as well. Look no further than the PANDORA Shine Queen Bee Pendant, a dangling charm with a black-stripe bumblebee decorated with CZs on the body. The Honeybee Charm appears like a honeycomb with a bee on the surface. A tiny bee dangles from a big golden heart on the Heart & Bee Charm.
PANDORA's Forever Stud Earrings
Other pieces in the Shine collection are more simple, but no less beautiful. The Forever Stud Earrings are open circles embedded with CZs. These will go with absolutely everything in the collection, not to mention your daytime and evening ensembles! The simple PANDORA Shine necklace can of course accommodate any number of Shine clips and charms. This golden chain also looks gorgeous on its own or layered with other necklaces.
Our favorite in the collection just might be the Enchanted Crown Ring with clear CZs surrounding the band. It's whimsical and unique, and we love how it looks on the model (of course, the Shine Collection model is Ciara, who looks good in everything!).
Whether you're looking for a birthday gift, an Easter present, or a treat for yourself, explore the Shine Collection for a new radiant piece of jewelry! The Shine collection isn't sold at authorized retailers, so look for these designs in New York's two convenient Pandora stores.
Visit PANDORA shops in Times Square (110 W. 42nd St., 212-273-3267) and Herald Square (1284 Broadway, 212-643-9760).
Looking for Free Group Planning Services?
Get free advice on planning your group's trip to New York.
RESTAURANTS

Brings together the character of Hell's Kitchen past with th...

THEATER

Kander and Ebb's "musical vaudeville" in which Roxie Hart ga...

SHOPPING

DataVision is redefining retail with their new, fully intera...

SIGHTSEEING

Located in Times Square in the heart of New York City, Riple...