12 Secret Restaurants in NYC
January 4, 2019 - by Merrill Lee Girardeau
In a city filled with blinding marquees, spinning signs, and street hawkers, there's a certain value to keeping secrets. These 12 NYC restaurants are defined by exclusivity and word-of-mouth advertising instead of bright signage. Read on for great restaurants including Beauty & Essex, Ninja New York, Arcade Bakery and more, that are hidden behind unmarked doors, tucked inside other restaurants, or serving killer tacos from the back of a bodega.
12 Secret Restaurants in NYC: Bar Centrale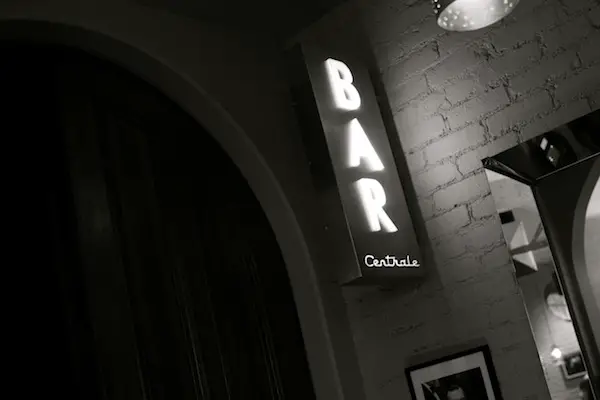 A Theatre District essential, Bar Centrale is located inside an unmarked converted brownstone apartment. It's like you're dining in the home of a very good cook who has his own bartender on staff. What's extra-special about the hidden Bar Centrale is its reputation as a haven for Broadway stars after their shows. Bar Centrale is best equipped to offer a strong cocktail and a heavy snack, so order some guacamole or a plate of shrimp dumplings with your Manhattan. Also, reservations are recommended, and they only take requests within a week of your desired appointment. 324 W. 46th St., 212-581-3130, barcentralenyc.com
12 Secret Restaurants in NYC: Burger Joint
This true hole in the wall might be cresting past its former "secret" status with years of popularity to its name. Still, like other restaurants on the list, Burger Joint has no visible storefront, and it requires you to navigate the Parker Meridien Hotel lobby if you want to find it. Walk past the concierge desk, through the curtains on the left, and down a hallway. You'll be greeted by a small, humble dining room (and, during dinner, a long line) and the smell of some beautiful burgers on the griddle. Order the cheeseburger with fries, and remember it's cash only. Inside Parker Meridien Hotel: 119 W. 56th St, 212-708-7414, burgerjointny.com
12 Secret Restaurants in NYC: Taam Tov
You know you're in the Diamond District when you walk West 47th Street amidst millions of glittering window displays. But what you might not know is the less-glitzy eatery favored by many in the local diamond business: Taam Tov. The door is unmarked, and you'll have to walk up two flights of inconspicuous stairs, but once inside you can expect delicious kosher offerings from the cuisines of Israel, Uzbekistan, and Georgia. Regulars love the manty dumplings, falafel, shawarma, and chicken shish kebab. For a secret, sensational lunch in midtown, try Taam Tov (which means "good taste" in Hebrew). 41 W. 47th St., 212-768-8001, taamtovkosher.com
12 Secret Restaurants in NYC: Gaonnuri
Gaonnuri gets high marks for an excellent view. Its Koreatown location on the 39th floor of an office building gives it a picture-perfect appeal as lucky diners sit in front of massive floor-to-ceiling windows. The Korean menu can be hard to navigate with so many options, but you can't go wrong with the black cod gui or short ribs with Gaonnuri's signature soy sauce. This restaurant is ideal for pre-theatre dining or before an event at Madison Square Garden nearby. Access Gaonnuri through the building lobby, where a maitre'd should be there to greet you and send you to the right elevator. 1250 Broadway, 212-971-9045, gaonnurinyc.com
12 Secret Restaurants in NYC: Ninja New York
If you like your secret dining with a touch of drama, come to Ninja New York. This Japanese hideaway in Tribeca has a marked street-level entrance, but the secrets begin once you step inside. Black-clad ninjas lead you through a winding passage into the dining room, and other ninjas surprise you with high-flying stunts and magic tricks throughout your experience. The sushi rolls and angus steak with teriyaki sauce are great orders, all to be enjoyed with sake or a cocktail. You and your dining companions will also have your own private pagoda, decorated like a ninja village. 25 Hudson St., 212-274-8500, ninjanewyork.com
12 Secret Restaurants in NYC: Bohemian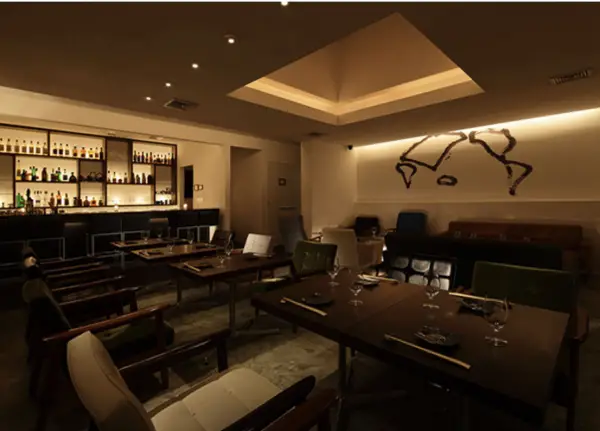 At Bohemian, tables are offered by referral only. In other words, you have to know someone who's eaten there in order to get in. The exclusivity of this secret NoHo spot has made it, conversely, a popular dining destination, but it also impresses time and time again with its globally inspired Japanese cuisine. There's a rice bowl speckled with caviar, washu beef sashimi, and creamy uni on a croquette. There's also a mac 'n cheese if you want a true American classic—Bohemian earns high marks there too. 57 Great Jones St., playearth.jp
12 Secret Restaurants in NYC: Kuma Inn
Above a Bulgarian bar in the Lower East Side is Kuma Inn, a low-key pan-Asian restaurant with something of a cult following. Its unassuming door on street level leads you upstairs for great eats. With a strong Filipino bent, this menu also features Thai and other Southeast Asian flavors, with house specialties like adobo chicken wings with coconut vinegar, as well as pan-roasted sea scallops with bacon and sake. Chef King Phojanakong rotates the menu seasonally and creates tapa-sized dishes perfect for sharing with hungry friends. After all, the restaurant's namesake term kumain is Filipino for "to eat." 113 Ludlow St., 2nd Fl., 212-353-8866, kumainn.com
12 Secret Restaurants in NYC: Beauty & Essex
Another very open secret, Beauty & Essex is located behind a pawn shop in the Lower East Side. It's among the more popular destinations in the area's thriving nightlife scene, so there are often lines behind the velvet rope outside. B&E's dinner and brunch menus take you all over the map, from empanadas to crab rangoon to ravioli. There's even a vegan menu! See and be seen at this posh New American bar and restaurant. 146 Essex St., 212-614-0146, beautyandessex.com
12 Secret Restaurants in NYC: Arcade Bakery
For hidden breads and pastries, find Arcade Bakery tucked inside the lobby of a Tribeca office building. Courtesy of Arcade's owner, baker Roger Gural, this adorable counter presents wholesome baked goods like croissants and babka. More decadent still is the s'mores danish, while those in want of a quick lunch can pick up a ham and cheese sandwich on fresh baguette or an artful thin-crust pizza. Eat in one of the nooks lining the lobby, or take your treat outside for another city adventure. 220 Church St., 212-227-7895, arcadebakery.com
12 Secret Restaurants in NYC: L'Appart
This secret spot has one Michelin star to its name, thanks to chef Nicolas Abello. Abello, who has also worked at Daniel uptown, presents innovative, seasonally-minded French food with surprises like Colorado lamb with mojo sauce. The 28-seat dining room is decorated like an apartment, and you'll likely get to meet Abello himself when you walk in. L'Appart is located inside the food hall at Le District near One World Observatory. Look for a passage between the "garden" and "market" sections for the door to the restaurant. 225 Liberty St., 212-981-8577, lappartnyc.com
12 Secret Restaurants in NYC: Mexico 2000
We just had to include a restaurant run out of a bodega. The quintessential New York market is the perfect place to hide a small eatery for adventurous eaters. Count yourself one of them, and next time you're in South Williamsburg, order a tamale or plate of mole poblano at this exceptional eight-seater. Bonus: it's open till midnight on Monday through Saturday. 367 Broadway (Brooklyn), 718-782-3797
12 Secret Restaurants in NYC: Blanca
To eat at Blanca, you have to pretend like you're eating at the wildly popular Roberta's in Bushwick, Brooklyn. But tell the Roberta's maitre'd where you're headed, and you'll be led around the corner to a restaurant inside this pizza palace, the multi-course fine dining restaurant helmed by Chef Carlo Mirarchi. Along with a handful of other diners, you'll embark on an upscale, 20-course culinary journey at Blanca. Blanca's is a rotating menu, but expect decadent surprises like macadamia-espresso dressing on Japanese sweet potatoes and spicy pork lava (eat at your own risk!). Seatings are available Wednesday through Friday at 6pm and 9pm, and Saturday at 5pm and 8pm. At your appointed reservation time, meet hostess inside Roberta's at 261 Moore St., blancanyc.com
Looking for Free Group Planning Services?
Get free advice on planning your group's trip to New York.
RESTAURANTS

Multi-concept restaurant offering modern Japanese cuisine, a...

THEATER

In a heartbeat, 38 planes with 6,579 passengers were strand...

SHOPPING

DataVision is redefining retail with their new, fully intera...

SIGHTSEEING

In addition to 360-degree views from Midtown Manhattan, the ...