Have a Ha-Ha Holiday With These 12 Comedy Shows in NYC
December 11, 2018 - by Merrill Lee Girardeau
Laugh and celebrate the winter holiday season with comedy shows staged throughout New York City. Some of the 12 listed below are explicitly holiday-themed (Christmas, Kwanzaa, even Festivus!), while others are just great acts coming to New York this December.
Holiday Comedy in NYC: Matt Rogers: Have You Heard of Christmas?
The fabulous Las Culturistas podcast co-host Matt Rogers is releasing a new Christmas album of holiday tunes—or not. Expect special guests at this "album release" for Have You Heard of Christmas?, an extravaganza music-directed by Henry Koperski with lots of laughs to go around. It'll be staged for four shows at The Duplex in the West Village. December 11, 15, 18, and 22. 61 Christopher St., 212-989-3015, mattrogerscomedy.com
Holiday Comedy in NYC: Dinner For One Presents: Presents
The People's Improv Theater hosts a comedy show unlike any other: audience members will open presents that set the course of the show! The troupe Dinner for One will perform their outrageous, character-driven sketches in all their holiday glory. This show will be hosted at the PIT's Striker Stage in Gramercy. December 13 & 16. 123 E. 24th St., 212-563-7488, thepit-nyc.com
Holiday Comedy in NYC: Roy Wood Jr. at Gotham Comedy Club
At four shows this December, Roy Wood Jr. is headlining Gotham Comedy Club. The "Daily Show with Trevor Noah" correspondent has had two Comedy Central specials and a co-starring role on TBS' "Sullivan & Son." He also hosts Comedy Central's storytelling series "This is Not Happening." With his grumpy Southern charm, Wood will bring the house down at this Chelsea institution. December 14-15. 208 W. 23rd St., 212-367-9000, gothamcomedyclub.com
Holiday Comedy in NYC: Not Quite Midnight
See a live variety show in the spirit of late-night TV at Littlefield in Gowanus. Not Quite Midnight delivers up "cheer, chaos, and comedy" courtesy of comedians Kate Willett, Josh Gondelman, and a great lineup of comics. One-man band Steven Desiena will bring electronica-infused carols, and the parody game Let's Get Weird Al is sure to spice things up. Hosted by Courtney Maginnis and Chris Calogero. December 16. 635 Sackett St., littlefieldnyc.com
Holiday Comedy in NYC: Festivus for the Rest of Us
Seinfeld famously coined Festivus, a winter holiday celebrated with the airing of grievances and a big silver pole in lieu of a tree. Sherrod Small brings Festivus into the 21st century with a slate of hilarious stand-up acts. The all-star lineup includes comics Pete Davidson, Michelle Wolf, Ricky Velez, Yamaneika Saunders, Jordan Rock, and Chris DiStefano. December 17. 130 W. 3rd St., 212-254-3480, smallworldcomedy.com
Holiday Comedy in NYC: Melissa Villasenor at Carolines on Broadway
Photo: Eric Johnson
A featured cast member on Saturday Night Live, Melissa Villasenor is a master impressionist and stand-up comic. She opened for Whitney Cummings last year and has performed voiceover work on Family Guy and Adventure Time. Come see Villasenor for one of her 5 shows this holiday season at Carolines, located near Times Square. December 20-22. 1626 Broadway, 212-757-4100, carolines.com
Holiday Comedy in NYC: A Very Jewish Christmas
Bring two winter holidays together, and laugh your way through A Very Jewish Christmas at Gotham Comedy Club. This Chelsea club is hosting two shows on Christmas Eve, with slates full of Jewish comics ready to entertain. So far, Marion Grodin, Sam Morril, James Goff, and Jared Freid are scheduled for this event, with more to come as the holidays approach. December 24. 208 W. 23rd St., 212-367-9000, gothamcomedyclub.com
Holiday Comedy in NYC: A Gay Show for All People Holiday Spectacular
This Brooklyn variety show at The Bell House gets decked in holly for the month of December. Aaron Jackson and Josh Sharp (both of The Opposition with Jordan Klepper) host a comedy show brimming with music, courtesy of the queer entertainers they've invited along. For this holiday iteration, there will be a live band and comics like Naomi Ekperigin, Nathan Lee Graham, Pat Regan, Amy Jo Jackson, Erin Markey, Sydnee Washington, and Henry Koperski and His Straights. December 28. 149 7th Ave., Brooklyn, thebellhouseny.com
Holiday Comedy in NYC: My Momma's Biscuits: 7 Days of Kwanzaa
The Upright Citizens Brigade in Hell's Kitchen is hosting a range of holiday shows, from "Holiday BANGERZ" to "The Winter Feast" (improvised holiday dinner table scenes—yikes!). The hilarious troupe My Momma's Biscuits will improvise a comedy show around the theme of Kwanzaa—a little informative and a lot funny. December 28. 555 W. 42nd St., 212-366-9176, hellskitchen.ucbtheatre.com
Holiday Comedy in NYC: LOL Times Square New Year's Eve Bash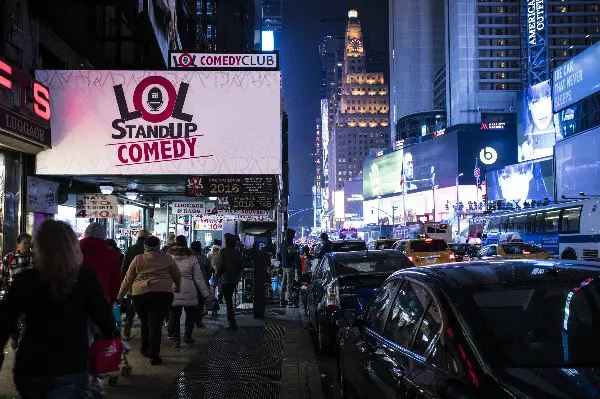 In the center of New Year's festivities, laugh your way into 2019 at LOL Times Square Comedy Club . A DJ will play throughout the evening, and an open bar will be available for 4 hours. Watch the ball drop on screens inside, or peek your head out the door and see it live! A range of ticket prices are available, with premium tickets offering table reservation, premium well drinks, and appetizers. December 31. 711 Seventh Ave., 212-643-6557, loltimessquare.com
Holiday Comedy in NYC: New Year's Eve at the Comedy Cellar
The legendary comedy club in Greenwich Village goes all out with sparkly decorations and outrageous comedy for the new year. For New Year's Eve 2019, the club will host four comedy shows full of exceptional talent. In addition to the original Comedy Cellar on MacDougal Street, the party will extend to the Village Underground, its sister club around the corner. Across the four shows, comics like Dave Attell, Todd Barry, Lynne Koplitz, Chris Distefano, and Des Bishop will perform. Expect party favors and complimentary champagne toasts along with the laughs. December 31. Comedy Cellar: 117 MacDougal St.; Village Underground: 130 W. 3rd St.; NYE2019@ComedyCellar.com, comedycellar.com
Holiday Comedy in NYC: Mike Birbiglia's The New One on Broadway
This show nimbly walks the line between stand-up and play, but it's deeply enjoyable all the same. Mike Birbiglia, the triple-threat talent behind indie films like Don't Think Twice and Sleepwalk with Me, takes up the whole stage at the Cort Theatre for this limited-run, one-man show. Hilarious, touching, and thought-provoking, The New One runs until January 20. 138 W. 48th St., 212-239-6200, thenewone.com
Looking for Free Group Planning Services?
Get free advice on planning your group's trip to New York.
RESTAURANTS

Multi-concept restaurant offering modern Japanese cuisine, a...

THEATER

In a heartbeat, 38 planes with 6,579 passengers were strand...

SHOPPING

DataVision is redefining retail with their new, fully intera...

SIGHTSEEING

Located in Times Square in the heart of New York City, Riple...