The Best New Brunch Deals in NYC
July 13, 2018 - by Merrill Lee Girardeau
Weekends are only two days long, which makes selecting brunch an extra challenge. How do you use that precious late-morning time wisely? While we don't claim to have all the answers, we do know a few great new brunches being served around New York City. The following restaurants feature new brunch menus, with flavors from French to farmers market-fresh. At these brunches, you and your loved ones can keep your weekend wonderful and sip some mimosas. We can all agree that's a pretty solid use of your time!
Best New Brunch Deals in NYC: Zavo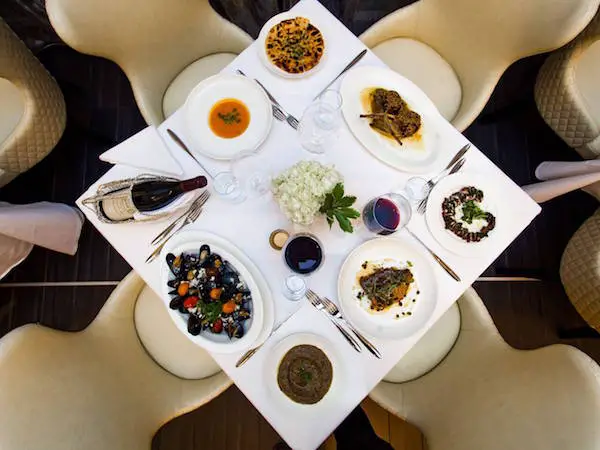 Come to ZAVO on Saturday or Sunday for eggs Benedict and cocktails at this new Mediterranean restaurant near Bloomingdale's. Those with a sweet tooth can savor Greek yogurt and quinoa granola or lemon ricotta pancakes. Avocado fans, rejoice: have avocado toast or an avocado bowl with quinoa, egg, and kale. Try smoked salmon, either Benedict-style or in an omelette. Served weekends from noon to 4:30 pm. 1011 Third Ave., 212-753-5500, ZAVOnyc.com
Best New Brunch Deals in NYC: Brigitte
A new restaurant in Two Bridges (the downtown neighborhood between the Manhattan and Brooklyn Bridges), Brigitte is a bruncher's paradise. You'll go gaga for the pancakes with caramelized banana and the picturesque eggs benedict in an equally picturesque bistro setting. Negronis are on tap, and Sweet Flight to the South with tequila, pear, and elderflower liqueur is an innovative winner. Fun fact: Brigitte endeavors to stock labels with women owners, denoting them with asterisks on the drink menu. Served 11:30am to 3:30pm on weekends. 37 Canal St., 646-649-3378, brigitteles.com
Best New Brunch Deals in NYC: Soogil
A new restaurant in the East Village, Soogil has received rave reviews in the past few months for its innovative, undeniable Korean cuisine. The expanding brunch menu will pique your interest too! Check out the Sizzling Bibimbap with oyster mushrooms, zucchini, carrots, bulgogi, and egg, or the special eggs benedict with pickled cucumber and carrot and short rib with sauce. Try a Komosa with cuvée wine, Korean pear juice, and lemon, or the zingy sake cocktail, Yuju Spice. Served weekends from noon to 3pm. 108 E. 4th St., 646-838-5524, soogil.com
Best New Brunch Deals in NYC: Studio
New to Flatiron, Studio serves housemade pastries and fresh, flavorful brunch from a playful and chic dining room. The Simit Bagel, a thin, open ring smothered in sesame seeds, is a sure crowd-pleaser for $6, while the Persian Frittata brings a Middle Eastern twist to a brunch classic. Enjoy fine wine or brunch cocktails like a Shipwreck Saint (rum, cocoa, rooibos, and lime). If you like dessert with your brunch (why isn't that a thing?), try a $10 plate of homemade cookies, which are some of the best in the area. Served weekends from 9am to 4pm. 23 Lexington Ave., studiofreehand.nyc
Best New Brunch Deals in NYC: Society Cafe
As a seasonal restaurant, Society Cafe rotates its menu so that Chef Christopher Zabito can use the freshest of the fresh ingredients in his dishes, some sourced from the nearby Union Square farmers market! Right now, enjoy the Greenmarket Omelet with seasonal veggies, caramelized onions, mushrooms, and gruyère. Or go big with the brisket burger topped with 21-day bacon, raclette cheese, and Society Sauce (...aaaand booking table now). Mimosas and bloody marys are $7 each, or get a carafe of either brunch cocktail for just $35. Served weekends from 11am to 3pm. 52 W. 13th St., 212-300-4525, societycafenyc.com
Looking for Free Group Planning Services?
Get free advice on planning your group's trip to New York.
RESTAURANTS

Multi-concept restaurant offering modern Japanese cuisine, a...

THEATER

Kander and Ebb's "musical vaudeville" in which Roxie Hart ga...

SHOPPING

The sweetest experience in Times Square!...

SIGHTSEEING

Sweeping, unobstructed, open-air views of NYC from the top o...