What to Do in Tribeca
February 13, 2014 - by City Guide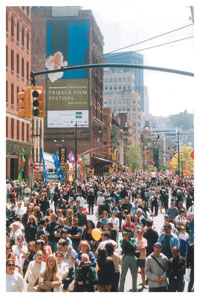 Named for the TRIangle BElow CAnal, Tribeca's (Canal Street south to Park Place, and from the Hudson River east to Broadway) landscape is dominated by cobblestone streets and former industrial buildings that have been converted into large, luxurious lofts and apartments. Many contend that its biggest draw for out-of-towners is the food. There are a multitude of restaurants where you can get anything from a burrito to sushi to homemade desserts. It's also "the place" for furniture -- both vintage and new -- with a variety of stores.

The Tribeca Film Festival, chaired by actor and longtime Tribeca resident Robert De Niro, draws the leading lights of the film industry and highlights lower Manhattan's cultural vitality. The popular Tribeca Family Festival Street Fair takes place on the final day from Hubert to Chambers Street. For a complete festival schedule, visit www.tribecafilm.com.
Dining in Tribeca: For a list of our favorite restaurants in Tribeca, click here.
Dining in Tribeca quick links: Ninja New York (Japanese).

Shopping in Tribeca quick links: Mobile City Online; Tent & Trails (outdoor gear).
Looking for Free Group Planning Services?
Get free advice on planning your group's trip to New York.
RESTAURANTS

Vida Verde brings the tastes, colors, sounds, and scents of ...

THEATER

A new musical following a wannabe rock star who poses as tea...

SHOPPING

A premier destination for family entertainment....

SIGHTSEEING

Opened to the public in 1913 thanks to the ingenuity and amb...