John Mulaney and Bill Hader: Unique Comedy at the 92nd Street Y
May 17, 2019 - by Samantha Aronson
"Known as a funny guy on SNL, now he's a murderer," Bill Hader joked about himself and his new role in the HBO series Barry. He dished this week at the 92nd Street Y.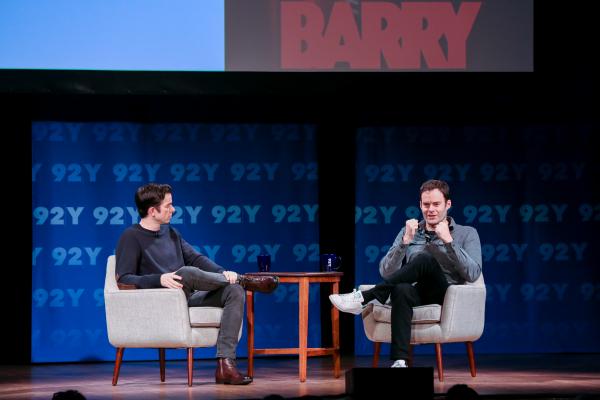 All photo credits: Maricela Magana / Michael Priest Photography
Comedians Bill Hader and John Mulaney might have stopped by the 92nd Street Y to discuss season two of Hader's show, but these long-time friends covered more than just that. From stories about their travels, to thoughts on fashion, handling anxiety, funny voices, and past tales of Hader's childhood in Tulsa, nothing was off limits for these self-described "two dumb Irish guys."
The audience could tell how comfortable the two friends were with each other. The comedians' back and forth style, mixed with jokes and the energy of the night, had not only the audience erupting in large bouts of laughter, but also Mulaney and Hader themselves—which just caused the audience to laugh even more. The longest silence the audience had was maybe a minute before laughter seamlessly began again. Wondering what line of Mulaney's that evening made Hader laugh the most? "In the Book of Life, I just want to be in the acknowledgments."
Hader and Mulaney did not just stay in conversation with each other. They commented on the audience as much as they could. "We brought her along. She's been following me since the airport," Hader joked about a woman in the front row. The show started at 5pm, but Hader shared that he had landed and left the airport just an hour before. (Hader compared how bad NYC traffic was to get to the Y to the rush he was in to get to the panel for Barry season one.)
The duo made sure to open up the floor to audience questions. When asked by a fan if Mulaney will ever guest star on Barry, Hader was quick to scream, "No." Hader then gushed about how his friend is an amazing comedian and would definitely steal the show no matter what idea the audience member pitched.
That wasn't the only interesting pitch story of the evening. It was revealed that Mulaney was there when Hader pitched the season two ending—after coming up with the idea minutes prior—for Barry. Focus, of course, quickly shifted, as the pair decided to explain Mulaney's outfit more than the story of how the ending came to be. (To be fair, the outfit was an interesting choice: a suit with sneakers and no socks!)
For those audience members who had not been watching Barry, Mulaney gave the warning, "I'm spoiling this, but you're adults." (The event was open to all ages, so actually it was not all adults. But the kids in the audience seemed to be enjoying every second as much as their parents.)
For more Mulaney-Hader stories and to see the rest of this chat from the 92nd Street Y click here.
---
The 92nd Street Y is a go-to for talks, book signings, and classes. Comedy, music, film, and literature can all be found their list of upcoming events. The 92nd Street Y is located at 1395 Lexington Ave., at 92nd Street. For more info, visit www.92Y.org.
Looking for Free Group Planning Services?
Get free advice on planning your group's trip to New York.
RESTAURANTS

Multi-concept restaurant offering modern Japanese cuisine, a...

THEATER

In a heartbeat, 38 planes with 6,579 passengers were strand...

SHOPPING

The world's largest source of cameras, camcorders, and more ...

SIGHTSEEING

Manhattan's premier all-glass, European-inspired dining crui...