Big Savings: Coupons and Discounts in NYC
July 9, 2018 - by City Guide Discounts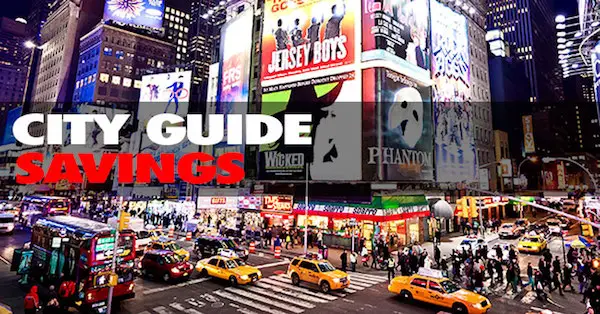 UPDATED JULY 2018
It can be expensive trying to do everything you want to do in New York City. But fear not: NYC's original City Guide has long been a trusted source when you're looking to save money on your trip to New York. You can find some of the best discounts and coupons right here for NYC tours, attractions, museums, retail shops, transportation and more. Offers updated monthly.
TRANSPORTATION
Carmel Car & Limousine Service is New York's number one choice for private transportation. Whether you're going to or from the airport, to a Broadway show, or just want an elegant ride to anywhere in the five borroughs, Carmel's sedans and limos are always a comfortable, reliable choice. With the below coupon, you can save $4 on any ride over $20.
SIGHTSEEING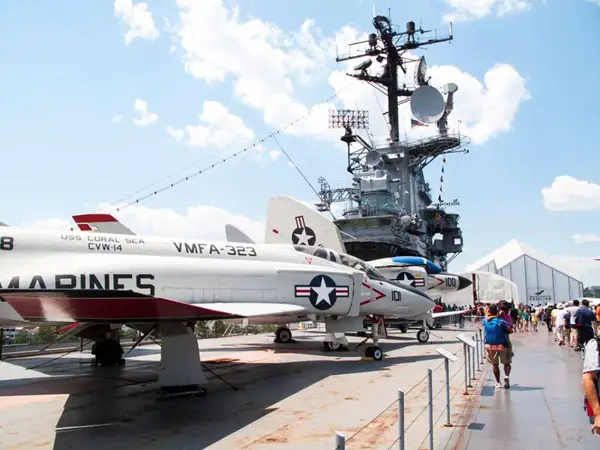 Intrepid Sea, Air and Space Museum: You can save $5 off general museum admission at this non-profit educational institution that features the legedary aircraft carrier Intrepid, the space shuttle Enterprise, the world's fastest jets, and a guided missle submarine.
GET INTREPID GENERAL ADMISSION COUPON NOW
Madame Tussauds New York: Get your selfie sticks ready, because New York City's Madame Tussauds in Times Square is the only place with no ropes or barriers holding you back from getting photos with your favorite stars! Voted as one of New York's most unique attractions, Madame Tussauds invites you to pose "In a moment in time" with your famous fun figures of internationally renowned musicians, A-list stars, sports legends, world leaders, and more. With over 85,000 square feet of interactive entertainment and several newly renovated spaces, including the new Ghostbusters VR, Project Runway, and Kong: Skull Island experiences, the world-famous wax attraction is bigger and better than ever! Take $5 off Superhero adult admission.
GET MADAME TUSSAUDS COUPON NOW
National Geographic Encounter: Ocean Odyssey: go on an immersive adventure beneath the seas, from the South Pacific to the coast of California. Journey with your friends and family on this walk-through experience, where you'll visit a luminous coral reef at night, witness a battle between two ferocious Humboldt squid, find yourself in the middle of a magnificent 3-D feeding frenzy, and much more. Take advantage of City Guide's coupon code and you can enjoy it at a discount: $5 off by presenting a copy of City Guide magazine at the box office, or with the code CITY18 online at NatGeoEncounter.com.
GET THE NATIONAL GEOGRAPHIC ENCOUNTER: OCEAN ODYSSEY COUPON NOW
One World Observatory: A visit to the One World Observatory is a journey like no other! Start by ascending to the top of the tallest building in the Western Hemisphere in less than sixty seconds, in state-of-the-art "Sky Pod Elevators" that feature a floor-to-ceiling LED screen showing the ever evolving New York skyline. Once reaching the 100th floor, visitors can take in panoramic, uninterrupted views on the main platform; the 101st floor features three dining areas and the 102nd has a private event space that can accommodate up to 300 people. Save 20% off admission.
GET THE ONE WORLD OBSERVATORY COUPON NOW
Ripley's Believe It or Not! Times Square: Save over 20% on admission to the world's most famous "Odditorium," which brings people of all ages face-to-face with world's most unbelievable curiosities. Use the code CITIGUIDE when you purchase tickets online for $7 off adult admission and $5 off for children. Or use the coupon in person to save $5 for adults and $4 for children.
GET RIPLEY'S BELIEVE IT OR NOT! TIMES SQUARE COUPON NOW
SHOPPING
Build A Bear NYC Have a fun family experience at Build-A-Bear Workshop. Choose from over 30 bears, bunnies, dogs and more to make. Then, give it a unique personality with outfits, accessories, sounds and even a message you record! Take $5 off a purchase of $25 or more.
Cariloha Bamboo NYC: Indulge in natural luxury with the softest bedding on the planet™. Cariloha sheets are made of eco-friendly viscose from bamboo and are softer than 1,000-thread-count Egyptian cotton. Come check our incredibly soft bedding, apparel, and Bamboo Fit wear! Save $40 off bamboo sheet bedset.
Century 21 For over 50 years, Century 21 in lower Manhattan has been famous for connecting shoppers with top designers at up to 65% off retail—100% of the time! You'll find everything from men's, women's, and children's designer apparel to footwear, handbags, housewares, and much more at this landmark shopping destination. Get a mystery shopping card value $5-$500 dollars when you present our ad at their Downtown Visitor Center.
DataVision: DataVision is redefining retail with their new, fully interactive store in one of NYC's busiest shopping corridors. Featuring a full selection of computers, software, peripherals, digital cameras, camcorders, MP3 players, DVDs, personal video players, TVs, handhelds, GPS solutions, desktops, notebooks, tablet PCs, wireless LAN, carrying cases, mobile phones. Authorized internet/retail dealer for most major brands. Open until 8pm. Save $20 off a purchase of $200 or more.
HBO Shop: The HBO Shop is a consumer retail space like no other in NYC. Featuring a multimedia showcase of HBO's award-winning programming, the store offers visitors the opportunity to purchase an array of quality branded merchandise for Game of Thrones, Silicon Valley, Sex and the City, Sopranos, Westworld, and more. Buy more, save more, up to 20% off.
Hammacher Schlemmer: For 170 years, Hammacher Schlemmer has been offering New York shoppers unexpected gifts and the necessities they didn't know they needed. With City Guide's discount code you can experience all the wit and innovation here at a 20% discount. Hammacher Schlemmer's diverse collection ranges from electronics to toys, outdoor products, personal care, apparel, home, sports, leisure, travel items, and famous holiday specials.
GET THE HAMMACHER SCHLEMMER COUPON NOW

NBA Store: The NBA Store features a great selection of NBA merchandise. From jerseys to footwear to basketballs and gifts of all kinds, the NBA Store has everything a hoops fan could ever imagine. 25,000 square feet of retail space covering three floors. Get a gift with your purchase of $30 or more!
Jack's Place: "The Wireless Professionals" offer a full line of unlocked GSM phones and accessories. Their mission is simple: to provide the best products and service to their customers at the lowest prices possible. Brand names include HTC, BlackBerry, Sony Ericsson, Motorola, Samsung, LG, Pantech, and Nokia. Save 20% off.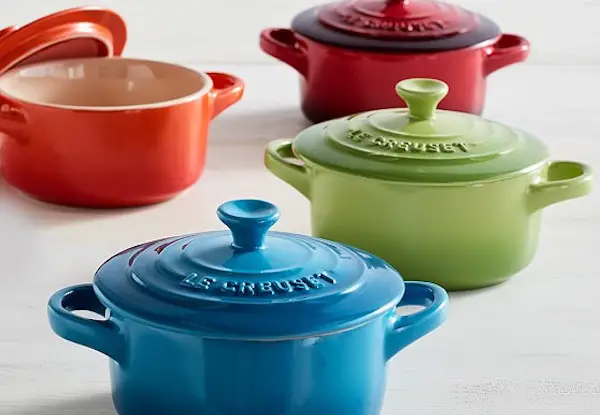 S. Feldman Housewares, Inc. This convenient one-stop shop on Madison Avenue offers more than 12,000 items spanning from giftware to housewares, hardware to cookware. Shoppers will uncover everything from exotic gifts such as spa-like bath accessories and decorative kitchen placemats to everyday necessities like umbrellas and light bulbs. For the cook in your life, browse the shop's vast selection of brands—from Alessi to All-Clad, Bialetti, Breville, Cuisinart, Farberware, Le Creuset, Vitamix, and beyond. Take 10% off your purchase with City Guide's coupon!
GET S. FELDMAN HOUSEWARES COUPON NOW
Tissot: Since 1853, Swiss watch brand Tissot has been a pioneer of fine craftsmanship and innovation. Associated with style, topnotch quality, and precision performance, the Tissot brand also offers a sense of traditional luxury that is within reach. Free gift with purchase (while supplies last.)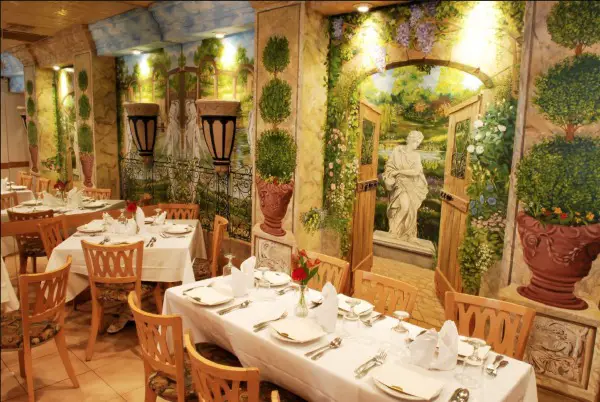 Il Cortile: One of the largest and leading Little Italy Northern Italian institutions since 1975. Dine in the stunning back garden atrium which is like no other in the city. Their extensive a la carte menu is sure to appeal to even the pickiest of palates, as well as a wide variety of pre fix menus for group gatherings in one of their numerous private dining rooms.
CLICK HERE FOR IL CORTILE COUPON NOW
La Rivista: The best beef, steak, pasta, and seafood in town. 20% discount on food and beverages. Open 7 days a week for lunch, dinner, and late night dining.
PJ Bernstein: For decades, the same owner on premises in the favorite deli of countless New Yorkers and visitors. The best overstuffed sandwiches like roast beef, pastrami, corned beef, brisket, tongue. Delicious matzoh ball, split pea, kreplach, borscht, chicken, mushroom barley, and lima bean soups. Take 15% off orders over $20 with copuon.
Planet Hollywood: For great food, famous memorabilia, awesome merchandise, and out-of-this-world events, there's no place like the Planet. Thrill to the magic of Hollywood surrounded by the largest movie memorabilia collection in the world! The menu features freshly prepared dishes - unique appetizers, unusual pastas and salads, sandwiches, burgers, grilled fare, tempting desserts and specialty drinks. Planet Hollywood apparel and collectible souvenirs are available in the merchandise shop. Take $10 off a meal of $30 or more.
GET PLANET HOLLYWOOD COUPON NOW
NIGHTLIFE
LOL Times Square Comedy Club: A new space for comedy and magic in the heart of Times Square. Shows nightly for locals and visitors alike. New York comics share the stage with traveling pros. Over 30 performances a week, including daily family-friendly shows. Magic shows nightly as well; enjoy entry to both with one ticket—get it for 50% off with City Guide's coupon!
Looking for Free Group Planning Services?
Get free advice on planning your group's trip to New York.
RESTAURANTS

Beer hall casual meets craft cocktails with a healthy dose o...

THEATER

Beloved diva Bernadette Peters and four-time Tony nominee Vi...

SHOPPING

DataVision is redefining retail with their new, fully intera...

SIGHTSEEING

A state-of-the-art Coney Island amusement park that's home t...