Beautiful Music: Abby Mueller Channels Carole King on Broadway
April 19, 2017 - by Elliott Richards
Beautiful: The Carole King Musical has become something of a sister act.
First Jessie Mueller portrayed the singer-songwriter—and won the Tony Award for best actress in a leading role in a musical. (When Mueller left to star in Waitress, Chilina Kennedy stepped in.) But this past March, the stage of the Stephen Sondheim Theatre was back in the Mueller family when Jessie's older sister, Abby—fresh from playing King in Beautiful's national tour—took over the lead on Broadway.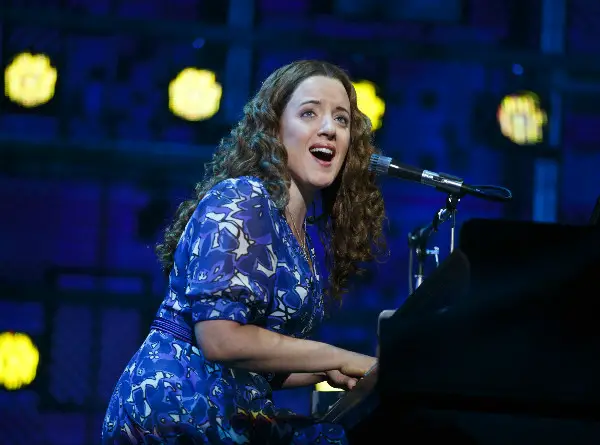 Photo: Joan Marcus.
Abby prefers not to measure her performance against her sister's.
"You're sunk if you compare yourself to anyone else," she says. "We created our own versions. You have to bring yourself; the best advice from the creative team was you have a responsibility to Carole to use your vessel and do your best."
King is an earthy, powerhouse part that each Mueller has mastered.
First seen as a teenage composer, better at music than lyrics, King meets Gerry Goffin (Evan Todd), a preternaturally brilliant lyricist with whom she forms a songwriting team. Soon after, they fall in love, marry, and have two daughters.
Beautiful soars when it portrays the process behind the couple's songwriting. In one early scene, they try to meet a deadline to write a song for The Shirelles, one of the great girl groups of the 1960s. She's written the music, but awaits the words he writes in his spare time from his job as a chemist. When she finds his lyrics, he is asleep at home, exhausted, and she begins to play the completed song, tentatively, then gradually, with more confidence, as if it were a grand discovery.
"Tonight you're mine, completely.
You give your love so sweetly."
As King, Mueller is experiencing the creation of their great collaboration, "Will You Love Me Tomorrow," along with the audience, for the first time. Then she plays it for Donnie Kirshner (Paul Anthony Stewart), the music publisher who has pitted King and Goffin against another talented songwriting team, Cynthia Weil and Barry Mann, who are played delightfully by Jessica Keenan Wynn and Ben Jacoby as a well-matched sophisticate and hypochondriac. King and Goffin win—the Shirelles take their song to #1.
"There's a lot of great moments in the show but I love that one the most," Mueller says. "We're trying to capture the moment of hearing that song for the first time and the person you love most has written the lyrics. It's pretty emotional."
Beautiful is packed with the best of the King-Goffin and Weil-Mann catalogues, sung by actors portraying The Shirelles, the Drifters, and Little Eva (who was King and Goffin's babysitter). But Douglas McGrath's book sets it apart from other jukebox musicals with its vivid story of female empowerment.
Carol Klein of Brooklyn—whose mother wants her to be a teacher—gradually becomes Carole King, traversing Gerry's infidelities and emotional problems, single motherhood, and her aversion to performing in public. As a result, when Mueller sings "You've Got a Friend" and "(You Make Me Feel Like) A Natural Woman," you feel the completeness of King's transformation into one of the greatest solo acts in musical history—and Goffin's contrition over how he hurt her.
"She loved writing songs and didn't think of herself as a performer," Mueller says. "So it's kind of cool to watch that light bulb moment happen with her. The journey she took to sing her own songs was the right choice."
And then there's the real life King connection: each Mueller sister has sung with the four-time Grammy winner—Abby did it on the Today show.
"It was pretty amazing," she says. "We sang 'I Feel the Earth Move.' "
---
Beautiful is playing at Broadway's Stephen Sondheim Theatre, 124 W. 43rd St. For tickets call 212-239-6200 or visit beautifulonbroadway.com.
Looking for Free Group Planning Services?
Get free advice on planning your group's trip to New York.
RESTAURANTS

Beloved midtown spot takes inspiration from local tradition,...

THEATER

Gaston Leroux's famous period thriller is now one of Broadwa...

SHOPPING

DataVision is redefining retail with their new, fully intera...

SIGHTSEEING

The only provider of ferry transportation to the Statue of L...