Obicà Mozzarella Bar
590 Madison Ave. (56th St.) IBM Building Atrium
212-355-2217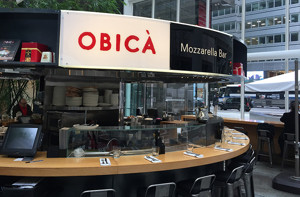 Obicà Mozzarella Bar is an Italian restaurant, kiosk, and café in the IBM Building atrium. Top-rate coffees and other pick-me-ups in midtown. From the fertile plains of Campania comes the unique Mozzarella di Bufala Campana DOP, carefully selected and served here in classic, smoked, and creamy forms. Also serving traditional Italian dishes in a friendly, welcoming atmosphere. Colorful, flavorful dishes: food to share, salads, panini, and a thoughtful selection of salumi, pasta, salads, and dessert (tiramisu!).
Looking for Group Booking ?
Got a group headed to New York? City Guide provides free expert planning assistance and buying services-just complete the quick form below.