True Stories
Looking for things to do in NYC? Get our free email with 8 can't-miss city events every week
Sign-up Here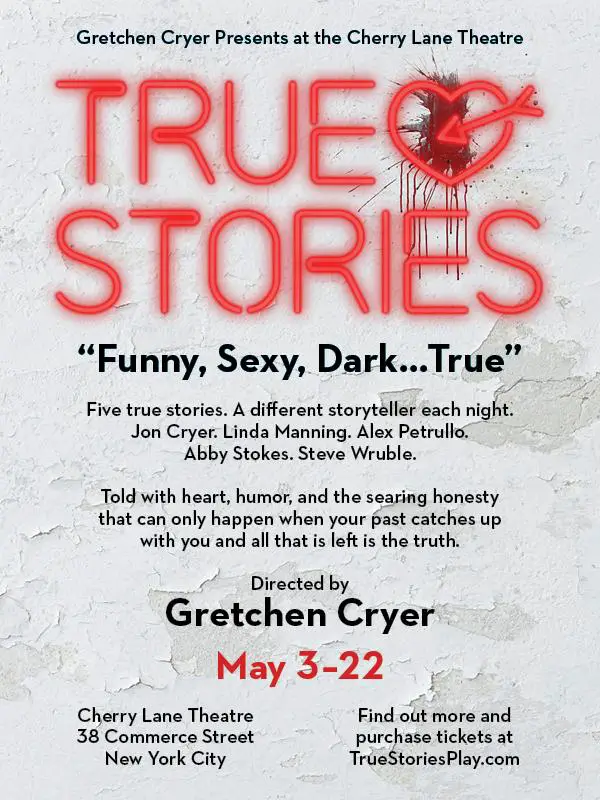 TRUE STORIES
featuring Jon Cryer (Supergirl, Two and a Half Men)
and Linda Manning, Alex Petrullo, Abby Stokes, and Steve Wruble
CHERRY LANE THEATRE
from May 3 to May 22, 2022
TRUE STORIES is five full-length, new solo plays directed by Obie, Drama Desk, and Outer Critics award winner and theatre legend Gretchen Cryer. Each play has five performances in repertory over three weeks in May 2022.
Performers/playwrights include Gretchen Cryer's son, two-time Emmy award winner Jon Cryer, Linda Manning, Alex Petrullo, Abby Stokes, and Steve Wruble.
The five individual plays are:
PERFECT LOVE, written and performed by LINDA MANNING. Linda tracks her evolution from a rootless girl, to a teenager surrounded by predatory and abusive men, to a reckless woman on the hunt for perfect love with every dangerous man she meets.
 THE ACTOR'S NIGHTMARE, written and performed by JON CRYER. Jon's life in film and television has been a wild ride careening from the sublime to the ridiculous. Now he's returning to the footlights with a personal love letter to the theatre.
CRAVE, written and performed by ALEX PETRULLO. Have you ever destroyed yourself in pursuit of love? Because, same...A hopeless young romantic moves to New York to pursue her dreams and falls in love with the Bar Mitzvah DJ from Jersey. Will this finally be the happily ever after she's always dreamed of?
A GOOD GIRL DOESN'T, written and performed by ABBY STOKES. A comedy that takes you from here to paternity. Abby'
s parents swing through the 1960s with wild key parties, martinis,
and Manhattans. Their frolics leave her asking: Who is my biological father?
ESCAPE FROM DADDYLAND, written and performed by STEVE WRUBLE. The son of Elvis Presley's proctologist, Steve expected to follow his father into the bowels of the rich and famous instead, becoming a psychiatrist. He takes us on a musical odyssey through divorce of both wife and Orthodox Judaism, but finds escaping daddy issues more daunting.
 For tickets, showtimes, and more information, visit
https://www.cherrylanetheatre.org/true-stories, or the Cherry Lane Theatre box office, 38 Commerce Street, New York, NY 10014. 
Single tickets begin at $34 with discount packages: $60 for two shows, $80 for three shows, and
 $120 for all five shows.
Venue: CHERRY LANE
38 Commerce St. Map
212-575-0263