Step into another dimension through a portal near Penn Station. ZeroSpace is a mind-blowing world you can explore now at this new interactive space in midtown. Enjoy projection mapped scenes in all their beauty. Be sure to snap some pics for your socials or make your way through stealthily, like you work for a covert government agency. The experience is yours!
ZeroSpace combines immersive art installation with experimental theatre. Agents for a mysterious government agency will instruct you about the otherworldly dimension you're exploring and lead you through spaces filled with light and wonder. You'll have plenty of time to roam around these spaces, whether it's a room containing a whole galaxy or the chance to sift through a psychedelic sandbox. Agents will instruct you on your mission as you go. Keep a watch out for alien life forms and changes in the atmosphere—there's no telling what you'll find around every corner! 

Although there is a narrative component, the ZeroSpace experience has self-guided elements allowing you to stay in the space for as long as you wish. On site there are two bars you can enjoy before or after the experience. ZeroSpace is a great activity for families, but note that children under age 8 are not permitted. 
Complete immersion means not only entering a new universe, but also putting your phone away in this interdimensional environment. ZeroSpace requests that visitors stow their phones and other devices in safe pouches that can be checked at the door or worn on the body during the experience. 
ZeroSpace is 25,000 square feet in size and the product of many creative minds. Founders Jordan Lejuwaan and Jon Kreutzer have gone to great lengths to produce this work of art and theater that engages a wide range of audience members. Production staff includes experienced people from across the entertainment spectrum, such as a producer for The Blue Man Group and a technical designer who has worked with Taylor Swift and The Super Bowl. 
The artists who created the dazzling environments inside ZeroSpace are Can Buyukberber, Electric Playhouse, Joshua Davis, Gabriel Schama, TUNDRA Collective, Hybycozo, Zack Lieberman, Christopher Schardt, Dan Schaub, Max Steiner, Storylab, David Cat, and new media studio Ouchhh.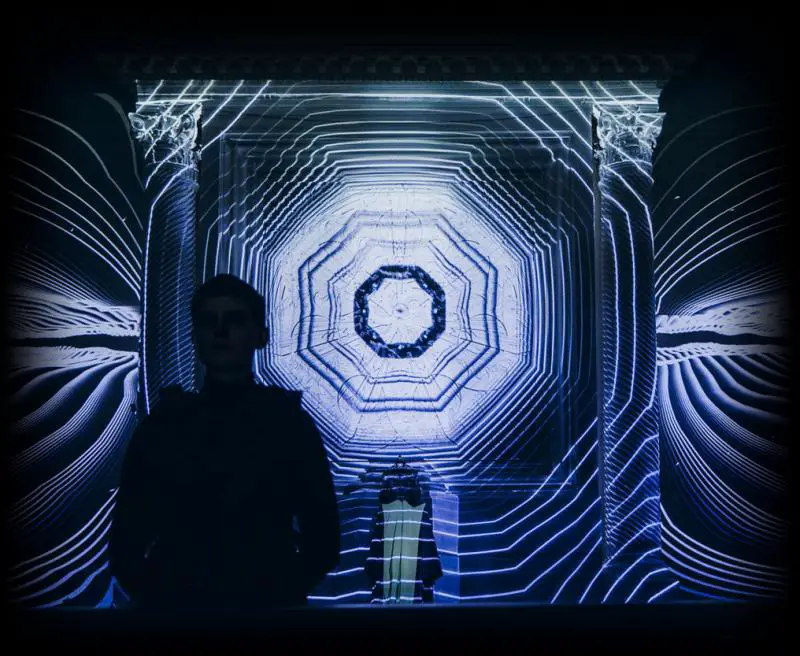 ---
ZeroSpace is open now, every Wednesday through Sunday. ZeroSpace is located at 136 W. 33rd St. Visit zerospace.co for tickets and more information. 
Read Next | What to Do in Times Square, Rockefeller Center, & the Theater District