Thanksgiving Dinner NYC: New York knows how to do Thanksgiving. The Macy's Thanksgiving Day Parade is our biggest claim to fame, but close behind come the amazing Thanksgiving dinners served in our hotels and restaurants. Whether you're looking for a traditional bird with all the fixin's, or something a little more haute, we've got the best prix fixe dinners and more for Thanksgiving 2018 in New York City.
Best Thanksgiving Dinners NYC: Midtown East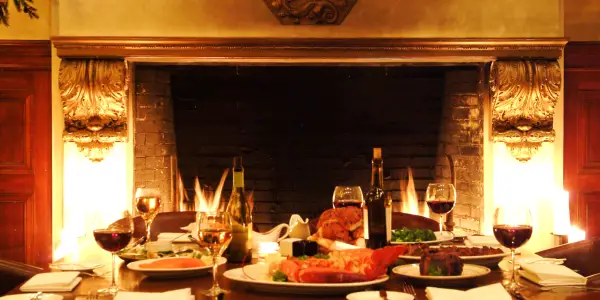 Peter Luger alumni Benjamin Prelvukaj and Chef Arturo McLeod have combined over 30 years of experience to create Benjamin Steakhouse, conveniently located near Grand Central Terminal in the century-old Chemist Club Building. Along with its usual refined Old World service and charm, Benjamin Steakhouse will be offering a Thanksgiving prix fixe on Thursday, November 22nd, in addition to their a la carte menu. The main entree is traditional Thanksgiving turkey with stuffing, roasted yams, potatoes au gratin, and cranberry relish. For appetizer, you can choose between pumpkin soup and an autumn salad; dessert is pumpkin pie with vanilla ice cream. $69.95 per person (not including alcohol, tax, or tip). 52 E. 41st St., 212-297-9177, benjaminsteakhouse.com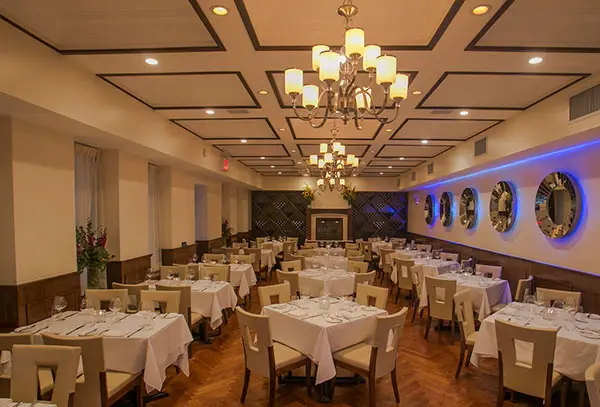 Benjamin Steakhouse sibling The Sea Fire Grill serves a contemporary American seafood menu for an elegant-yet-classic experience. For $69 per person, this year's three-course Thanksgiving Day menu includes choice of appetizer (bibb salad, roasted kabocha squash soup, polenta with shrimp and scallops), followed by organic heritage turkey with sourdough stuffing, cranberry sauce, mashed potatoes, mushrooms, and pearl onions, and finished with tea or coffee and a choice of pumpkin or pecan pie. 158 E. 48th St., 212-935-3785, theseafiregrill.com
Benjamin Steakhouse, the 2018 Concierge Choice Awards winner for steak, has spun off New York's newest steakhouse destination, Benjamin Steakhouse Prime, which just happens to be the 2017 Concierge Choice Awards winner for Best New Restaurant. This Thanksgiving look for a $69 three-course prix fixe that starts with appetizers like pumpkin soup, burrata, or autumn salad; followed by a traditional Thanksgiving turkey with all the fixin's, and pumpkin or apple pie (both a la mode) for dessert. 23 E. 40th St., 212-338-0818, benjaminsteakhouse.com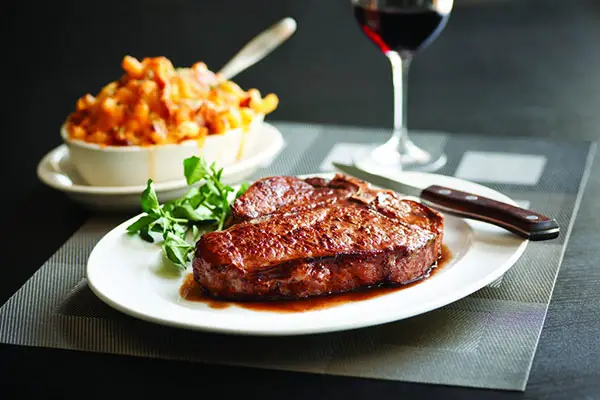 Famous for USDA prime-aged beef, fresh seafood, fine wine, and elegant desserts, Morton's The Steakhouse is the ideal place for a memorable dinner. Case in point? Thanksgiving 2018, when the Morton's on Fifth Avenue in midtown will be open from 1-9pm. Who needs turkey when you can get a perfect steak? 551 Fifth Ave., 212-972-3315; also visit their downtown location (open 1-9pm on Thanksgiving) near the 9/11 Memorial at 136 Washington St., 212-608-0171, mortons.com
Best Thanksgiving Dinners NYC: Midtown West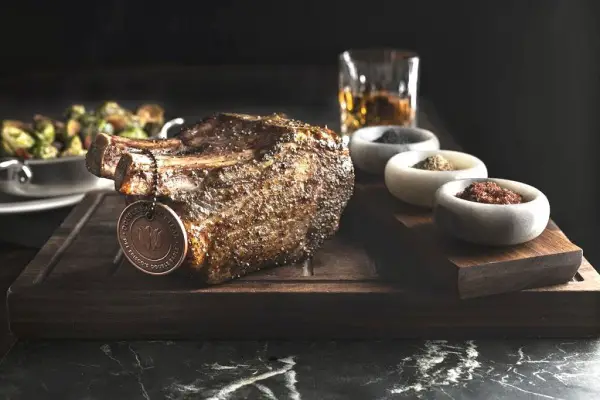 Del Frisco's Double Eagle Steakhouse New York, near Radio City Music Hall in Rockefeller Center, redefines fine dining in the heart of New York City. From noon to 9pm on Thanksgiving they'll be offering a special prix fixe dinner with elevated takes on traditional items like slow-roasted turkey breast with apple-sausage stuffing, château potatoes, and pecan pie a la mode, complimented by selections from the award-winning wine list. Guests interested in traditional steakhouse cuisine can also order from the full dinner menu, featuring the new wagyu collection, prime seafood, and the extensive dry-age steak options like the "Double Eagle" 45-day dry-aged double bone-in prime ribeye pictured above. Several new cocktails, including the Pamplemousse Spritz and Double Eagle Margarita, will pair deliciously with the Thanksgiving menu and signature items. $95 for adults and $55 for children, not including tax, tip, and drinks. 1221 Avenue of the Americas (entrance on 49th St.), 212-575-5129, delfriscos.com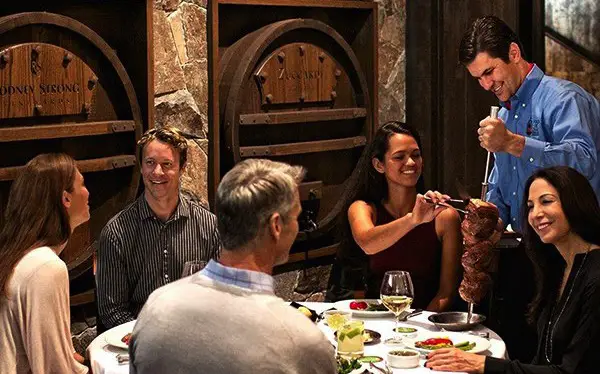 In 1979, Fogo de Chão began sharing the gaucho way of preparing meat in Porto Alegre, Brazil. Today, its gaucho chefs still expertly grill 16 cuts of meat and offer continuous tableside service. For Thanksgiving Day you'll find traditional Brazilian sides (cheese bread!), a market table and feijoada (stew) bar, and, of course, a selection of very fine fire-roasted meats. Thanksgiving hours are 11am to 9pm (dinner prices apply all day). Children under six free, and children 7-12 are half price. 40 W. 53rd St., 212-969-9980, fogodechao.com
Eating with kids can be tricky, especially if they're picky...but never at Applebee's. There's an entrée on the menu for every kid and every parent, no matter what they're craving. This Thanksgiving features a great offer: just $25.99 covers a feast that includes fresh-sliced turkey breast, stuffing, gravy, mashed potatoes, cranberry sauce, green beans, and a slice of pumpkin pie! Locations around NYC, including Times Square: 234 W. 42nd St., 212-391-7414, applebees.com
Best Thanksgiving Dinners NYC: Greenwich Village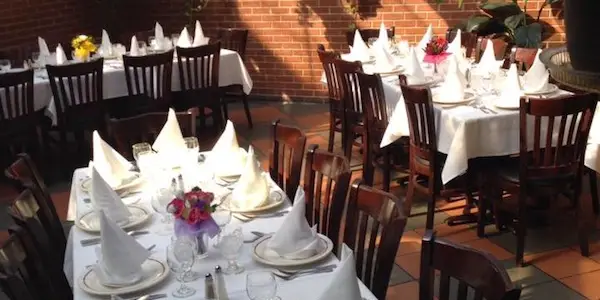 Family-run Greenwich Village favorite Villa Mosconi has been serving authentic Italian meals to New Yorkers for over four decades, and for those wanting to enjoy some Northern Italian cuisine, it is a must. For Thanksgiving, enjoy an a la carte menu that includes classics like roast turkey with cranberry and stuffing and pumpkin pie for dessert. (There are also many Italian temptations, including homemade manicotti or cannelloni, veal scaloppine alla Marsala, eggplant or chicken parm, and hot antipasto to start.) Three sittings: 12:30pm, 2pm, or 5pm. 69 MacDougal St., 212-673-0390, villamosconi.com
Best Thanksgiving Dinners NYC: Chelsea/NoMad
Famed chef, artist, and innovator David Burke will be serving up a full Thanksgiving menu at Woodpecker by David Burke. From noon to 9pm you can enjoy a three-course prix fixe ($65 per person) which begins with appetizers like pumpkin bisque, baked goat cheese gnocchi, or acorn squash salad, followed by entrees like wood-fired turkey, slow-baked salmon, or autumn risotto. A la carte sides include savory bread pudding and maple-whipped sweet potatoes. There's even a youngin' version: $35 covers kid-riendly dishes like glazed ham, mac 'n' cheese, and turkey fingers. 30 W. 30th St., 646-398-7664, woodpeckerbydb.com
Best Thanksgiving Dinners NYC: Times Square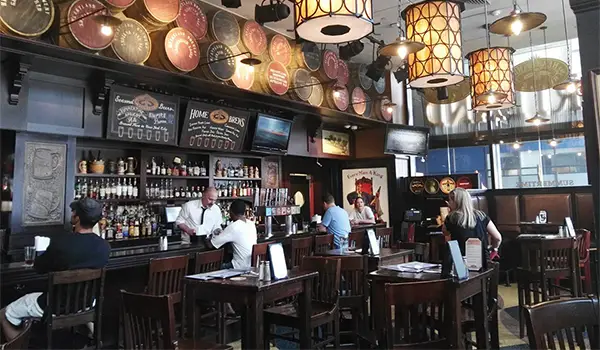 Heartland Brewery will be giving thanks this year with a special modestly priced prix fixe ($49, $25 for kids 12 and under) with a four-course menu. Meals start with homemade butternut squash soup and a crisp red leaf lettuce salad. Next, dig into a platter of fresh roasted turkey with sage stuffing, candied sweet potatoes, and green beans. Finish with a slice of pumpkin pie or New York cheesecake. Coffee and tea are included, reservations recommended. A great place to spend Thanksgiving with friends and family in NYC! At Times Square, Empire State Building, and Midtown West locations, as well as spinoff HB Burger. Heartland Brewery & Chophouse, 127 W. 43rd St., 646-366-0235; also Heartland Brewery Midtown West, 625 Eighth Ave., 646-214-1000, and Heartland Brewery and Rotisserie Empire State Building, 350 Fifth Ave., 212-563-3433; HB Burger, 127 W. 43rd St., 212-575-5848; heartlandbrewery.com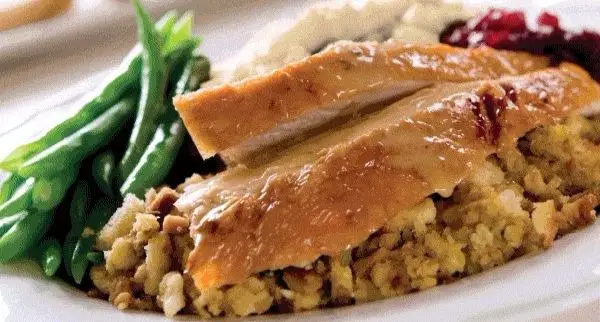 Eclectic décor, lively music, and engaging staff all add to the fun at Times Square's Buca di Beppo. They'll be going all out for Thanksgiving, serving sliced white meat turkey, homestyle gravy, roasted garlic mashed potatoes, spicy Italian sausage stuffing, green beans, cranberry sauce, and, of course, pumpkin pie. This is a terrific resource for Thanksgiving catering as well. Choose from a half pan (serves 10) or a full pan (serves 20) of Thanksgiving Feast classics and/or Italian favorites. Think spicy chicken rigatoni, chicken & sausage ziti, fettuccine Alfredo, mac 'n' cheese, lasagna, chicken limone, and dozens of other tasty choices. Salads, fresh breads, and desserts are all available as well. 1540 Broadway, 212-764-6527, bucadibeppo.com
Best Thanksgiving Dinners NYC: Upper East Side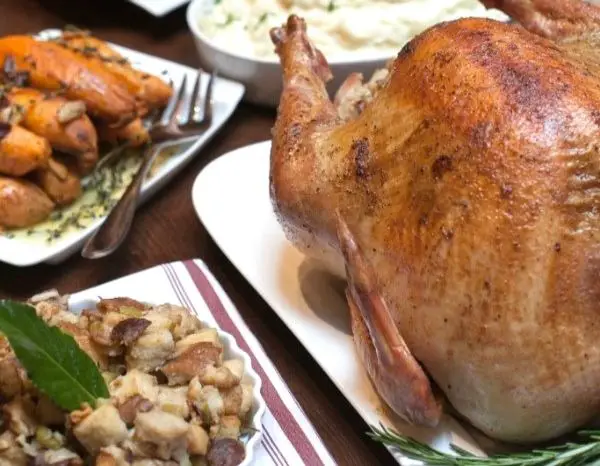 The all-new David Burke Tavern is a modern American restaurant by award-winning celebrity chef David Burke. A stately townhouse setting showcases Burke's creative, contemporary approach to classic fare—often with showstopping presentations. On Thanksgiving you can find a three-course prix fixe with a diverse range of options. Among the appetizers you'll find oysters "rock shrimp Louie" style, a pastrami salmon duo, Caesar salad, and a foie gras torchon. The main show for entrees is naturally turkey, served with cornbread stuffing, giblet gravy, and cranberry relish. It's not your only option, though: branzino, scallops & duck, and filet mignon are among the other entree choices. 135 E. 62nd St., 212-988-9021, davidburketavern.com
Best Thanksgiving Dinners NYC: Upper West Side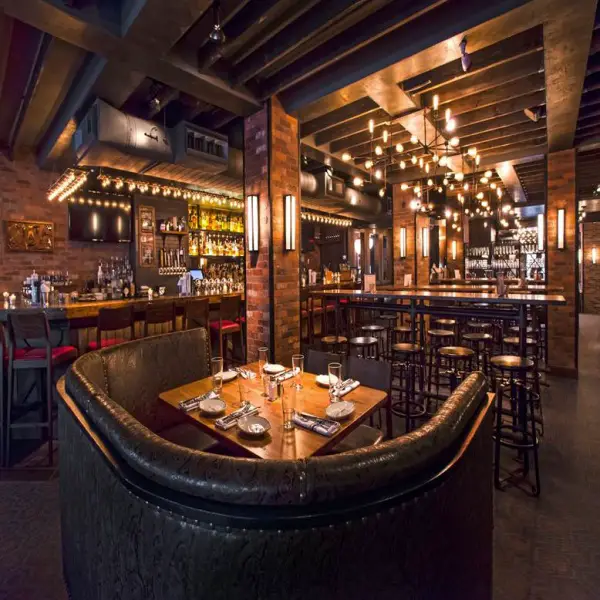 American cuisine with French influences, pairing classic preparations and local ingredients, is on the menu at Upper West Side charmer The Ribbon. For Thanksgiving, look for the likes of seared Arctic char with cauliflower purée, roasted butternut squash with quinoa, and rotisserie turkey. Come dessert, opt for a classic like pecan pie or something a little more outside the box: apple doughnuts with bourbon caramel. Reservations can be made online or by phone. 20 W. 72nd St., 212-787-5656, theribbonnyc.com
---
Best Thanksgiving Dinners NYC: On the Water

Bring Thanksgiving dining to the next level with family and friends together aboard Spirit of New York's Thanksgiving Day Sunset Cruise. The cruise departs from Chelsea Piers at 2:30pm for two and a half hours out on the water; prices are $129.90 for adults and kids ages 3 and up. The buffet menu includes salads, sides like mac 'n' cheese or a mashed potato bar, entrees like hickory-smoked ham, cod, or roasted turkey, and a bounty of desserts: pumpkin pie, caramel apple bread pudding, lemon pound cake & strawberries, vanilla bean mousse & raspberry sauce, red velvet & chocolate chip brownies, and seasonal fruit. Visit spiritofnewyork.com for additional information and reservations.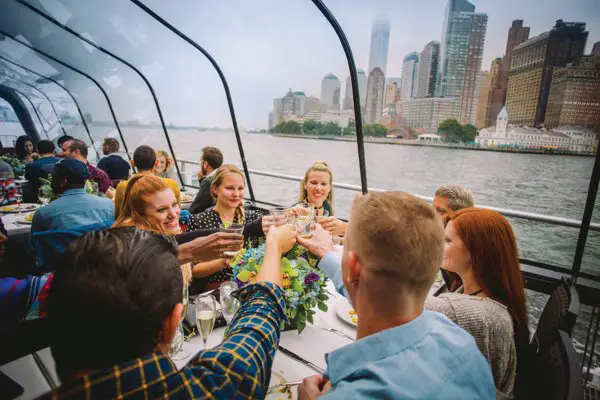 For an elegant, all-glass, European-inspired Thanksgiving experience, board Bateaux New York. The lunch cruise is sold out, but dinner still has tickets available, showing off incredible skyline and harbor views. At dinner, the music will be live band entertainment, providing a soundtrack to a plated 3-course dinner and a cruise that lasts from 7 to 10pm ($199.90 per person). Bateaux New York leaves from Pier 61 at Chelsea Piers. For reservations, call 866-817-3463 or visit bateauxnewyork.com.