The Value of Good Design at MoMA
February 15, 2019 - by Alison Durkee
MoMA is home to one of the greatest design collections in the world—and as a new exhibition shows, the museum has long had an impact on how the world thinks about design. Museum goers can get a new look at MoMA's design history and global reach at The Value of Good Design, a showcase of midcentury design and the museum's role in bringing it to the public.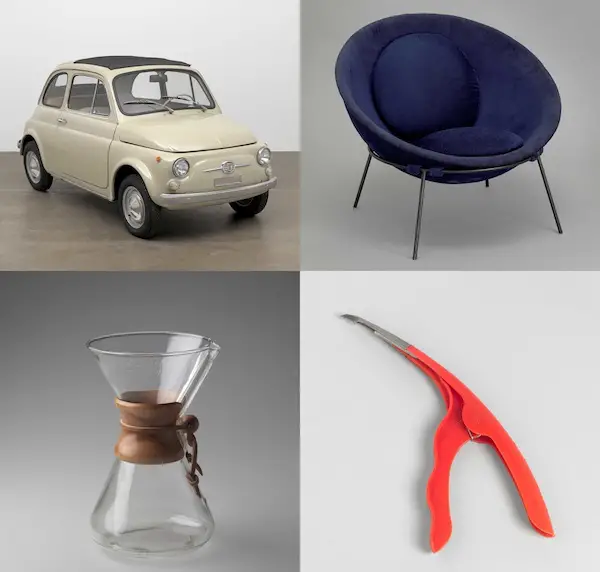 The Value of Good Design puts a spotlight on design from the 1940s and 50s by harkening back to "good design" exhibitions from the period. From 1938 to 1955, MoMA exhibited modestly priced items in annual exhibitions—first known as "Useful Objects" and later "Good Design"—that encouraged visitors to bring well-designed items into their own homes. The museum even partnered with nationwide retail outlets, providing them with design kits to help promote the items seen in their exhibitions. This emphasis on showcasing good design spread across the globe, and the current exhibition has a dual focus on both American and European objects and showcases from the period.
Much like the older exhibitions at its core, MoMA's new exhibition puts its emphasis on common, everyday items—furniture, kitchenware, children's toys—to show how well designed items can be useful, rather than a luxury. "Good design depends on the harmony established between the form of an object and its use," one of the tenets of good design displayed in the exhibition declares, and the exhibition is filled with examples of how design can enhance an object's function. A set of glasses from 1949 is praised for how their broad rim makes them easier to wash and dry, for instance, while the Italian Fiat 500f city car features a less-costly design that minimized raw materials while maximizing the car's interior space. Beyond the items themselves, the concept of "good design" also served a purpose as a government propaganda tool, the exhibition shows, as well designed objects were promoted to other countries as "emissaries of the openness and freedom of Western democracy."
This emphasis on functionality, though, doesn't mean the exhibition isn't still a pleasure to look at. Lovers of midcentury modern design will find much to enjoy here, from sleek chairs to bold, modernist prints by artists like Alexander Girard, Joel Robinson, and Marian Mahler. The exhibition also incorporates design sketches and videos from the period, including a news short showcasing a MoMA exhibition and "Glimpses of the USA," a vibrant video showcase of a day in 1959 American suburbia. The video, which includes period looks at 1950s shopping, nightlife, and industry, was used as a propaganda tool to promote the American way of life at the American National Exhibition in Moscow.
While the focus is primarily on designs from the past, the exhibition also shows how these midcentury takes on good design are still being adapted in the present. A small display gives visitors the chance to test out recreated examples of well-designed items from the 1940s and 50s, which are shown alongside updated takes on those types of objects today. A slinky is displayed with the Magnatab, another children's toy encouraging "tactile engagement," for instance, while a 1950s desk lamp sits next to solar-powered lighting fixures.
Those expecting more of a modern-day take on the "Good Design" exhibition may be disappointed here, as the exhibition puts its focus on celebrating past designs rather than moving forward into the present. The exhibition's strong focus on what makes a good design transcends the midcentury period, though, and visitors can expect to come away with ideas that still apply to the objects in their homes today. Though the post-World War II period has long since passed, The Value of Good Design shows that the principles of good design truly never go out of style.
The Value of Good Design is currently on display at MoMA through June 15. For more information, visit moma.org.
Looking for Free Group Planning Services?
Get free advice on planning your group's trip to New York.
RESTAURANTS

Multi-concept restaurant offering modern Japanese cuisine, a...

THEATER

Gaston Leroux's famous period thriller is now one of Broadwa...

SHOPPING

Specializing in the great vineyards of California, France, A...

SIGHTSEEING

Sweeping, unobstructed, open-air views of NYC from the top o...