Lovingly mocked in memes for its disproportionately small arms, the T. rex (Tyrannosaurus rex) remains the public darling of dinosaurs, thanks to films like Jurassic Park. Despite its shortcomings, the T. rex (tyrant lizard king) is a six-ton killing machine, capable of pulverizing and digesting bones. The American Museum of Natural History kicks off its 150th anniversary on March 11th with the new exhibit T. rex: The Ultimate Predator, featuring the most scientifically accurate representation of the T. rex to date. It also includes the museum's first multiplayer virtual reality experience. 
Visitors to T. rex: The Ultimate Predator will encounter a massive life-sized model of T. rex with patches of feathers—the most scientifically accurate representation of T. rex to date. © AMNH/D. Finnin.

In fact, it was the museum's paleontologist Barnum Brown who discovered the first T. rex skeleton, in Montana in 1902. To date, AMNH continues to be a leader in this field, with one of the largest and most diverse paleontology collections in the world.
While the T. rex is the most famous of the tyrannosaurs, it's not typical—there are about two dozen species. Early tyrannosaurs were quick and small, some only wolf-sized. Tyrannosaurs continued to evolve for over 100 million years, with the T. rex appearing towards the end. The exhibit section "Meet the Family" features displays of several types of smaller, faster tyrannosaurs.
A T-rex hatchling. © AMNH/D. Finnin.
To demonstrate the rapid growth of a T. rex in its relatively short life span (living to only 28 years or so), the exhibit features reconstructions of the T. rex at different ages—including hatchlings, at four years old, and as an adult, at a massive 43 feet long. What it loses in arm length, it more than makes up for in brain size; it also had an incredible sense of smell, sight, frequent tooth replacement, and even some feathers.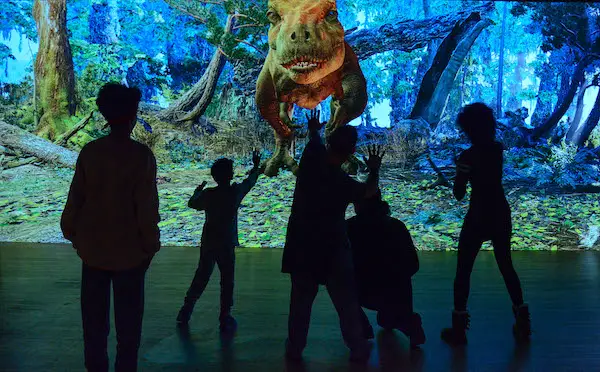 At the end of the exhibition, visitors will encounter a massive animated projection of a T. rex and its offspring in a Late Cretaceous setting. The huge dinosaur will react to visitors, leaving them to wonder, "Did that T. rex see me?" © AMNH/R. Mickens.
In the words of paleobiologist Gregory Erickson, "the T. rex is the James Dean of dinosaurs." One section includes a "roar mixer" where visitors can imagine what the T. rex may have sounded like by blending sounds from other animals. There's also a tabletop "Investigative Station," where visitors can explore a variety of fossils.  Against one wall is a 32-foot long projection of video of a T. rex in a forest. 
© AMNH/D. Finnin.
The exhibit also includes a virtual reality experience that visitors 12 and up can take part in (it's available on a first-come, first served basis). A team of three gets to virtually put together a model T. rex dinosaur fossil on the museum floor, followed by a pleasant surprise. The whole experience takes about 10 minutes. 
---
Visitors can enter the T. rex exhibit by purchasing a General Admission Plus One ticket.  It is a timed-entry exhibit. T. rex: The Ultimate Predator runs from March 11, 2019 through August 9, 2020. For more information, visit amnh.org.