Authenticity. Hospitality. Affordability. These three components rarely come together in one place, especially in a part of midtown Manhattan better known for some of the most high-end real estate in the world. Which makes the genuine, flavor-packed Thai food of Topaz Noodle Bar such an unexpected pleasure.
Step in and you'll find a warm welcome and a modern vibe. The intimate space is fitted out with sleek furnishings, wood accents, and flower arrangements providing bursts of color. This same crisp, contemporary approach is reflected in the food.
Lunchtimes are major draws thanks to a special that runs all the way to 4pm. A two-course meal starts at just $9.95. For part one, choose from four appetizers. Salad, fried tofu, and spring rolls are joined by the outstanding geoy hor cheese, the house's take on crab Rangoon. A crispy wonton set brings together cream and crunch in a diabolically good bite, with scallion flavor perfectly balanced by a sweet and spicy chili sauce.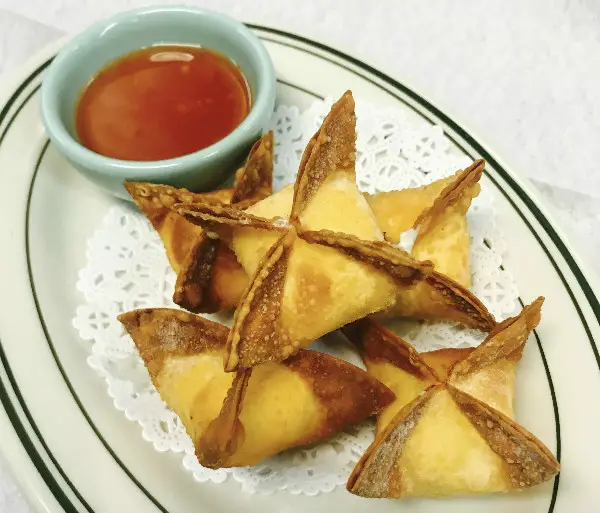 More than two dozen options appear on the lunch-special entrée array. Noodles are, of course, major standouts, including a traditional pad Thai, tom yum soup, and the rich yellow curry of the gauy tiew Singapore. Northern Thai flavors are reflected in the khao soi, a curry noodle soup with a complex broth, textured just right to keep you coming back for more shades of onion, pickle, and heat. The dish is completed with noodles two ways, fine angel hair meeting a broad and soft noodle topping.
Dinner is every bit as successful. On the lighter side you can get Thai salads like spiced papaya, grilled beef, and the flavor bomb that is labb, served with pork or chicken and packing onion, scallion, mint, chili, lime, and a boost of texture thanks to roasted rice. On the feast side, look to house specials like soft shell crab with garlic sauce, roast duck in tamarind sauce, and goong makham, which tops deep-fried jumbo shrimp with a fresh sweet-and- sour tamarind sauce, plus jasmine rice and steamed mixed vegetables on the side.
The drunken noodle is another major hit, joined by an all-star selection of soups, sautées, curries, and eight different takes on fried rice.
In a central location that's ideal for a day of shopping on 57th Street or a visit to cultural standouts like Carnegie Hall or City Center, Topaz Noodle Bar will leave both your stomach and your wallet feeling full.
129 W. 56th St. (btw. Sixth & Seventh Aves.), 212-247-2277, topaznoodlebarnyc.com