(7/12-7/14) Looking for what to do in New York this weekend? We've got the latest on all the goings-on, from concerts to museum exhibitions to comedy to the best in city sightseeing. Vive La France! The Bastille Day Festival on 60th Street is Sunday; French Restaurant Week is also underway. Plus Dave Chappelle at Lunt-Fontanne Theatre, City Water Day, 2019 New York City E-Prix, and more!
THE BIG EVENT

(7/14) Bastille Day Festival along 60th Street in Manhattan. Live performances by traditional French dance hall bal musette band Les P'tites Ouvreuses, jazz singer Chloé Perrier, rock band Rodeo Joe, electric big band The Blue Dahlia, theatrical dance troupe The Love Show, and a zouk dance lesson with Franck Muhel on the Main Stage (60th Street and Lexington); French singer Gérard Chambre in Florence Gould Hall; and the Hungry March Band will parade throughout 60th Street. Click here for the full schedule.
(Now-7/21) Mais Oui! French Restaurant Week in NYC. French Restaurant Week, similar to New York Restaurant Week in winter and summer, offers discounted food and drink at French restaurants around the city. The event, organized in part by OpenTable, will last July 8-21. Every restaurant will provide the following slate of prix fixe options: $17.89 for 1 drink and an amuse bouche; $25 for 2 lunch courses and a drink; $42 for 2 dinner courses and a glass of wine; and $178.90 for a meal for two that includes a bottle of wine.
Click here for other suggestions on Things to Do on Bastille Day in NYC.
PLUS
(7/13) City of Water Day at Pier 16 and 17. Now in its 12th year, City of Water Day is a free harbor-wide day organized by the Waterfront Alliance and its partners to get people to, on, and in the water. A Waterfront Festival at Piers 16 and 17 in Lower Manhattan's Seaport District will offer visitors the chance to get to know local marine life; participate in crafts and science experiments; and meet the many organizations that connect us to our waterfront. Nearby, the Con Edison Cardboard Kayak Race will delight fans of all ages, as 15 teams build and race cardboard boats. Free PortNYC Boat Tours will be offered across New York City, and there will be 50+ free satellite events throughout the region to celebrate our coastline and champion a climate-resilient New York Harbor. Experience your waterfront on City of Water Day!
Paddlesports Galore! Free Kayaking, Rowboat Rentals & Paddleboard Yoga in NYC.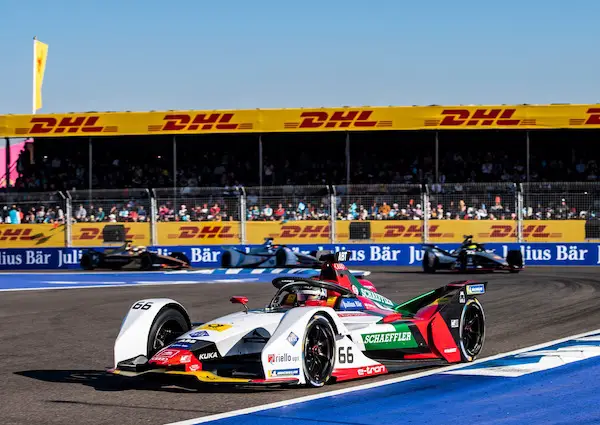 (7/13-7/14) 2019 New York City E-Prix zooms in to town for the weekend, taking place in Red Hook. Formula E is back in the Big Apple for the epic doubleheader season finale. Witness 22 drivers and 11 teams battle it out over two races in the shadow of the spectacular Manhattan skyline. Who will be crowned Champion? Let the battle for Brooklyn commence.
EXHIBITION OF THE WEEK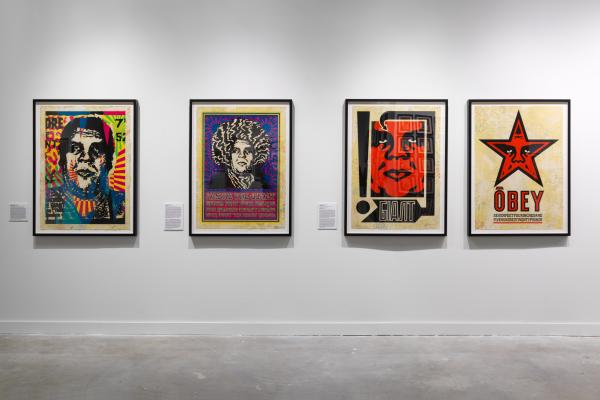 Pieces from Shepard Fairey's Obey Giant series, part of his 30th anniversary collection. Photo: Dan Bradica, courtesy of Beyond the Streets.
(Now-8/30) Beyond the Streets at the space Twenty Five Kent in Williamsburg, Brooklyn celebrates some of the biggest names in graffiti, including work from NYC legends Tats Cru, Lady Pink, Keith Haring, Jean-Michel Basquiat, as well as Shepard Fairey, Invader, Brooklyn duo FAILE, artifacts from NYC's beloved Beastie Boys, street photographer Martha Cooper, and much more. Get tickets at beyondthestreets.com.
(7/10) Today only, it's FREE ADMISSION to Beyond the Streets. No tickets required, 11am-8pm (last entry, 7pm.)
PLUS
(Now-12/8) Nobody Promised You Tomorrow at the Brooklyn Museum. This moving show features the work of 22 contemporary LGBTQ artists working in New York. Their paintings, drawings, sculpture, film, and installation comment on the LGBTQ rights movement, its early participants, its progress, and the human lives the movement represents.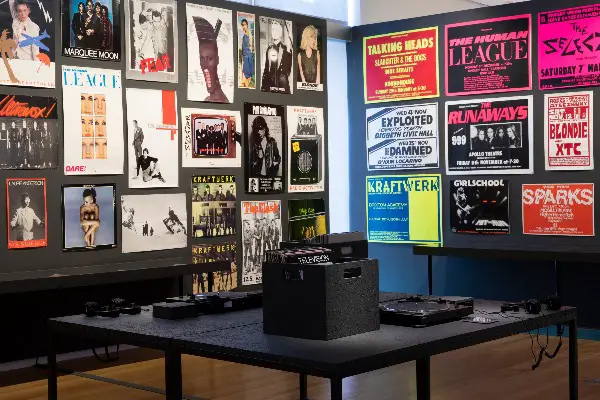 Installation view of Too Fast to Live, Too Young to Die: Punk Graphics, 1976-1986 at the Museum of Arts and Design. Photo by Jenna Bascom.

(Now-8/18) Too Fast to Live, Too Young to Die: Punk Graphics, 1976-1986 at the Museum of Arts and Design. More than 40 years after punk exploded onto the music scenes of New York and London, its impact on the larger culture is still being felt. Born in a period of economic malaise, punk's energy coalesced into a powerful subcultural phenomenon that transcended music to affect other fields, and especially graphic design.Too Fast to Live, Too Young to Die explores the visual language of punk through hundreds of its most memorable graphics, from the shocking remixes of expropriated images and texts to the DIY zines and flyers that challenged the commercial slickness of the mainstream media. #PunkGraphics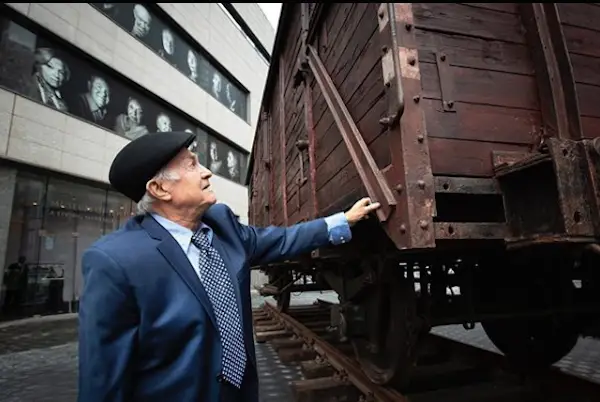 (Now-1/3/20) The most significant site of the Holocaust, Auschwitz was not a single entity, but a complex of 48 concentration, forced labor, and extermination camps, at which 1 million Jews—and tens of thousands of others—were murdered. Auschwitz. Not long ago. Not far away., a new exhibition at the Museum of Jewish Heritage—A Living Memorial to the Holocaust, explores the legacy of history's deadliest mass murder site. More than 700 original objects and 400 photographs are on display, many for the first time in North America. Among the artifacts: personal possessions, fragments of a barrack, a gas mask used by the SS, and an original German-made Model 2 freight wagon used for the deportation of Jews to the ghettos and extermination camps in occupied Poland. 36 Battery Pl. (1st Pl.), 646-437-4202,;mjhnyc.org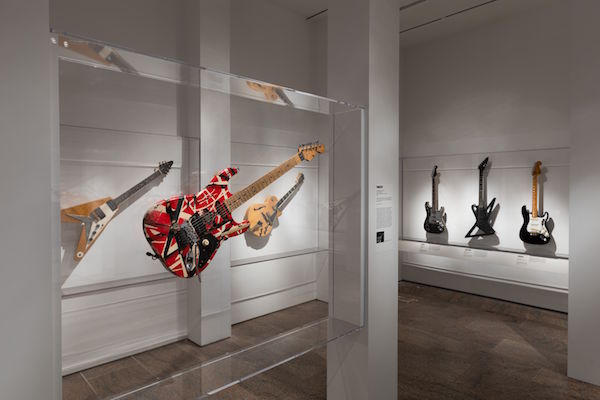 (Now-10/1) When you see the sheer volume (some 130) of mind-blowing instruments that have been played by a broad cross-section of iconic musicians, all tucked into one space, you'll understand why the sprawling Metropolitan Museum of Art is the appropriate place for the new show, Play It Loud: Instruments of Rock & Roll. It's the first time a music exhibit of this magnitude has been presented, with guitars alone including the white Fender that Jimi Hendrix played at Woodstock, Prince's 1993 "Love Symbol" guitar, and one of Pete Townshend's smashed Gibsons encased in Lucite.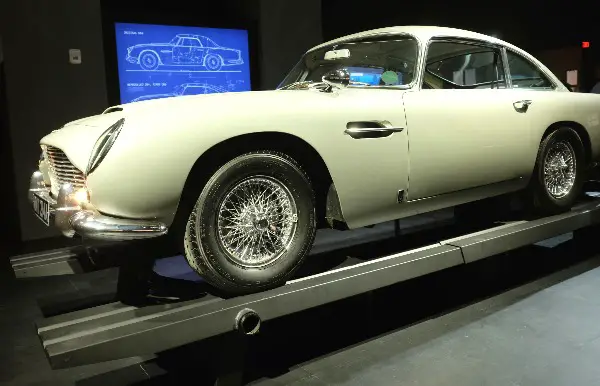 (Ongoing) You can experience the world of history's most famous spy at Driven: 007 x SPYSCAPE, a new exhibition inside New York's spy museum, SPYSCAPE. This immersive exhibition brings you into the Bond universe with sets, props, and insights about the creation of the ageless secret agent. Among the highlights: an Aston Martin DB5, the lab of Quartermaster (or Q), M16's gadget master, concept art from Oscar-winning production designer Sir Ken Adams, and an exploration of 2012 Bond film Skyfall's unforgettable final scene.
(Now-7/10 for Part One) Photographer Robert Mapplethorpe, who died 30 years ago of complications from AIDS, is the subject of Implicit Tensions: Mapplethorpe Now, now displaying the first installment of a two-part retrospective at The Solomon R. Guggenheim Museum. Mapplethorpe is known not just for his images, but for the controversies they incited. In 1989, after his death, his work became the centerpiece of a national debate about artistic censorship and what kinds of works public funds should cover (ironically, it was the debate that led to his widespread fame). Many of the images are graphic and retain the ability to cause discomfort, but time has lessened the shock; it has also brought to the forefront Mapplethorpe's technical proficiency and his ability to capture deeply insightful looks at his subjects.
COMEDY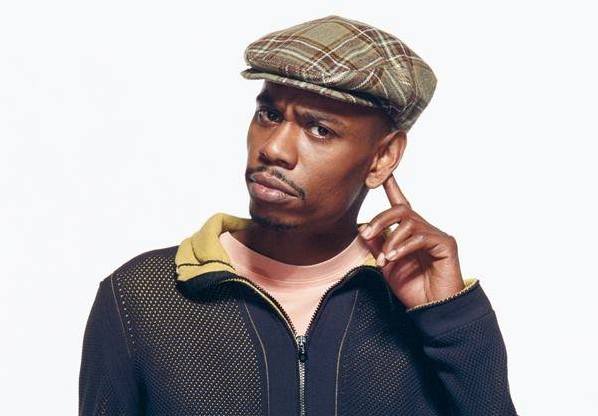 (7/9-7/13, also 7/16-7/20) Dave Chappelle is making his Broadway debut with five nights at the Lunt-Fontanne Theatre.
PLUS
(7/11-7/13) Bill Bellamy at Carolines.
(7/12-7/13) Joe List at Gotham Comedy Club.
(7/12) All Fantasy Everything at The Bell House.
Click here for more comedy shows in NYC this weekend.
KIDS
(7/13) LC Kids Dance with Dancing Classrooms at Damrosch Park, part of Lincoln Center's Midsummer Night Swing. Recommended for kids 6-10. For more than two decades, the folks at Dancing Classrooms have been spreading the joy of social dance to thousands of kids in New York City schools. Join them for this beloved (and free!) annual all-ages dance lesson where kids can learn the basics of merengue, tango, salsa, and swing before taking a spin on the dance floor. 3-4:30pm. FREE!
PLUS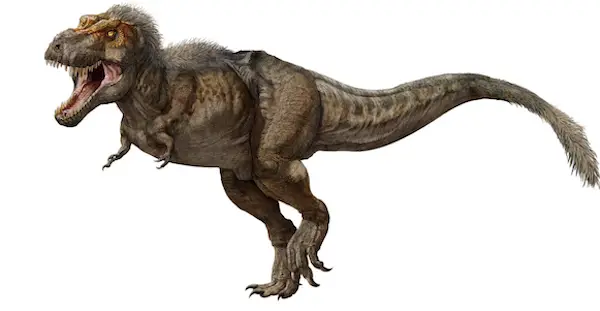 (Now-8/9/2020) T. rex: The Ultimate Predator at the American Museum of Natural History. Visitors will encounter a massive, life-sized model of a T. rex with patches of feathers—which, as scientists now know, were likely present on nearly all non-avian dinosaurs (all dinosaurs other than birds)—as well as reconstructions of a fluffy T. rex hatchling and a four-year-old juvenile T. rex; a "roar mixer" where visitors can imagine what T. rex might have sounded like by blending sounds from other animals; a shadow theater where a floor projection of an adult T. rex skeleton will come to life; and a magnetic wall where visitors will be tasked with placing various tyrannosaur family members in the correct time period. They will also encounter a life-sized animation of T. rex in the Cretaceous and explore real data from fossil specimens, CT scans, and microscope images at a tabletop Investigation Station. In collaboration with HTC VIVE, the Museum will present V. rex (working title) as its first interactive, multi-player virtual reality experience. Visitors will team up to build a T. rex skeleton bone by bone and then watch as it comes to life in what is now Montana, as it was 66 million years ago.
(Now-11/3) More T-rex love! Kids of all ages will want to check out the new Bronx Zoo Dinosaur Safari. It's the biggest, most realistic dinosaur safari ride in America. Travel back in time on a guided tour to learn about dinos of the past and descendent animals of the present. The experience will take riders through 2 acres of woods, in which they will meet animatronic dinosaurs, including two 40-foot-long T. rexes, a 60-foot-long herbivore called Omeisaurus, and the Spinosaurus, one of the largest carnivorous dinosaurs to ever exist. For even more kids activities, and to learn more about the brand new Bronx Zoo Dinosaur Safari, check out our sister site nymetroparents.com!
(Now-9/8) Above & Beyond: The Ultimate Flight Exhibition at The New York Hall of Science. NYSCI's summer exhibition uses flight simulation, augmented reality, touch tables, design and skill challenges, virtual reality, and more to immerse visitors in the wonders of flight.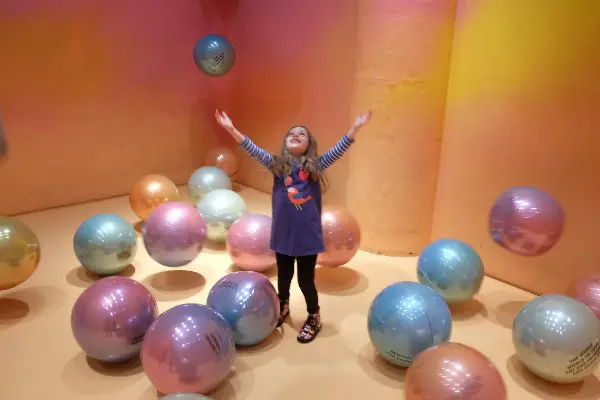 (Ongoing) Color Factory, a massive interactive art space, began in August 2017 in San Francisco. Wildly popular, the project has set up shop in SoHo and is sure to inspire lines as long as the cronut did at nearby Dominique Ansel Bakery. Designed by a wide spectrum of artists, Color Factory walks visitors through 16 rooms devoted to the wonder of color. You're invited to compliment someone using color words, discover your signature color, and read wishes for the world written by NYC school children on varicolored balloons. Each room is equipped with a camera that can take a picture of you and send it to your phone: the better to post with! On view now through August, 2019. 251 Spring St., support@colorfactory.co,colorfactory.co, @colorfactoryco
Updated!! Read about more Instagrammable pop-up exhibits in NYC here.
(Ongoing) Exhilarating Family Fun at Stomp NYC. Special discount packages available!
Click here for more events to do with kids this weekend.
SIGHTSEEING
(Ongoing) Feelin' the need for speed? The BEAST Speedboat Ride is back! Zoom past the Statue of Liberty at a heart-racing 45 mph!
PLUS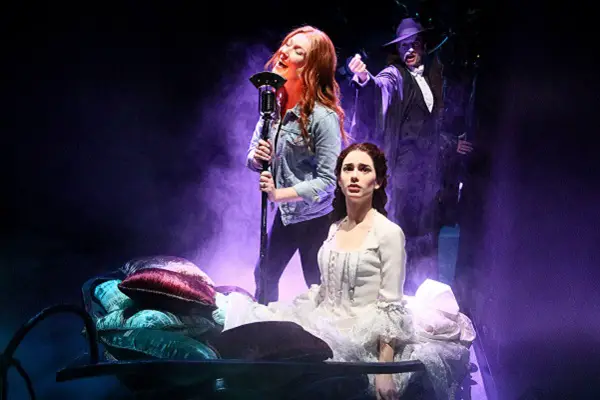 (New!) Madame Tussauds New York Presents Broadway. Take a magical journey starting with a cocktail at the Broadway Bar, and then traveling through a kaleidoscope of your favorite musicals. Enter the world of Andrew Lloyd Webber's Phantom of the Opera, Joseph and the Amazing Technicolor Dreamcoat, Evita, Sunset Boulevard, and Cats. You can sing "Memory" with Grizabella the "Glamour Cat" and wear the Dreamcoat yourself as you become a Broadway star. The Phantom of the Opera will also guide you through this dazzling backstage experience, and perhaps do a little singing himself along the way. Live actors will be on hand to enhance the rush both on- and offstage.
(Ongoing) Get the full stadium experience with Yankee Stadium Tours, which offers exclusive access to New York Yankee historic spots like Monument Park, The Great Hall, and even down to the dugout. The daily tours also bring you close to baseball artifacts like Babe Ruth's bat, Lou Gehrig's jersey, and rings and trophies representing the Yankees' 27 world championships.
(Ongoing) For more than 70 years, Circle Line has been showing visitors the city, including the only cruise that goes all the way around Manhattan: Circle Line's Best of NYC Cruise. One trip will show off five boroughs, three rivers, and more than 20 bridges on the way to 101 New York City sights. State-of-the-art Empire Class ships have recently launched, providing quieter rides, better sound for the personable onboard guides, bigger windows, improved climate control, and more outdoor deck space. (For dining and entertainment, take a ride on Hudson's, a three-story "floating rooftop" that's a Circle Line sibling.)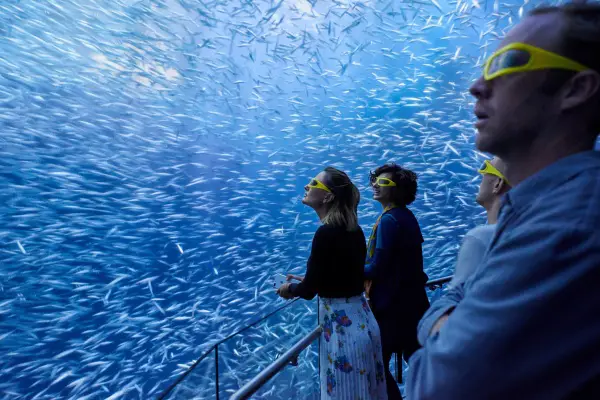 Immerse yourself in the deep, dark depths of the ocean, where Humboldt squid fight to the death and 50-foot whales ride overhead. Play with virtual sea lions, navigate a kelp maze, and more at National Geographic Encounter: Ocean Odyssey! Here's a $10 off coupon!
Bring a loved one to take in the breathtaking view at Top of the Rock.
(Ongoing) Part show. Part tour. All entertainment. THE RIDE is a one-of-a-kind experience that turns the streets of New York into a stage. Journey through Times Square and midtown Manhattan as the city's landmarks unfold before your very eyes. THE RIDE's theatres-on-wheels also tour lower Manhattan, with THE DOWNTOWN EXPERIENCE Powered by THE RIDE, which lets visitors re-live iconic moments in New York history through the magic of TimeLooper Virtual Reality Headsets. Use our coupon and save $10 off!
FOOD, MUSIC, AND NIGHTLIFE
(Now-9/30) That's right, it's rosé all day once again. Rosé Mansion is back for another summer residency in NYC after a successful run last year. The designs in all 14 rooms will be brand-new, and the mansion will be twice the size of last year's iteration. You'll get tastings of 8 different pink wines as you travel through a champagne ball pit, a mini-theme park called Roséland, and a tree house! There will also be two different rosé wine bars where you can hang out, plus grub from Taco Dumbo on hand. 111 W. 32nd St., rosewinemansion.com, @rosewinemansion
PLUS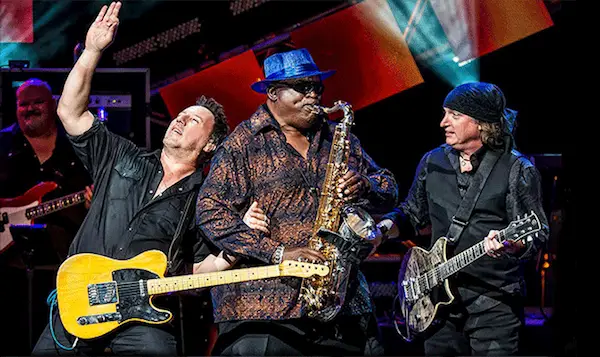 (7/12) For more than 70 years, Circle Line has been showing guests the best sights of NYC. In addition to a full lineup of sightseeing cruises, this summer you can get out on the water with Rockin' the River Music Cruises, a series of floating open-air concerts. Friday the 12th brings Bruce in the USA: The World's #1 Tribute to Bruce Springsteen and the 19th features Tusk: The World's Number One Tribute to Fleetwood Mac. circleline42.com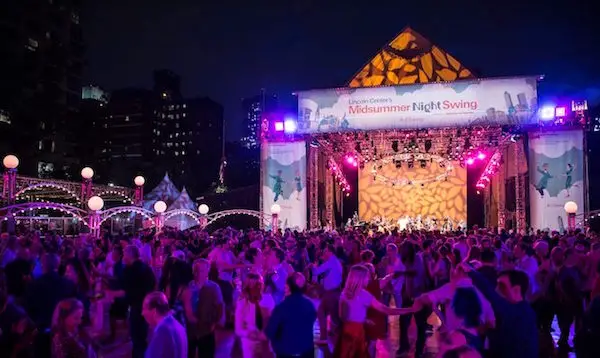 (7/12) Midsummer Night Swing. Tonight Maria Muldaur sings the songs of Blue Lu Barker and more.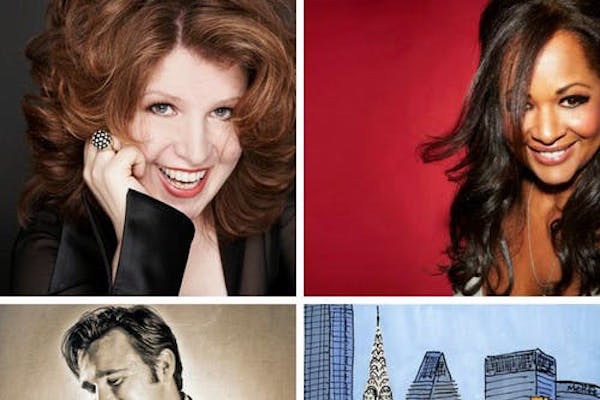 (7/14) New York: Big City Songbook at Birdland Jazz Club. You can take the A Train to this musical guidebook through New York City. From Billy Joel to Rodgers & Hart and Mary Chapin Carpenter, why have so many songwriters been compelled to write about life in Gotham? Whether you're a Boy From New York City or you just Happen to Like New York, join host Deborah Grace Winer and see why Big City Songbook is packing 'em in to Birdland's hottest monthly revue. 315 W. 44th St. (btw. Eighth & Ninth Aves.), 212-581-3080, birdlandjazz.com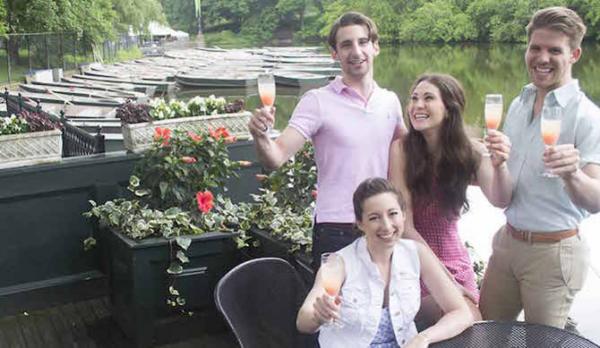 (Ongoing) Drink, laugh, and save! Summer Savings on The Imbible: A Spirited History of Drinking! Choose from the evening show or Day Drinking: The Brunch Musical. Sit back and enjoy music and three cocktails, while the cast of The Imbible give insight into the history and science behind alcoholic beverages, tracing their economic and political impact on our cultural development. They'll also conduct live demonstrations of brewing beer and distilling spirits. Save $15 off admission.
(7/12-7/13) Grab your camera and head out for evening photo ops to capture Manhattanhenge, when the sunset exactly aligns with Manhattan's street grid.
(7/13) Jennifer Lopez: The Live Celebration Tour at Madison Square Garden.
Click here for more "Nightlife This Weekend in NYC. "
Click here for "Where to See Drag Shows in NYC."
Click here for "10 Things to Do in Brooklyn This Summer."
EVERYTHING TO DO NYC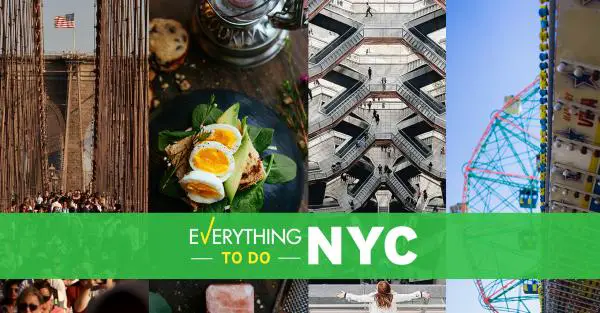 Want free advice on what to do and see in New York? Join our Facebook group Everything to Do NYC, a place for people to ask questions and get tips on how to make the most of the city.
---
Like what you see? Click here for more ideas on The Best Things to Do in July. We've got August covered, too! Going to be in town this summer? Read more about Where to Find Outdoor Concerts This Summer in NYC.