In conjunction with the waiving of quarantine requirements for vaccinated visitors, improving weather, and the potential return of international tourists by mid-May, expect to see the sidewalks busier than they've been in months. Already, the headlines are keeping pace...
On the reopening front, there is plenty to be excited about:
The Hayden Planetarium reopens today.
The Loeb Boathouse Central Park returns Monday, March 29th. (Rowboat rentals are back as well.)
Circle Line relaunches April 1st.
The Mandarin Oriental, New York and Park Hyatt New York are taking guests again as of April 1st.
Resorts World New York City returns to full hours on April 5th.
On April 5th, the 11pm curfew for casinos, movie theaters, bowling alleys, pool halls, and gyms will be lifted (it stays in place for bars and restaurants, although that will be reevaluated in late April).
As of April 1st, the Mets and Yankees are fair game for fans again. Starting next week, Knicks and Rangers fans can ease entry to the Garden with proof of vaccination, negative test, or a 30-minute on-site antigen testing option.
Beyond NYC, there are some encouraging data points. When people get vaccinated, their next move is booking flights. Americans are spending their stimulus checks on travel, not GameStop. City Guide is excited for the return of travel—read on for our newest feature, putting the spotlight on New York experiences.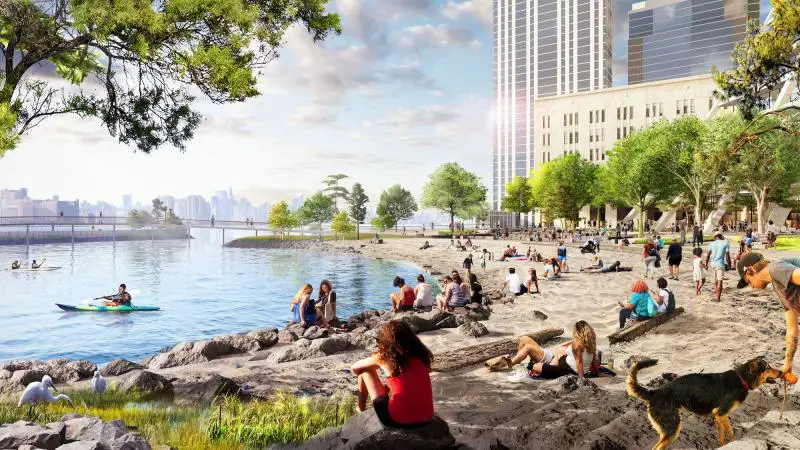 New beach in the works for Williamsburg. Rendering courtesy James Corner Field Operations and BIG—Bjarke Ingels Group.
Links of Interest
NYC
Stephen Sondheim's Company, which missed its Broadway opening a year ago, confirms it will return.

Melvin Van Peebles' Ain't Supposed to Die a Natural Death announced its return to Broadway for the first time since its '71 premiere.
Shakespeare in the Park sets return this summer.
The BBB issues a warning about Van Gogh: The Immersive Experience riding on the coattails of Immersive Van Gogh.
Looking back on NYC's pandemic year, in black and white.
Sonic Drive-In makes plans for first Manhattan location (minus the drive in).

HOTELS
Behind the scenes during the pandemic year at the Pierre.
Occupancy data shows hotel comeback has begun; long awaited travel boom in sight.
Blackstone and Starwood Capital drop $6 billion on Extended Stay.

NATIONAL
Retailers now opening more stores than they're closing.
Spend more, stay longer: the consumer trends driving travel in 2021.
How pandemic-led consumer behaviors might play out in travel.
Delta, United, Alaska expect to break even by April; and the era of dirt-cheap flights is ending.
Art industry in worst recession since 2009.

CLOSING TIME
Untitled, Union Square Hospitality Group's Whitney restaurant, shuttering after nearly a decade.
After 92 years, Eisenberg's Sandwich Shop bows out in the Flatiron.
Korean fave Bann Restaurant gives up the ghost in Hell's Kitchen.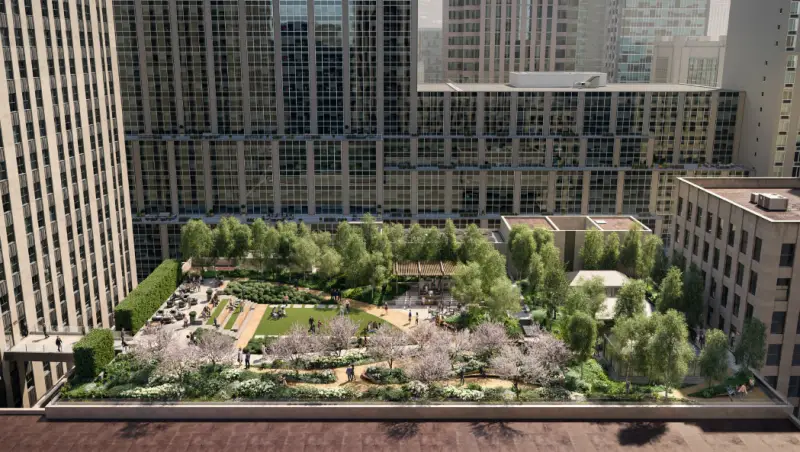 Rooftop park and skybridge coming to Radio City. Rendering by G3 Architecture Interiors Planning, courtesy of the NYC Landmarks Preservation Commission.
City Guide NEWS!
New Weekly Video Series Behind The Experience
This week City Guide is teaming up with NYC institutions to share secrets that visitors don't know and will inspire them to check out. We kick things off with a visit to Madame Tussauds, where we find out about the daily care that goes into the figures and Priyanka Chopra Jonas's distinctive physical attribute. CHECK IT OUT—it's fun! If you'd like to share secrets and connect with our thousands of followers, please reach out.
Post of the Week: Everything to Do NYC Facebook Group
City Guide's Facebook Group Everything to Do NYC, with over 16,000 members, provides excellent first-hand market research, giving you insight into what superfans of the city are thinking. Here's what they were sharing advice on this week:
Hey y'all! Can you share your NYC pictures?
My birthday is coming up on Saturday & my husband has surprised me with a trip to NYC! What hotels are budget friendly with great views and what restaurants do we have to try? We love Mexican food so we definitely want to try that! What are the must see sights? Tell me everything.
The group was considerate enough to post a ton of great shots, including a nearly deserted high noon Times Square. They also provided guidance, with suggestions like Rosa Mexicano, Noche de Margaritas, Dos Caminos, Guantanamera, Cosme, Atla, and Casa Enrique, on top of attractions like Domino Park, Edge, and s'mores at Hershey's Chocolate World. See if your hotel, restaurant, or venue is mentioned and weigh in with actual customers. Stop by for insight into what locals and visitors are thinking.
Have You Joined? New York City Tourism Industry Professionals Group
The NYC tourism industry is one community and now, more than ever, we need to pull together to rebuild. Restoring our businesses to our previous levels will take time. However, we can gain efficiencies and accelerate processes by collaborating—exchanging ideas, seeking advice, developing partnerships, posting jobs (looking for jobs), and sharing news. The Facebook Group—NYC Tourism Industry Professionals encourages dialogue. Join, learn, and keep up with the latest in a rapidly changing environment. Click here.
Read New York City's Best Weekly Newsletter: This Week in the City
Photo by Robert Altman.
Every Thursday morning we'll drop into your inbox with 8 great ideas for enjoying the city IRL. Keep up with the latest goings on in New York. Sign up here.

Keep up with all things New York City tourism with Tourism Happenings, our free biweekly email. Subscribe here.