Spring is on its way; seems like a fine time to enjoy a dance at Lincoln Center. From the music of Swan Lake's Tchaikovsky to the indie-rock of Sufjan Stevens, the slate of music is as wide-ranging as choreography on display. Landmark choreographers George Balanchine and Jerome Robbins will receive tributes throughout the spring months, with exhilarating performances that will entertain both novices and dance aficionados. Or come to Family Saturdays, where you and your kids can learn about dance and movement from the dancers at New York City Ballet. Find below some highlights of the spring dance calendar at Lincoln Center!
Dance at Lincoln Center: Family Saturdays
A child's primer to dance, Family Saturdays teach kids and families about the fundamentals of ballet and movement. These Saturday-morning performances will consist of brief dances, interactive choreography from a New York Ballet expert, and an on-stage orchestra. It's a perfect way to teach musical kids about the art of dance in a fun, digestible hour-long sitting. The program is recommended for ages 5+. Dancers from the New York City Ballet will perform, and Principal Dancer/Family Saturdays Creative Director Daniel Ulbricht will host. Performances March 3 and May 26. David H. Koch Theater, 20 Lincoln Center Plaza, 212-496-0600, nycballet.com
Dance at Lincoln Center: American Cancer Society's Dance Against Cancer
Contribute to cancer research and watch a dazzling variety of dance at American Cancer Society's 8th Annual Dance Against Cancer on Monday, May 7. Internationally renowned dancers from New York City Ballet, American Ballet Theatre, and Alvin Ailey American Dance Theater will perform in Lincoln Center's stunning Alice Tully Hall. The evening will also provide cocktails and hors d'oeuvres. This special night of dance was founded by Erin Fogarty and Daniel Ulbricht of NYCB in 2010 in partnership with ACS, which has been fighting cancer since 1946. May 7. Alice Tully Hall, 1941 Broadway, 212-721-6500, lincolncenter.org

Dance at Lincoln Center: 21st Century Choreographers
At four performances this spring, the New York City Ballet will perform work from new choreographers. Each performance will feature three pieces. The first will be an as-yet-to-be-unveiled piece, while the second and third have been performed previously.
Pictures at an Exhibition, choreographed by Alexei Ratmansky of NYCB, premiered in fall of 2014. It draws inspiration from the modernist painter Wassily Kandinsky, whose Color Study Squares with Concentric Circles is projected above the ten dancers on stage. Set to a piano score by Modest Mussorgsky, this sensitive piece is as dynamic as its artistic inspiration would suggest.
Anatomy of Dance: NYCB's Ashley Bouder on Justin Peck's Year of the Rabbit.
The final work of new choreography will be Justin Peck's Year of the Rabbit. The dancers are clad in royal blue, folding in and out of each other to create intricate geometrical compositions. This piece is set to an orchestration of singer-songwriter Sufjan Stevens' 2001 electronica album Enjoy Your Rabbit.
Performances Apr 28, May 1, May 22, and May 23. David H. Koch Theater, 20 Lincoln Center Plaza, 212-496-0600, nycballet.com
Dance at Lincoln Center: All Balanchine
Members of the New York City Ballet will perform four pieces of George Balanchine's choreography at three special performances this spring. Balanchine co-founded the NYCB, the primary dance company that stages work at Lincoln Center, in 1948. A native of Russia, Balanchine created an astounding 465 works of dance across his lifetime.
These performances will feature book-ended dances to music by Igor Stravinsky: Apollo and Symphony in Three Movements. The two central pieces are set to Maurice Ravel's Le Tombeau de Couperin and Tchaikovsky's Pas de Deux.
Stravinsky and Balanchine collaborated on Apollo, first staged in 1928 in Paris with costumes by Coco Chanel. Balanchine called this piece a "turning point of my life." The work features the mythical god Apollo and the muses of poetry, mime, and dance. Symphony in Three Movements is demanding to dance and mesmerizing to watch, as it presents the gorgeous interplay of dynamic music and movement.
Balanchine's Le Tombeau de Couperin distinguishes itself with precise, symmetrical choreography among its sixteen partnered dancers. Tchaikovsky Pas de Deux is set to a piece of music redacted from the composer's original score for Swan Lake. This duet was later recovered, and Balanchine set a gripping eight-minute duet to the exquisite piece of music.
Performances Apr 25, 27, and 29. David H. Koch Theater, 20 Lincoln Center Plaza, 212-496-0600, nycballet.com
Dance at Lincoln Center: Robbins 100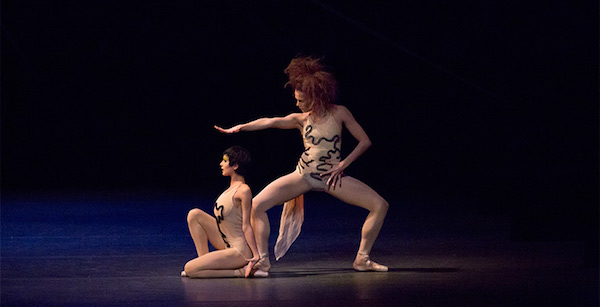 The famed choreographer of West Side Story and many other famous works of dance, Jerome Robbins stands as a pillar of modern American dance. His prolific career featured a stint of choreographing ballets in-house for NYCB's repertory. Many of these will return to the David Koch Theater at Lincoln Center this spring for the Robbins 100 Festival this year. In celebration of Robbins' centennial, the New York City Ballet will stage twenty-two ballets, 6 programs, and 2 world premieres throughout the month of May.
Tribute to Robbins will include the world premieres of two dances. One will be choreographed by Justin Peck and inspired by both Robbins and composer Leonard Bernstein, both of whom celebrate their 100th birthdays this year. The second piece will be Something to Dance About, a Warren Carlyle-choreographed dance that weaves several of Robbins' Broadway pieces into a medley of tributes to Robbins' musical-theater legacy. Other works by Robbins will be staged as well on this exciting night of diverse choreography. Performances May 3, 5, 6, 10, 12, and 13. nycballet.com
Five other Robbins performances will occur during these jam-packed weeks of dance. One notable staging is All Robbins No. 1: Bernstein Collaborations. If you're a fan of West Side Story or On the Town, you'll want to catch this one. Performances May 4, 5, 8, and 20. nycballet.com
Check out the rest of the schedule for Robbins 100 here. 20 Lincoln Center Plaza, 212-496-0600, nycballet.com