So many stores and museums now boast cafes or restaurants that you might be surprised when you go someplace that doesn't serve food. But it's still possible to find good food in places you might not expect—we've got your list for secret cafe spots in New York City.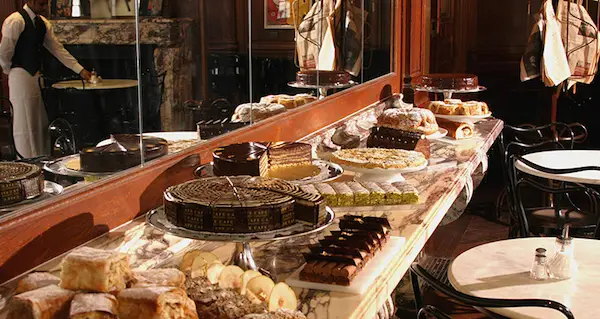 Café Sabarsky, in the Neue Galerie, is so renowned (so it's not really a secret, but most visitors don't know about it) that it's become a destination in and of itself. You'll feel completely transported, although you're already in an elegant mansion on Fifth Avenue, so you may not want to be transported too far. You can certainly have an actual meal here (think German and Austrian-accented specialties like potato pancakes, goulash, and spatzle) but the real draw is the coffee drinks and the desserts. Try the house-made Viennese hot chocolate with whipped cream, or a cup of fresh ground coffee with hot cream. And it would be a pity not to order a slice of something sweet, like the chocolate and hazelnut cake, or the apple strudel, or maybe the crepe soufflé with roasted fruit compote…

Tip: You don't need to visit the museum to eat at the café, but a swing through the galleries will never go amiss.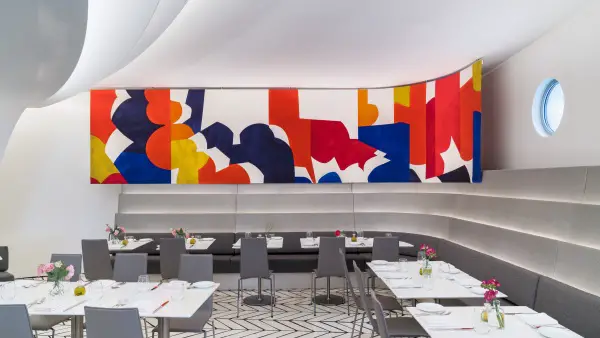 Photo: Sarah Crowner
Over at the Guggenheim, go for the architecture, stay for The Wright, the James Beard award-winning restaurant. Choose from such offerings as salmon tartar or lobster risotto. Start with one of their excellent soups and end with the napoleon with raspberry Chantilly cream. (They also do a great brunch.) And there's even a "young artists'" menu for kids. A vibrant new installation by artist Sarah Crowner makes the meal appropriately "museum-y."
If you're shopping, browsing, or shopping when you're just supposed to be browsing, you'll probably get hungry at some point, whether you're looking at necklaces or knickknacks. Stores have cottoned on to the fact that if you eat where you shop, you'll stay longer, so you'd be hard pressed to find a high-end venue that doesn't offer some kind of dining option.
It clearly had to be done, and you'll no doubt want to repeat it many times: you can now literally have breakfast at Tiffany's in The Blue Box Café. Coffee and croissants? Truffle eggs or salmon-topped bagels? (You can also have lunch...but why would you want to?)
Also check out BG Café at Bergdorf Goodman. The Kelly Wearstler-designed setting has great views of Central Park, and the restaurant has their quotient of trendy salads, like the baby kale salad, the iconic Gotham salad (a kind of mix of a cobb and chef's salad) and the Asian chicken salad.
And the ultimate ladies-who-lunch go-to restaurant is Fred's at Barney's. Start with the Insalata Caprese (mozzarella and tomatoes) or roasted shrimp with lime and ginger; the lobster bisque is also popular. One of the most popular entrees has to be the chopped salad, although they also make good pizza. There's a nice selection of wine by the glass—but checking out what everyone's eating and who's there is the real activity here.
You might not be surprised to find hot dogs or pretzels in Central Park. But spiced apple cranberry oatmeal? A salmon and egg croissant? Three bean chili? Le Pain Quotidien has a snack shack next to the boat pond (Conservatory Water) in Central Park, with special offerings of breakfast and lunch items as well as Blue Marble Ice cream and coffee drinks. Still want a hot dog? You're in luck—you can get an all-beef Brooklyn hot dog on an organic bun.
The Housing Works Café in Soho has a big, airy space, a great selection of books (check out the coffee table books) and a mission to combat homelessness and AIDS. They also have good coffee, pastries, sandwiches, salads and soup.
And we might not characterize it as a restaurant, per se, but if you want both a donut and an adventure, you can venture to Underwest, the car wash that's also a donut shop. Yes, you read that correctly. They feature flavors like car wash (vanilla lavender—don't worry, no suds; maple waffle; halvah; brown butter; and coconut lime. Pair your selection with one of their coffee drinks, like spicy hot chocolate or an iced latte. (If you're still dubious about the car wash/donut hybrid, owner/chef Scott Levine worked at Del Posto and Chanterelle, among other restaurants.)
And if you don't feel like venturing to the West Side Highway, the donuts are also sold at 2 Penn Plaza, as well as at Dean & DeLuca.