PMac's Hospitality Group: 6 Bars & Restaurants You Need to Know in Midtown Manhattan
August 8, 2018 - by Merrill Lee Girardeau
The bars and restaurants of PMac's Hospitality Group have injected fresh life into Midtown West. Michael and Patrick McNamee, brothers from Dublin, are the main force behind the group. The McNamees design restaurants from the ground up and their creations in New York are full of style and atmosphere. Read on for a Mexican restaurant, Irish pub, speakeasy, sports bar, and more, all designed to add flavor to your New York experience!
Dutch Fred's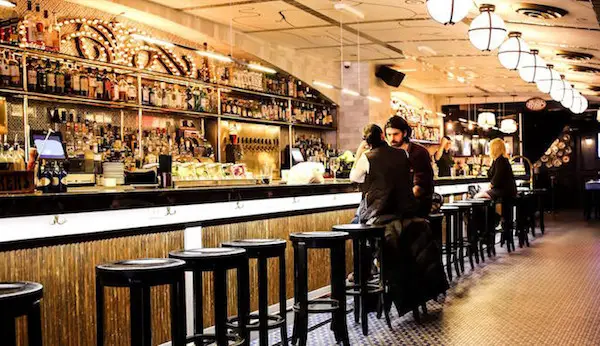 A veteran policeman called Dutch Fred reputedly named the neighborhood of Hell's Kitchen in the 1920s, during Prohibition. His partner, watching a riot, said, "This place is Hell itself." Dutch Fred said, "Hell's a mild climate. This is Hell's kitchen." In the spirit of the era (without the riots, of course), Dutch Fred's serves craft cocktails and delicious food in a retro setting. Cocktails include the smoke-tacular Working Class Hero and the Ginger Rogers. Don't miss the lunch special. For $14, enjoy a beverage and avocado toast, sriracha cauliflower tacos, or a burger. That's a deal you won't find anywhere else in the area; we suggest you get on it! 307 W. 47th St., 646-918-6923, dutchfreds.com
Haswell Green's
If you've always wanted to sit in a Gangs of New York-style tavern, complete with aged barrels, antique chandeliers, and vintage upholstered chairs, come to Haswell Green's. As savvy with a craft beer as with a craft cocktail, the bartenders can serve you your new favorite drink while you listen to live music, offered nightly at Haswell Green's. Eats include wood-fired pizzas, sourdough pretzel bites, and classic New York sandwiches like pastrami and falafel. They are also open for brunch! 240 W. 52nd St., 212-245-2801, haswellgreens.com
The Mean Fiddler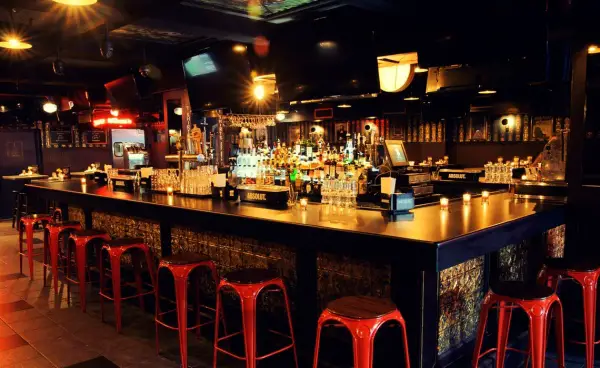 In case the name didn't tip you off, The Mean Fiddler is the resident Irish pub on the list. There's beer, of course, plus breakfast, lunch, dinner, and late-night fare. Happy hour is a generous 9 hours long, with half-price cocktails and $5 select drafts Monday through Friday from 11am to 8pm. The After Work Happy Hour Party happens every Friday at 5pm, when a DJ and buckets of beer greet you fresh off the work week. 266 W. 47th St., 212-354-2950, themeanfiddlernyc.com
Tanner Smith's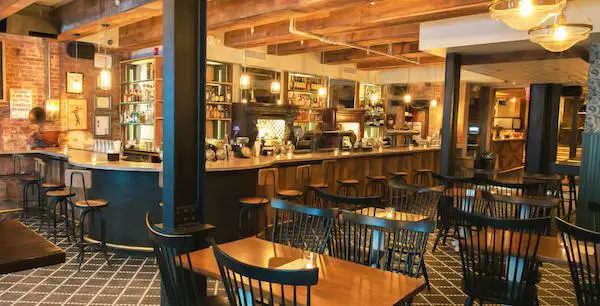 Named for a historical New York gangster from the Prohibition Era, Tanner Smith's is your subterranean speakeasy in crowded Midtown West. With early 20th century decor and period-appropriate cocktail names, Tanner Smith's serves drinks like the mule-inspired Sing Sing and the Billy Club with bourbon and apricot liqueur. Order gastropub fare like lamb sliders and fish and chips on the main level above the speakeasy, where the kitchen serves breakfast, lunch, and dinner. You might even hear a live jazz band if you're lucky! 204 W. 55th St., 646-590-2034, tannersmiths.com
The Three Monkeys
A sports bar with craft beer and good food? Yes, please. Come to The Three Monkeys for the next NBA, MLB, or NFL game to root for your team, beer in hand. There are 36 diverse craft brews on tap that frequently rotate to give visitors a wider enjoyment of great beers. The Three Monkeys' mighty fine food includes truffle mac 'n cheese, quesadillas, a variety of sliders, and beer-battered chicken wings. They also serve flatbreads, salads, and hot dogs. Bonus: the late-night menu is available until 3am. 236 W. 54th St., 212-586-2080, thethreemonkeysbar.com
Vida Verde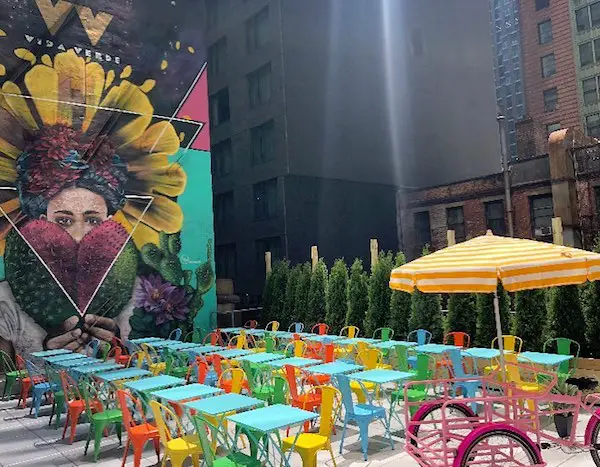 A good rooftop is hard to find, so we'll save you the trouble and point you straight to the one at Vida Verde. Their Margarita Rooftop Market is a brightly colored space with 10 flavored margaritas available. On the main floor, Vida Verde serves brunch, lunch, dinner, and late-night food like guac, tacos, and quesadillas. Boozy Brunchacha, a 90-minute bottomless brunch, happens every weekend from 11am to 4pm. They also offer late-night happy hours for food and drink. Prix fixe lunch is another deal worth seeking out: $20 gets you an appetizer and an entree! 248 W. 55th St., 646-657-0565, vidaverdeny.com
Looking for Free Group Planning Services?
Get free advice on planning your group's trip to New York.
RESTAURANTS

Multi-concept restaurant offering modern Japanese cuisine, a...

THEATER

Gaston Leroux's famous period thriller is now one of Broadwa...

SHOPPING

Specializing in the great vineyards of California, France, A...

SIGHTSEEING

Sweeping, unobstructed, open-air views of NYC from the top o...