New York restaurants come and go, but Patsy's Italian Restaurant is forever. The famed eatery—which only has one location, right in the heart of Midtown Manhattan—turns 75 years old this year and is only getting better. Join in the celebration with a meal at Patsy's, welcoming you and your family.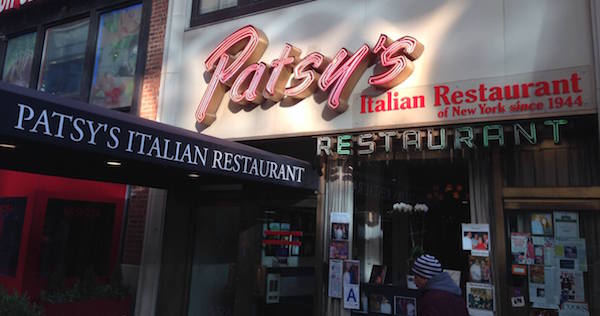 La Famiglia
Chef Sal Scognamillo, owner and operator of Patsy's Italian restaurant, is the third generation of Scognamillos to sit at the helm. The restaurant was founded in 1944 by Sal's grandfather Pasquale "Patsy" Scognamillo and his wife Concetta, bringing Southern Italian cooking from their own kitchen to the public in New York City. Pasquale later handed off operations to his son Joe, who trained Sal to do the same. Today, while Sal Scognamillo mans the kitchen every evening, his father Joe still circulates through the dining room at Patsy's, ensuring customers feel like part of the family.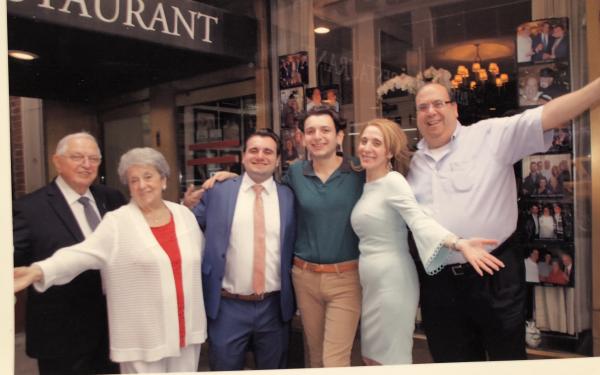 Executive Chef Sal Scognamillo (far right) and family, a few years back, at Patsy's Italian Restaurant.
In an interview with Newsday, Chef Scognamillo said, "I make a joke that we're still here because of the three F's—food, family, and Frank Sinatra." A frequent guest and friend of the Scognamillos, Sinatra would come through a back entrance to a special private table on the second floor of the restaurant throughout his career. The Sinatra family still patronizes Patsy's, and the restaurant still honors his birthday and keeps the many photographs of Ol' Blue Eyes on display.
That's not the only famous face you'll find on the walls. Many other celebrities visit Patsy's throughout its history, including Billy Joel, George Clooney, Diddy, Michael Buble, Jennifer Lopez, and Rihanna. In honor of the 75th anniversary, some of Patsy's friends have posted well-wishing videos including Brett Eldredge, Liza Minnelli, and Frankie Valli.
Neapolitan Necessities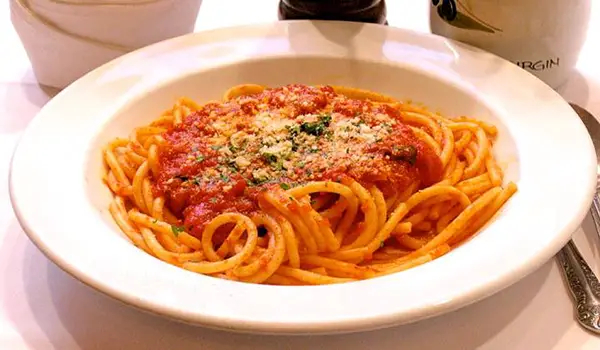 The Scognamillo recipes at Patsy's have remained largely unchanged in all 75 years of business. Dishes like the stuffed artichoke appetizer, eggplant parmigiana, and spaghetti and meatballs are as rich and flavorful as ever. Ingredients like meats and cheeses are sourced from other family businesses who have worked with Patsy's throughout the years so every bite remains true to tradition. Patsy's maintains a strong community of repeat customers who know they'll get exceptional cuisine that remains note-perfect year after year.
You can also bring these recipes into your kitchen with Patsy's Italian Family Cookbook, with instructions on how to create your own meatballs, pasta, Patsy's Famous Onion Relish, and desserts like tiramisu. Patsy's signature red sauce, a foundation of many dishes on the menu, also comes readymade, with jars of Patsy's Sauce available in stores nationwide.
Patsy's Sal on Meeting Frank Sinatra.
---
Patsy's lone location is at 236 W. 56th St. Call 212-247-3491 or visit patsys.com for reservations and more.