When you take a detour from the Great White Way into the vast cityscape that makes up Off-Broadway, there's no telling where you'll end up—unless you're armed with insider information. Preferably the sort that points you to the best of the best.
Considering the number of Off-Broadway theatres (60+ vs. 41), this is a pretty exclusive club, with three members pushing Manhattan's not-to-be-missed button: Emojiland, Forbidden Broadway: The Next Generation and Stomp.
What makes these particular shows so charismatic and vital is their high-wattage inventiveness: Stomp offers propulsive percussion via energy-infused performers who wield commonplace objects to create infectious rhythms; Emojiland breathes emotion and musical theatre panache into our favorite digital icons; and Forbidden Broadway: The Next Generation's compact cast skillfully bounces from one Broadway parody to the next, giving recent productions their satirical due.
EMOJILAND
Emojiland the Musical's full cast, photo by Jeremy Daniel.
According to show director Tom Caruso, Emojiland—set inside a smartphone—is heightened reality written in one narrative arc, tracking a group of emojis that exist within their own community. "Because emojis are a kind of shorthand that defy language barriers, the show is extremely universal," he says, explaining that in the musical, although they're recognizable through costume and dialogue, "they're not a literal cartoon, so they don't lose humanity."
Spouses Keith Harrison and Laura Schein are the creative force behind the production, having written the book and pop-rock score. "Their initial approach was a bit 'what if emojis were people—what would they be like?' " says Caruso. Apparently, they would be interesting entities with plenty of musical theatre panache.
The show debuted in '18 at the New York Musical Festival, where it picked up a nomination for Best Musical and, for Caruso, Best Direction. In its current Off-Broadway incarnation, Emojiland's cast includes Ann Harada (Avenue Q), Tony nominee Lesli Margherita (Matilda), and Josh Lamon (The Prom).
Caruso emphasizes that while Emojiland is bright, funny, and original, it is also surprisingly touching. "Come for the humor and leave with the heart… it sneaks up on you," he says.
Emojiland is playing at the Duke on 42nd Street, 229 W. 42nd St. For tickets call 646-223-3010 or visit DukeOn42.org.
STOMP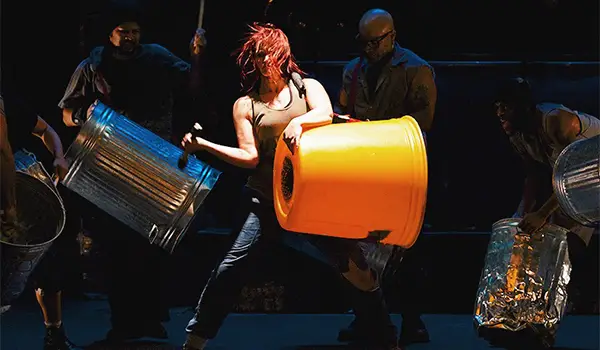 It's been raising the roof of Off-Broadway's 347-seat Orpheum Theatre since 1994, turning generation after generation into Stomp acolytes. As for the original, buskers Luke Cresswell and Steve McNicholas launched it in the U.K. in 1991. Since then, it has become an international phenomenon, as well as a pop culture presence. Versatile performers mesh percussion skills, physical prowess, and visual comedy to animate the inanimate: brooms produce a synchronized symphony, while hubcaps, dowels, trashcans, and radiator hoses take on cacophonous lives.
Notably, two new segments were recently introduced. "Suitcases", according to Cresswell and McNicholas, is inspired by years of observing travelers and handlers' interactions with luggage. "Couple that with the countless movie moments in which bags are mysteriously switched, and we [had] the starting point for a new Stomp routine." "Poltergeist", on the other hand, emulates the cinematic magic that sends objects soaring through space, without the aid of green screens, puppetry, or black light—just seven performers challenging one drummer "to play what is effectively a floating, constantly changing, choreographed drum kit"!
Stomp is playing at the Orpheum Theatre, 126 Second Ave. For tickets call 800-982-2787 or visit stomponline.com.
FORBIDDEN BROADWAY: THE NEXT GENERATION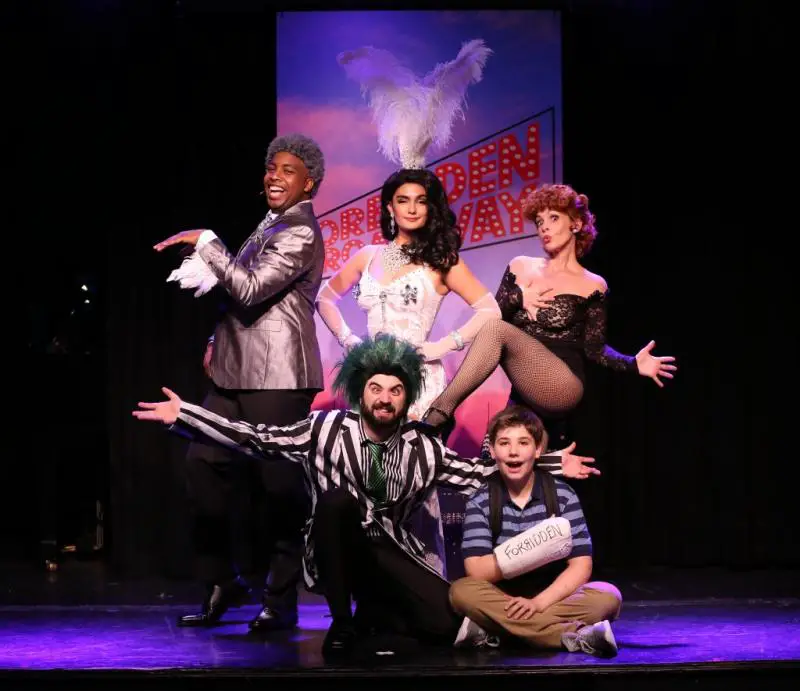 Carol Rosegg.
Audiences first fell in love with Gerard Alessandrini's musical lampoon-a-thon when it debuted in 1982 to rave reviews and giddy delight from New York's theatre community. Clearly, there is much honor in being acknowledged by a master spoofer. Nearly three decades and several editions of Forbidden Broadway later, the desire to be part of the now iconic parody has only grown. As has the show's expansive trophy cabinet, which includes a 2006 Tony Honors for Excellence in Theatre award.
After a five-year hiatus, Forbidden Broadway: The Next Generation sailed into Manhattan in January with a savvy new collection of show-stopping send-ups. As always, recent-to-current hits are prime targets, with Alessandrini's droll limelight shining on the likes of Broadway's Moulin Rouge, Beetlejuice, Hadestown, Tootsie, Dear Evan Hansen, and last season's Oklahoma!, as well as timely seen-onscreen jabs at Fosse/Verdon and Renee Zellweger's Judy. For the record, Ben Platt, Billy Porter, Santino Fontana, Karen Olivio, Bette Midler, Andre de Shields, Bernadette Peters, and Lin-Manuel Miranda are among the performers being skewered during this very limited edition run. (Hint: score your tickets now!)
Notes Alessandrini, "Ever since Hamilton re-energized us, there's been a deluge of great new shows of every type that I can have fun with. I haven't been this excited about writing this show since the first Forbidden Broadway edition…when I had decades of productions to write about. Now I have a whole new palette in front of me."
Forbidden Broadway: The Next Generation is playing at York Theatre Company, 619 Lexington Ave. at 54th St. For tickets call 212-935-5820 or visit forbiddenbroadway.com.