The city was hopping for Thanksgiving, with 8,000 participants in the parade and hundreds of thousands of spectators lining the streets to take in the action. Although the markets (and many others) have been spooked by Omicron, real data is still two weeks away and there's nothing to indicate the variant will be a game changer. In the meantime, the CDC will likely tighten up testing requirements for foreign travelers—hopefully there won't be the need to add the self-isolation period that the U.K. has just adopted. New York is taking precautions but the general guidance to get vaccinated and boosted synchs up with the city's approach—our numbers remain much stronger than the state and the nation (as the Post notes, 97% percent of Queens adults and 94% of Manhattan adults are vaccinated, followed by the Bronx, Staten Island, and Brooklyn with vaccination rates of 86.4%, 84.4%, and 82.9% respectively).

Data worth noting on the tourism front:
Thanksgiving Eve set a pandemic era record for travel. The TSA reported 2.3 million people were processed; that's 88% of 2019's number
According to a new Allianz Partners USA Top 10 Holiday Destinations survey, holiday travel will be up 34% year over year, with New York returning to the list—in first place
Julia Simpson, CEO of the World Travel & Tourism Council (WTTC), expects U.S. travel to grow by 36% this year and be back on track by 2022, adding $2 trillion to U.S. GDP (more than the 2019 contribution of $1.9 trillion)
THE BRITISH ARE COMING! Despite variant concerns, more than half of British adults plan to travel overseas next year—a 46% increase over this time last year
Other signs of the city coming back include: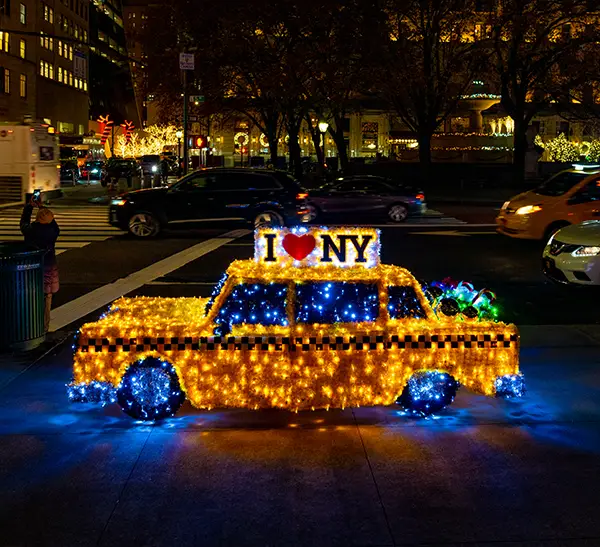 Last year's giant illuminated toys are now an annual tradition on Fifth Avenue. They can be found between 55th and 56th Sts.
We've all seen the increase in activity around the city. Here's a snapshot of what's happening at ground level:
"I am very happy to have all the Europeans and the Brits back in NYC. I noticed the huge change in the city just last Nov. 8th when European flights starting to arrive. The city is much busier and hearing all the European accents (British, German, Dutch) makes me feel like we are back in November of 2019 before the pandemic. Part of what makes NYC so special is that we get so many international visitors. I have missed interacting with them. People are very excited to travel and be back in NYC. They want to do it all: book restaurants, go to museums, see shows, etc. I have also witnessed families and couples who were separated due to the pandemic get back together and see each other for the first time."—James Lamboglia, Concierge, The Plaza
Ripley's Believe It or Not! Times Square Has Closed
City Guide was sad to see Sunday's announcement that after 14 years in Times Square, Ripley's is permanently closed. We wish our good friends Bret Pidgeon and Stacy Shuster all the best. We also like the reminder in the farewell note that there are still over 100 Ripley's locations around the world, and the suggestion to "Please stay tuned as we hope to be back in New York City sometime in the near future." Until then...
Links of Interest
NYC
BEYOND NYC
Everything to Do Facebook Group Post of the Week
City Guide's Facebook Group Everything to Do NYC has over 64,000 members, bringing together a mix of tourists making plans and locals giving advice. It's a great barometer of what visitors are thinking. More than 150 people took the time to comment on this post:
My boyfriend and I are looking for a "fancy bar" to grab drinks at after dinner one night in Manhattan. We always have nice meals at nice places but struggle to find a bar afterwards that matches the atmosphere of the restaurant we were in prior. Maybe something speakeasy-esque? We are in our mid-20's  Anywhere in Manhattan is fine.
Also, shout out to everyone who suggested the Fulton for our seafood date night on a previous post, it was INCREDIBLE!!!!!
Edit: thank you so much to everyone for the wonderful suggestions! Keep them coming! My boyfriend and I are having a wonderful time looking up pictures/menus for the places shared thus far 
Among the suggestions: Pink Winter Wonderland at the Moxy, The Rum House, Beauty & Essex, Elsie Rooftop, Le Bain, PDT, Bua, Bertlemann's @ the Carlyle, SoHo Grand, The Dead Rabbit, Fraunces Tavern, Oscar Wilde, Bar at the Whitby, the Baccarat Hotel, Mr. Purple, Angel's Share, and many more from there. It's interesting to see which venues commenters return to again and again—this is market research that you don't have to pay for. It's also a great way to reach customers in real time as they're making decisions about where to invest their time and money in NYC. If you're not a member yet, join us!