This week's game changer is the beginning of vaccine requirements for indoor life in NYC. The Mayor's new "Key to NYC" program began yesterday, although enforcement is still a month off. For vaccinated tourists it will increase a sense of safety and it won't stop families from coming—under 12s are still welcome, just required to be masked and accompanied by a vaccinated adult. For the unvaccinated, the indoor city will become less accessible, although so much is now outdoors that they should still be able to drink, dine, and otherwise get around. Openings and returns continue to roll in, including:  
Despite the challenges of the Delta variant, the state of the city is strong. New census data indicates a population jump of 8% in the last decade to bring us to an all-time high. If Brooklyn were its own city it would now be tied with Chicago for third-largest in the nation. Pandemic-era out migration has ended for cities around the country—in NYC's case, residency has been climbing since May at one of the fastest rates in the nation. People want to be here, more than any other place, and tourists will be eager to find out why.
SHARE, a sculpture by KAWS, is now mounted on Center Plaza in Rockefeller Center.
LINKS OF INTEREST
NYC
BEYOND NYC
DATA FROM EVERYTHING TO DO NYC FACEBOOK GROUP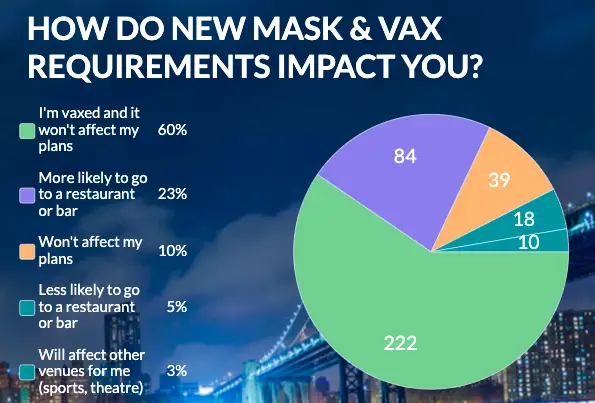 If you're wondering how the city's new vax and mask requirements are being felt on the ground, look at the data from this Everything To Do NYC Facebook Group survey. We asked the group how they thought they'd be impacted and a very reassuring 93% said they were as likely or more so to go out to restaurants and bars. Of the 400 respondents, less than 20 individuals marked themselves as less likely. ETD provides a great forum to get a read on what locals and visitors are thinking. It's also a great place to market your venue. If you're not a member yet, join us.