New York City legend Hwa Yuan first opened in 1968, with Chef Shorty Tang at the helm. Newly reimagined for the modern era, it has recently reopened in a massive three-story location next door to the original on Chinatown's East Broadway. Chef Chen Lieh Tang, Shorty Tang's son, has established a fine update of his father's menu, including a slew of new classics, from baby back ribs to raw oysters.
The first rule of Hwa Yuan remains as true today as it was 50 years ago: order the cold sesame noodles. This is the stuff of culinary legend. The original Hwa Yuan made its name with Shorty Tang's sweet, sour, savory, soft noodles. They were cold, bathed in a sesame-and-peanut-butter paste, and the perfect start to a meal at the restaurant or an order of takeout. There were plenty of imitations, but none as good as Shorty's. Although the original Hwa Yuan closed in the '80s, 30 years later the noodles are back and better than ever.
Though called Szechuan cuisine, the food here is less spicy than you might expect, with more sensible portions than you find elsewhere in the neighborhood. That is, except for the Beijing Duck, prepared in a massive freestanding oven in the kitchen. With tender meat and crispy, sweet skin, the dish is served with buns, pear, cucumber, and three sauces. This is one you'll definitely want the whole table to try.
Other standouts on this sizeable menu are too many to name, but we'll give a few: soft scallion pancakes as starters, Shanghai-style pork soup dumplings, whole fish with hot bean sauce, and kung po chicken. The short ribs and sticky rice are beautifully textured and tasty as well. For veggie-lovers, try the silky ma po tofu, sauteed string beans, and okra with broccoli and Chinese wine sauce.
The interior is clean and modern without sacrificing Chinese-inspired charm. White tablecloths enhance an upscale feel. With three floors and 160 seats, you can count on Hwa Yuan to accommodate your largest party, whether it's family, friends, or colleagues. (Reservations are recommended.) Two full bars will supply you with wine, beer, or cocktails for all.
One taste of Hwa Yuan's culinary legacy and you'll know why it's already reclaimed its title as one of the city's finest dining experiences.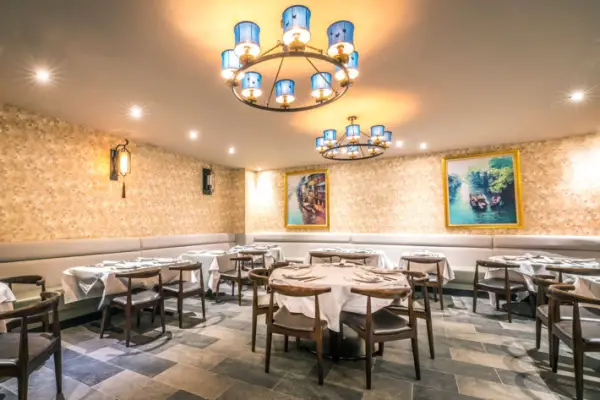 42 E. Broadway (btw. Catherine & Market Sts.), 212-966-6002, hwayuannyc.com