Hudson Yards is the state-of-the-art building development coming to the West Side of Manhattan. For decades, the patch of land from West 30th to 34th Streets between 10th and 11th Avenue has been a waystation for subway train cars. Now, on a floating platform above the trains, a new complex has begun to rise over the Hudson River. Larger than Rockefeller Center at 28 acres, this impressive development will contain offices, residences, a mall, an arts space, a climbable monument, restaurants, and 14 acres of public space. And it's opening in a matter of weeks! Here's all the fun you can expect from Hudson Yards in 2019.
Hudson Yards NYC: The Vessel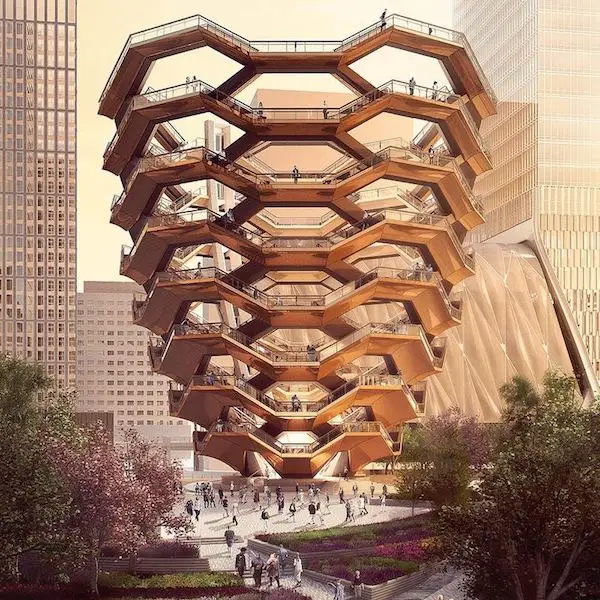 The centerpiece of the plaza at Hudson Yards is Thomas Heatherwick's climbable sculpture, opening March 15. This enormous bronze honeycomb stands at 15 stories tall. From the inside, it's an intricate chamber of stairs; there are 2,500 steps, 154 flights, and 80 landings in total. See the city anew and take pictures galore inside The Vessel, which requires timed tickets for entry. (Be sure to check the weather before you book, as you'll be exposed to the elements while you climb.) hudsonyardsnewyork.com/discover/staircase/
Hudson Yards NYC: Snark Park
Opening March 15, Hudson Yards will unveil Snark Park, a space for immersive experiences where you'll feel lost in another world. The first exhibition at Snark Park is Lost and Found, an enchanted labyrinth full of monochromatic—and very Instagrammable—installations you can walk through. Expect a mirrored room, cylinders you can fit inside, and other magical twists and turns. After Lost and Found closes in August, yet another immersive experience will take over the space. Through every exhibition, the Snark Park motto will remain, Please do touch the art. There will also be a Kith Treats on site, serving tricked-out bowls of ice cream and cereal. Tickets to Snark Park are $28 for adults and $22 for kids. 20 Hudson Yards, snarkpark.com, @snarkpark
Hudson Yards NYC: The Shed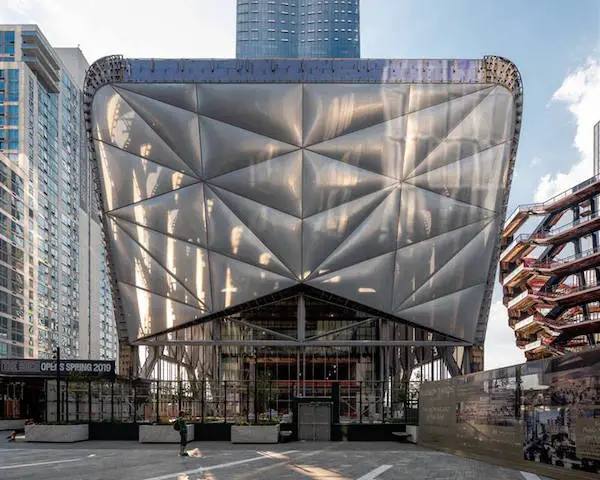 The Shed is the multidimensional arts venue at Hudson Yards, opening April 5. This incredible hybrid structure will serve as equal parts museum, performance space, and public meeting place. An innovative nesting design, The Shed's transparent outer shell can extend and retract as needed for a variety of events. For a visual aid, visit this page for a very helpful video made by the architects Diller Scofidio + Renfro.
There's already an exciting slate of events scheduled for The Shed this spring. The space will open with a highly anticipated concert series called Soundtrack of America. These five nights of musical performance will feature African-American artists working in quintessential American genres like spirituals, blues, jazz, gospel, R&B, rock and roll, house, hip hop, and trap. This event is directed by Oscar-winning film director Steve McQueen and curated by Quincy Jones. Soundtrack of America will be staged April 5-14.
Reich Richter Pärt, hosted April 6-June 2, will be the inaugural exhibition at The Shed. This innovative project will combine the music of composers Steve Reich and Arvo Pärt with the painting of Gerhard Richter. As you view Richter's new works at this timed experience, a choir will sing two compositions: Richter Pärt and Reich Richter.
A commissioned play for The Shed, Norma Jeane Baker of Troy will be a dramatic work that teases out the connections between Marilyn Monroe (born Norma Jeane Baker) and Helen of Troy. Skyfall's Ben Whishaw will star alongside opera star Renee Fleming in this new work by poet Anne Carson.
The Shed galleries will also feature new work by Trisha Donnelly April 6-May 30, Björk's Cornucopia concert (May 6-June 1; currently sold out), and a kung fu musical with songs by Sia, Dragon Spring Phoenix Rise (June 22-July 27).
The Shed will also feature a full-service restaurant from Danny Meyer (Union Square Cafe, Shake Shack). This restaurant, Cedric's at The Shed, will be open all day and offer an extensive beverage program as well as sandwiches, salads, and snacks.
West 30th Street between 10th and 11th Avenues, 646-455-3494, theshed.org
Hudson Yards NYC: The Shops at Hudson Yards
The luxury mall at Hudson Yards is also opening March 15. This seven-floor shopping center will debut the first Neiman Marcus in New York City, in addition to a tremendous collection of other brands. Among the nearly 100 stores to open at The Shops, you'll find favorite brands like Van Cleef & Arpels, M.A.C., Coach (which will also have its new headquarters in 10 Hudson Yards), Aritzia, lululemon, Zara, Pandora, Madewell, and Sephora. 10 Hudson Yards, hudsonyardsnewyork.com
Hudson Yards NYC: Dining at Hudson Yards
There will be 25 different restaurants at Hudson Yards. Co-curated by chef Thomas Keller, these establishments represent some of the brightest culinary talents, with new ventures from chefs David Chang, Anya Fernald, José Andrés, Costas Spiliadis, P.B. Jacobse, and Michael Lomonaco. There will be a wide range of options to choose from like an indoor-outdoor Spanish restaurant, casual lunch spots, and street-level cafes. Other New York favorites like Cookshop, Dylan's Candy Bar, Jack's Coffee, and William Greenberg will have locations at Hudson Yards as well. 10 Hudson Yards, hudsonyardsnewyork.com/dining
Hudson Yards NYC: High Line Park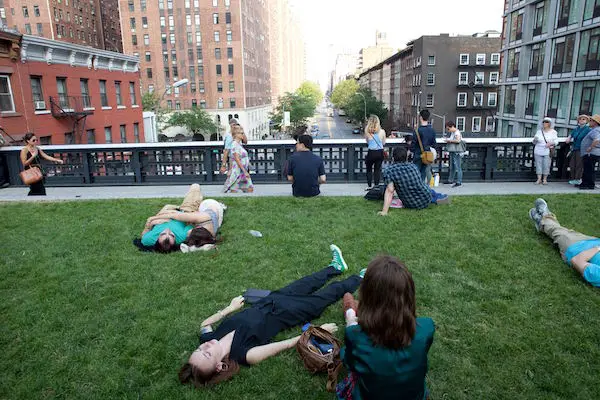 You already know The High Line as a beloved public space in Chelsea. Now, this converted elevated rail line will extend to Hudson Yards and find its end near the tower at 55 Hudson Yards. Like the southern portions of the park, the new portion of The High Line will provide a slender walkable space 30 feet from the ground with beautiful greenery, waterfront views, and public art. Now you can walk all the way from The Whitney Museum to the shops at Hudson Yards without battling street traffic!
Hudson Yards NYC: Observation Deck
The world's highest outdoor observation deck will be located at 30 Hudson Yards. Located 1,100 above street level, this deck will extend 65 feet into the air and provide incredible views of Manhattan on one side and the Hudson River on the other. The floor of the deck will be made of glass, and there will be angled glass you can lean on for an even more dizzying experience. There will also be a large restaurant on the 101th floor of 30 Hudson Yards, a space that can also be rented for events. The Observation Deck is expected to open later in 2019.