For those who aren't planning ski getaways abroad, gather the group and indulge in a few European food experiences right here in Manhattan. Several New York City hideaways offer delish, cheesy dishes of fondue and raclette. These European-style food experiences are meant to be shared. Fondue, the fun Swiss melted cheese dish experience, involves the communal dipping of breads, veggies, and fruits, while the raclette experience involves heating a wheel of semi-hard cheese and scraping that oozing goodness into potatoes, veggies, and other foods. Spread some warmth and be sure to put one of these shared food experiences on the calendar this winter season.
Mondrian Alpine Terrace by Club Med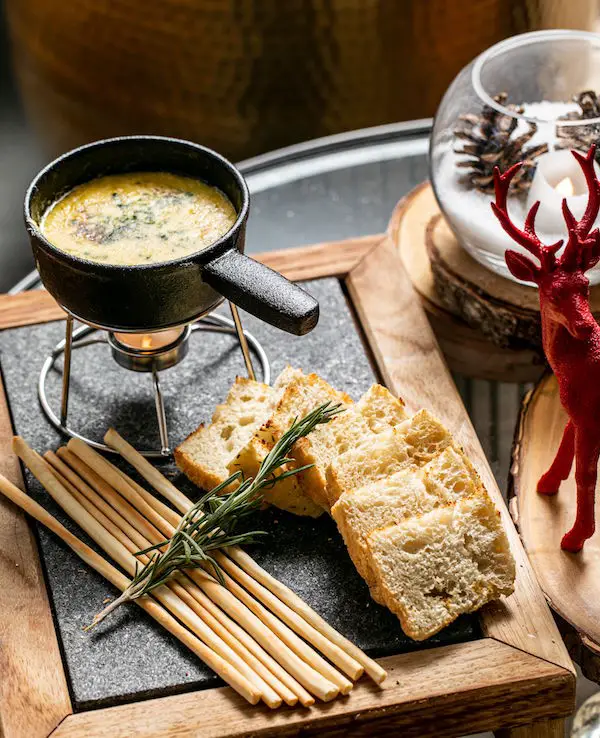 Photo credit: Mary Marguerite.

Cozy up your significant other or your fave crew at Mondrian Alpine Terrace by Club Med. Enjoy some Swiss raclette fondue and a cocktail while unwinding in a stylish terrace environment that is decked out in ski chalet décor. The Swiss raclette fondue is made with roasted garlic and black pepper. The cheesy treat is served with focaccia and grissini. 444 Park Ave. S., 212-804-8880, igchospitality.com/restaurants/mondrianterrace
Kashkaval Garden
Several different fondues are also on the menu at Kashkaval's Mediterranean eatery in Hell's Kitchen. The lineup includes the signature Kashkaval Fondue, made with Bulgarian kashkaval (sheep's milk) cheese; truffle fondue, made with gruyere, truffle peelings, and truffle oil; and the classic fondue, which features nutty gruyere and pungent raclette. 852 Ninth Ave., 212-245-1758, kashkavalgarden.com
Bagatelle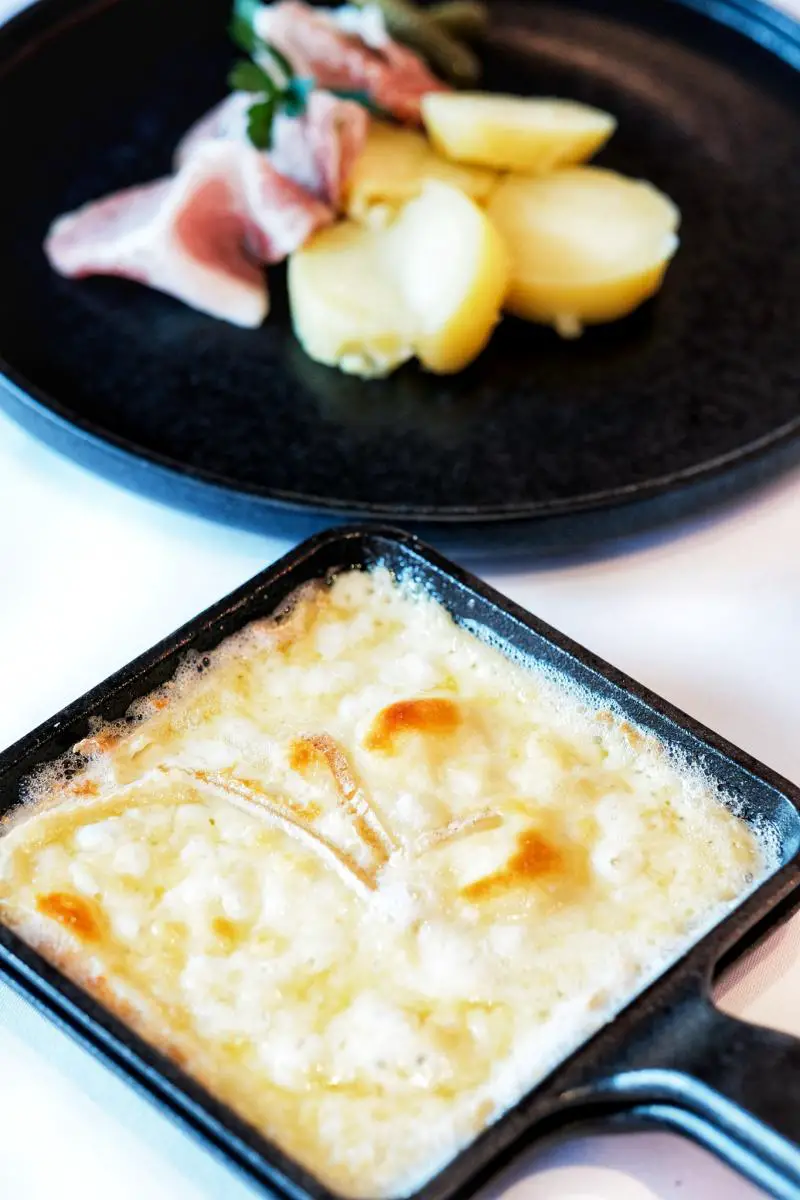 Chic Meatpacking District bistro Bagatelle is painting the town French with new "Je Ne Sais Quoi" dinner parties, happening every Wednesday night. Parisian flair can be found with an elevated dinner that features truffle pizza, lobster and foie gras ravioli, and homemade Parisian gnocchi in black truffle sauce. Also on the menu: Alps favorite tartiflette, made with potatoes, reblochon cheese, lardons, and onions, and Bagatelle's own take on raclette. 1 Little W. 12th St., 212-488-2110, bagatellenyc.com
Pretty Ricky's
Cheers to the Lower East Side's new haunt Pretty Ricky's, which introduced a brie and beer fondue for two. It's served with beef skewers and seasonal vegetables. Marking the fifth hotspot to be unveiled by Paradise Hospitality, the new venue opened its doors in October. Also on the menu are 20 "odd premium" beers on tap—the selection ranges from $6 Pacificos to $90 pints of Brut Des Flandres. Pretty Ricky's also entices with cocktails, wine, and a full dinner menu. 101 Rivington St., 646-429-3957, prettyrickys.com
Café Select
Casual Swiss spot Café Select is ideal for indulging in fondue, raclette, or other late-night snacks. Several varieties of fondue are offered—from classic Swiss style to wild mushroom, south of the Alps, white truffle oil, and fresh herbs to dark beer. Enjoy with cubed bread, vegetables, potatoes, cornichons, pickled onion, or fruit. Served with potatoes, vegetables, pickled onions, and cornichons, the raclette offerings include a DIY option for parties of four or more. Let Café Select's experts install an electric raclette grill at your table and get creative. 212 Lafayette St., 212-925-9322, cafeselectnyc.com
Raclette NYC
Foodies and cheese enthusiasts can head to Raclette NYC to enjoy the ages-old European tradition of indulging in rack-melted Alpine cheese with potatoes, veggies, or other foods. Choose from savoyarde (roasted new potatoes, cornichons, and pickled white onions); mediterranee (thyme–roasted asparagus, cherry tomatoes, and baguette slices); or Parisienne (7 oz pan-seared marinated skirt steak, sautéed mushrooms, roasted asparagus and potatoes), among other cheese-centric options. 511 E. 12th St., 212-853-5377, raclette.nyc
Read Next | New York's 7 Best Gyros