New York Fashion Week is hurtling towards us for fall 2018, and we're already picking out our ensembles in case we bump into Grace Coddington or Alexa Chung. Happening September 6 through 14, fashion elites gather from around the world to celebrate the fall collections at Carolina Herrera, Tory Burch, and Rodarte, among many others (official schedule here). While you might not get a chance to sit on the front row of a fashion show with Anna Wintour, you can still celebrate couture, ready-to-wear, and everything in between if you follow this guide. Read on for pointers on attending shows, other (i.e. less exclusive) events, and shopping tips!
How to Get the Most Out of Fall '18 NYFW: Attending Shows
Photo: Peter Duhon/Flickr
We'll go ahead and burst your bubble: most civilians (i.e. those outside the upper tiers of the fashion industry) won't get a chance to see fashion shows from top brands like Marc Jacobs or Oscar de la Renta. If you have industry connections, though, you can try to use those months in advance to snag tickets. For the rest of us, we have to put a little elbow grease (shipped from Milan, of course) into our tickets. Request tickets directly from the fashion houses showing in NYFW. The more up-and-coming the designer, and the earlier your request, the more likely you'll be to attend an actual Fashion Week show! The service Fashion Week Online also gives access to open-to-the-public shows and live streams of certain NYFW events with a yearly subscription fee.
This close to the events, your chances of attending a Fashion Week show are pretty slim, so we suggest you politely loiter outside venues like Spring Studios before the big-ticket events for a chance to see some of the well-heeled glitterati! And if you're rocking a fashion-forward ensemble, you just might get photographed yourself.
How to Get the Most Out of Fall '18 NYFW: Events & Exhibitions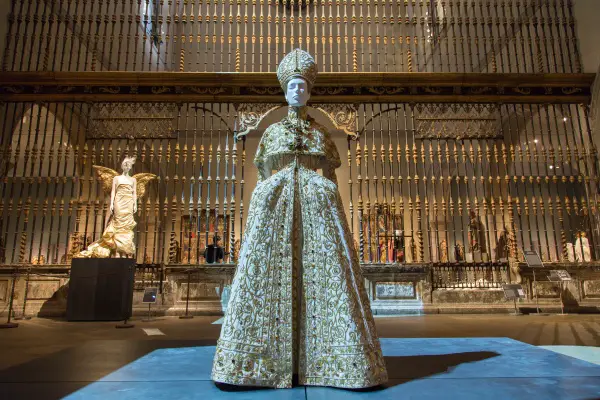 Gallery View, Medieval Sculpture Hall. Image: ©The Metropolitan Museum of Art.
Who says you have to go to a fashion show to feel fashionable? There are other ways to celebrate fashion's high holidays in one of the fashion capitals of the world. Upcoming events during NYFW include a free fashion show where you can buy the clothes you see on the runway, a party for Caribbean women thrown by Caribeme magazine, or Fashion Sizzle's Designer Showcase Presentation held at a church in Chelsea (so fashion, right?).
Speaking of fashion and church, check out The Metropolitan Museum of Art's transcendent fashion exhibition before it goes away October 8. Heavenly Bodies: Fashion and the Catholic Imagination will bowl you over with intricately embroidered papal robes, couture's take on nun's habits, and punk-rock angels you'll never forget. The Fashion Institute of Technology in Chelsea has a museum dedicated to the history and the wonder of fashion. Check out their exhibitions Fashion Unraveled and PINK: The History of a Punk, Pretty, Powerful Color, which opens during NYFW. On the Upper West Side, the New York Historical Society celebrates with exhibitions on legendary shoe designer Stuart Weitzman and the street-style photographer who had the best eye in the business, Bill Cunningham.
How to Get the Most Out of Fall '18 NYFW: Shop!!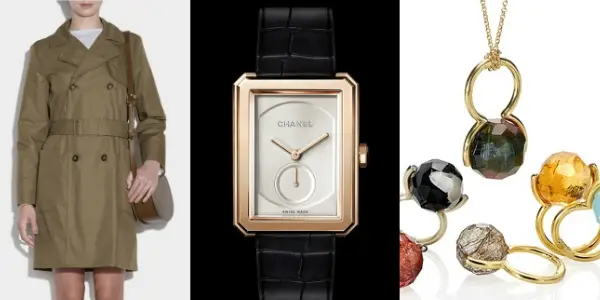 If you're reading this article, you don't need us to tell you to shop while you're in the city. But we'll tell you anyway. Go wild at stores you love and stores you've never heard of, from high-end to H&M. You never know what fashionable finds await you, what special events certain stores will hold during NYFW, and which luminaries you might bump into. We'd recommend shopping in SoHo at stores as diverse as Chanel, Alexander Wang, Opening Ceremony, Chloe, Y-3, Topshop, and Zara. All are located within walking distance of each other and near the primary venue for NYFW shows, Spring Studios. Use the streets as your runway, and enjoy your new look!
---
Moxy Times Square's Fashion Fun House
From Sept. 5th through 7th, Bar Moxy in Midtown West will be transformed into an interactive, Instagrammable destination, open to the public and free to attend. Guests will enter the Fun House through an unexpected entranceway, passing distorting mirrors and maze-like barriers. They'll find dueling slides that allow friends to race in designer burlap sacks, and "Fashion Whack-A-Mole," which lets guests take aim at their favorite fashion icons. There will be free prizes, including complimentary hotel stays and drinks at Bar Moxy. Wednesday, 8pm-10pm; Thursday, 12pm-11pm; Friday, 12pm-11pm.