In a cyber universe where mobile phones have taken on the role of personal correspondent, life without serial texting is unimaginable. And rather scary. As would be the inability to punctuate our texts with emojis. Always there when you need them, each with a specific attitude or job, they exist on a perpetual menu just waiting to be popped into action. Or so we thought. Until Emojiland the Musical proved otherwise.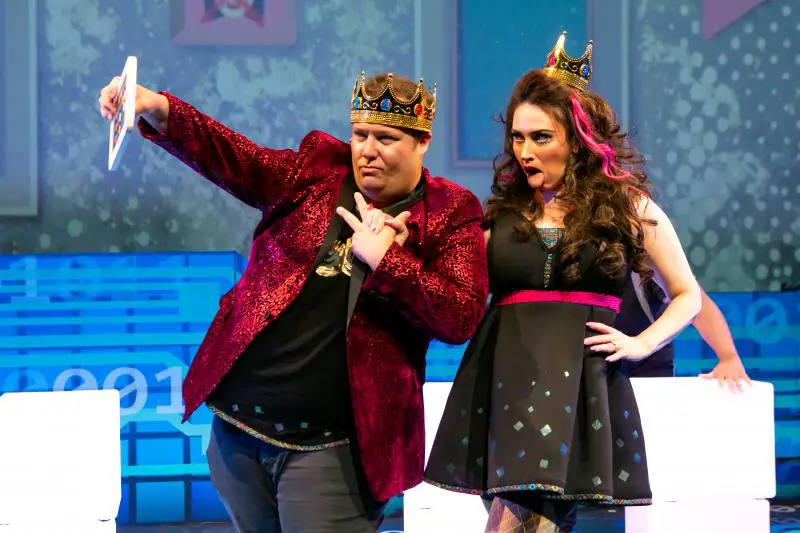 You'll ♥ Josh Lamon and Lesli Margherita in Emojiland at The Duke on 42nd Street. Photo by Jeremy Daniel.
Keith Harrison and Laura Schein, the masterminds behind the book, music, and lyrics, have set their show inside a smartphone, "in a digital world called Emojiland," populated by a collection of familiar characters like Smize (Smiling Face with Smiling Eyes), Sunny (Smiling Face with Sunglasses), Nerd Face, and Construction Worker.

These iconic emojis are embodied by an outstanding cast that includes Tony nominee Lesli Margherita (Matilda) as the Princess, Josh Limon (Groundhog Day; Inside Amy Schumer) as the Prince, Tony nominee Lucas Steele (Natasha, Pierre & the Great Comet of 1812) as Skull, Ann Harada (Avenue Q; Cinderella) as Pile of Poo, Emmy winner Felicia Boswell (Jesus Christ Superstar LIVE) as Police Officer, and George Abud (The Band's Visit) as Nerd Face.
Basically, the creators' jumping off point was the question, "If emojis were people, what would they be like?"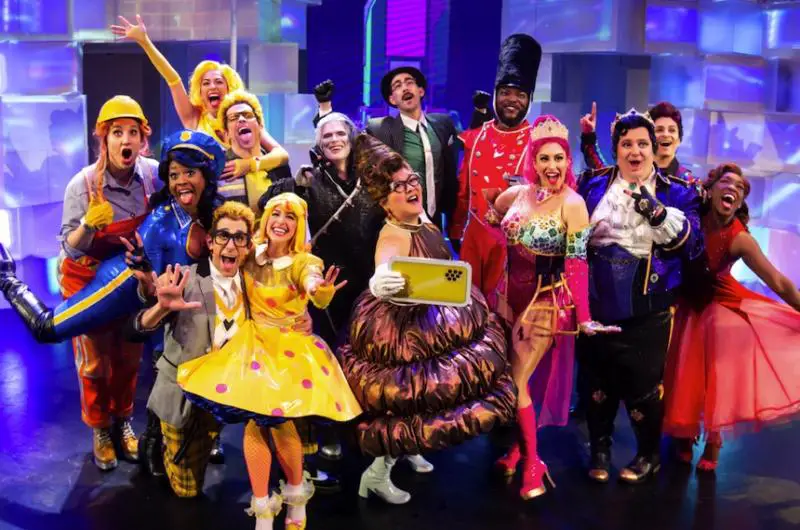 Emojiland the Musical's full cast, photo by Jeremy Daniel.
Helming the ensemble company is prolific New York director Tom Caruso, whose Broadway credits include Matilda, Ghost, and Master Class. As for Emojiland, his involvement with the show began in early 2018 with rehearsals for that year's New York Musical Festival. During that time he collaborated with Harrison and Schein on changes to a show that had already been in the works for several years. "We probably adapted 50%... cutting songs, adding songs, trimming the script, moving scenes—and after that run of only five performances [the show was a Grand Jury Selection at the Festival], we sat down to make the story even stronger," he says.
For its current Off-Broadway run, new songs were added along with two new characters: Man Dancing and Woman Dancing—elements that Caruso says help make the story and characters richer.
In describing the show, one of the most innovative in the current sphere of New York theatre, Caruso says, "It's a heightened reality, written in one narrative arc, tracking a group of emojis that exist within their own community. And it's a traditional musical insofar as the songs forward the action," he says, adding, "It's an incredible pop-rock score with music that's both fun and energetic."
And then there's Kenny Ingram's (The Lion King) choreography that runs the dance gamut by reinventing everything from old school to rock videos.
Such glee-infused innovations are key to the show's universal appeal. "Because emojis are a kind of shorthand that defy language barriers, they make it possible to communicate without actual written language. Also, they're recognizable," says Caruso, going on to note that the show's emojis aren't literal interpretations of the tiny mug shots that pepper our texts—don't expect a big yellow smiley face to bounce across the stage. "They're not cartoons so they don't lose humanity. They're more of an extraction," he explains.
Dealing with each other, emotions, and the crisis "of what may be a major software update," the residents of Emojiland are called upon to rally, one example being when Nerd Face, channeling his full problem-solving mojo, sings: "I cannot stop the virus/I cannot change the channel/But I can slip in through the backdoor/of the system settings panel."
Adding to fun of the clever lyrics and spot-on characterizations are video and projections, elements Caruso feels add greatly to the show's resourceful millennial gestalt. Still, what triggers audience reaction the most seems to be how wonderfully moving the show is. "During the festival run, theatergoers would walk away saying, 'I can't believe I was so touched and entertained by a story about emojis,' " recalls Caruso. "The weight and emotion the show holds—despite how funny it is—comes as a surprise. But it is a story that's absolutely relatable based on the times we're living in now. It offers up the question, what happens if you choose fear over love?"
Female members of the Emojiland cast.
Margherita expresses the sentiment from a performers perspective: "It's so rare to get to do a show that is so hysterically funny one minute and then completely thought provoking the next."
---
Emojiland the Musical is playing at Off-Broadway's The Duke on 42nd Street, 229 W. 42nd St. Now extended through March 19, 2020! For reservations call 646-223-3010 or visit DukeOn42.org.