The traditional eggnog cocktail only enjoys a small window of time in the spotlight before it fades off most menus until next holiday season. While it's still in town, head to one of these city spots to unwind during this fun, festive, often hectic time of year.
Arthouse Hotel's Holiday Movie Revival Pop Up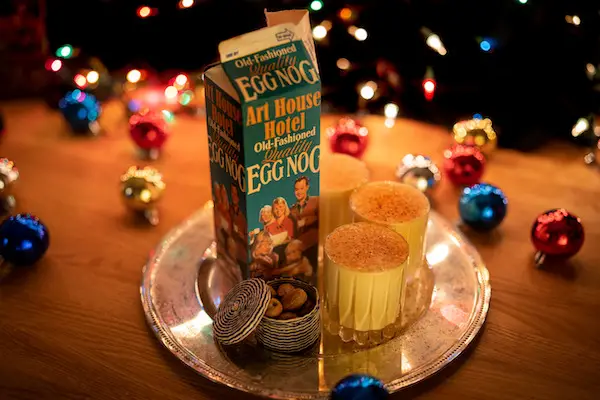 Uptown's vintage-inspired Arthouse Hotel's Holiday Movie Revival pop up brings classic holiday moments from the silver screen to life. Throughout December, the hotel's swanky lobby and Arthouse Wine Bar are transformed into a nostalgic space that enables guests to journey down movie memory lane. The colorful decor and lineup of fun cocktails were inspired by some of the best holiday movies of all time. While visiting, you can up your holiday spirit while sipping a glass of Clark's Eggnog. Crafted with eggnog and Pierre Ferrand Cognac, the festive libation is garnished with a touch of shaved nutmeg. 2178 Broadway, 212-362-1100, arthousehotelnyc.com

ASSET
This Upper West Side newcomer offers an eggnog martini created by Beverage Director Brandon Lester. Made with True Vodka, Disaronno, and eggnog, ASSET's sophisticated cocktail is served in style in a martini glass. It's topped off with a flavorful dusting of cinnamon and nutmeg. 329 Columbus Ave., 212-517-1987, assetrestaurant.com
Gran Tivoli and Peppi's Cellar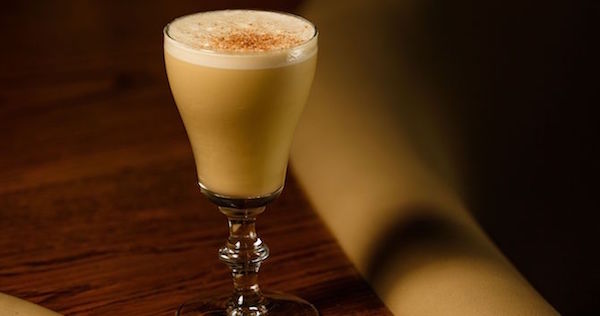 Credit: Alex Staniloff.
Downtown Italian eatery Gran Tivoli and its subterranean hideaway Peppi's Cellar entice eggnog enthusiasts with the GT Nogg, which was created by Bar Director Ryan Gavin. Crafted with Santa Teresa Rum and Mr. Black Cold Brew Coffee Liqueur, the dainty cocktail also boasts cocoa bitters and maple syrup. The elegant elixir is finished off with a dusting of nutmeg. 406 Broome St., 917-714-8832, grantivoli.com
Miss Ada
Brooklyn Israeli restaurant Miss Ada brings a very personal touch to guests of its Fort Greene eatery. Since the restaurant made its debut in 2017, people have been flocking there every holiday season to sip the House-Made Spiked Egg Nog. It is made with love and hails from a recipe that belongs to the family of Head Bartender Ruben Hernandez. 184 DeKalb Ave., Brooklyn, 917-909-1023, missadanyc.com
Peachy's NYC
Chinatown's Peachy's is offering its Starward New World Egg Nog, which was created by Beverage Director Tui Tekaaho. It's made of Starward Australian Whisky and apricot brandy and includes a dash of heavy cream and some sweet honey syrup. Served in a collins glass, the eggnog is topped with sparkling wine. 5 Doyers St., 646-895-9301, peachys.nyc
Tocqueville
Offered exclusively at holiday time, Union Square's Tocqueville is serving its house-made eggnog. The ingredient list alone will get you in the holiday spirit: coconut milk, coconut water, cognac, rum, citrus zest, spices, egg whites, and honey. 1 E. 15th St., 212-647-1515, tocquevillerestaurant.com
The Modern
Danny Meyer's two-Michelin-starred restaurant The Modern at The Museum of Modern Art just released its very own elevated barrel-aged twist on traditional eggnog. Created by Bar Director Patrick Smith, it's loaded up with BERTOUX Brandy; Appleton Estate rum; Dalmore 12-Year Old Scotch; Gonzalez Byass "Alfonso" Oloroso sherry; and Giffard vanilla liqueur. The recipe also calls for Demerara sugar and house-made crème anglaise. The drink is artistically embellished with a house-made gingerbread cookie. The process for crafting this unique eggnog kicked off in May, 2019. That's when The Modern sourced an ex-BERTOUX Brandy barrel and began slowly filling it with the ingredients. Uncorked at the beginning of November, the special nog is round and balanced, while light in color and body. Floral and citrus notes work together to balance the richness. 9 W. 53rd St., 212-333-1220, themodernnyc.com