In New York City you can find an authentic experience anywhere—even in Times Square. Ding Chinese Restaurant brings Szechuan cuisine, one of the city's obsessions, along with hot pots and table barbecue to the heart of midtown.
Give a look or a listen to the clientele at midday and you'll know you've found the real deal, with tables full of Chinese guests, interspersed with Western coworkers looking to try something new. A long list of lunch specials, including several combo deals, makes Ding a rare bargain in the neighborhood.
Affordability, however, does not mean the sacrifice of style. Wooden tables, with several roomy booths, make for a comfortable scene. Attention to detail is evident in the broad ceiling beams and the way an aquarium, busy with fish, is integrated into a side wall.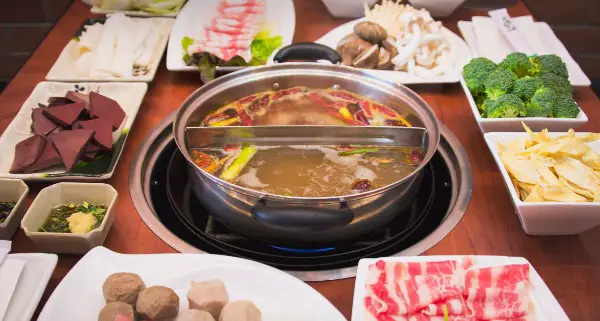 You can definitely go on a foodie adventure here (ox tongue and tripe anyone?), or choose from American Chinese favorites (General Tso's Chicken, braised whole fish). You can also split the difference—there are many original tastes here ready to become go-tos. Take the shredded bean curd with minced scallion; although tofu skin may not be a hometown staple, its appealing firm texture synchs perfectly with a flavor-packed scallion and sesame pesto. Szechuan pork wontons are standouts, supple homemade wrappers and savory meat, topped with a sauce that's like a sophisticated Chinese take on barbecue, topped in chili oil. (The chili is more about an infusion of flavor than burning you out with heat.) The classic Szechuan dish of sautéed string beans is another winner; blistered beans meet a minced pork with clean and bright flavors as ginger balances against garlic. Friendly and attentive service will help you navigate the menu.
For communal experience, there's nothing like sharing in the making of a meal, and Ding provides two opportunities. Hot pots let you mix and match from dozens of ingredients to make your perfect soup. There's also a Korean-inspired table barbecue which uses an innovative smokeless technology. Short ribs, jumbo shrimp, rib eye, brisket, and Berkshire pork belly are just a few of the temptations ready for the grill.
Whether it's pre-theater dining, a business lunch, or knocking back a few beers over the camaraderie of a shared hot pot or barbecue dinner, Ding provides an authentic Chinese adventure in Times Square.
234 W. 48th St. (btw. Broadway & Eighth Ave.), 212-265-0828, dingtimesquare.com