"All food is comfort food. Maybe I just like to chew," says comedian Lewis Black. While every culture has different comfort food cravings, here in NYC a good grilled cheese, pizza, chicken fingers, a hearty late night sandwich, bbq ribs, do the trick. Here are a few suggestions on where to fill up on some NYC classic comfort foods.
Melt Shop hangs its hat in three locations: FIDI, Midtown West and Chelsea, so classic grilled cheese lathered on Orwasher's white is always in reach as is fried chicken or a nice burger melt ($8.95). Make your bread gluten free for an extra buck or add caramelized onions, tomato or bacon. Loaded Tots (bacon, jalapeño, herbed Parmesan and homemade cheese sauce on Tater Tots) are child-pleasers and there's an IPA if you need to take the edge off. Pacify small fry with a Nutella, Oreo or classic vanilla, strawberry or chocolate shake ($5.95).
If it's gotta be pizza for them but you can't look at another slice, try Patzeria Family & Friends, 311 W. 48th St. where the classic cheese pie runs $12. $10 wings, $6 mozzarella sticks with dipping red sauce or a hefty sausage roll with peppers, onions and cheese are soothing as is the eggplant parm on a hero. There are pastas galore. Desserts include canolli, NY Cheesecake and zeppole. To drink: juices, homemade iced tea, fancy and not-so waters.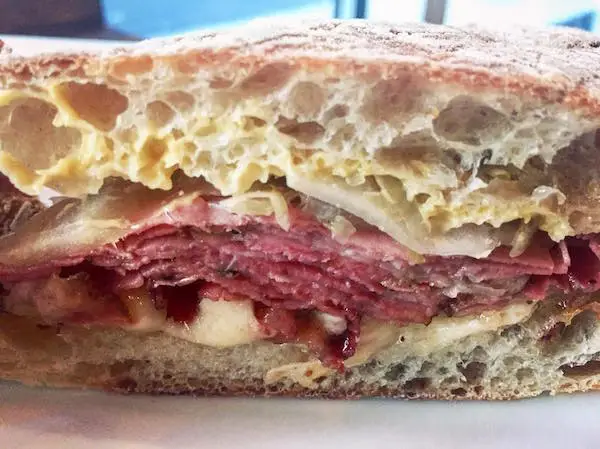 Try the Bensonhurst Ruben at Lucy's Whey. (Facebook)
Oh so UES, at 1417 Lexington Avenue between 92nd and 93rd Streets in Carnegie Hill, Lucy's Whey sells cheese (artisanal of course) and makes a grilled cheese slicked with fig jam ($13) as well as an "old fashioned" version, hold the jam, with Cabot cheddar. Inhale the smoky tomato soup or split the Bensonhurst Ruben with Brooklyn-cured pastrami with another adult. The menu changes as  new cheesemongers make the cut.
It can't get any more kid-friendly than S'Mac, 197 First Avenue at corner of 12th street,  where the mac can be regular, multi-grain or gluten free, all with or without breadcrumbs.  Nosh size $6.75; major $ 9.75 with a small upcharge for the variations. Get the Cajun variety for a kick or the Pariesienne for chic. You can go vegan or reduced lactose, drink beer or wine and end a meal with a brownie.
Eat with your hands at one of four Sticky's (the Finger Joint) where chicken comes as antibiotic-free digits, two on a potato bun as a sandwich (the classic with slaw and pickles, $9.55) or order fries with one of ten-plus sauces (buttermilk ranch anyone?) Locations include the Village, Murray Hill, and Chelsea.
The longstanding Virgil's BBQ in Times Square, 152 W. 44, does burgers, hush puppies with maple syrup butter, pulled pork and "trash" riblets as well as salads, chicken fried steak, and even nachos with various BBQs atop. Decent prices and margaritas with pretty quick service, a plus with small ones in tow.
Games on tables and TV over the bar help kill time until food shows up at the midtown Clinton Hall, 230 East 51st Street, with locations at the Seaport, Financial District, Arthur Avenue in the Bronx and another coming in Williamsburg. It's cute, bright and popular especially at Happy Hour with twenty craft beers and ciders in rotation and lots of burger options including salmon, mostly $15. Sweet potato fries come with a side of marshmallow sauce; waffles including a peanut butter option and doughnut variations figure heavily for the kid in all of us. Open late.
Even the menu at the newly relaunched Chat N Chew (10 E. 16th St.; 212-529-3800) is cute as is the space: gleaming white tiles with twinkly lights all around. A section of the menu, devoted to "Food You Love to Eat" suggests mac 'n cheese that arrives appropriately tangy in a pot while "Mindful That Matters" included a sublime roast cauliflower with toasted hazelnuts and lots of currents. The BLT with arugula subbing for lettuce is TDF. Entrees are in the $18 and up league; a full bar is coming shortly (wine is available now) and portions are decent-sized so you might get away with kid-sharing. Gone the last three years, it's good to turn in here again.