2020 is the Year of the Rat, which is the first of all the zodiac animals. While the rat may not be everyone's favorite critter, in the Chinese culture, rats are acknowledged as a symbol of wealth and surplus. In celebration of the New Year, many chefs throughout New York City have created special dinner menus that are offered from January 22 through 26. Head to one of these Manhattan eateries to ring in the Lunar New Year while welcoming some luck and prosperity into the months ahead. Featuring Little Alley, Steak 'N Lobster, Ivy Lane, and others.
Little Alley
This year, Little Alley offers a Chinese New Year menu that incorporates the bounty of the sea. Its special New Year's menu includes some delectable delicacies—from steamed lobster with glass noodles to lobster with ginger scallion; spicy crab; salted duck egg crab; dry-woked prawn; steamed whole fish with chopped chili; blanched clams; and stir-fried clams with basil. The menu is available from January 22 through 26. 550 Third Ave., 646-998-3976, littlealley.nyc

RedFarm
Photo credit: Matt Taylor-Gross.
Ring in the new year at RedFarm. Indulge in farm-to-table Chinese fare at a mod, upscale eatery. In preparation for the Year of the Rat, RedFarm's culinary talents have devised a special a la carte menu, which is being offered from January 23 to 26 at both Manhattan locations. The menu includes appetizers such as Gold Coins—uni dumplings stuffed with spinach and shrimp—or whole fried shrimp, scallop-stuffed and wrapped in a New Year's pastry. The main courses include braised and barbecued spare ribs with New Year's rice noodles—or grilled Alaskan king crab with fresh perigord black truffle and corn, among other dishes. RedFarm's complete regular menu is also available during the Chinese New Year. 529 Hudson St., 212-792-9700 or Upper West Side, 2170 Broadway, 212-724-9700, redfarmnyc.com
Ivy Lane
Mod-American restaurant Ivy Lane is celebrating the Lunar New Year with a special that highlights Chef Sung Park's heritage. The special menu offers duck consommé with Peking duck dumplings, rice gnocchi, root vegetables, garlic blossom, and crispy shiitake mushrooms in a clear broth. The duck dish will be available from January 24 through 26. 116 E. 60th St., 212-641-0577, ivylanenyc.com
Steak 'N Lobster
The Piri-kara Lobster is smothered in red hot sauce.
Steak 'N Lobster's Chef Masato Okamoto has created a special Lunar New Year menu that will be offered exclusively on January 25. Chef Okamoto puts an innovative Chinese twist on classic steak and lobster entrees. For $50 per person, the three-course prix-fixe will kick off with a choice of pork or vegetable dumplings, pork or vegetable spring rolls, or egg drop soup. The main course options include steamed lobster, whole steamed fish, or a New York strip steak. For the third course, each guest will select a family-style dish for all to share. Choose from pork chow mein; pork belly steamed buns; Chinese broccoli in oyster sauce; chicken lettuce wraps; Mandarin chicken salad; or Singapore fried noodles with vegetables. 129 W. 29th St., 212-564-2929, snlrestaurant.com
Tang Hotpot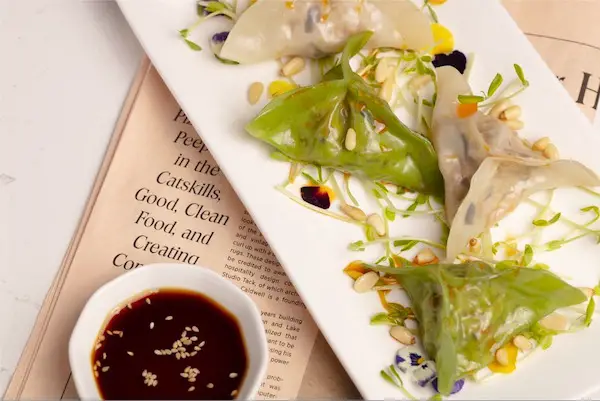 On January 24 and 25, downtown's modern Chinese eatery Tang Hotpot will serve a special Lunar New Year Prix Fixe menu that centers around the Sichuan hot pot experience. Dating back more than one thousand years, hotpot is a traditional dish that is created in a simmering pot of broth. New Year's revelers are invited to cook a selection of raw ingredients—and connect with one another—at the table. The festive prix fixe menu includes dumplings, which hail fromSage Collective—Tang Hotpot's sister restaurant. The celebration dinner is $75 per person or $99 per person, which includes three glasses of wine, beer, or sake. 135 Bowery, 917-421-9330, tanghotpotnyc.com