Three days of Broadway-filled shows, stars, fans and learning: that's what makes BroadwayCon a highly anticipated annual event for the Broadway community. This year's convention, its fifth, took place at the New York Hilton Midtown just a quick walk from the theaters of the Great White Way. At the 2020 version, held from January 24-26, the set-up was familiar to the crowds of repeaters who consider BroadwayCon to be "a second home that happens once a year." The flow seemed calmer this year, with less need for guides to walk you from place to place or help you find a seat in the oft-crowded MainStage room. Omnipresent posters with daily schedules made the navigation much easier, too.
For Broadway fans who attend from around the world, this conference is pure license to be who you want to be. You can let your inner Lydia or Beetlejuice come through and show off your talents as a Hamilton rapper with no judgment. Gender fluidity is of no concern. The beauty of BroadwayCon, as with Comic-Con or any similar fan convocation, is sharing your passions with likeminded souls. And having the opportunity to joyfully delve deeper into the industry through workshops, shared experiences and new friendships.
Who's Your Favorite Broadway Character
Cosplay winner Nyssa Sara Lee as Ursula. All photos by Meryl Pearlstein.

Audience preparation for BroadwayCon often takes months to create and finesse elaborate cosplay costumes, some looking as if they emerged from stage doors down the street. Cosplayers young and old mill about, showing off their garb, playing the roles, and happily posing for pictures.
A highlight of the convention is the final day's fashion show and contest where the best of the best compete in both design and character. This year saw numerous versions of Beetlejuice creepsters and Oklahoma! ensembles, along with timeless favorites like Ursula from The Little Mermaid, King George from Hamilton, and even a lithe Peter Pan. Winner of the fashion show, aspiring costumer Nyssa Sara Lee from Salt Lake City told me that it took six months to make her Ursula costume which requires four suitcases to transport. Second-place winner Glenn Reyes said that he spent 600 hours meticulously perfecting his King George (Hamilton) attire. The attention to detail can be truly mind-numbing.
An Insider's Look and Unbridled Devotion
BroadwayCon is also the start of the next Broadway season for many. First Look offers teasers of songs and characters from shows to come. This year, Sing Street, Girl from the North Country, Six, Mrs. Doubtfire and the revivals of Caroline, or Change and Company were instant crowd pleasers (just wait until you hear the updated, gender-bending version of "You Could Drive a Person Crazy" ) , with many of the attendees already familiar with the pop-concert songbook from Six's London run. Among the weekend's activities, enthusiastic singalongs and meetups for the new shows as well as faves like Oklahoma!, Hamilton and Hadestown showed the intense fandom present. Impromptu singer gatherings in the hallways seemed like seasoned rehearsals, albeit with players who hadn't met before.
Panels to Entertain and Educate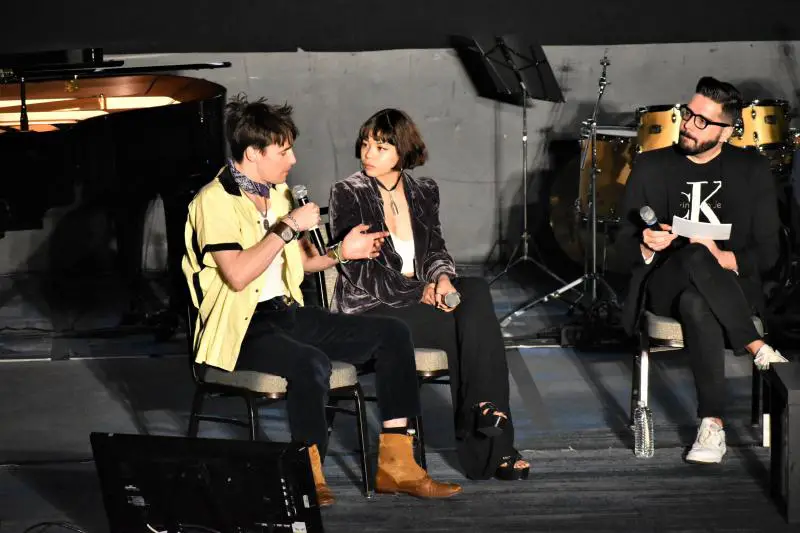 MainStage Spotlight panels provided a cast-centric look at both upcoming and current shows. The room was jammed for Dear Evan Hansen at which fans got a "last look" at the departing Evan Hansen, Andrew Barth Feldman, the youngest person to have played the role. His replacement, Jordan Fisher, the first African American Evan, entertained with amusing tales of his past in Grease LIVE! and Hamilton. Ensemble members from Alanis Morissette-inspired Jagged Little Pill offered their thoughts about singing well-known music of a singer-idol. I wished the cast of Hadestown hadn't spent so much time talking about their favorite mythical characters – it seemed rather silly, in fact – but the Fates (Yvette Gonzalez-Nacer, Kay Trinidad and Jewelle Blackman) gave considerable and even humorous insight into performing on the stage's turntables in the physically challenging musical.
Unfortunately, many of the appealing industry-insight panels with topics like "The Psychology of Sondheim," "The Producer's Perspective," and "What Does Diversity in Theatre Actually Mean," or the performance workshops, had to compete against the MainStage attractions, with attendance suffering as a result. I would hope that a bit more strategy could go into scheduling next year so that high-interest panels with high-profile panelists could be timed to allow both attendees and Broadway VIPs to profit from each other's knowledge. It was frustrating that "Hadestown Why We Build the Wall" was pitted opposite the panel for the other death-oriented play, Beetlejuice. There is so much to learn at this convention—it might be unavoidable, but it's still a shame to miss a fascinating discussion because of conflicting timing and locations.
Satisfying Your Inner Broadway Geek and Star Wannabe
The chance to meet your theater idols face-to-face is exciting, and autograph signings have long lines throughout BroadwayCon. Also popular are the games and experiences unique to the convention. If you've ever gone to another "con" like Comic-Con, you know that these proprietary events contribute markedly to the appeal and memorability of the event.
As a forum for rising talent, the BroadwayCon Star to Be contest is an important motivator for convention attendance. This year's winner, 12-year-old Luke Islam, was also part of the winning LipSync Contest trio, Henry's Half. I'm sure there were agents in the audience—they'd be remiss not to grab this poised youngster who had also been a competitor on America's Got Talent the year before.
BroadwayCon Jukebox is a riotously fun event where stars perform a song—chosen by the audience—designed to eviscerate their musical theater comfort zone. The real-time Blizzard Party Line, a carryover from the first snowed-in BroadwayCon, dials in stars unable to be in New York City. But perhaps it's BroadwayCon Feud that's everyone's favorite where stars compete against attendees in a fun, rapid-fire game. My only wish was that these wouldn't all be scheduled late in the evening for a couple of reasons. They're fun! And they deserve a larger audience including the many younger participants and their parents who leave to have dinner or to attend an actual Broadway show. It would be delightful to schedule a couple of these during the day, or perhaps even repeat them, like having a matinee and an evening performance. And, by the way, how about offering some food choices for those who decide to stay and play? I keep wondering why there aren't any stands scattered throughout the show. It's the perfect set-up for a food court with "theatrical" cuisine pop-ups similar to the rows of innovative merch makers in the BroadwayCon Marketplace.
A Culture of Its Own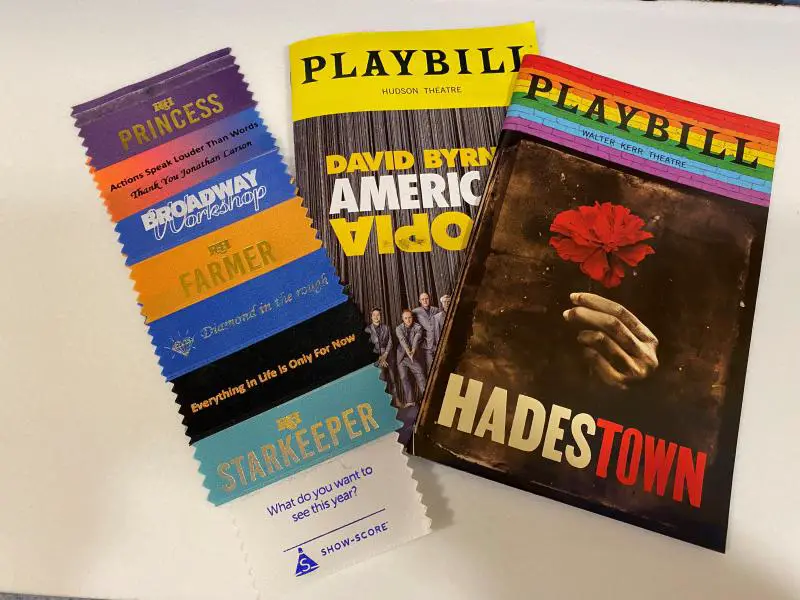 For those of you who have never attended any kind of "Con," there are elements of BroadwayCon that might seem really strange. Trading Playbills and ribbons are part of the rubric. Throughout the year, attendees amass and sort Playbills to trade, some participants arriving with suitcases filled with rare gems like the original In the Heights playbill from 2008. Ribbons with witty show-related monikers and statements are as prized as currency. It's viewed as a badge of honor to have a trail of the colored ribbons attached to your name tag.
I've now attended five BroadwayCons and I know that I have the rhythm pretty well under control. Will I return for the next one in January 2021? That's like asking me if I plan to see any Broadway shows this year. Of course, I will. I AM that Broadway geek. I schedule ahead for this love- and joy-filled weekend with Broadway cognoscenti who enhance the Broadway experience that is such an important part of my life. I've even started thinking about a costume to wear (that would be a first for me). And I want to be "in the room where it happened," along with my fellow Broadway lovers from Australia, New Zealand, Denmark, Chicago, and the rest of the world.