Here is everything you need to know about the Broadway and Off-Broadway shows in NYC in 2022. Big Apple stages are alive with new plays and musicals, so it's not surprising that theatre lovers are busy plotting their Broadway and Off-Broadway adventures. Even the most jaded theatregoer can't help but be impressed by the elevated star stats rocking New York's theatre scene right now. Not only are Broadway notables out in full force, but Hollywood has unleashed several of its A-listers onto Big Apple stages. So get ready for some serious celeb spotting under the lights (as well as out and about in Manhattan).
UPCOMING BROADWAY EVENTS 
Monday, 10/3, 7pm (Live & Virtual) Death of a Salesman: A Conversation with Wendell Pierce, Sharon D Clarke, Andre De Shields and Miranda Cromwell with Salamishah Tillet. 92NY, 1395 Lexington Ave; 212-415-5500; 92ny.org
BROADWAY SHOWS IN NYC 2022
OCTOBER BROADWAY SHOWS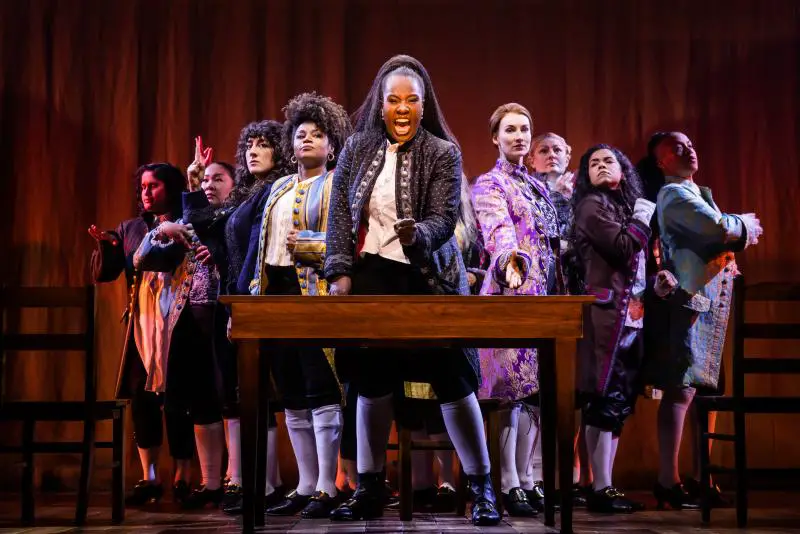 Photo by Evan Zimmerman for Murphy Made.
1776 (Official opening is October 6th at the American Airlines Theatre, 227 W. 42nd St.) (2 hrs., 45 mins.) What will it take to get two dozen powerfully passionate, exceedingly complicated, and all-too-human individuals to settle their differences while they hold the future in their hands? With this "revolutionary" revival of the Tony-winning musical you may never think about our country—who we are and why—the same way again. Limited run thru 1/8/23. (roundabouttheatre.org)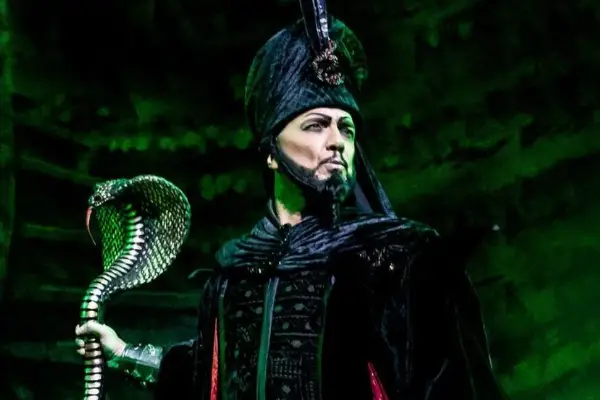 New to the Aladdin cast: Dennis Stowe takes on the role of Jafar.
Aladdin (New Amsterdam Theatre, 214 W. 42nd St.) (Opened 3/20/14) (2 hrs., 30 mins.) Like The Lion King, this Disney musical developed from animated origins has been a total crowd-pleaser since it arrived in 2014. This family-friendly magic carpet thrill ride flies onto the stage teeming with romance, mischief, and, of course, a wildly madcap Genie! The end result is a not-to-be-missed Broadway spectacular! (aladdinthemusical.com)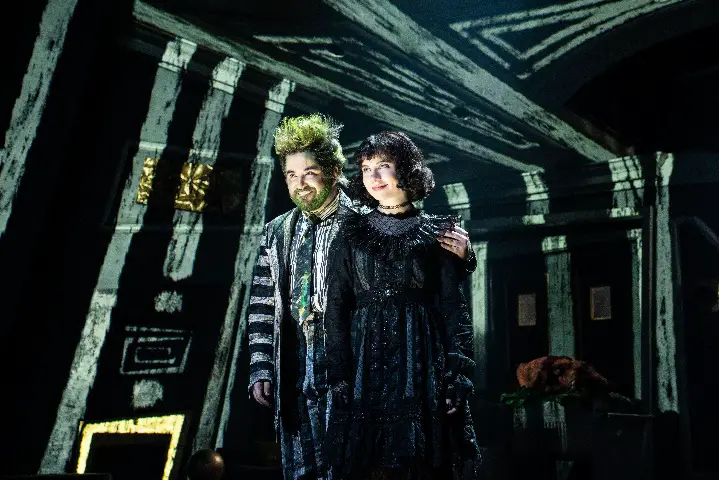 Beetlejuice (Marriott Marquis Theatre, 210 W. 46th St.) (Reopened 4/8/22) (2 hrs., 30 mins.) This wild ride of a musical returns to Broadway bringing with it an edgy and madcap take on life—and afterlife, once the gloriously irreverent and unapologetically scruffy title ghost insinuates himself into the life of "a strange and unusual" teen who has befriended the deceased former owners of her family's new home. Thru 1/8/23. (beetlejuicebroadway.com)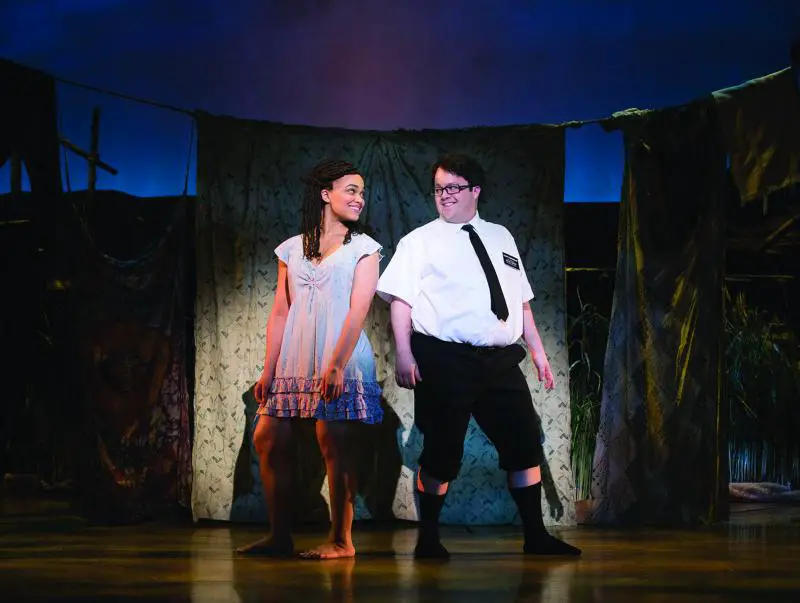 Kim Exum and Cody Jamison Strand in The Book of Mormon, photo by Julieta Cervantes.
The Book of Mormon (Eugene O'Neill Theatre, 230 W. 49th St.) 2011 Tony, Best Musical (Opened 3/24/11) (2 hrs., 30 mins.) One of Broadway's most successful, Tony-winning (nine in 2011!) musicals, from Trey Parker and Matt Stone—the duo behind South Park—follows a couple of wide-eyed Mormon missionaries whose first official assignment takes them to a remote village in Uganda. Divinely profane in all the right places!(bookofmormonbroadway.com)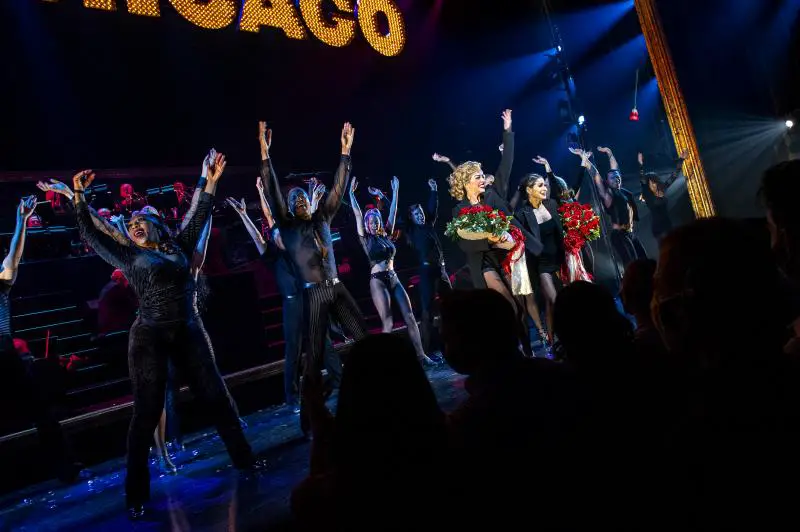 Chicago reopening night, 2021. Photo: Daniel Rader.
Chicago (Ambassador Theatre, 219 W. 49th St.) 1997 Tony, Best Musical Revival (Opened 11/14/96) (2 hrs., 30 mins.) Kander and Ebb's musical vaudeville about those murderous tootsies Roxie Hart and Velma Kelly picked up a Tony for Best Musical Revival back in 1997 and has reigned as one of Broadway's fiercest hits ever since. Sparkling with Bob Fosse's choreographic legacy, the show's cavalcade of colorful characters includes everyone from Billy Flynn and Mamma Morton to Amos Hart and Mary Sunshine. (chicagothemusical.com)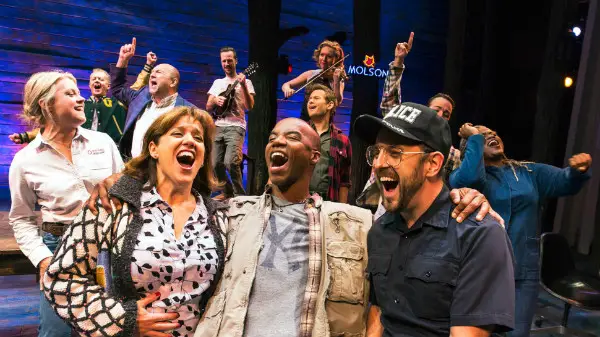 Photo by Matthew Murphy.
Come From Away (Gerald Schoenfeld Theatre, 236 W. 45th St.) (Opened 3/12/17) (100 mins., no intermission) One of Broadway's most celebrated musicals is based on the true story that unfolded on 9/11, 2001 when 38 planes were ordered to land in the remote town of Gander, Newfoundland. What unfolded when the stranded international strangers deplaned was amazing: the locals stepped up to host them, leading to extraordinary camaraderie. Worth noting: Christopher Ashley picked up the 2017 Tony for Best Direction of a Musical. Thru 10/2. (comefromaway.com)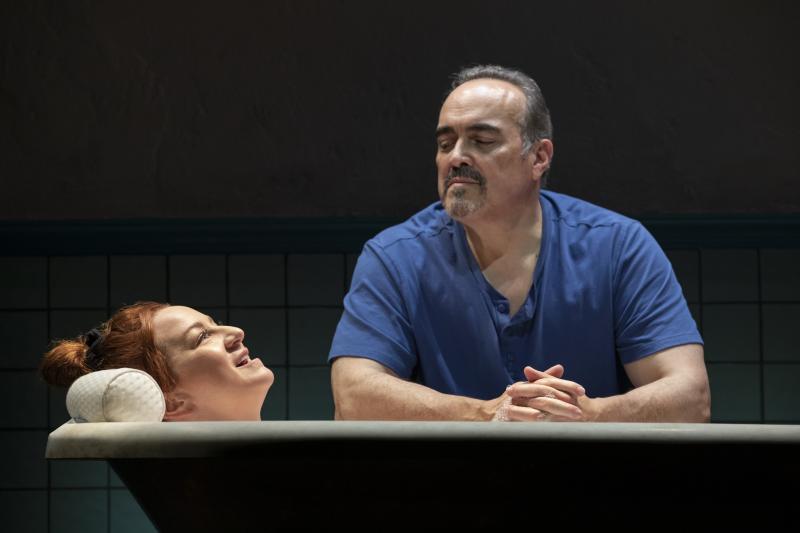 Katy Sullivan, David Zayas. Photo credit © Julieta Cervantes (2022).
Cost of Living (Official opening is October 3rd at the Samuel J. Friedman Theatre, 261 W. 47th St.) (100 mins., no intermission) Winner of the 2018 Pulitzer Prize, Martyna Majok's powerhouse play is about the forces that bring people together, the complexity of caring and being cared for, and the ways we all need each other in this world. (manhattantheatreclub.com)
Death of a Salesman (Official opening is October 9th at the Hudson Theatre, 141 W. 44th St.) (2 hrs., 15 mins.) Wendell Pierce and Sharon D Clarke reprise their roles as Willy and Linda Loman from the Old Vic revival of Arthur Miller's classic, told from the perspective of an African American family. A powerful interpretation, it illuminates the dark underbelly of the American Dream and its elusive promise of equality and opportunity for all. Limited 17-week run. (salesmanonbroadway.com)
Ramin Karimloo (Nick Arnstein) and the cast of Funny Girl. Photo: Matthew Murphy, 2022.
Funny Girl (August Wilson Theatre, 245 W. 52nd St.) (Opened 4/24/22) (2 hrs., 50 mins.) This long-awaited first Broadway revival of the celebrated Fanny Brice musical bio comes to life with a revised book by Tony winner Harvey Fierstein. (funnygirlonbroadway.com)

Jewelle Blackman, Kay Trinidad, and Yvette Gonzalez-Nacer of Hadestown. Photo by Matthew Murphy.
Hadestown (Walter Kerr Theatre, 219 W. 48th St.) 2019 Tony, Best Musical (Opened 4/17/19) (2 hrs., 30 mins.) This unique and stunning musical by singer-songwriter Anaïs Mitchell and director Rachel Chavkin follows musical follows the overlapping love stories of Orpheus & Eurydice and Hades & Persephone. The action unfolds in both a stylized New Orleans setting and Hades' stomping ground, The Underworld. As for the score, think New Orleans jazz melded with American folk music. (hadestown.com)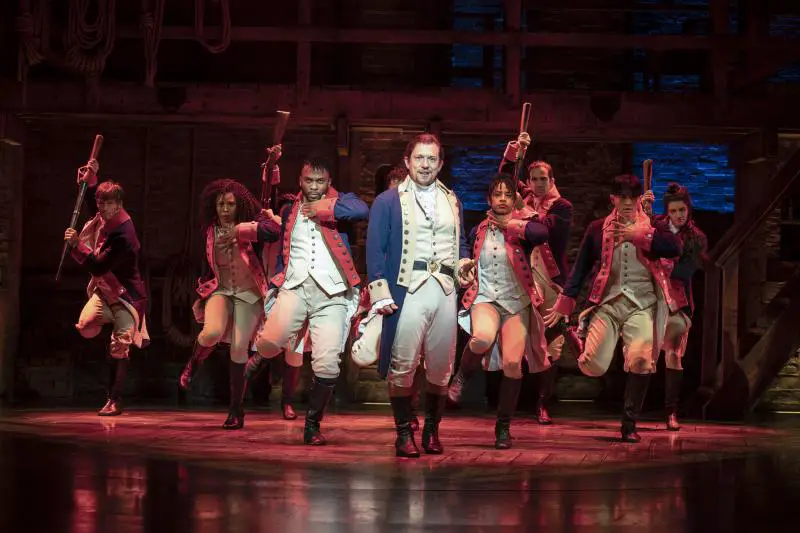 Miguel Cervantes and the ensemble of  Hamilton, (c) Joan Marcus 2021.
Hamilton (Richard Rodgers Theatre, 226 W. 46th St.) 2016 Tony, Best Musical (Opened 8/6/15) (2 hrs., 55 mins.) Visionary Lin-Manuel Miranda's white-hot historical musical that redefined Broadway. Told through a score of musical theatre, hip-hop, jazz, and R&B, the Pulitzer Prize-winning show has also scooped up Tony, Olivier, and Grammy awards. Act fast. (hamiltonmusical.com)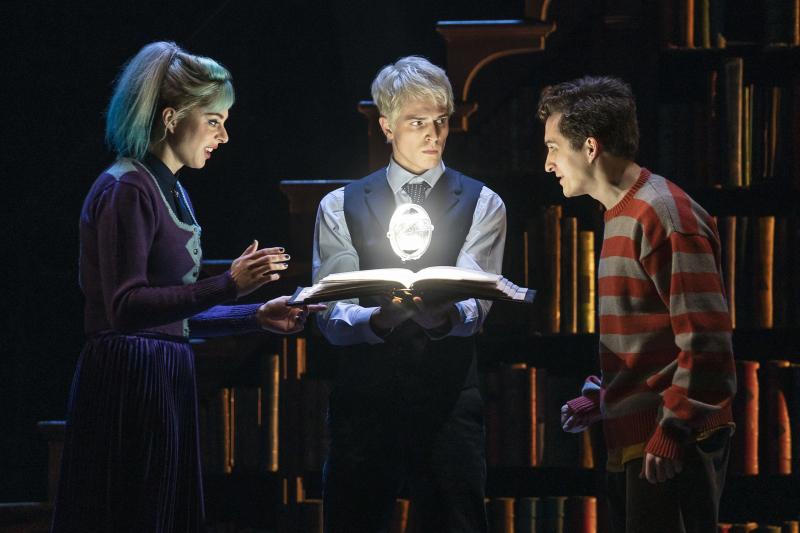 Harry Potter and the Cursed Child (Lyric Theatre, 214 W. 43rd St.) 2018 Tony, Best Play (Opened 4/22/18) (3 hrs., 30 mins.) Now a single night of exciting theatre, this visually spectacular production begins where the film series ends and follows the friendship between Harry's son Albus and Draco's son, Scorpius—BFFs whose magical misadventures involve Time-turner shenanigans and a mysterious friend. Familiar characters plus a new generation of Hogwarts students make this a must-see for fans of the books and movies. (harrypottertheplay.com)
Into the Woods (St. James Theatre, 246 W. 44th St.) (From 6/28/2022) (2 hrs., 45 mins.) Direct from its sold-out New York City Center Encores! run, this latest revival of Stephen Sondheim and James Lapine's Tony-winning musical weaves together some of the Brothers Grimm's most beloved fairy tales and characters for a show that enchants. Limited run thru 1/8/23. (intothewoodsbway.com)
The Kite Runner (Official opening is July 21st at the Helen Hayes Theatre, 240 W. 44th St.) (2 hrs.) In this new play with music based on the best-selling novel, it's a beautiful afternoon in Kabul, Afghanistan where the skies are filled with the excitement of a kite-flying tournament. But neither Hassan nor Amir—two close childhood friends—can foresee the terrible incident that will shatter their lives forever. Limited run thru 10/30. (thekiterunnerbroadway.com)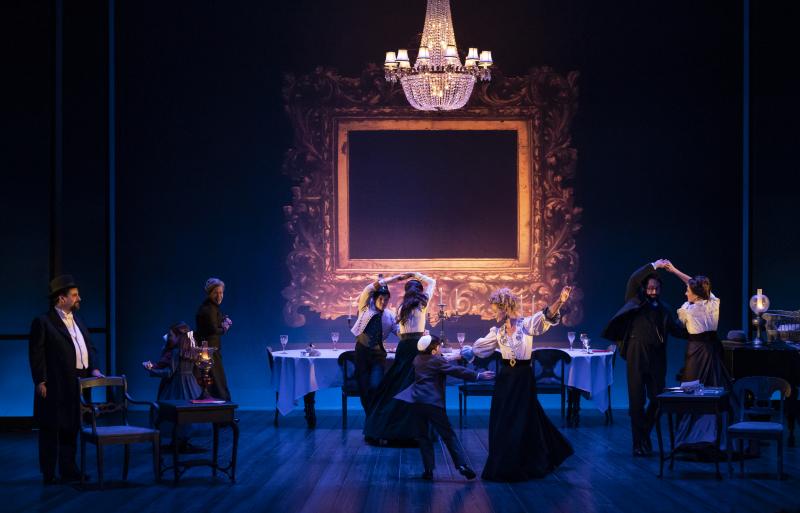 The Broadway Company of Leopoldstadt. Photo by Joan Marcus (2022).
Leopoldstadt (Official opening is October 2nd at the Longacre Theatre, 220 W. 48th St.) (2 hrs., no intermission) Set in Vienna, Tom Stoppard's latest work takes its title from the Jewish quarter. A passionate drama of love and endurance begins in the last days of 1899 and follows one extended family deep into the heart of the 20th-century. Full of wit and beauty, this Olivier Award-winning play spans 50 years of time over two hours. (leopoldstadtplay.com)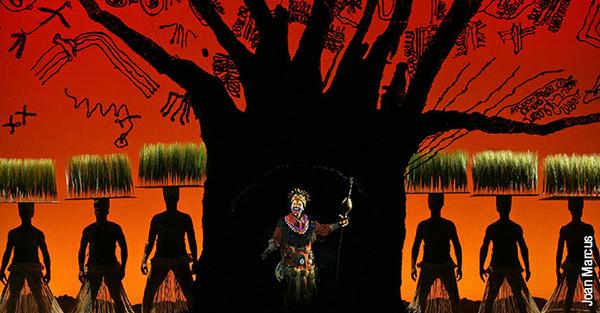 The Lion King (Minskoff Theatre, 200 W. 45th St.) 1998 Tony, Best Musical (Opened 11/13/97) (2 hrs., 30 mins.) The longest-running Disney production to grace Broadway—it arrived in November of 1997—this Tony-winning stage adaptation of the animated classic is a musical and visual treasure-trove to be savored. Set in the flourishing African Pride Land, the story follows lion prince Simba as grows from cub to king. Along the way, he makes friends, falls in love, and is subject to the machinations of his power-hungry uncle, Scar. (lionking.com)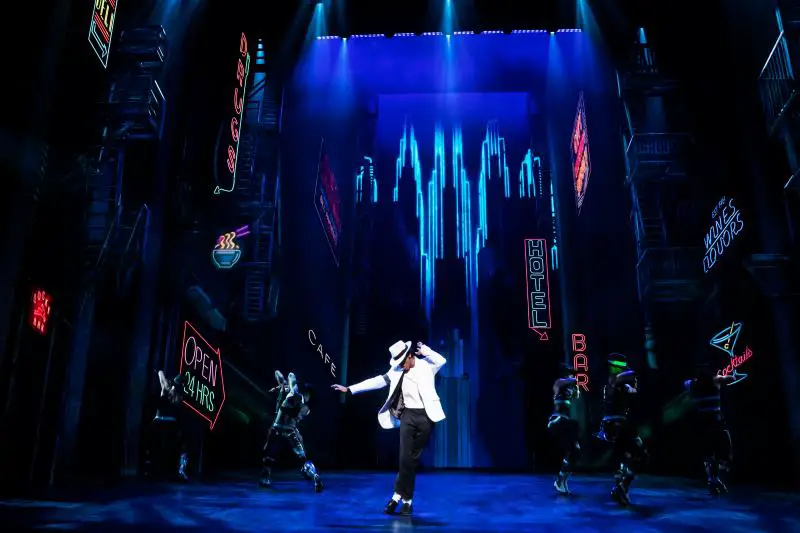 Myles Frost as Michael Jackson, photo by Matthew Murphy.
MJ the Musical (Neil Simon Theatre, 250 W. 52nd St.) (Opened 2/1/22) (2 hrs., 35 mins.) The new musical bio featuring over 25 Michael Jackson hits comes with a staggeringly impressive pedigree: book by two-time Pulitzer Prize winner Lynn Nottage and direction/choreography by Tony-winner Christopher Wheeldon. (mjthemusical.com)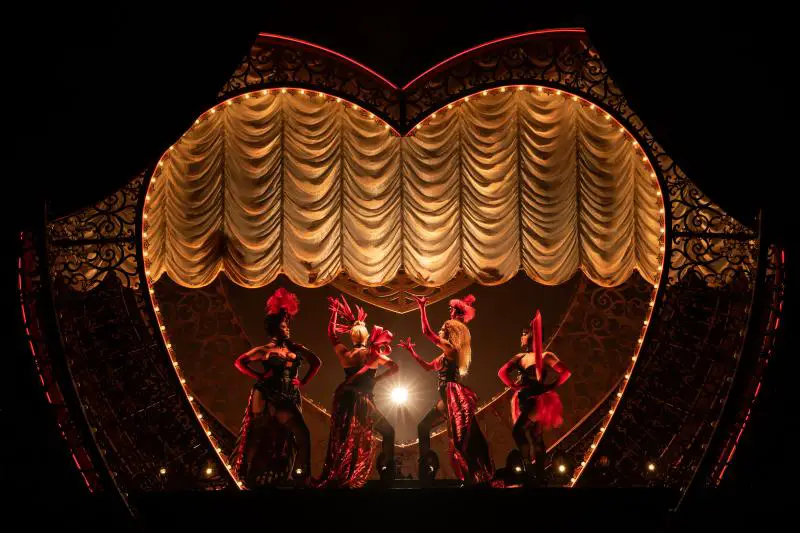 Moulin Rouge! The Musical (Al Hirschfeld Theatre, 302 W. 45th St.) 2020 Tony, Best Musical (Opened 7/25/19) (2 hrs., 35 mins.) A gleefully flamboyant stage adaptation of Baz Luhrmann's 2001 cinematic jukebox mashup, this Tony-winning musical from the 2019/2020 season takes place in a world where Bohemians and aristocrats rub elbows, reveling in the decadence and high kicks in the legendary Parisian night spot once upon a retro time. Add a love triangle, Toulouse-Lautrec, and a score of over 70 songs!(moulinrougemusical.com)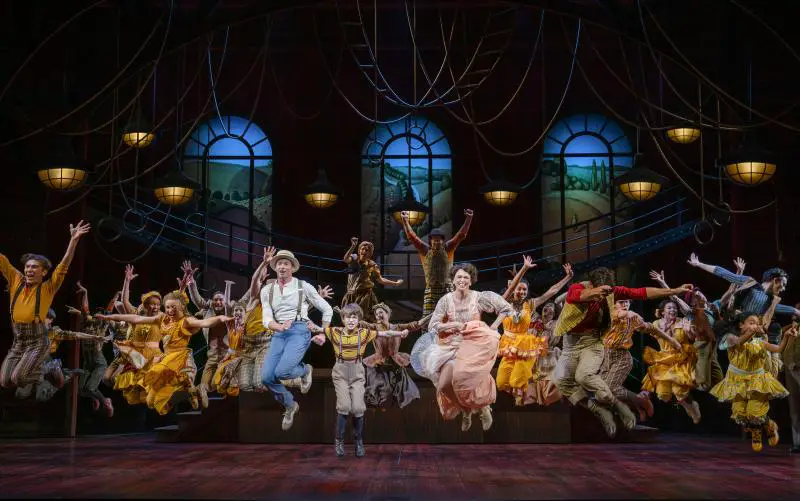 Photo by Joan Marcus.
The Music Man (Winter Garden Theatre, 1634 Broadway) (Opened 2/10/22) (2 hrs., 25 mins.) Meredith Willson's beloved musical comedy is back on Broadway with an all-star cast led by Hugh Jackman and Sutton Foster. When con man Harold Hill arrives in River City to sell the townspeople the promise of a marching band, he gets more than he bargained for—including romance with Marian the librarian. Thru 1/1/23. (musicmanonbroadway.com)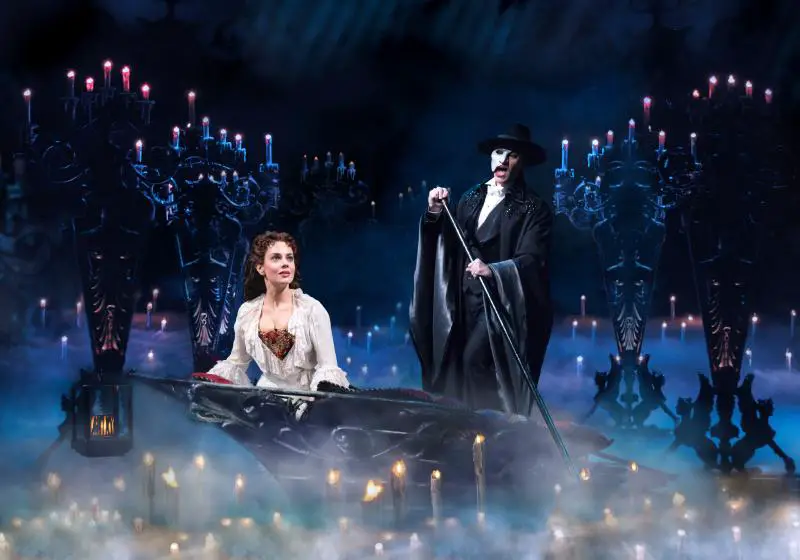 Meghan Picerno as Christine and Ben Crawford as The Phantom. Photo by Matthew Murphy.
The Phantom of the Opera (Majestic Theatre, 247 W. 44th St.) 1988 Tony, Best Musical (Opened 1/26/88) (2 hrs., 30 mins.) This long-running record breaker opened in January, 1988 and picked up a Tony a few months later. Based on the Gaston Leroux thriller, Phantom centers on a beautiful young soprano and the mysterious masked figure who adores her. Featuring Andrew Lloyd Webber's "Music of the Night," the musical is as iconic as it is a visual masterpiece. Thru 2/18/23. (us.thephantomoftheopera.com)
The Piano Lesson (Official opening is October 13th at the Ethel Barrymore Theatre, 246 W. 44th St.) (2 hrs., 20 mins.)  August Wilson's Tony- and Pulitzer Prize-winning masterpiece stars Samuel L. Jackson in the story of a brother and sister locked in a war over the fate of a family heirloom: a piano carved with the faces of their ancestors. Only by revisiting history can the siblings move forward. Limited 17-week run. (pianolessonplay.com)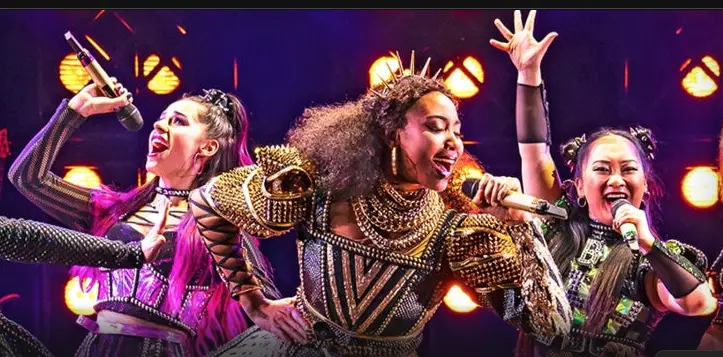 SIX (Brooks Atkinson Theatre, 256 W. 47th St.) (Opened 3/12/20) (80 mins., no intermission) Divorced, beheaded, died, divorced, beheaded, survived. From Tudor Queens to Pop Princesses, the six wives of Henry XIII take the mic to remix 500 years of historical heartbreak into an exuberant celebration of 21st-century girl power. This new original musical is the global sensation that everyone is losing their heads over! (sixonbroadway.com)
Photo by Marc J. Franklin.
A Strange Loop (Lyceum Theatre, 149 W. 45th St.) 2022 Tony, Best Musical (Opened 4/26/22) (100 mins., no intermission) Michael R. Jackson's Pulitzer Prize-winning, blisteringly funny musical exposes the heart and soul of Usher, a young gay artist grappling with desires, identity, and instincts he both loves and loathes. Hell-bent on breaking free of his own self-perception, he wrestles with the thoughts in his head, brought to life on stage by a hilarious ensemble. (strangeloopmusical.com)
Topdog/Underdog (Official opening is October 20th at the John Golden Theatre, 252 W. 45th St.) (2 hrs., 20 mins.)  Susan-Lori Parks' Pulitzer Prize-winning play is a darkly comic fable of brotherly love and family identity, centering on two brothers, Lincoln and Booth—names given to them as a joke by their father. Haunted by the past and their obsession with three-card monte, the two come to learn the true nature of their history. Limited run. (topdogunderdog.com)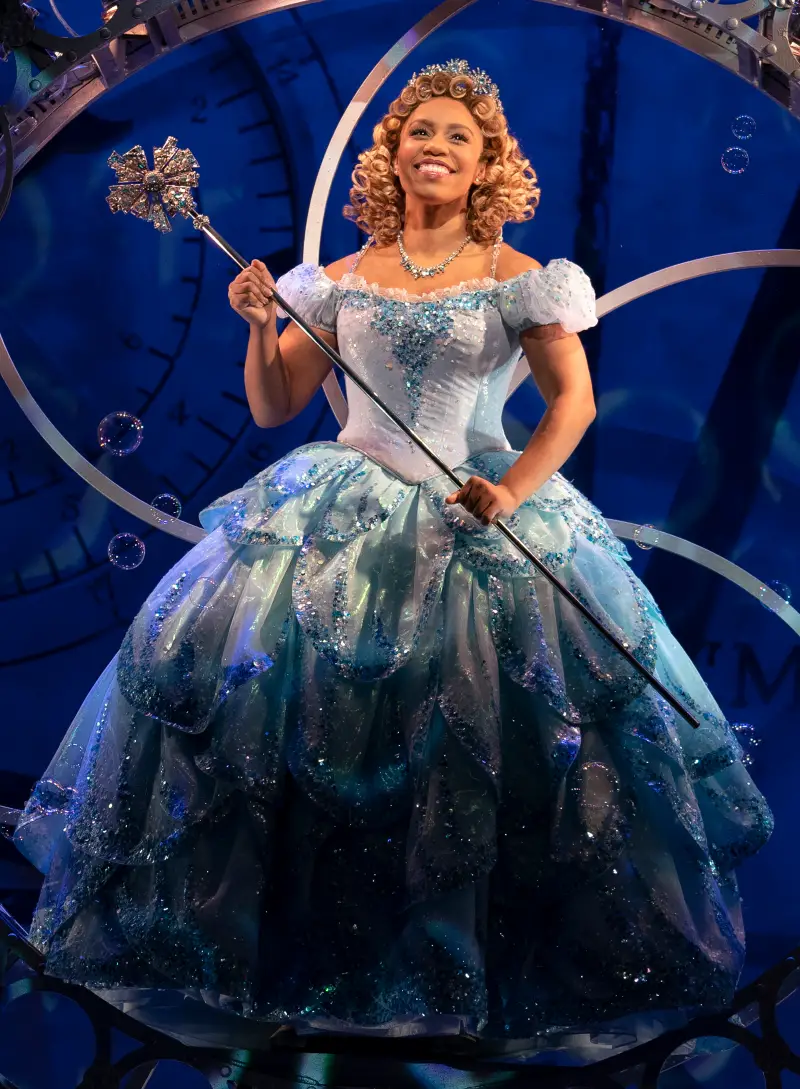 Brittney Johnson makes history as the first Black actor cast full-time as Glinda in Broadway's Wicked.  Photo by Joan Marcus.
Wicked (Gershwin Theatre, 222 W. 51st St.) (Opened 6/10/03) (2 hrs., 45 mins.) One of Broadway's biggest success stories, this fantasy musical, based on the best-selling novel by Gregory Maguire, follows the friendship between two young girls—one smart, misunderstood, and green-hued; the other beautiful, ambitious, and popular. Wicked takes the world of Oz's fairy tale roots and replants them into an eye-popping production that turns the original story spectacularly upside down. (wickedthemusical.com)
COMING SOON TO BROADWAY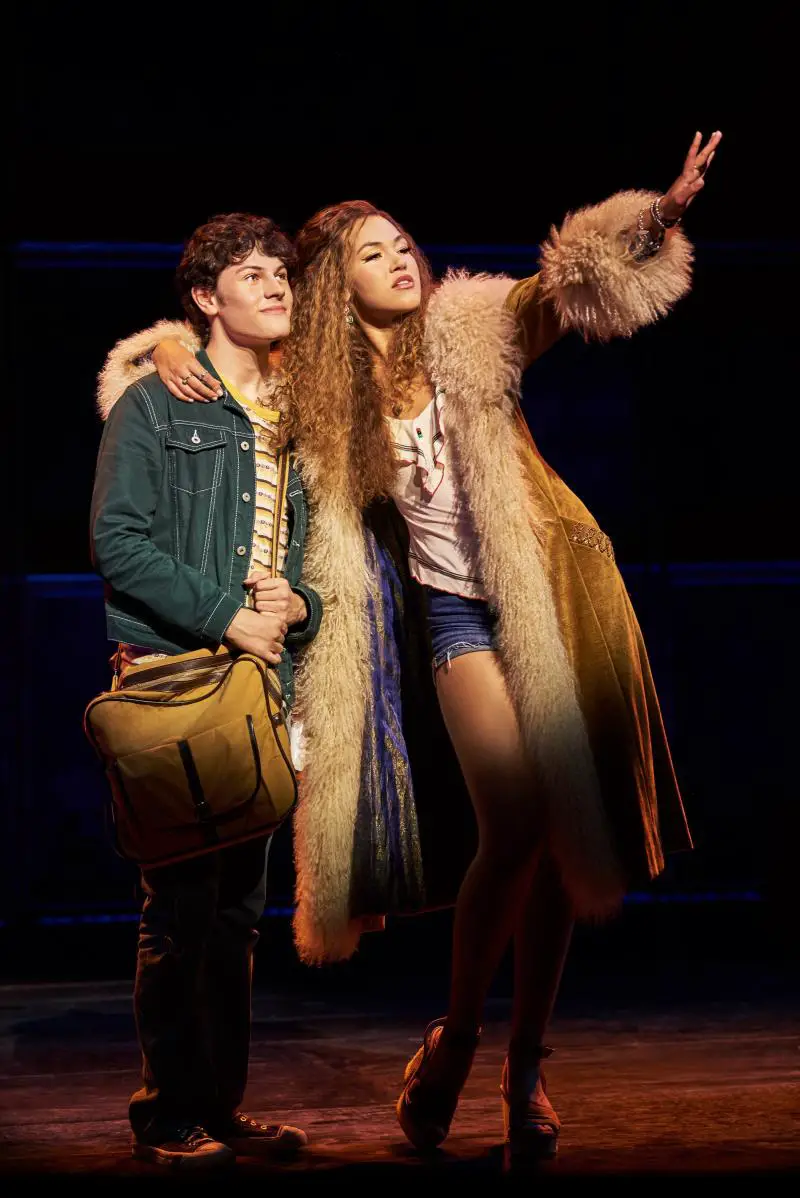 Casey Likes and Solea Pfeiffer in Almost Famous. Photo by Neal Preston.
October 3rd: Almost Famous (Official opening is November 3rd at Bernard B. Jacobs Theatre, 242 W. 45th St.) (2 hrs., 30 mins.) In 1973, idealistic 15-year-old William Miller is an aspiring music journalist, when Rolling Stone magazine hires him to go on the road with an up-and-coming band. Thrust into a rock 'n roll circus, his love of music, longing for friendship, and integrity as a writer collide. The musical, based on Cameron Crowe's iconic film, is a celebration of community, family, fandom, and the power of music. (almostfamousthemusical.com)
October 12th: Kimberly Akimbo (Official opening is November 10th at the Booth Theatre, 222 W. 45th St.) (2 hrs., 20 mins.) In this new musical Kim is a bright and funny Jersey teen who happens to look like a 72-year-old lady. And yet her aging disease may be the least of her problems. Forced to maneuver family secrets, borderline personalities, and possible felony charges, Kim is determined to find happiness in a world where not even time is on her side. (kimberlyakimbothemusical.com)
October 13th: KPOP (Official opening is November 20th at Circle in the Square Theatre, 235 W. 50th St.) (2 hrs., 15 mins.)  Starring K-POP superstar Luna, this new musical follows global pop sensations putting everything on the line for a one-night only concert, when one singer's inner struggle threatens to dismantle a mega industry label. The multimedia production explores the discipline, talent, and ambition behind the international phenomenon. (kpopbroadway.com)
October 18th: Gabriel Byrne: Walking with Ghosts (Official opening is October 27th at the Music Box Theatre, 239 W. 45th St.) (2 hrs., 20 mins.) Actor/writer Gabriel Byrne returns to Broadway in his acclaimed autobiographical solo show. By turns a recollection of a childhood spent in a now almost vanished Ireland, a subversive commentary on stardom, and an homage to the people and landscapes that shape our destinies, the play showcases a life's journey in all its hilarious and heartbreaking facets. Limited run thru 12/30. (gabrielbyrneonbroadway.com)
October 27th: Take Me Out (Official opening TBA at the Bernard Schoenfeld Theatre, 236 W. 45th St.) (2 hrs., 15 mins.)  The Tony-winning revival of Richard Greenberg's hit play—centering on what happens when a star baseball player of color exits the closet at the same time his team is struggling toward a championship season—returns to Broadway with Tony-winner Jesse Tyler Ferguson and Tony nominee Jesse Williams reprising their roles. Limited 14-week run. (takemeoutbway.com)
October 28th: & Juliet (Official opening is November 17th at the Stephen Sondheim Theatre, 124 W. 43rd St.) (2 hrs., 30 mins.) This new jukebox musical comedy asks: what would happen next if Juliet ditched her famous ending for a fresh beginning and a second chance at life and love—her way? Featuring a playlist of pop anthems including "Baby One More Time," "Roar," and "Can't Stop the Feeling." (andjulietbroadway.com)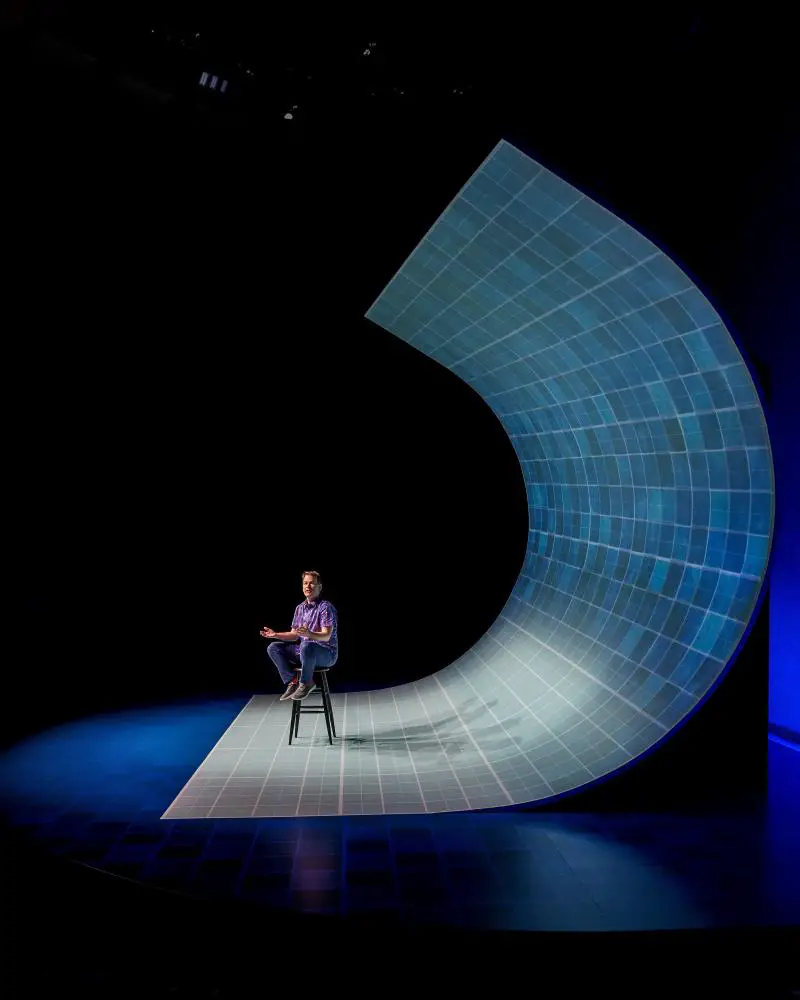 (c) Craig Schwartz Photography.
October 28th: The Old Man & The Pool (Official opening is November 13th at Lincoln Center Theater's Vivian Beaumont Theater, 150 W. 65th St.) Comedic storyteller Mike Birbiglia returns to Broadway with a coming-of-middle-age story about when life takes a dive—into a highly chlorinated YMCA pool. Propelled by his singular, insightful voice and everyman style, Birbiglia's latest solo show is both wildly hilarious and deeply moving. Limited run thru 12/30. (mikebirbigliabroadway.com)
November 1st: Some Like It Hot (Official opening is December 11th at the Shubert Theatre, 225 W. 44th St.) Starring Tony winner Christian Borle and Kinky Boots alum J. Harrison Ghee, this new musical comedy based on the classic film follows two musicians fleeing Chicago after witnessing a mob hit. With gangsters in pursuit, they join in an all-girl band, but can they hide in plain sight, or will the mob and/or love be their undoing?(somelikeithotmusical.com)
November 2nd: A Beautiful Noise, the Neil Diamond Musical (Official opening is December 4th at the Broadhurst Theatre 235 W. 44th St.) (2 hrs., 15 mins.) How did a poor Jewish kid from Brooklyn become one of the most universally adored showmen of all time? There's only one way to tell it: a musical bio set to his era-defining smash hits that entranced the world. (abeautifulnoisethemusical.com)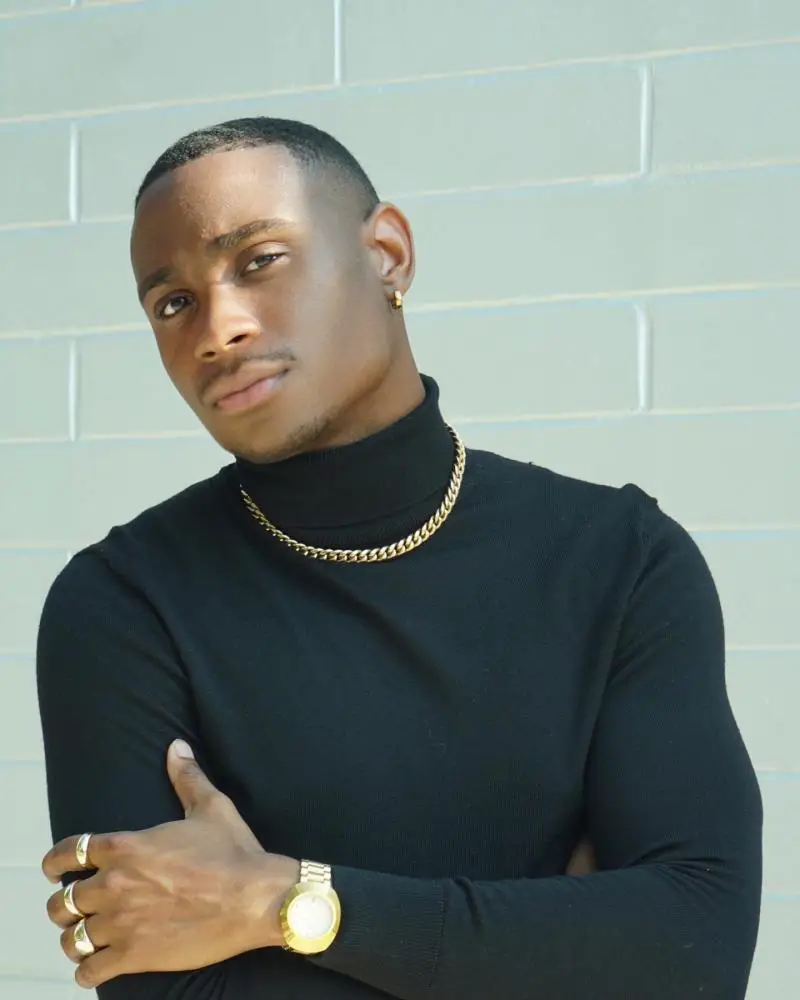 November 3rd: Ain't No Mo' (Official opening is December 1st at The Belasco Theatre, 111 W. 44th St.) (2 hrs., no intermission) Jordan E. Cooper's acclaimed comedy about being Black in today's America seamlessly blends sketch comedy, satire, and avant garde theatre as it asks the incendiary question, What if the U.S. government offered Black Americans one-way plane tickets to Africa? (aintnomobway.com)
November 8th: A Christmas Carol (Official opening is November 21st at the Nederlander Theatre, 208 W. 41st St.) Tony winner Jefferson Mays brings his acclaimed virtuoso performance in his adaptation of the Charles Dickens classic to Broadway. Taking on more than 50 roles (including a potato), Mr. Mays offers a staggeringly unique/must-see take on Scrooge's redemptive evolution from bitter miser to humanitarian thanks to ghostly intervention. Thru 1/1/23. (achristmascarollive.com)
November 11th: Ohio State Murders (Official opening is December 8th at The James Earl Jones Theatre, 138 W. 48th St.) When writer Suzanne Alexander (Audra McDonald) returns to her alma mater as a guest speaker, in which she explores the violence in her works, a dark mystery unravels. Adrienne Kennedy's intriguing and unusual suspense play is also a pertinent look at the destructiveness of racism in our society. (ohiostatemurdersbroadway.com)
November 29th: The Collaboration (Official opening TBA at the Samuel J. Friedman Theatre, 261 W. 47th St.) In the summer of 1984, Andy Warhol and art scene wunderkind Jean-Michel Basquiat agree to work together on what may be the most talked about exhibition in the history of modern art. But can they co-exist, or even thrive? Paul Bettany and Jeremy Pope star in the U.S. premiere of the London sensation. (manhattantheatreclub.com)
November 30th: Between Riverside and Crazy (Official opening is December 19th at the Helen Hayes Theatre, 240 W. 44th St.) In this Pulitzer Prize-winning dark comedy, City Hall is demanding more than his signature, the landlord wants him out, and the church won't leave him alone. For ex-cop Walter "Pops" Washington and his recently paroled son, holding on to one of the last rent stabilized apartments on Riverside Drive collides with old wounds, new houseguests, and a final ultimatum. (2st.com)
COMING TO BROADWAY IN 2023
February 26th: Sweeney Todd: The Demon Barber of Fleet Street (Official opening is March 26th at the Lunt-Fontanne Theatre, 205 W. 46th St.) Josh Groban and Annaleigh Ashford star in this revival of the Stephen Sondheim-Hugh Wheeler musical about a resourceful pie shop owner and a vengeful barber out for blood. Together, they wreak havoc on Fleet Street and serve up the hottest—and most unsettling—pies in London. (sweeneytoddbroadway.com)
March 9th: Lerner & Loewe's CAMELOT (Official opening is April 13th at Lincoln Center Theaters' Vivian Beaumont Theater, 150 W. 65th St.) This new version of the classic musical has been reimagined for the 21st-century by award-winning writer Aaron Sorkin. Based on the original book by Alan Jay Lerner, the epic tale, centering on King Arthur, Queen Guinevere, and Sir Lancelot, features an iconic score that includes "If Ever I Would Leave You" and "Camelot." (lct.org)
April 4th: Summer, 1976 (Official opening TBA at the Samuel J. Friedman Theatre, 261 W. 47th St.) As the country celebrates its Bicentennial, two young women—Diana, an iconoclastic artist and single mom, and Alice, a free-spirited yet naive housewife—navigate motherhood, ambition, and intimacy, and help each other discover their own independence. This new work by Pulitzer Prize-winner David Auburn (Proof) stars Emmy-winner Laura Linney (The C Word; Ozark). (manhattanheatreclub.com)
April 7th: Good Night, Oscar (Official opening April 24th at the Belasco Theatre, 111 W. 44th St.) (90 mins., no intermission) It's 1958 and host of The Tonight Show, Jack Paar, has booked actor, concert pianist, and subversive wit Oscar Levant. His appearance has audiences howling, censors scrambling, and—when it's all over—America is just a little less innocent than she was before. Starring Sean Hayes. Limited run thru 8/27/23. (goodnightoscar.com)
OFF-BROADWAY
38th Marathon of One-Act Plays (Ensemble Studio Theatre, 545 W. 52nd St.) Comprised of work from artists who identify as Black, Indigenous & People of Color (BIPOC), this year's selection of 11 plays is described by EST co-artistic director Collette Robert as "funny, heartbreaking and true." Visit website for a complete list of plays and their descriptions. 10/16 thru 11/13. (ensemblestudiotheatre.org)
300 el x 50 el x 30 el (BAM's Harvey Theater at the BAM Strong, 651 Fulton St., Brooklyn) With some OT inspiration (the title refers to the dimensions of Noah's Ark), Belgian theater collective FC Bergman transform the theater into a village in the woods. As a film crew circles the scene, the stories luring behind closed doors build to a fever pitch in the face of an oncoming flood. Part of Next Wave 2022. Adult content. Running 9/28 thru 10/1. (bam.org)
American One Acts, A Double Bill (59E59 Theaters, 59 E. 59th St., Theater A) A double bill of two rarely seen American Operas. In Highway 1, U.S.A., Bob and Mary run a gas station convenience store along Highway 1 and sacrifice to put Bob's brother through college. The family dynamic turns tragic and then the sheriff arrives. Down in the Valley is set in Birmingham City and tells the story of forbidden love, jealousy, and a hanging. 11/19 thru 11/27 (59e59.org)
american (tele)visions (New York Theatre Workshop, 79 E. 4th St.) In this new work about an undocumented Mexican family set in the 1990s, playwright Victor I. Cazares has created an epic multiverse where time is fluid and the characters are refracted through literal televisions, imagined video games, endless Walmart aisles, and a double-wide torn in two. 9/9 thru 10/16. (nytw.org)
As You Like It (Theatre 71, 147 W. 70th St.) Romance, music and adventures in cross-dressing are front and center in Shakespeare's startlingly modern comedy set in the Forest of Arden. Characters include cousins Rosalind and Celia, lovesick Orlando, femme fatale Phebe, wickedly funny Touchstone, dreamy Jaques, and a glamorous court in exile led by Queen Senior. 9/30 thru 10/23. (frogandpeachtheatre.org/as-you-like-it/fd)
Asi Wind's Inner Circle (The Gym at Judson, 243 Thompson St.) (75 mins.) The moment audiences enter the intimate theatre space, they become a part of acclaimed magician Asi Wind's exhilarating, mysterious, and hilarious show. The unique setting intensifies the performance and creates a logic-defying experience: theatregoers not only witness the magic, they become the magic itself. Thru 4/2/23. (asiwind.com)
Baldwin and Buckley at Cambridge (Pubic Theater, 425 Lafayette St.) Noted theater company Elevator Repair Service applies its trademark verbatim textual technique to the1965 debate between writer James Baldwin and ultra-conservative William F. Buckley, Jr. on whether "the American Dream is at the expense of the American Negro".  The production concludes with an imagined scene between Baldwin and his close friend Lorraine Hansberry. 9/24 thru 10/23. (publictheater.org)
The Bandaged Place (Black Box Theatre, Harold and Miriam Steinberg Center for Theatre, 111 W. 46th St.) Struggling to recover after an assault, Jonah realizes the only way to heal is by mending the relationships with his family. This world-premiere production offers a humane statement about the scars we inherit—and the beauty they create. 10/20 thru 12/18. (roundabouttheatre.org)
Becky Nurse of Salem (Official opening is 11/21 at Lincoln Center Theaters' Mitzi E. Newhouse Theater, 150 W. 65th St.) In Sarah Ruhl's dark comedy, Becky (Tony winner Dierdre O'Connell), descendant of accused witch Rebecca Nurse, is dogged by bad luck. Is it a curse from her past or her inability to navigate the present? A play about the legacy of misogyny, witchcraft, and even Arthur Miller, Becky Nurse is a truth-teller for our times. From 10/27. (lct.org)
Bloom Bloom Pow (Jeffrey and Paula Gural Theatre at A.R.T./New York Theaters, 502 W. 53rd St.) Inspired by 1950s monster movies and the real-life 2014 crisis in Toledo, Ohio, when the tap water became deadly for humans because of toxic algal blooms, the play follows a nonbinary 20-something's homecoming to a town plagued by weirdness, "The Creature," and rabid algae. 9/16 thru 10/2. (bloombloompowtheplay.com)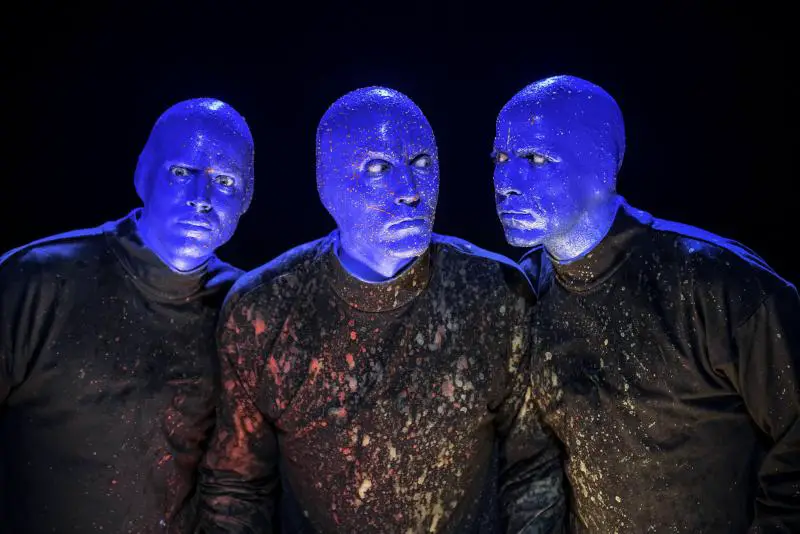 Blue Man Group (Astor Place Theatre, 434 Lafayette St.) (105 mins., no intermission) No plot, dialogue, or ripped from headlines drama, just a romp and a half orchestrated by three blue-hued alien dudes. This long-running Off-Broadway show and international sensation combines music, paint drums, snacks, high-tech hijinks, and unpredictable physical comedy. (blueman.com)
Bluey's Big Play the Stage Show (Madison Square Garden, Hulu Theater) In this theatrical take on the Emmy-winning animated TV series, audiences get to see Bluey, Bingo, Bandit, and Chilli as they've never seen them before—on stage! Featuring puppetry, live actors, iconic sets, and new music, the show follows Bluey and Bingo as they pull out all kinds of games and cleverness to get Dad off his bean bag! Running 11/18 thru 11/20. (msg.com/bluey)
Body Through Which the Dream Flows (The Tank, 312 W. 36th St.) Intersecting theatre artist Soomi Kim's personal history as a veteran gymnastics coach, the aftermath of the Larry Nassar scandal, and the deconstruction of the sport's governing body, this dance/theatre work navigates the sport in the time of #metoo and #cancelculture. Featuring dance and gymnastics inspired movement generated by an ensemble of 6 competitive gymnasts. 9/22 thru 10/15. (thetanknyc.org)
Boswell (59E59 Theaters, 59 E. 59th St., Theater C) In this comedic drama, an ambitious 20th-century woman discovers James Boswell's lost journals and finds she cannot resist his 18th-century literary charms. While reading about his wild and wooly adventures in "A Tour of the Scottish Hebrides," she is coaxed towards a life of greater authenticity—and fun! 11/12 thru 12/4. (59e59.org)
Camp Siegfried (Tony Kiser Theater, 305 W. 43rd St.) One summer at real-life Camp Siegfried on Long Island, two teenagers find themselves on a collision course with youthful passion and unbridled extremism. Are they falling in love or falling for something more sinister? Set on the cusp of World War II, this boy-meets-girl-meets-cautionary tale about the seductive nature of fascism reminds us how easily darkness can sneak up on us. From 10/26. (2st.com)
Candida (Theatre Row, 410 W. 42nd St.) George Bernard Shaw's romantic comedy is reset from 1895 London to Harlem, 1929 where the Reverend James Morell and his wife Candida live a comfortable life until the young poet, Marchbanks, is taken into their home and challenges everything they'd built their lives upon. 10/5 thru 11/19. (bfany.org)
Chamber Magic (Lotte New York Palace, 455 Madison Ave.) Theatregoers, dressed to impress in cocktail attire, experience the mystifying artistry of Steve Cohen in an elegant and intimate salon within the legendary New York Palace. Recreating the up-close parlor entertainment of Manhattan in the early 20th century, Cohen conjures, mind-reads, and performs sleight of hand, along with a trick called Think-A-Drink. (chambermagic.com)
Chester Bailey (Irish Repertory Theatre's Francis J. Greenburger Mainstage, 132 W. 22nd St.) In a stateside hospital at the close of World War II, a young man recovers from catastrophic injuries. But Chester Bailey denies what's happened to him actually happened. Dr. Philip Cotton, older and wounded in his own ways, is charged with leading Chester back to reality. The journey is not what either man expected. 10/12 thru 11/13. (irishrep.org)
Chicago: The Play (Bernie Wohl Center, 647 Columbus Ave.) The story of Roxie Hart, "the prettiest woman ever charged with murder in Chicago," who kills her lover in a fit of rage and becomes a media sensation. Originally produced on Broadway in 1926, the play was later adapted into two films, the Broadway musical, and the film version of the Broadway musical. 10/13 thru 10/23 (bam.org)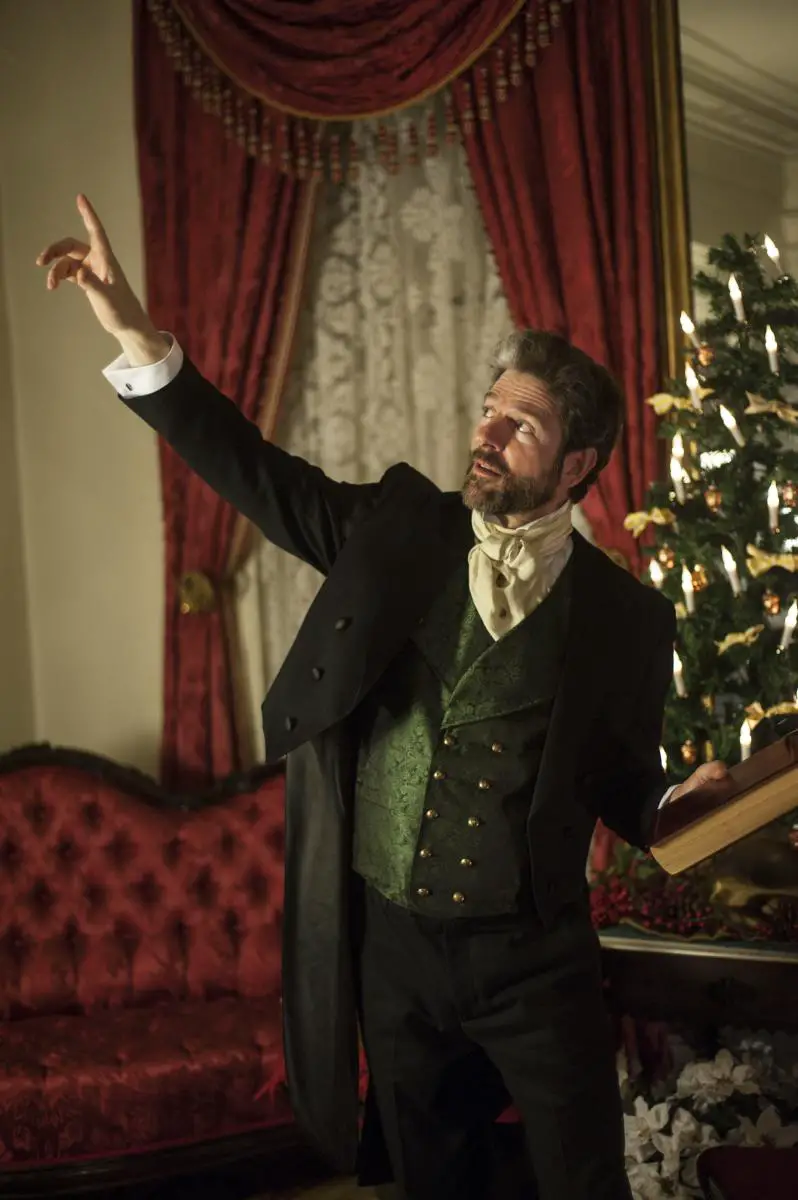 A Christmas Carol at the Merchant's House (Merchant's House Museum, 29 E. 4th St.) It's December 1867 and Charles Dickens has arrived in New York City for a month of sold-out performances of his Christmas classic. Actor John Kevin Jones as Dickens spins the iconic tale in the Greek Revival parlor of the landmark Merchant's House Museum. Note: "A Holiday Reception with Mr. Dickens" is offered at select performances, check website for details. 11/23 thru 12/23. (merchantshouse.org)
Chushingura – 47 Ronin (A.R.T./New York Mezzanine Theater, 502 W. 53rd St.) This new stage adaptation of one of Japan's most enduring and epic stories—told and retold in Japanese books, plays, movies, TV dramas, and animated series—portrays real events that took place in 1702-1703 during Japan's Shogun-led Edo period. Performed mainly in Japanese with some English and supertitle translations. 10/18 thru 11/6. (amaterasuza.ticketspice.com/chushingura-47-ronin)
Circus Abyssinia (New Victory Theater, 209 W. 42nd St.) Celebrating Ethiopian runner Derartu Tulu's trailblazing 1992 gold medal win, the production excites with juggling flags and flames to the sounds of '70s funk and modern-day Ethio-pop. This tribute to teamwork showcases the incredible athleticism and artistry of Ethiopian circus and the pride that Tulu's triumph inspired. 12/9 thru 1/1/23. (newvictory.org)
Committed (Theater for the New City, 155 First Ave.) A work of historical fiction about the last two days of Dutch filmmaker Theo van Gogh's life. When his highly controversial documentary causes a violent uproar, Theo's downward spiral brings to light the collision of his radical temperament and unyielding vision with modern political realities and the inevitable tragedy when the two clash. Running 9/22 thru 10/9. (theaterforthenewcity.net)
Complicity (New Ohio Theatre, 154 Christopher St.) In 2018, an actress, along with her sister/agent and a top female producer, seek advancement in the film industry only to find themselves navigating a system of complicity surrounding a predator. It's a story that asks should women holding women accountable for enabling the open secret of sexual abuse and harassment in Hollywood to run rampant. Running 9/30 thru 10/15. (edentheater.org)
Cookin' (New Victory Theater, 209 W. 42nd St.) Working against the clock to prepare a wedding feast, four zany chefs make a manic menu of non-stop, high-speed action that whips up into an all-you-can-eat frenzy of martial arts and Korean samul nori drumming. The explosive percussion show that sliced, diced and banged its way across the globe is back! 10/14 thru 10/30. (newvictory.org)
Crossing the Line Festival (Various venues throughout Manhattan) This annual international arts festival produced by the French Institute Alliance Francaise (FIFA) features a number of exciting performances, including five impressive theatre pieces. For dates, descriptions and venues, please visit their website. 9/9 thru 10/28. (fiaf.org/2022-crossing-the-line-festival)
Days of the Dead Festival (Kraine Theater, 85 E. 4th St. & UNDER St. Marks, 94 St. Marks Place) The key focus of FRIGID New York's 2022 celebration of the surreal is communing with the dead—from supernatural plays, musicals, and storytelling to a divinely demented collection of cabaret performances, and a an especially unsettling night of Halloween on film.  For a complete list of performance descriptions, dates, venues and times, visit the website. 10/20 thru 10/31. (frigid.nyc/events)
A Delicate Balance (Connelly Theater, 220 E. 4th St.) When longtime friends take up residence in their home citing a nameless "fear," Agnes and Tobias' complacent life, already precarious with hanger-on houseguest (Agnes' alcoholic sister) and the arrival of their divorced daughter, is shattered. Though they try to regain control, that may no longer be possible. Notably, this first Off-Broadway revival of Edward Albee's Pulitzer Prize-winning play features an Asian-American cast. 10/22 thru 11/20. (transportgroup.org)
Desaparecidas (Jack, 20 Putnam Ave., Brooklyn) Told through Mexican folklore, this new musical explores the systematic oppression of women in the fight to end gender-based violence and the killing of women and girls in Ciudad Juárez, Mexico. The production captures the challenge between embracing honored cultural customs while fighting for autonomy in a dangerous world filled with machismo. 12/2 thru 12/17. (jackny.org/desaparecidas)
Dodi & Diana (HERE, 145 Sixth Ave.) It's August 2022—25 years after the Car Accident that made the world stand still. A Wall Street banker and a Hollywood starlet, locked in the Hôtel Ritz Paris, unearth a strange connection to the legendary couple. As past and present collide, can their love survive the exposure of their darkest secrets? 10/1 thru 10/29. (here.org)
Emerging Artists Theatre's New Works Fall 2022 (TADA Theater, 15 W. 28th St.) A collection of 70 new works—musicals, short and full-length plays, dance, cabaret, and solo shows—make up this popular bi-annual series. Festival highlights include the play Marilyn, Mom & Me by Luke Yankee, whose mother, Eileen Heckart, starred opposite Marilyn Monroe in the film Bus Stop. Visit the website for a complete rundown of performances and schedules. 9/26 thru 10/23. (emergingartiststheatre.org)
Everything's Fine (DR2 Theatre, 101 W. 15th St.) Written and performed by Oscar nominee Douglas McGrath and directed by John LIthgow, this world-premiere solo work includes remembrances of the courtship of his one-eyed father and his mother, who worked at Harper's Bazaar and became pals with Andy Warhol, and an 8th-grade teacher who would change his life in the most unexpected way. 9/28 thru 1/22/23. (darylroththeatre.com)
Everything Rises (BAM Fisher Fishman Space, 321 Ashland Pl., Brooklyn) Davóne Tines and Jennifer Koh's original evening-length musical and theatrical experience reflects upon personal issues of race and identity, and inspiration found in their family histories. 10/12 thru 10/15 (bam.org)
F*ck7thGrade (wild project, 195 E. 3rd St.) An adolescent romance, a brief rise to pop stardom, a queer musical memoir (about how we'll never get out of middle school) conceived by award-winning singer-songwriter Jill Sobule—whose 1990s hits include "Supermodel" and the original "I Kissed a Girl." 10/12 thru 11/5. (thewildproject.org)
The Far Country (Atlantic Theater Company's Linda Gross Theater, 336 W. 20th St.) This Atlantic commissioned play by Guggenheim fellow Lloyd Suh is an intimate epic that follows an unlikely family's journey from rural Taishan to the wild west of California in the wake of the Chinese Exclusion Act. 11/17 thru 1/1/23. (atlantictheater.org)
Fauna (Torn Page, 435 W. 22nd St.) Argentine playwright Romina Paula's fictionalized biography, based on a legendary figure who dressed like a man, translated Rilke, and rode her horse through the campo until she was in her 90s, contemplates how to tell the story of a life, questions what is true and real, and asks us to decipher where fiction and the real co-exist. 9/16 thru 10/1. (eventbrite.com/e/fauna-by-romina-paula)
Fiddler on the Roof in Yiddish (New World Stages, 340 W. 50th St.) Featuring English supertitles, the acclaimed production is back, once again directed by the legendary Oscar and Tony Award winner Joel Grey. Also returning to recreate his award-winning performance is Steven Skybell as Tevye, a milkman navigating family, faith, upheaval, and changing traditions in the little Russian shtetl of Anatevka. 11/13 thru 1/1/23. (nytf.org/fiddler)
Four Saints in Three Acts (The Doxsee at Target Margin Theater, 232 52nd St., Brooklyn) A solo performance by actor David Greenspan of Gertrude Stein's non-linear play speaking to the internal and external lives of artists by way of rhythm, cadence, wordplay, and rhymes, coupled with raw physical motion. 9/15 thru 10/9. (lortel.org)
Frankenstein's Monster is Drunk and the Sheep have all Jumped the Fences (59E59 Theaters, 59 E. 59th St., Theater C) It's 1946 when villagers dig Frankenstein's monster out of the glacier he'd crawled into after his Hollywood career gave up the ghost. Fully defrosted, he meets "The One," igniting a love story of monstrous proportions. Together they set out to forge their own beautiful brand of domestic bliss with their 67 (Italian) blue sheep. 1/11 thru 1/28/23. (59e59.org)
Friends! The Musical Parody (Jerry Orbach Theater, 210 W. 50th St.) The unauthorized comedic musical that lovingly pokes fun at TV's Friends celebrates the adventures of Ross, Monica, Rachel, Phoebe, Joey, and Chandler as they navigate the pitfalls of work, life, and love in 1990s Manhattan. The show recreates favorite moments from all 10 seasons of the iconic sitcom through an uncensored, fast-paced, music-filled romp! (ticketmaster.com/friends-the-musical-parody-new-york)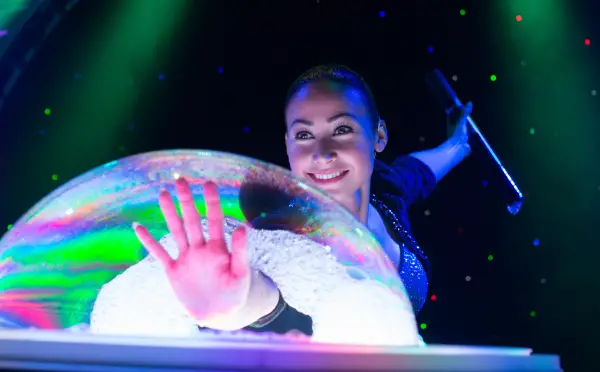 Gazillion Bubble Show (New World Stages, 340 W. 50th St.) A family phenom for your family from the Yang family of bubble virtuosos. "We are so thrilled to be bringing bubbles back to the stage and smiles to our audiences," says master bubble maker Melody Yang. (gazilllionbubbleshow.com)
Get Your Ass in the Water and Swim Like Me (The Performing Garage, 33 Wooster St.) Based on a 1976 LP, the Black American genre of Toasts—rhyming epic poems about legendary street heroes—unfolds in a radio studio with Eric Berryman performing classic Toasts from the album, with commentary. Jharis Yokley on drums accompanies him in an approach inspired by Korean Pansori, storytelling performed by a vocalist and a drummer. 9/16 thru 10/8. (thewoostergroup.org)
God Doesn't Mean You Get to Live Forever (Theatre Row's Theatre Two, 410 W. 42nd St.) In a quaint Baptist church, pastor and parishioners get a surprise visit from pop star Reese Noel, who lures favorite son and Gospel musician Q into a night of clubbing, and suggests that Q's belief in God doesn't have to mean a promise of everlasting life. When tragedy strikes, the church Deacon (Dr. Jeff Gardere) tries to make sense of it all. Gospel, jazz, and pop music with a boxed Soul Food sampler (included in ticket price) set the flavor for this immersive experience. Thru 10/17. (bfany.org/theatre-row)
The Gondoliers (Photo by William Reynolds).
The Gondoliers (Kaye Playhouse at Hunter College, 68th St. btw. Park & Lexington Aves.) The New York Gilbert & Sullivan Players are back with the Venetian gondolier couples and the impoverished and corrupt quasi-Spanish nobility—two groups connected by a humorously ominous Grand Inquisitor. 10/28 thru 10/30. (nygasp.org)
Good Enemy (Minetta Lane Theatre, 18 Minetta Ln.) When Howard makes a surprise cross-country trip to visit his college-age, TikTok-loving daughter, he's forced to confront the realities of their relationship and the rift between them—a rift caused by Howard's refusal to face memories of his life as a young man in China. 10/25 thru 11/27. (audible.com/minettalane)
Hamlet (BAM's Harvey Theater at the BAM Strong, 651 Fulton St., Brooklyn) From its mud-splattered, rain-soaked opening, Thomas Ostermeier's Hamlet delivers on its reputation as one of the great interpretations of Shakespeare. Pop music, drag shows, and courtly duels coexist in riotous harmony in the German auteur's legendary production, which finally comes to New York after traveling the globe to international acclaim. Running 10/25 thru 11/5. (BAM.org)
Heart Strings (Linda Gross Theater, 336 W. 20th St.) On a little island in the middle of the Pacific, two girls face a big storm, a clash of cultures, and the knots of sibling rivalry. Following the treasured Hawaiian tradition of adoption, the hanai children untangle what it means to be family and learn the commitments and responsibilities that come with loving someone. 10/1 thru 10/23. (atlantictheater.org)
Heaven (59E59 Theaters, 59 E. 59th St., Theater B) Set in County Offaly, Ireland during the weekend of a local wedding, guests Mairead and Mal are struggling to keep their marriage together. Perhaps attending a wedding will help, or it might raise questions that are difficult to answer. 1/11 thru 1/29/23 (59e59.org)
Hedda Gabler (Irondale Center, 85 South Oxford St., Brooklyn) Bedlam continues its 10th anniversary season with a new adaptation of Henrik Ibsen's classic drama by Jon Robin Baitz. Playing in repertory with Shakespeare's The Winter's Tale. 10/5 thru 11/20. (bedlam.org)
Hedda Gabler (Theater for the New City, 155 First Ave.) This new adaptation by Robert Greer veers Henrik Ibsen's tragedy from the 19th-century notion of the "new woman" to the destructiveness of professional competition. Essential elements are preserved while dialogue is updated to modern parlance. Tesman and Lovborg speak in the professorial tone of modern academics, while Hedda speaks in the cashmere-soft vowels of a modern socialite. 9/29 thru 10/9. (theaterforthenewcity.net)
The How and the Why (The Sheen Center, 18 Bleecker St.) (90 mins., no intermission) Sarah Treem's rapid-fire joust between two women scientists with a complicated history. Their scholarly debate on the purposes—not the how but the why—of female reproductive processes escalates into an all-in, life-changing clash around power and age, sex and gender, and the hard choices faced by women of every generation. 10/20 thru 11/6.(goodeggtheater.com)
The Hunchback of Notre Dame (30th Street Theater, 259 W. 30th St.) In this dramatic musical, a gypsy woman in 15th-century France is framed for the murder of the guard captain, due to the actions of the infatuated Archdeacon. The gypsy, out of places to run and out of options, has to rely on the bell ringer, the Hunchback of Notre Dame, to try and rescue her. 11/10 thru 11/27. (hunchbackoffbroadway.eventbrite.com)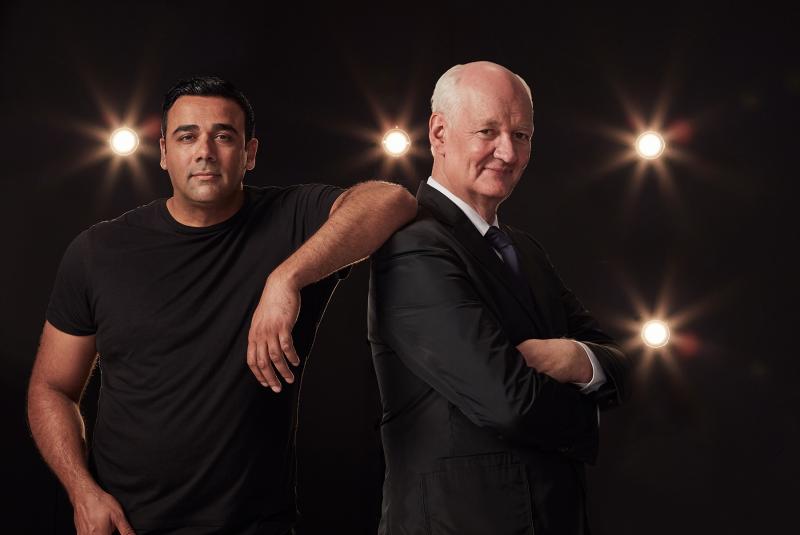 Asad Mecci and Colin Mochrie ©Aaron Cobb.
HYPROV: Improv Under Hypnosis (Daryl Roth Theatre, 101 E. 15th St.) From improv legend Colin Mochrie (Whose Line Is It Anyway?) and master hypnotist Asad Mecci comes a totally unique and completely unforgettable theatrical experience combining both art forms. Once Mecci finds 4 or 5 hypnotically receptive audience volunteers, the group joins Mochrie to improvise the rest of the show while fully under hypnosis. Running 8/12 thru 10/30. (hyprov.com)
I Just Want to Tell Somebody (Theater for the New City, 155 First Ave.) Ronald "Smokey" Stevens' solo show/adaptation of his autobiographical novel, the play dramatizes the author's career and lifelong battle with drugs. Playing both himself and his nemesis, a doppelganger called "D MAN," Smokey ushers us through modern moments of theater history and the drug usage that was nearly his undoing. 11/10 thru 11/27. (theaterforthenewcity.net)
I Wanna F*ch Like Romeo and Juliet (59E59 Theaters, Theater C, 59 E. 59th St.) Snow in July, comets falling from the sky...the world is thrown into chaos as Cupid rips off her wings and gives up on Love. But her old flame St. Valentine has a plan to bring her spirit back up; and it involves reigniting the flame between two men. Part of the 2022 New Light New Voices Fall Festival. 10/20 thru 11/5. (59e59.org)
I'm Revolting (Atlantic Theater Company's Linda Gross Theater, 336 W. 20th St.) At a skin cancer clinic in NYC (not the famous one), patients wait to find out how much of themselves they're about to lose. 9/8 thru 10/16. (atlantictheater.org)
The Immortal Jellyfish Girl (59E59 Theaters, 59 E. 59th St., Theater A) In this hilarious and virtuosic work, it's 2555 and large swaths of the earth's surface are considered dead zones—global extinction has begun. Yet in this dystopian age of loneliness and destruction there is still hope; the show takes audiences on a wild journey through a post-apocalyptic future. 1/10 thru 2/12/23 (59e59.org)
Ink'dWell (59E59 Theaters, Theater c, 59 E. 59th St.) Kendra returns to her childhood home on Martha's Vineyard after her brother accidentally drowns. While searching for the truth about the accident, she's tormented by a childhood ghost story. The ghost story, paired with her grief as the mystery of his death unfolds, begins to impact her relationship with her family and the ocean itself. Part of the 2022 New Light New Voices Fall Festival. 9/29 thru 10/16. (59e59.org)
It: A Musical Parody (Chelsea Table + Stage, 152 W. 26th St.) One summer in Derry, Maine, seven young outcasts confront their worst nightmare: a shapeshifting evil that emerges from the sewer to prey on children disguised as a Pennywise the clown. Inspired by Stephen King's novel, as well as the 1990 film and its 2017 remake, the show promises an epically frightful experience. 10/20 thru 10/31. (chelseatableandstage.com)
It Came From Outer Space (TheatreSquared, 477 W. Spring St.) This new musical comedy blasts off from the cult favorite '50s sci-fi film. When an astronomer encounters a spaceship in the desert, everyone just laughs—until some townspeople start acting very strange. Are the aliens here to conquer the Earth? Or... do they come in peace? Thru 9/25. (theatre2.org)
Jason Gotay (Minetta Lane Theatre, 18 Minetta Ln.) Performer Jason Gotay (Gossip Girl; Evita) offers a musical narrative about the indelible role that women have played in his life. 9/30 thru 10/2. (audible.com/minettalane)
Jasper (Alice Griffin Theatre, Pershing Square Signature Center, 480 W. 42nd St.) Trapped by the reality of their son's illness, a couple struggles to keep their child and their marriage alive. A chance encounter changes everything and forces them to re-evaluate their circumstances and strive towards what is missing in their lives. 9/8 thru 10/6. (yonderwindow.co)
The Journey of Jazz (59E59 Theaters, 59 E. 59th St., Theater A) Spanning ragtime and blues to swing, bebop, bossa nova, cool jazz, and third-stream, Peter & Will Anderson and their quintet trace the century-long development of American jazz, taking audiences down a musical memory lane to experience how these styles evolved and became intertwined with the music of Broadway and popular culture. 11/29 thru 12/11. (59e59.org)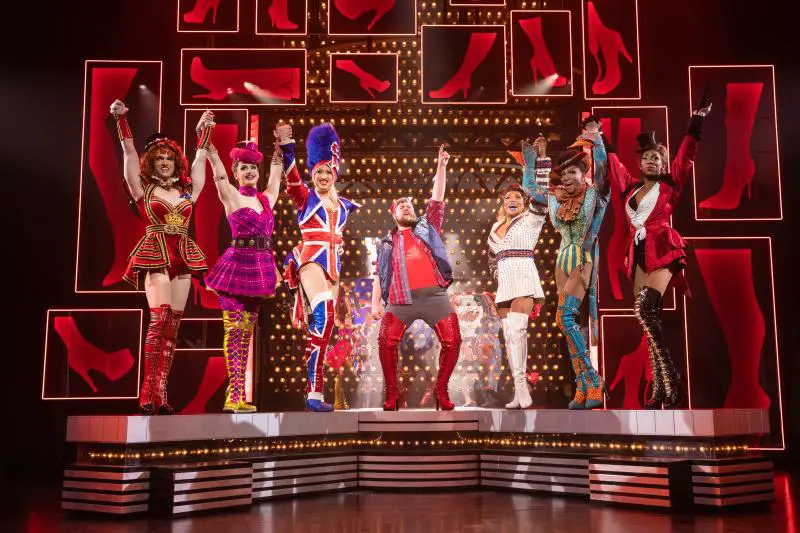 Image credit: Matt Murphy / MurphyMade
Kinky Boots (Stage 42, 422 W. 42nd St.) Harvey Fierstein and Cindy Lauper's Tony, Grammy, and Olivier-winning musical in its Off-Broadway debut. Based on true events, the story follows Charlie, a factory owner struggling to save his family business and Lola, a fabulous entertainer with a groundbreaking idea: to create a line of sturdy stilettos for drag performers! From 7/26. (kinkybootsthemusical.com)
The Knight of the Burning Pestle (Lucille Lortel Theatre. 121 Christopher St.) In this Elizabethan comedy, a play about the elopement of star-crossed lovers is interrupted so the actors invent a new story which takes over the stage in hilariously disruptive ways. Everyone shares in the triumph of love, adventure, and the anything-can-happen nature of live theater. 4/18/23 thru 5/14/23. (fiascotheater.com)
L'Amour 'A Passsy (Gural Theatre of A.R.T./New York Theatres, 502 W. 53rd St.) A backstory to France's support of the nascent United States in 1778 speculates on how the platonic affair between Benjamin Franklin and Anne-Louise Harancourt Brillon de Jouy could have insinuated Franklin into the court of France, ultimately leading to the Franco-American alliance. 11/4 thru 11/20. (art-newyork.org)
A Little Life (BAM Howard Gilman Opera House, 30 Lafayette Ave., Brooklyn) Based on the award-winning novel by Hanya Yanagihara and adapted for the stage by director Ivo van Hove, the play follows the complex relationships between four ambitious friends—a lawyer, an actor, an architect, and an artist—as they unfold over more than three decades, from college through the pressures of middle age in New York City. Running 10/20 thru 10/29. (BAM.org)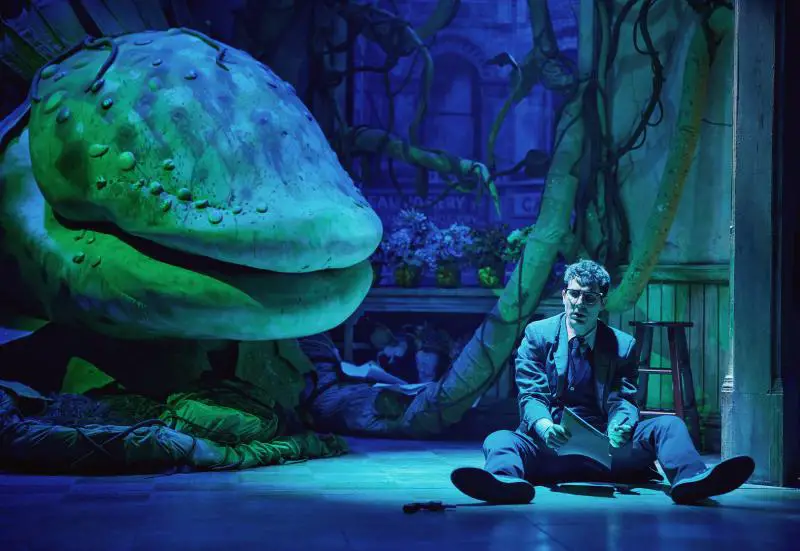 Skylar Astin in Little Shop of Horrors. Credit: Emilio Madrid.
Little Shop of Horrors (West Side Theatre, 407 W. 43rd St.) The wildly acclaimed Tony-winning musical revival is now a long-running Off-Broadway hit! The story follows hapless flower-shop employee, Seymour, who finds himself trapped under the blood-thirsty fronds of the plant he's named Audrey II, after the girl of his dreams. (littleshopnyc.com)
Los Otros (A.R.T./New York Theatres, 502 W. 53rd St.) Two Californians, Lillian and Carlos, explore significant moments in their lives, discovering they are linked in unexpected ways. Semi-autobiographical, this unique musical captures a universal story of interconnectedness, love, risk, and revelation through the lens of two people's lives. Thru 10/8. (premieresnyc.org/losotros)
A Man of No Importance (Classic Stage Company, 136 E. 13th St.) This acclaimed musical by Lynn Ahrens, Stephen Flaherty and Terrence McNally tells the story of an amateur theatre group in 1960s Dublin and their leader, Alfie Byrne (Jim Parsons). Determined to stage Oscar Wilde's Salome despite objections by local church authorities, Alfie confronts the forces of bigotry and shame over a love "that dare not speak its name." Running 10/11 thru 12/4. (classicstage.org)
Measure for Measure (Mark O'Donnell Theater, Entertainment Community Fund Arts Center, 160 Schermerhorn St., Brooklyn) A feminist movement takes Vienna by storm, but conservatives aggressively invoke antiquated morality laws to quell the resistance. Isabella hatches a plan to rebel against the oppressive campaign led by the Duke's deputy, but has to decide: Can peace be wrought without justice? 9/25 thru 10/15. (eventbrite.com/e/measure-for-measure-tickets-400543726067)
Melissa Etheridge Off Broadway: My Window—A Journey Through Life (New World Stages, 340 W. 50th St.) Grammy and Oscar-winning singer/songwriter Melissa Etheridge invites theatergoers into an exhilarating, intimate evening of storytelling and music. From tales of her childhood in Kansas to career highlights, she fearlessly opens her heart and soul onstage to audiences of all generations. 10/13 thru 10/29. (melissaetheridge.com/mywindow)
Merrily We Roll Along (New York Theatre Workshop, 79 E. 4th St.) Spanning three showbiz decades, this Stephen Sondheim-George Furth musical charts the turbulent relationship between composer Franklin Shepard and his two lifelong friends—writer Mary and lyricist and playwright Charley. An inventive cult-classic ahead of its time, the show features some of Sondheim's most celebrated and personal songs. Starring Daniel Radcliffe. 11/21 thru 1/21/23. (nytw.org)
Metra: A Climate Revolution Play with Sings (Abrons Arts Center, 466 Grand St.) In 2045, the fossil fuel industry continues to thrive, ignored by the rich insulated in Bubble communities, reaping the benefits of disaster capitalism. But on the Outside, a journalist, a hedge fund manager, and an ancient tree nymph are tapping into a mythic and elemental magic that will demand the rich break the cycle of destruction, or face its consequences. 10/28 thru 11/19. (fluxtheatre.org)
Monstress (New Ohio Theatre, 154 Christopher St.) In this bluegrass and country musical, a group gathers on the porch to swap stories: specifically, tales of female monsters from Greek mythology. They want to snatch these monstrous myths away from the patriarchy and share them in a fresh, empowering light. A fiercely feminine work full of combative charm and inspiring delight. 10/21 thru 11/5. (hungerandthirsttheatre.com)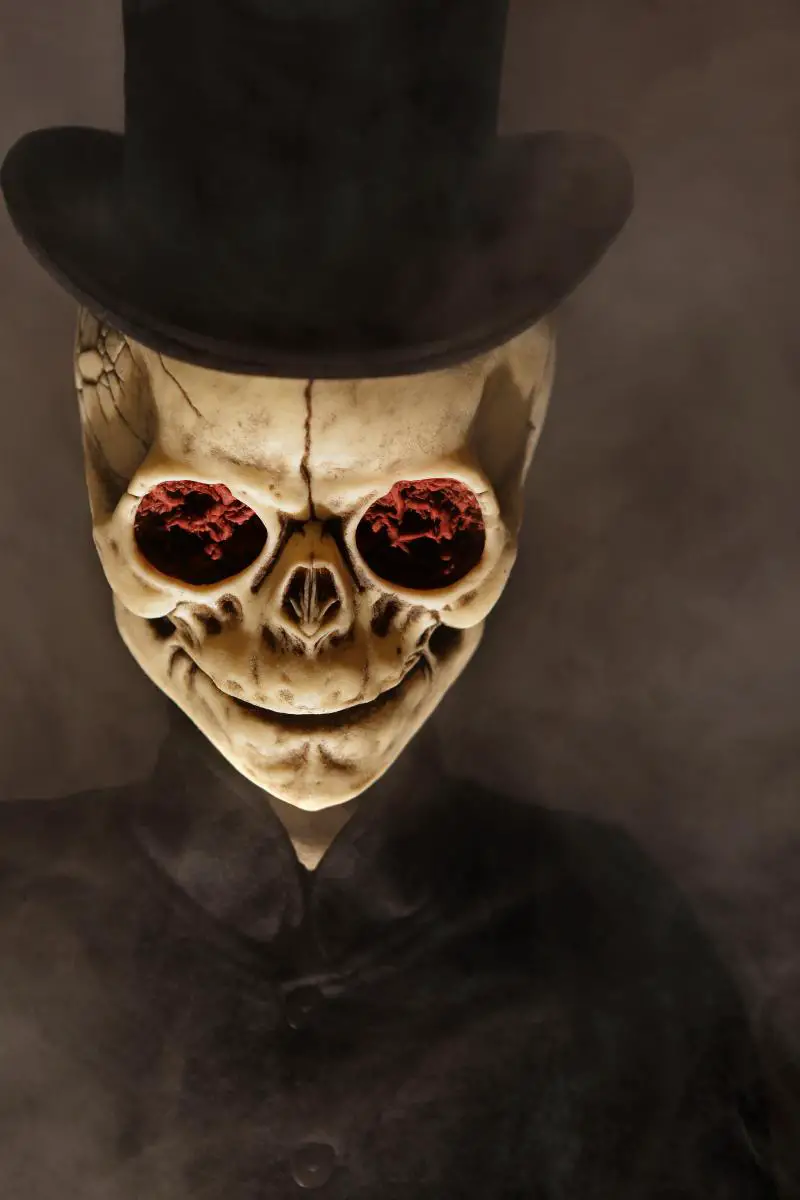 Nightmare Gothic (Teatro SEA at The Clemente, 107 Suffolk St.) In Psycho Clan's latest immersive horror experience, you're dropped into in a little town where a child has gone missing and it's everyone's responsibility to help find it. You weave your way through a landscape of Victorian Gothic imagery, characters and monsters— both gruesome and grim, horrific and horrifying—telling a story that pairs intense emotion with terror and death. 10/17 thru 10/31. (nightmarenyc.com)
Off Peak (59E59 Theaters, 59 E. 59th St., Theater B) Martin and Sarita's relationship came to a stormy end over a decade ago. When they bump into each other on the evening commute, they try to find a way to set things straight but differing views of the same past threaten to derail their connection. 11/26 thru 12/23. (59e59.org)
Only Gold (Newman Mills Theater at The Robert W. Wilson MCC Theater Space (511 W. 52nd St.) A royal family's arrival in Paris sets a flurry of activity into motion, forcing nobility and townsfolk alike to examine the choices they've made. As loyalties and loves are tested, will they find the courage to follow their hearts? Paris will never be the same. 10/6 thru 11/27. (mccttheater.org)
Our Man in Santiago (AMT Theater, 354 W. 45th St.) In this comic spy thriller, a CIA agent and his naive but brilliant protégé clash over the best way to overthrow the president of Chile. Pulling the strings from the shadows are the bickering puppet masters Richard Nixon and Henry Kissinger. Spies, double-crosses, intrigue, and murder are all on the bill. Thru 10/28. (amttheater.org)
Our Town But Wilder (Actors Temple Theater, 339 W. 47th St.) Set in a small New England town in the 1980s, this new comedy tells the story of high school student Bentley Cramer, a sexually confused theater kid. When he's cast as the stage manager in his school's production of Thornton Wilder's Our Town, a series of comic mishaps lead him on a journey of self-discover, illuminating the fragile coexistence of beauty/community and intolerance/divisiveness that often co-exist in small town America. From 10/1. (ourtownbutwilder.com)
Our Voices Our Time (Cherry Lane Theater, 38 Commerce St.) In this play festival The Negro Ensemble Company, Inc. presents an evening of three one-act plays: Clipper Cut Nation by Cris Eli Blak; What If by Cynthia Grace Robinson; and I Don't Do That by Mona R. Washington. 10/19 thru 11/6. (necinc.org)
peerless (59E59 Theatres, Theatre A, 59 E. 59th St.) A darkly comedic twist on Shakespeare's Macbeth set in the cutthroat world of elite college admissions. The story centers on twin Asian-American siblings who have given up everything to get into The College. When another classmate claims what they feel is rightfully "their spot," the twins decide they have only one option: murder. Running 9/24 thru 11/6. (primarystages.org)
Perfect Crime (Anne Bernstein Theater at The Theater Center, 210 W. 50th St.) This ultra-long-running murder mystery is the story of brilliant but money hungry psychiatrist/ suspected cold-blooded killer Margaret Brent, her wealthy husband, deranged patient, and the handsome detective who's falling in love with her while trying to solve the crime. (perfect-crime.com)
Pericles (Fiasco Theater, Houghton Hall, 22 E. 30th St.) Shakespeare's epic story about resilience in times of struggle, hope on the horizon, and the enduring possibility of miracles. Filled with Fiasco Theater's celebrated theatrical creativity and textual clarity, this rarely seen play will feature plenty of music, ensemble joy, and rough magic. 10/19 thru 10/29. (fiascotheater.com)
Pinkalicious the Musical (Actors Temple Theatre, 339 W. 47th St.) Pinkalicious can't stop eating pink cupcakes despite warnings from her parents. Her pink indulgence lands her at the doctor's office with Pinkititis, an affliction that turns her pink from head to toe—a dream come true for this pink-loving enthusiast. But when her hue goes too far, only Pinkalicious can figure out how to get out of the predicament. (pinkaliciousthemusical.com)
Photo by Jeremy Daniel.
The Play That Goes Wrong (New World Stages/Stage 4, 340 W. 50th St.) (2 hrs.) A madcap hybrid of Monty Python and Sherlock Holmes, this award-winning comedy is bringing down the house—literally—Off-Broadway. It's opening night of The Murder at Haversham Manor where an unconscious leading lady, corpse that can't play dead, and actors who trip over everything are only some of the hilarious mishaps. (broadwaygoeswrong.com)
Plays for the Plague Year (Joe's Pub at The Pubic Theater, 425 Lafayette St.) During the pandemic lockdown, Pulitzer Prize winning playwright Suzan-Lori Parks set out to write a play every day, resulting in a chronicle of our collective experience – at once a personal story of one family's daily lives as well as an account of what we faced a city, a nation and a global community. 11/4 thru 11/27. (publictheater.org)
Powerhouse (A.R.T./New York Theatres, Gural Theatre, 502 W. 53rd St.) A powerhouse 40-something lawyer is being pushed out of her high-profile law firm due to her inappropriate relationship with a younger associate. Relentless and passionate, she challenges traditional roles in a male-dominated field and questions what happens when a woman truly stands in her own power. 10/8 thru 10/30. (powerhouseplay.com)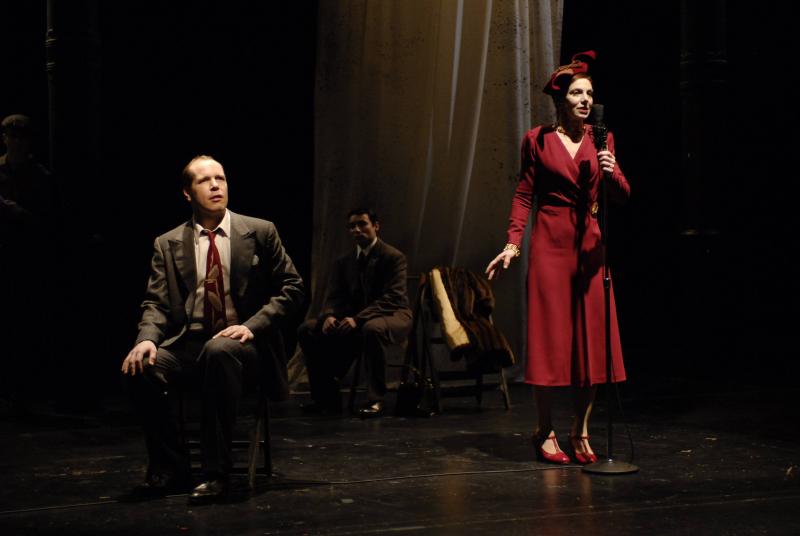 Radio Macbeth (NYU Skirball, 566 LaGuardia Pl. at Washington Sq.) Late at night in an abandoned theater, actors circle around a rehearsal table, moving through Shakespeare's magnetic play, while around them hover the ghosts of all previous productions. The actors cling to the sanity of words while the chaos of history grows to be undeniably present with them in the room. Inspired by Orson Welles' Mercury Theatre on the Air. 10/20 thru 10/22. (nyuskirball.org)
A Raisin in the Sun (Pubic Theater, 425 Lafayette St.) In this innovative new production of Lorraine Hansberry's classic drama, Lena Younger is ready to use her late husband's life insurance to move her family out of their cramped Chicago apartment, however her son, Walter Lee, has other ideas.  9/27 thru 11/6. (publictheater.org)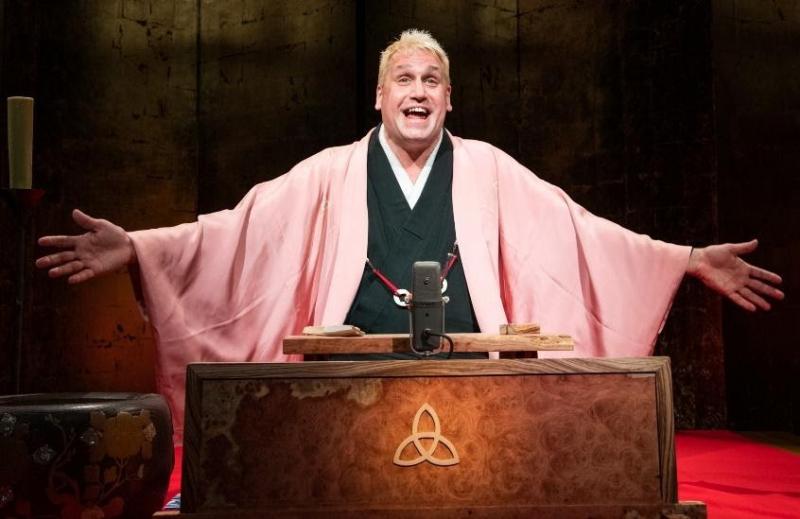 Rakugo (New World Stages, 340 W. 50th St.) Master Storyteller Katsura Sunshine returns to New York with his acclaimed work. With a minimal set, Rakugo features a lone storyteller dressed in a kimono, kneeling on a cushion, and using only a fan and a hand towel for props; Sunshine entertains the audience with a comic monologue followed by traditional stories. (rakugo.lol)
Romeo and Juliet (New Victory Theater, 209 W. 42nd St.) Set in the contemporary chaos of a Southern city steeped in class and racial conflict, two star-crossed souls collide and fall fast in love, only to take their own lives in a tragic twist of fate. A fresh look at Shakespeare's cataclysmic romance. Playing in repertory with the Three Musketeers. 11/11 thru 11/20. (newvictory.org)
Sandra (Vineyard, 108 E. 18th St.) In this one-woman thriller Sandra seeks to get to the bottom of the mysterious disappearance of her closest friend, a young pianist and composer, who went on a trip to Mexico and never returned. 11/3 thru 12/11. (vineyardtheatre.org)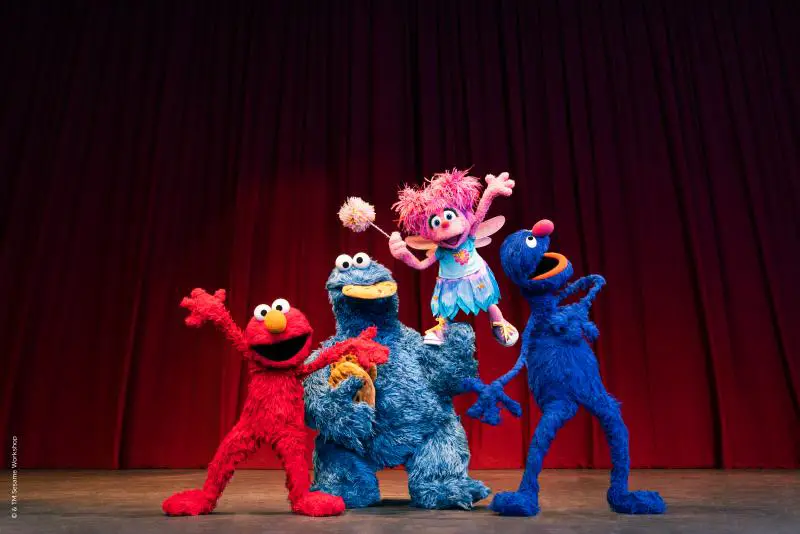 Sesame Street the Musical (Theater Row, 410 W. 42nd St.) Elmo, Cookie Monster, Abby Cadabby, Grover, Rosita, Bert, Ernie, Oscar the Grouch, The Count, Gabrielle, and a host of Honkers, Martians and other favorites appear onstage in their very own musical! Special guest stars from Broadway and beyond join the gang in this unique show featuring Sesame Street's classic songs and new numbers created especially for this production. Thru 11/27. (sesamestreetmusical.com)
Shadow of the Sea (Madison Square Park Conservancy Oval Lawn) A new performance project by Beau Bree Rhee, Shadow of the Sea, conceived in dialogue with Cristina Iglesias's exhibition Landscape and Memory at Madison Square Park. The work, composed as a "dance poem," offers a performance that has eight stanzas, each with vastly differing qualities. 9/21 thru 10/20. (thekitchen.org)
Shared Sentences (122CC, 150 First Ave., 2nd Fl.) Emily Joy Weiner's new work explores the toll of incarceration on families and loved ones. Olivia, a lonely aspiring artist, finds herself in a support group for those with an incarcerated loved one. The play explores how we define "family" and the struggle between the warmth and comfort of community and the cold depths of utter isolation. 10/26 thru 11/11. (59e59.org)
Simon and His Shoes (The Tank, 312 W. 36th St.) In this family-friendly show, a pair of shoes walk out on their owner, Simon, because he doesn't wear them. With his little sister, Izzy, Simon chases after them and they find themselves on an adventure into a world of larger-than-life characters and increasingly bizarre situations. Featuring original puppets by The Ladies of Mischief. 10/1 thru 10/30. (thetanknyc.org)
Sistas! The Musical (Actors Temple Theatre, 339 W. 47th St.) After a matriarch's death, the women in the family clean Grandma's attic and find love and old memories packed away, and in the process, hit tunes that trace the history of Black women, from the trials of the 1930s through the girl groups of the '60s to the empowerment of the '90s. Featuring 40 hit songs by such black legends as Aretha Franklin, Nina Simone, Alicia Keys, and The Supremes. (sistasthemusical.com)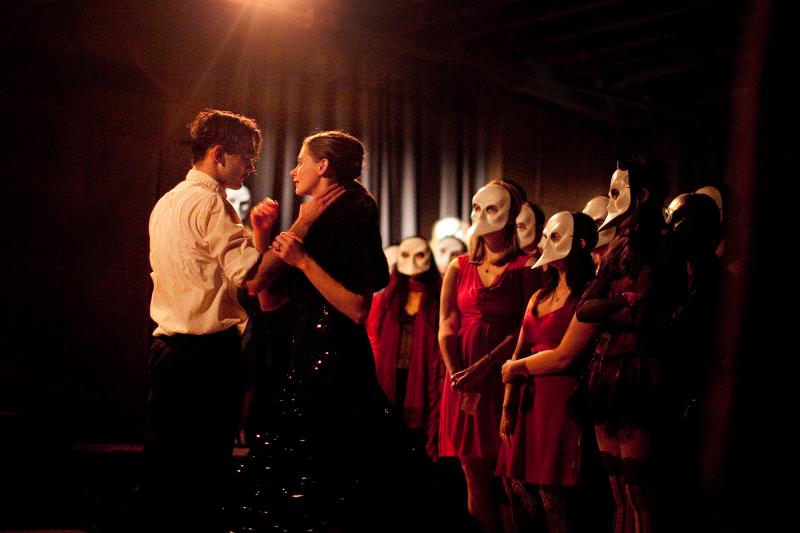 Photo by Robin Roemer.
Sleep No More (McKittrick Hotel, 530 W. 27th St.) This award-winning theatrical experience tells Shakespeare's classic tragedy Macbeth through a darkly cinematic lens. Audiences move freely through the epic world of the story at their own pace, choosing where to go and what to see, ensuring that everyone's journey is different and unique.(mckittrickhotel.com)
Space Nunz of the Rescue Mainframe (Hook & Eye Theater, 160 Schermerhorn St., Brooklyn) A new comedy in which two Space Nunz race to make sense of the posts, pings, and pokes left by an Iranian and an American family in the early 21st-century. Overwhelmed with data, the Space Nunz must form an analog relationship with the audience as they vote and together attempt to piece together their possible realities. 10/26 thru 11/13. (hookandeyetheater.com)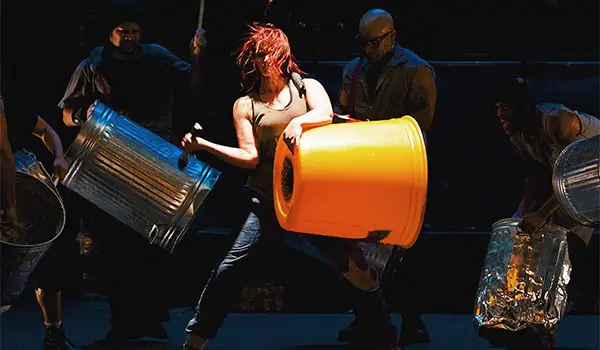 Stomp (Orpheum Theatre, 126 Second Ave.) (1 hr., 45 mins.) "For us, Stomp has always been about connecting with the audience, having a shared experience with them and celebrating rhythm together. We can't wait to bring Stomp and New York audiences back together again," says show co-creators Steve McNicholas and Luke Cresswell. Clearly, the exuberance of cacophony has returned. (stomponline.com)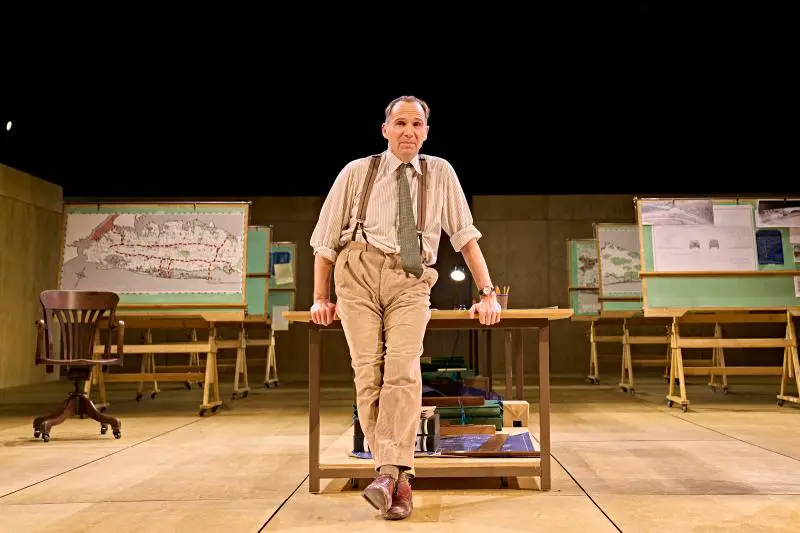 Straight Line Crazy (The Shed, 545 W. 30th St.) David Hare's new play offers an imagined retelling of the arc of Robert Moses's (Ralph Fiennes) controversial career in two decisive moments: his rise to power in the late 1920s and the public outcry against the corrosive effects of that power in the mid-1950s. It homes in on the power Moses had to manipulate and intimate his way to remaking the city's parks, bridges and expressways, often at the expenses of disempowered New Yorkers. 10/18 thru 12/18. (theshed.org)
Stranger Sings! The Parody Musical (Playhouse 46 at St. Luke's, 308 W. 46th St.) A wild send-up of the hit Netflix series Stranger Things. Take a trip back to Hawkins, Indiana, 1983, when times were simpler, hair was bigger, and unsupervised kids were getting snatched by inter-dimensional creatures. Get ready for a night of pubescent angst, heavy synth, poor parenting, convoluted love triangles, cheap effects, and dancing monsters. 9/12 thru 1/1/23. (strangersings.com)
Strings Attached (Theatre Row, 410 W. 42nd St.) Loosely based on real events, this new play centers on two cosmologists and a particle physicist. En route to London to see the play Copenhagen, they discovered a theory of the Big Bang. Appearances by Isaac Newton, Marie Curie, and Max Planck bring in another realm of reality, and add insight into their contributions, and earthy humor. Thru 10/1. (theatrerow.org)
SUGAR HILL The Ellington/Strayhorn Nutcracker (New York City Center, 131 W. 55th St.) A jazz-steeped reimagining of the beloved classic ballet, the show celebrates the music and magic of the jazz heartbeat of Harlem in Sugar Hill. Based on the genre-defying collaboration of Duke Ellington and Billy Strayhorn, the production shines a light on the beauty of diversity and power of individuality. 11/15 thru 11/27. (nycitycenter.org)
Susan B. (Theater for the New City, 155 First Ave.) Susan B. Anthony recounts her life struggles and political maturation in the context of a press interview with famed reporter Nellie Bly. Appearing as well is Elizabeth Cady Stanton, whom Anthony regarded as a philosopher, as well as her teacher and inspiration. 10/12 thru 10/16. (theaterforthenewcity.net)
The Three Musketeers (New Victory Theater, 209 W. 42nd St.) Serving swagger, style and swordplay, The Acting Company mashes up waltz with spoken word and high court drama with high fashion hip-hop in this new adaptation based on the classic Alexandre Dumas novel. Playing in repertory with Romeo and Juliet. 11/12 thru 11/27. (newvictory.org)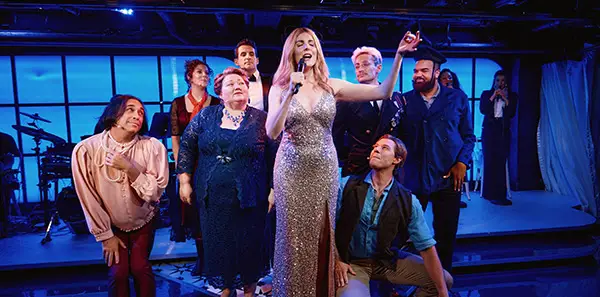 Titanique (Asylum Theatre, 306 W. 26th St.) A musical celebration that turns one of the greatest love stories of all time into a hysterical and joyful slay-fest. Want to find out what really happened to Jack and Rose on that fateful night? Leave it to Céline Dion to casually hijack a Titanic Museum tour and enchant the audience with her totally wild take, recharting the course of Titanic's beloved moments and characters with her iconic song catalog. Thru 11/9. (housesonthemoon.org)
To My Girls (Second Stage's Tony Kiser Theater, 305 W. 43rd St.) For one tight group of gay men, a post-pandemic getaway is the perfect chance to reunite, reclaim their time, and replace the gloom with some gossip. But as soon as the drinks start pouring, truths start spilling and this chosen family quickly realizes the world has changed. (2ST.com)
Trevor (Stage 42, 422 W. 42nd St.) In this timely musical, 13-year-old Trevor struggles with what it means to become a teenager, including the challenges of harnessing his imagination and homing in on just how to fit in. (trevorthemusical.com)
Two Jews Talking (Theatre at St. Clement's, 423 W. 46th St.) Two one-act plays bring Lou and Bud together in the Biblical past, and Phil and Marty together in contemporary Long Island. They philosophize about women, sex, food, the divine, and destiny in this tale of companionship and friendship. Starring Tony & Emmy winner Hal Linden (The Rothschilds; Barney Miller) and TV star Bernie Kopell (The Love Boat). (stclementsnyc.org)
The Unbelieving (59E59 Theaters, Theater B, 59 E. 59th St.) A penetrating look into the lives of practicing clergy members of all faiths who have stopped believing in God. Using their actual words, obtained during a groundbreaking study, the play looks at their struggles, courage, and humor as they decide whether to continue in secret or risk everything by telling the truth. 10/20 thru 11/20. (59e59.org)
Under the Radar Festival (Pubic Theater, 425 Lafayette St.) The Public Theater's UTR 2023 is built around the enormous changes in theater and performance since 2020. Joyous, outrageous, witty, and powerful, the festival is partnering with stages across the city to highlight and celebrate the innovation and provocation of national and international artists. 1/4 thru 1/22/23. (publictheater.org)
United Solo Festival 2022 (Theatre Row's Studio Theatre, 410 W. 42nd St.) The world's largest solo theatre festival returns with a roster of works from artists both here and abroad. Spanning drama, comedy, music, poetry, movement, and spoken word, this season, topics range from family stories to allegories for the issues facing our world today. 10/3 thru 11/20. (bfany.org/theatre-row)
Vatican Falls (The Tank, 312 W. 36th St.) Based on factual accounts and event this multi-genre, non-linear play examines the Catholic Church sex abuse scandal and the Church's complicity, while telling real survivor stores and exploring the fictional journey of one particular survivor. 10/27 thru 11/20. (thetanknyc.org)
The Village, A Disco Musical! (Dixon Place, 161A Chrystie St.) Set in New York City in 1979, this meta musical comedy, loosely based on Our Town (if Thornton Wilder had lived on Christopher St.), offers a colorful collage of characters as they drink, drug, dream, and dish about love, life, death, and taxis, and, of course, break out into disco dance numbers. 10/6 thru 10/15. (dixonplace.org)
Weightless (WP Theater, 2162 Broadway) Inspired by a tale from Ovid's Metamorphoses, the show centers on two sisters who, separated by circumstance, travel across worlds—facing devastating sacrifice and divine intervention—in order to reunite. Weaving together ancient myth and indie rock, The Kilbanes' Weightless blurs the line between musical theater and rock concert. 9/17 thru 10/16. (wptheater.org)
What Passes for Comedy (Chain Theatre, 312 W. 36th St., 3rd Fl.) In the golden age of live TV, a late-night talk show host reads the wrong cue card and lands a punch-line that rocks the nation. The young writers behind the prank are in the fight for their professional lives as celebrity guests drop and the network head is out for blood. Hard truths come out, revealing where the laughter stops and bigotry begins. 10/28 thru 11/19. (chaintheatre.org)
Where the Mountain Meets the Sea (New York City Center, Stage I, 131 W. 55th St.) A Haitian immigrant travels from Miami to California on a once-in-a-lifetime road trip. Years later, his son makes the same journey in reverse. Along the way, blurring the lines of time, these two finally discover common ground and make a connection that has eluded them for decades. Featuring a script by Jeff Augustin and live folk songs from The Bengsons. From 10/11. (manhattantheatreclub.com)
Where We Belong (Pubic Theater, 425 Lafayette St.) In this intimate solo piece, Mohegan theatre-maker Madeline Sayet asks what it means to belong in an increasingly globalized world. Moving between England at the height of Brexit and the U.S., she finds comfort in the journeys of her Native ancestors who had to cross the ocean in the 1700s to help her people. 10/28 thru 11/27. (publictheater.org)
White Girl in Danger (Second Stage's Tony Kiser Theater, 305 W. 43rd St.) A new musical from Michael R. Jackson (A Strange Loop). While the citizens of the soap opera town Allwhite face high-stakes drama and intrigue all the days of their lives, Keesha and the other Blackgrounds have been relegated to backburner stories of slavery and police violence. Keesha is determined to step into the juiciest storylines, but can she handle the Allwhite attention? 3/15 thru 5/21/23. (2ST.com)
The Whole of Time (Torn Page, 435 W. 22nd St.) Argentine playwright Romina Paula's work, inspired by The Glass Menagerie, takes its characters in a very different direction. Digging deep into questions of home and exile—physical, intellectual, and emotional—the play looks at how a family's fragile and very private home life is about to change forever.  10/21 thru 11/13. (eventbrite.com/e/the-whole-of-time-by-romina-paula)
The Wildly Inappropriate Poetry of Arthur Greenleaf Holmes (The Tank, 312 W. 36th St.) (75 mins., no intermission) England's preeminent 16th-century poet of the perverse fuses irresponsible humor with a deep love of language, poetry, and the humanities. Blending the profane with the elegant, the wholly original libertine title character takes the stage to bring us such hits as the insightful "Ode to an Extremely Provocative Knothole" and the prepubescent lament "Mother, Will My Stones Drop"? 11/9 thru 2/9/23. (2ST.com)
The Winter's Tale (Irondale Center, 85 South Oxford St., Brooklyn) Bedlam continues its 10th anniversary season with this Shakespearean work that's playing in repertory with a new adaptation of Henrik Ibsen's Hedda Gabler. 10/5 thru 11/20. (bedlam.org) 
Ye Bear & Ye Cubb (59E59 Theaters, 59 E. 59th St., Theater C) In this high-octane reimagining of the first known English-language play in North America, it's 1665 in the Fowkes Tavern in the colony of Virginia as a ragtag troupe of amateur thespians puts on a play. A bear waxes poetic, a cannon explodes, and the American Theatre is born. 12/8 thru 12/23 (59e59.org)
You Will Get Sick (Laura Pel Theatre, Harold and Miriam Steinberg Center for Theatre, 111 W. 45th St.) In this humane and piercing new play by Noah Diaz, Tony winner Linda Lavin stars as an older woman hired to break the news of a young man's life-changing diagnosis to his family and friends—thus setting in motion a series of events that will reshape both their lives. 11/6 thru 12/11.  (roundabouttheatre.org)
Your Own Personal Exegesis (Lincoln Center Theaters' Claire Tow Theater, 150 W. 65th St.) In this funny and slyly devastating collision of coming-of-age eroticism and religious ecstasy set in a liberal parish, Brian angles for power, Addie attempts transfiguration, Beatrice battles with obscurity, and youth pastor Kat can't stop gazing into the troubled eyes of her congregant Chris. With music by Brian Cavanagh-Strong. 11/19 thru 12/31 (lct.org)
Be sure to check websites for Covid-related performance cancellations before heading to the theatre, and do have a back-up show or two on your must-see radar!
For the latest news on Broadway scheduling and cancellations, check out this great resource from the Broadway League.
Vaccination and Mask Policy for Broadway Shows in NYC
For more information regarding safety and safety protocols, please consult your show's official website or the website of the theatre you are planning to visit. Please verify the theatre policies and requirements before making your purchase.
More information is available here.—The Broadway League Sq..S