Updated September 17th. As much as I'd like to dazzle you with a complete list of Broadway previews, openings and re-openings, the current roster is far from complete. Still, considering the Great White Way has been dormant for over a year and a half, the evolving influx of announcements is dramatically optimistic!
To get theatre lovers started on plotting their Broadway and Off-Broadway adventures, here is a list of shows that have gone on record with preview and opening dates. (FYI: City Guide will be adding updated postings to the list below, so make it a point to check in regularly.) We've also got the latest on vaccination and mask policies for Broadway shows.
BROADWAY SHOWS: CALENDAR SO FAR
Up & Running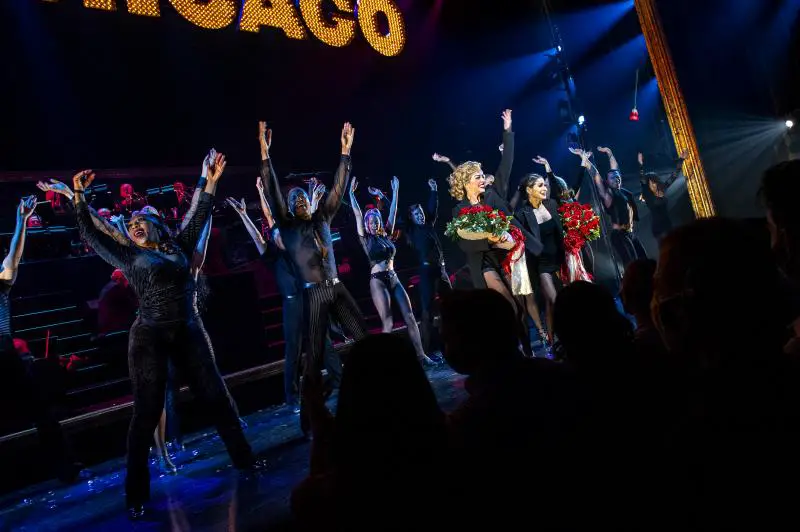 Chicago reopening night, 2021. Photo: Daniel Rader.
Up & Running: Chicago (Ambassador Theatre). It picked up a Tony for Best Musical Revival back in 1997 and has reigned as one of Broadway's fiercest hits ever since (pandemic notwithstanding). Roxie, Velma, Billy, Mamma, and the cellblock vixens are now poised to sizzle their way back into our hearts! (chicagothemusical.com)
Up & Running: David Byrne's American Utopia (St. James Theatre). Former Talking Heads frontman Byrne and his enormously talented ensemble of musicians from across the globe return for a limited run thru March 6th, 2022, once again serving up a unique blend of concert and theatricality. (americanutopiabroadway.com)

Jewelle Blackman, Kay Trinidad, and Yvette Gonzalez-Nacer of Hadestown. Photo by Matthew Murphy.
Up & Running: Hadestown (Walter Kerr Theatre). 2019's haunting Tony-winning musical follows the overlapping love stories of Orpheus & Eurydice and Hades & Persephone. The action unfolds in both a stylized New Orleans setting and Hades stomping ground, The Underworld. As for the score, think New Orleans jazz melded with American folk music. (hadestown.com)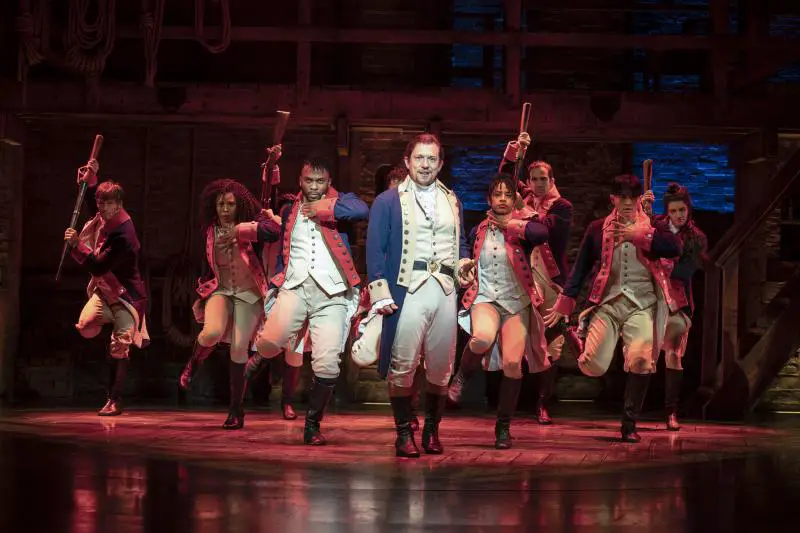 Miguel Cervantes and the ensemble of Hamilton, (c) Joan Marcus 2021.
Up & Running: Hamilton (Richard Rodgers Theatre). Visionary Lin-Manuel Miranda's white-hot historical musical that redefined Broadway. Told through a score of musical theatre, hip-hop, jazz, and R&B, the Pulitzer Prize-winning show has also scooped up Tony, Olivier, and Grammy awards. Act fast. (hamiltonmusical.com)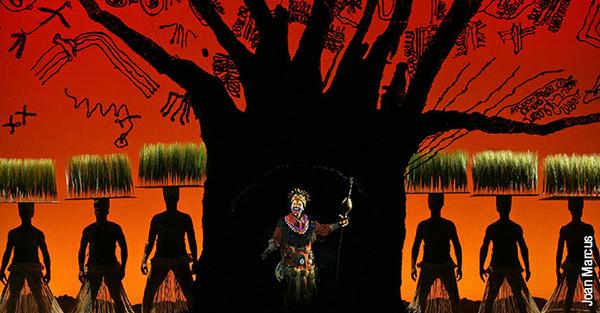 Up & Running: The Lion King (Minskoff Theatre). The longest-running Disney production to grace Broadway—it arrived in November of 1997—this Tony-winning stage adaptation of the animated classic is a musical and visual treasure-trove to be savored and shared generation after generation. (lionking.com)
Up & Running: Pass Over (Official opening was August 22nd at the August Wilson Theatre). Antoinette Chinonye Nwandu's acclaimed play, inspired by Waiting for Godot and the Exodus story—and set on an urban street corner—was last seen at Lincoln Center Theater's LCT3. It hits Broadway with the original cast: Jon Michael Hill, Namir Smallwood, and Gabriel Ebert. (passoverbroadway.com)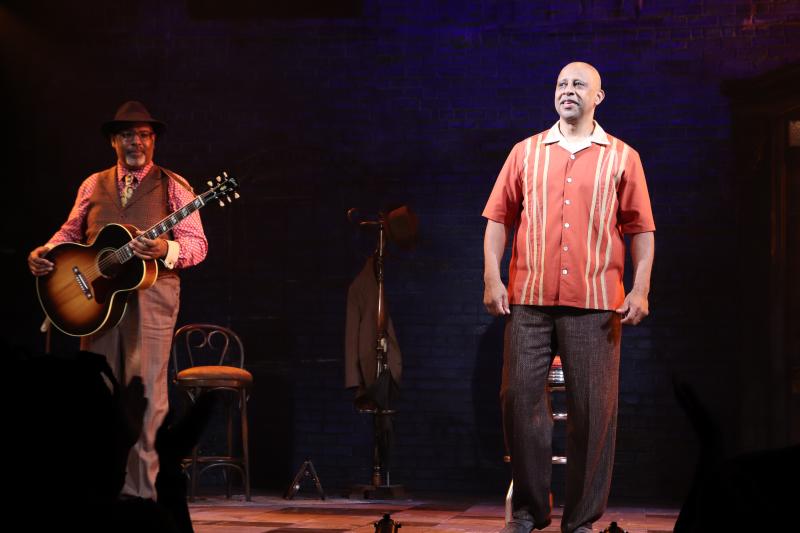 Photo by Lia Chang.
Up & Running: Ruben Santiago-Hudson's Lackawanna Blues (Official opening set for September 28th at the Samuel J. Friedman Theatre). A solo show written, directed, and performed by Tony winner Santiago-Hudson, who embodies 20 different characters, homes in on the 1960s and the woman who raised him. (manhattantheatreclub.com)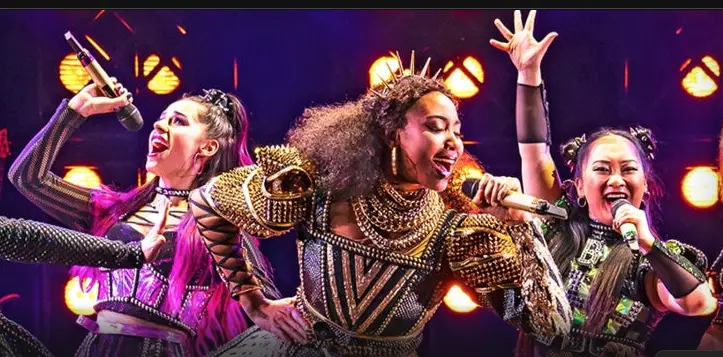 Uo & Running: Six (Official opening set for October 3rd at the Brooks Atkinson Theatre). Derailed in previews by the pandemic, Henry VIII's sextet of wives—all portrayed by original cast—finally get to rock out in vibrant Broadway sass and style for a run that actually includes an opening night! (sixonbroadway.com)
Photo by Jeremy Daniel.
Up & Running: Waitress (Ethel Barrymore Theatre). Broadway welcomes the return of the hit musical that debuted in 2016. Noted Grammy-winning composer Sara Bareilles, who kicks off the production in the lead role: "Broadway is grit and grace, magic and mayhem, and I can't wait to feel the electricity that pulses through all of us as the curtains rise once again". And while she is set to leave the show on October 17th, the limited run goes on thru January 9th, 2022. (telecharge.com)
Up & Running: Wicked (Gershwin Theatre). Broadway's fifth longest-running show ever—and the only one with a green-hued heroine—Wicked takes the world of Oz's fairy tale roots and replants them into an eye-popping musical that turns the original story upside down by elevating the friendship between two young witches. (wickedthemusical.com)
Coming Soon to Broadway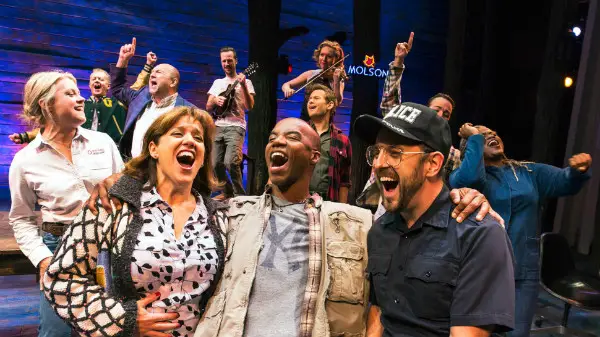 Photo by Matthew Murphy.
September 21st: Come From Away (Gerald Schoenfeld Theatre). 2017's celebrated musical based on the true story that unfolded on 9/11, 2001, when thousands of airline passengers were diverted to Gander, Newfoundland. FYI: Apple's film version of the musical is also set for release this fall. (comefromaway.com)
September 23rd: Chicken and Biscuits (Official opening October 10th at Circle in the Square; limited run thru January 2nd). Following a COVID-truncated Off-Broadway debut at the Queens Theatre, this unique "funereal" comedy comes to Broadway starring Tony-nominee Norm Lewis (Porgy and Bess), and Michael Urie (Torch Song; Ugly Betty). (chickenandbiscuitsbway.com)
September 24th: Is This A Room (Official opening set for October 11th at the Lyceum Theatre). The spellbinding story of a former Air Force linguist who was surprised at her home by the FBI on June 3, 2017. The play's text is taken from the FBI transcript of her interrogation and finessed into a theatrical thriller/human drama by playwright Tina Satter and actress Emily Davis. A Vineyard Theatre production running in rep with Dana H. (vineyardtheatre.org)
Photo by Matthew Murphy.
September 24th: Moulin Rouge! The Musical (Al Hirschfeld Theatre). A gleefully flamboyant stage adaptation of Baz Luhrmann's 2001 genre-bending film, the acclaimed musical that launched the 2019/2020 season is poised to kick up its decadent heels anew. (moulinrougemusical.com)
September 25th: The Lehman Trilogy (Official opening set for October 14th at the Nederlander Theatre). The acclaimed epic play, tracking three generations of the family who helmed Lehman Brothers investment bank from its beginnings to its apex to its dramatic fall, resumes Broadway performances after sell-out houses in London and New York. (thelehmantrilogy.com)

September 26th: The Tony Awards for the 2019-2020 Season.
Hosted by Audra McDonald. Details here.
---
Vaccination and Mask Policy for Broadway Shows in NYC
The owners and operators of all 41 Broadway theatres in New York City will require vaccinations for audience members, as well as performers, backstage crew, and theatre staff, for all performances through October 2021. Masks will also be required for audiences inside the theatre, except while eating or drinking in designated locations.
Under the policy, guests will need to be fully vaccinated with an FDA or WHO authorized vaccine in order to attend a show and must show proof of vaccination at their time of entry into the theatre with their valid ticket. "Fully vaccinated" means the performance date must be at least 14 days after the second dose of a two-dose COVID-19 vaccine, or at least 14 days after a single-dose COVID-19 vaccine.
Theatre owners and operators will begin notifying ticket holders for performances through October 31st, 2021, with reminder messaging planned to ensure awareness of the new policies. For performances in November 2021 and beyond, theatre owners anticipate a review of policies in September, and may include a relaxation of certain provisions if the science dictates.
Exceptions are being made for children under 12 and people with a medical condition or closely held religious belief that prevents vaccination. These guests must provide proof of a negative COVID-19 PCR test taken within 72 hours of the performance start time, or a negative COVID-19 antigen test taken within 6 hours of the performance start time.
For more information, please visit your show's official website or contact your point-of-purchase. —The Broadway League
---
September 28th: Aladdin (New Amsterdam Theatre). Like The Lion King, this Disney musical developed from animated origins has been a total crowd-pleaser since it arrived in 2014. In this case, it rises from the hero's lamp a magically madcap Broadway draw! (aladdinthemusical.com)

October 1st: Dana H. (Official opening set for October 17th at the Lyceum Theatre). Actress Deirdre O'Connell reprises her critically acclaimed performance as a woman held captive in a series of Florida motels for five months. A harrowing true story, The story has been reconstructed for the stage by her son, playwright Lucas Hnath. A Vineyard Theatre production running in rep with Is This a Room. (vineyardtheatre.org)
October 1st: Thoughts of a Colored Man (Official opening set for October 31st at the Golden Theatre). Keenan Scott II's Broadway premiere of Thoughts of a Colored Man tracks the inner voices and lives of Black men in the 21st century through "spoken word, slam poetry, rhythm and humor." (thoughtsofacoloredman.com)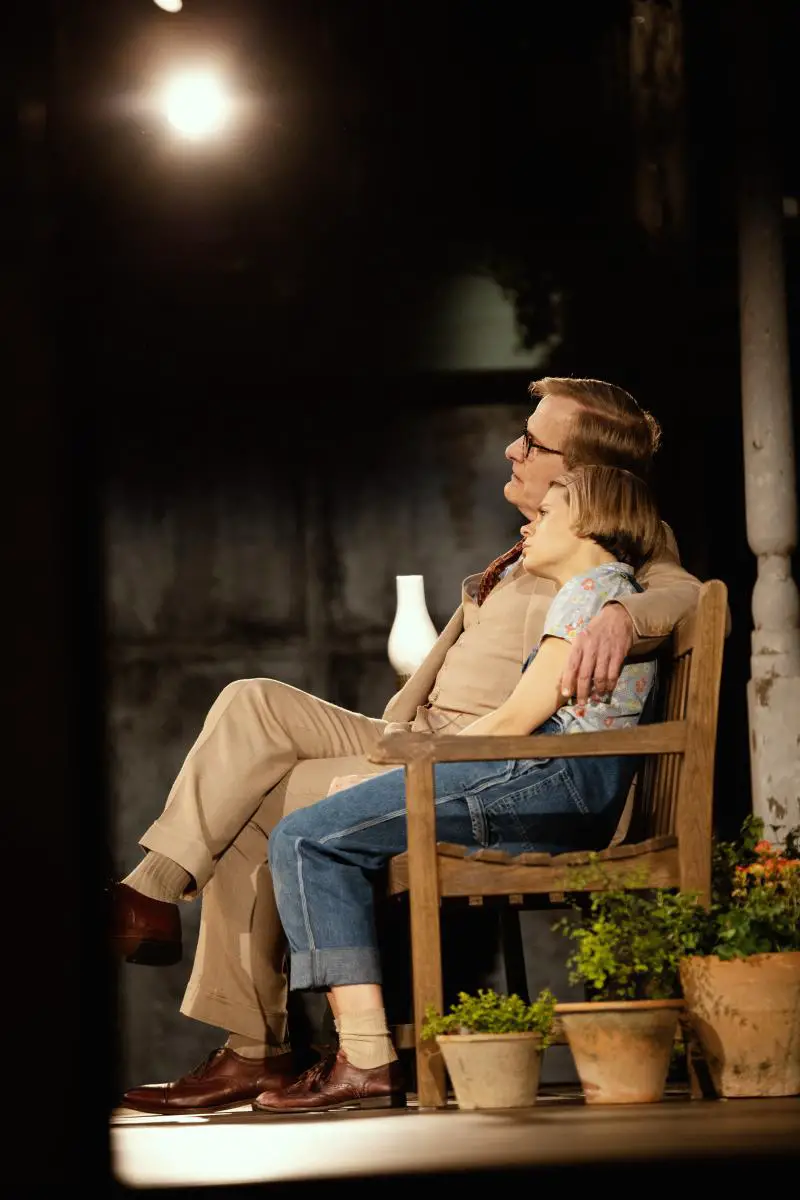 Celia Keenan-Bolger and Jeff Daniels, (c) Julieta Cervantes.
October 5th: To Kill a Mockingbird (Shubert Theatre). Aaron Sorkin's celebrated stage version of the Harper Lee classic returns with original cast members Celia Keenan-Bolger and Jeff Daniels. Regarding his role of Atticus Finch, Daniels said, "At this moment in our country's history, I'm honored…to inhabit an iconic American hero who still speaks to our times and will help us all remember who we can be." (tokillamockingbirdbroadway.com)
October 7th: Freestyle Love Supreme (Booth Theatre). The acclaimed improv musical created by Lin-Manuel Miranda, Thomas Kail, and Antony Veneziale returns to Broadway through January 2nd. Said Miranda, "If live theater is coming back, so is FLS. Our most important collaborator is the audience, and we can't wait to get back in the Booth!" (freestylelovesupreme.com)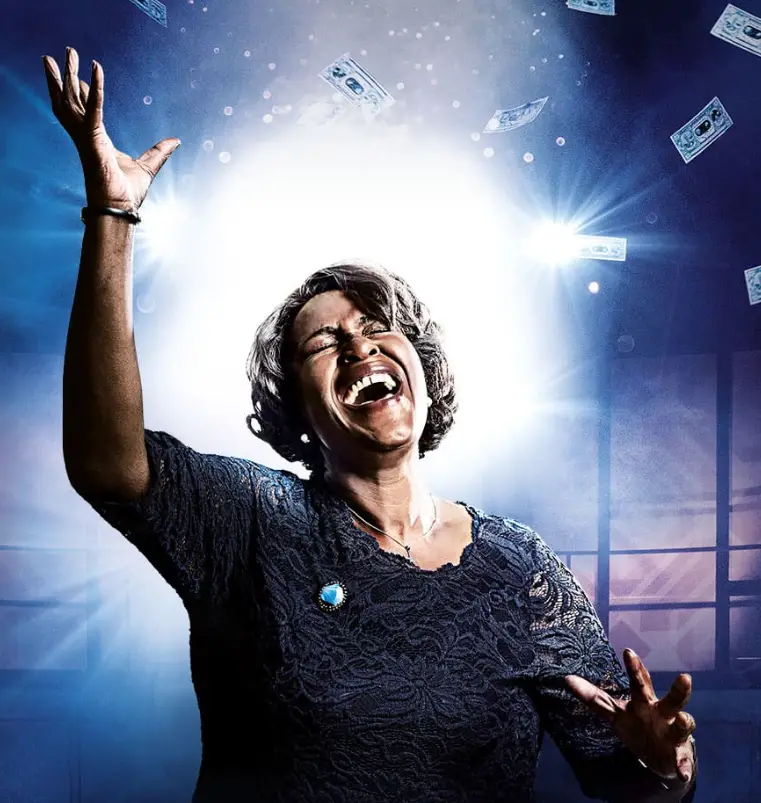 October 8th: Caroline, or Change (Official opening set for October 27th at Studio 54). Roundabout Theatre Company serves up the first Broadway revival of the poignant and timely Tony Kushner-Jeanine Tesori musical centering around an African-American maid and the family she serves. (roundabouttheatre.org)
October 8th: Tina: The Tina Turner Musical (Lunt-Fontanne Theatre). Big wheel [will absolutely] keep on turning, when Tina sparkles its way back onto the Lunt-Fontanne stage. Tracking the life and music of the Queen of Rock 'n' Roll, Tina is both nostalgic and inspirational. (tinaonbroadway.com)
October 13th: Girl From The North Country (Belasco Theatre). Conor McPherson's striking new work that debuted to excellent reviews on March 5th, 2020, is set during the Great Depression and features a score that taps into the Bob Dylan songbook. It resumes performances with most of the cast, including Tony winner Mare Winningham. (northcountryonbroadway.com)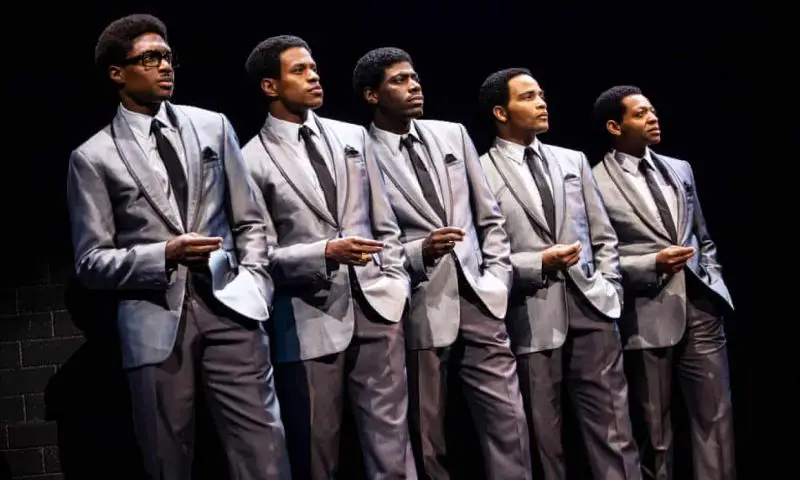 Photo: Matthew Murphy.
October 16th: Ain't Too Proud—The Life and Times of the Temptations (Imperial Theatre). The Motown greats, career trajectory intact, are front and center once more with the reopening of this celebrated production. I dare you not to be tempted to sing along! (ainttooproudmusical.com)
October 21st: Jagged Little Pill (Broadhurst Theatre). Inspired by Alanis Morissette's Grammy-winning album, Jagged Little Pill—the 2019 musical about a deceptively perfect family—reemerges on Broadway. (jaggedlittlepill.com)
October 21st: Mrs. Doubtfire (Official opening set for December 5th at Stephen Sondheim Theatre). The arrival of the musical based on the hilarious Robin Williams film becomes a long-awaited reality starring Tony nominee Rob McClure (Chaplin) in the titular (pun intended) role. (mrsdoubtfirebroadway.com)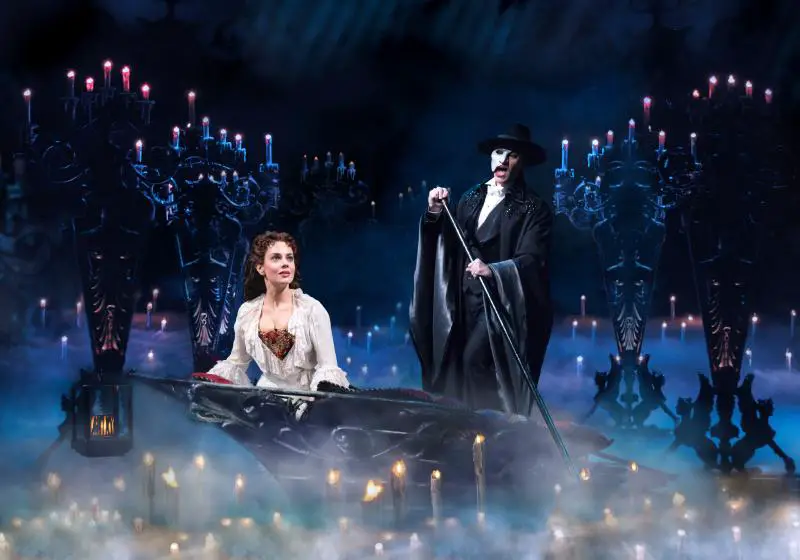 Meghan Picerno as Christine and Ben Crawford as The Phantom. Photo by Matthew Murphy.
October 22nd: The Phantom of the Opera (Majestic Theatre). Andrew Lloyd Webber's staggeringly long-running record breaker will be spreading "Music of the Night" in its Broadway digs once more. Well worth a visit...or revisit. (us.thephantomoftheopera.com)
October 29th: Trouble in Mind (Official opening November 18th at American Airlines Theatre). Alice Childress's groundbreaking look at racism in the theatre industry was originally slated to premiere on Broadway in the 1950s…finally, and about time, this limited engagement runs through January 9th, 2022, and stars Tony winner LaChanze (The Color Purple). (roundabouttheatre.org)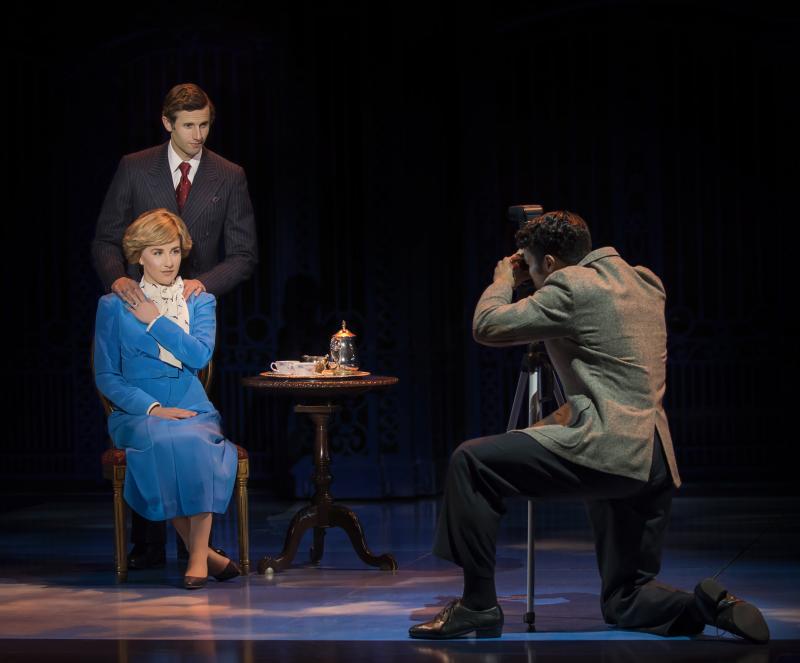 Little Fang, La Jolla Playhouse's world-premiere performance of Diana.
November 2nd: Diana: The Musical (Official opening set for November 17th at the Longacre Theatre). Another delayed preview, this one has anglophiles antsy to be among the first East Coasters to check it out following its pre-pandemic run at San Diego's La Jolla Playhouse. Let the royal romance, heartache, and shenanigans begin! (thedianamusical.com)
November 3rd: Clyde's (Official opening November 22nd at the Helen Hayes Theatre). The New York premiere of Pulitzer Prize winner Lynne Nottage's new work centers on life in a truck stop staffed by former inmates. Described as both moving and funny, Clyde's is supported by the Art for Justice Fund. (2st.com)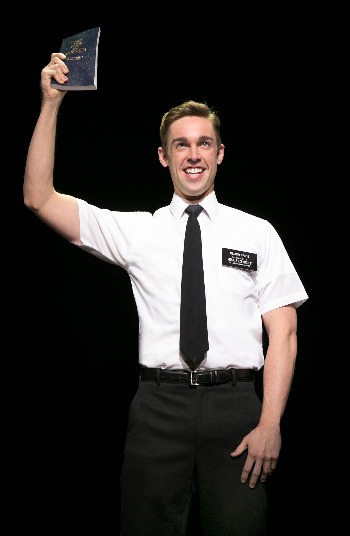 Photo by Joan Marcus.
November 5th: The Book of Mormon (Eugene O'Neill Theatre). One of Broadway's most successful, Tony-winning (nine in 2011!) shows returns and no one is happier than creators Trey Parker, Matt Stone, and Robert Lopez, who said, "Can't wait to be back with the entire team and our wonderful cast, crew, and orchestra." (bookofmormonbroadway.com)
November 11th: Flying Over Sunset (Official opening December 13th at the Vivian Beaumont Theater). A fictionalized musical foray into the dropping of LSD by a formidable trio: Cary Grant, Aldous Huxley, and Clare Booth Luce, all of whom tried the drug in real life. (lct.org)
November 12th: Harry Potter and the Cursed Child (Lyric Theatre). This much anticipated reopening arrives with a major change: instead of being presented as two separate plays, HPATCC has been reconfigured into a single night of theatre. What hasn't changed is the show's introduction of a new generation of Hogwarts students and, naturally, their magical adventures. (harrypottertheplay.com)
November 15th: Company (Official opening set for December 9th at the Bernard B. Jacobs Theatre). This big buzz gender-tweaking Stephen Sondheim revival stars Tony winners Katrina Lenk (as Bobbie) and Patti Lupone (as Joanne), alongside a serious and impressive collection of Broadway star power. (companymusical.com)
December 6th: MJ the Musical (Official opening set for February 1st, 2022 at the Neil Simon Theatre).The new musical bio featuring over 25 Michael Jackson hits comes with a staggeringly impressive pedigree: book by two-time Pulitzer Prize winner Lynn Nottage and direction/choreography by Tony-winner Christopher Wheeldon. (mjthemusical.com)
Photo: Matthew Murphy.
December 11th: Dear Evan Hansen (Music Box Theater). It picked up the 2017 Best Musical Tony and now DEH will be reopening, bringing its compelling take on what happens when one high school student deals with the aftershock of a death that changes everything. (dearevanhansen.com)
December 20th: The Music Man (Official opening set for February 10th, 2022 at the Winter Garden Theatre). One of the upcoming season's most anticipated revivals will be boosting holiday morale. Meredith Willson's beloved musical comedy returns to Broadway with stars Hugh Jackman and Sutton Foster. Trust me, River City will be a red-hot destination! (musicmanonbroadway.com)
December 21st: Skeleton Crew (Official opening set for Janaury 12th, 2022 at the Samuel J. Friedman Theatre). Tony winner Phylicia Rashad stars in Dominique Morisseau's drama set in 2008 Detroit. Against the backdrop of a failing automotive factory, the play explores the tight knit family of workers, as well as the relationship between blue and white collar in a time of crisis. (manhattantheatreclub.com)
February 22nd: Paradise Square (Official opening set for March 20th, 2022 at the Ethel Barrymore Theatre). Conceived by Larry Kirwan, who co-wrote the book with Craig Lucas, Marcus Gardley, and Christina Anderson, this new musical centers on the racially diverse 1863 regulars at Paradise Square, a saloon in the slums of Lower Manhattan, and how their relationships come unraveled "by a country at war with itself." (paradisesquaremusical.com)
Matthew Broderick with Sarah Jessica Parker, photo by Little Fang.
February 25th: Plaza Suite (Hudson Theatre). This limited engagement revival of the Neil Simon comedy triptych stars two-time Tony winner Matthew Broderick alongside his real-life spouse, two-time Emmy winner Sarah Jessica Parker, in three separate vignettes unfolding in the noted New York hotel. (plazasuitebroadway.com)
March 9th: Take Me Out (Official opening March 9th, 2022 at the Helen Hayes Theatre). After being delayed by the pandemic, this first Broadway revival of Richard Greenberg's Tony-winning play about what happens when a star baseball player exits the closet is ready to debut. (2st.com)
March 15th: The Minutes (Official opening set for April 7th, 2022 at Studio 54). Tracy Letts' mega-hit from Steppenwolf Theatre Company will be resuming Broadway performances. The play looks at how small-town democracy is not always what it seems, with greed and hypocrisy forming its core—and change possible within "a matter of minutes." (theminutesbroadway.com)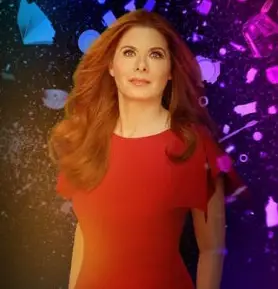 March 18th: Birthday Candles (Official opening set for April 10th, 2022 at the American Airlines Theatre).In playwright Noah Haidle's Broadway debut, actress Debra Messing(Will & Grace) stars as a woman who examines her life from ages 17 through 101, birthday by birthday. (roundabouttheatre.org)
March 29th: How I Learned to Drive (Official opening set for April 19th, 2022 at the Samuel J. Friedman Theatre). Paula Vogel's powerhouse of a Pulitzer Prize-winning drama comes to Broadway with its two original 1997 Off-Broadway stars, Mary-Louise Parker and David Morse. (manhattantheatreclub.com)
April 8th: Beetlejuice (Marriott Marquis Theatre). This wild ride of a musical returns to Broadway bringing with it an edgy and madcap take on life—and afterlife, once the gloriously irreverent and unapologetically scruffy title ghost insinuates himself into the life of "a strange and unusual" teen who has befriended the deceased former owners of her family's new home. (beetlejuicebroadway.com)
OFF-BROADWAY SHOWS: CALENDAR SO FAR
Up & Running
Up & Running: Blackbird (New Ohio Theatre). Powerful, intense, and confrontational, this unforgettable work by David Harrower is set 15 years after Una, age 12, was in a sexual relationship with 40-year-old Ray that ended abruptly. Limited run thru October 3rd. (newohiotheatre.org)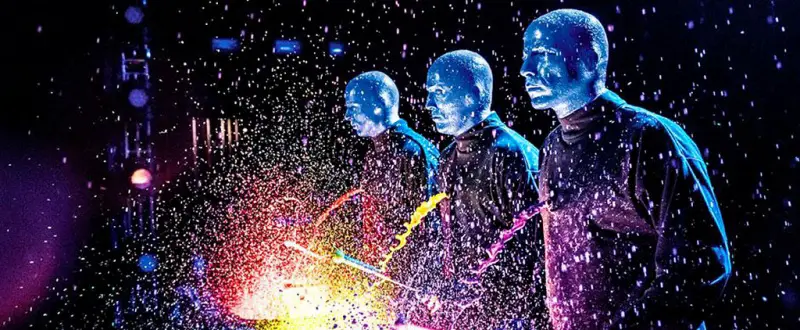 Up & Running: Blue Man Group (Astor Place Theatre). No plot, dialogue, or ripped from headlines drama, just a romp and a half orchestrated by three blue-hued alien dudes. This long-running Off-Broadway show and international sensation combines music, paint drums, snacks, high-tech hijinks, and unpredictable physical comedy. (blueman.com)
Up & Running: The Book of Moron (Official opening was August 29th at the SoHo Playhouse). In this new comedy, playwright Robert Dubac stars as an everyman who's been "brainwashed by a culture that worships image over character, delusion over truth, and selfies over self-effacement." Question is, can he snap out of it? Limited run thru October 3rd. (robertdubac.com)
Up & Running: Case Closed: The Dorian Corey Story (Gene Frankel Theatre). This surreal murder mystery with a comedic twist by Jeffery S. Jones is set in 1967 NYC and involves the true story of female impersonator Dorian Corey and some of the colorful characters she called family. Limited engagement thru October 10th. (genefrankeltheatre.com)
Up & Running: A Commercial Jingle for Regina Comet (Official opening is September 27th at DR2Theatre). The first new musical to hit NYC's theatre scene since the shutdown, the show follows two nobody jingle writers who are given a chance for something big when a bold name pop star taps them to pen a jingle for her new perfume. Limited engagement thru November 14th. (reginacomet.com)
Up & Running: Critical Care, or Rehearsals for a Nurse (Various venues throughout the five boroughs). A wonderfully fun original new musical that tells the story of a young person studying to be a nurse who, in order to pay for tuition and books, takes a job in a nursing home. Limited run thru thru September 12th. (theaterfothenewcity.net)
Up & Running: Friends! The Musical Parody (Jerry Orbach Theater at the Theater Center). The title says it all. "Emerging from the pandemic with a show like Friends! The Musical Parody couldn't be more fitting and exciting" says Alison Spiriti, Partner and Co-Founder of Right Angle Entertainment. Limited run thru September 19th. (ticketmaster.com)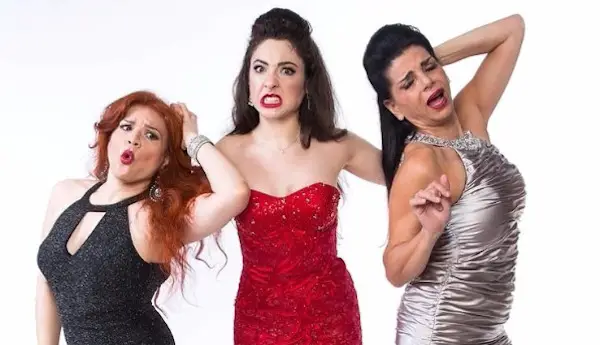 Up & Running: Housewives of Secaucus: What a Drag! (Actors Temple). The absolute must-see lip sync musical for anyone who loves "drag, reality TV, reunion shows and 1980s girl power anthems"—and, of course, over-the-top spoofs. (telecharge.com)
Up & Running: The Last of the Love Letters (Atlantic Theater's Linda Gross Theater). Two people contemplate the thing they love most and whether to stick it out or to leave it behind. To stay. Or to go. Limited run thru September 26th. (atlantictheater.org)
Up & Running: Letters of Suresh (Official opening on October 4th at Second Stages' Tony Kiser Theater). Award-winning playwright Rajiv Joseph's companion piece to his Animals Out of Paper offers a series of letters between strangers, friends, daughters, and lovers—many with little in common but a hunger for connection. (2ST.com)
Up & Running: Merry Wives (Delacorte Theater in Central Park). Free Shakepeare in the Park is back with a revisionist adaptation of the Bard's Fallstaffian farce, transplanting the action to South Harlem and a wonderfully eclectic community of West African immigrants. Limited engagement thru September 18th. (publictheater.org)
Up & Running: My Mother's Severed Head (Theatre Row, Theatre One). Family chaos is central to this deliciously bizarre comedy that unfolds around the decapitated—albeit chatty—mom head, as father and son go at each other. Produced by actor Bruce Willis and The Burgess Group, the show's limited run ends on October 2nd. (bfany.org/theatre-row)
Up & Running: Persuasion (Connelly Theater). Jane Austen's final novel is set in the aftermath of the Napoleonic wars and centers on a shy spinster as she attempts to win back the man she jilted eight years earlier. Limited engagement thru October 31st. (connellytheater.org)
Up & Running: Rumpelstiltskin (Puppetworks—Park Slope). Adapted for marionettes, the classic fairy tale follows a funny little man who spins straw into gold for the miller's daughter, earning her a marriage proposal from the prince. For the little man's magical gift, she's promised him anything, but is shocked when he asks for her first born. (puppetworks.org)
Up & Running: Sanctuary City (Lucille Lortel Theatre). In the return of Pulitzer Prize winner Martyna Majok's Sanctuary City—derailed by the pandemic—a couple of DREAMers with a powerful bond, coupled with a fierce desire to make lives for themselves in America, face the question: What are we willing to sacrifice for someone we love? Limited run thru October 10th. (nytw.org)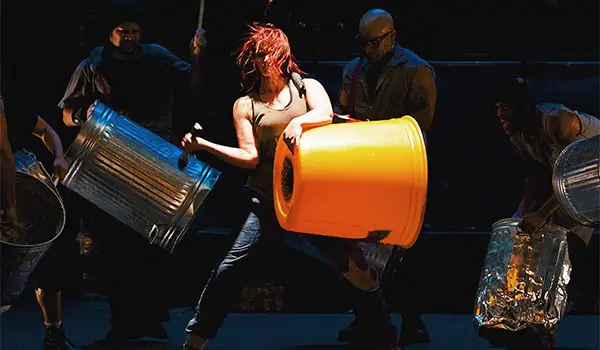 Up & Running: Stomp (Orpheum Theatre). "For us, Stomp has always been about connecting with the audience, having a shared experience with them and celebrating rhythm together. We can't wait to bring Stomp and New York audiences back together again," says show co-creators Steve McNicholas and Luke Cresswell. Clearly, the exuberance of cacophony has returned. (stomponline.com)
Up & Running: The Waterman (Players Theatre). From the musical theater troupe Ticket & Thistle, this new folk rock-scored show centers on the conflict between the peaceful Water People and the polluting Land Men. Enter half-fish, half-man secret agent "The Waterman" who saves the day. (thicketandthistle.org/waterman)
Up & Running: Yeah, But Not Right Now (Official opening is September 19th at the SoHo Playhouse). In this one-man musical by Broadway's A.J. Holmes, the author/actor serves up his lies, indiscretions, and assorted humiliating parts—aspects of his ego-driven self. Along the way, his constant need for validation is addressed, as he seeks to win the affection of the audience. Limited run thru October 17th. (sohoplayhouse.com)
Up & Running: Curtain Up! (Times Square). This free three-day outdoor festival celebrates Broadway's new and returning shows with interactive experiences, panels, live concerts, and performances, culminating in a concert celebrating the entirety of the Broadway industry. Playbill, in partnership with The Broadway League, the Times Square Alliance, and title sponsor Prudential, are the forces behind this not-to-be-missed event that runs from September 17th thru September 19th. (playbill.com/curtainup)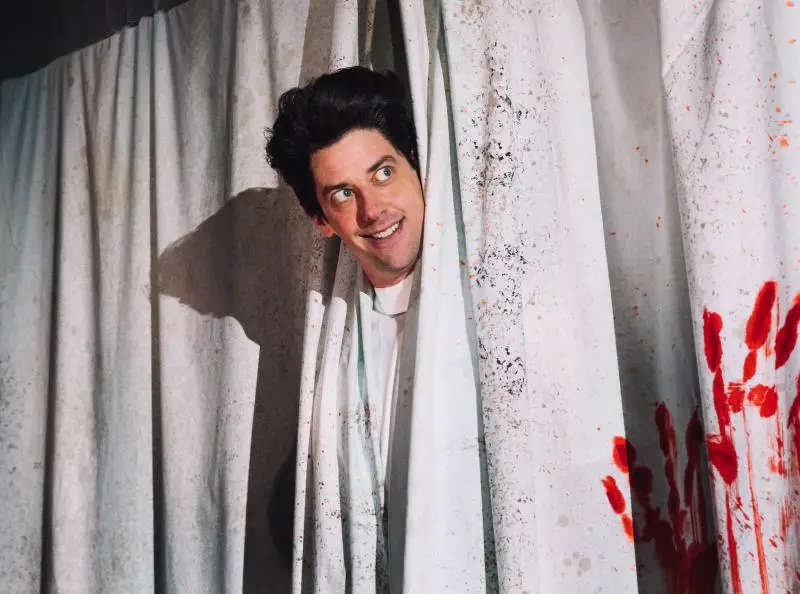 Photo by Emilio Madrid-Kuser.
September 21st: Little Shop of Horrors (West Side Theatre). The wildly acclaimed musical revival is back with Emmy-winning leading lady Tammy Blanchard and two-time Tony winner Christian Borle. Tony nominee Jeremy Jordan (Newsies) joins them as hapless flower-shop employee, Seymour, trapped under the blood-thirsty fronds of Audrey II. (littleshopnyc.com)
September 22nd: Between The Bars (Official opening is September 23rd at HERE Arts Center). Inspired by true events, the play follows five inmates and their emotionally charged meetings with their loved ones and exposes the reality of our American jail system. Limited run thru October 30th. (betweenthebarsplay.com)
September 22nd: Chasing Jack (Official opening is September 29th at the Jerry Orbach Theater). The title character is a heart surgeon whose gambling addiction has landed him in a courtroom where a malpractice lawsuit threatens his career. The trial unfolds in real time for a true theatrical thrill-ride. (chasingjacktheplay.com)
September 22nd: The Wayward Daughter of Judah the Prince (Theater for the New City). When the learned daughter of a VIP Talmud scholar takes up with her Christian slave girl, all philosophical, religious, familial, and emotional hell breaks loose leading to "a sort of Thelma and Louise in the Roman Empire." Limited run thru October 10th. (theaterfrthenewcity.net)
September 24th: What to Send Up When It Goes Down (Playwrights Horizons Mainstage). A play, ritual, and home-going celebration that bears witness to the physical and spiritual deaths of Black people as a result of racist violence, this new work by Aleshea Harris arrives following a sell-out run at the Brooklyn Academy of Music this summer. Limited run thru September 17th. (playwrightshorizons.org)
September 26th: The Pitch (Jerry Orbach Theater at the Theater Center). A baseball-themed story about a cynical, retired sportswriter who is recruited to collaborate with a young sportswriter on a biography of an obscure pitcher who threw one thrilling pitch for the New York Yankees in 1973. Limited run thru November 14th. (thepitch-theplay.com)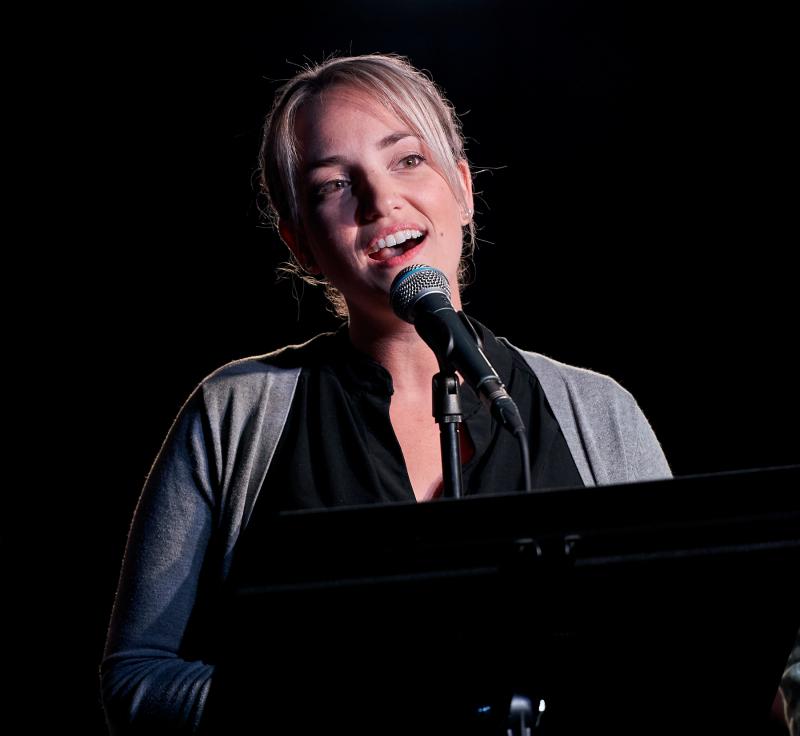 September 28th: Brilliant (Theatre Row). This world-premiere musical by Dani Tapper centers on a mother with an atypical son whose disruptive behavior forces her to make a decision that will affect his future and their relationship. Limited run thru October 2nd. (brilliantthemusical.com)
October 4th: The Visitor (Official opening November 4th at the Public Theater). Based on the indie film, this new musical is about friends and lovers caught between two worlds. Limited run thru November 21st. (publictheater.org)
October 8th: Autumn Royal (Official opening is October 18th at Irish Repertory Theatre's Francis J. Greenburger Mainstage). A dark comedy set in Ireland, the story centers on a pair of siblings who have been caring for their ill father to the point where they need to decide whether to stay or move on with their own lives. Limited run thru November 21st. (irishrep.org)
October 8th: The Fever (Minetta Lane Theatre). Playwright/actor Wallace Shawn (My Dinner with Andre; Young Sheldon), poses the question "What's the cost of comfort?" in this work capturing the crisis of conscience of a privileged American traveler visiting a war-torn country. Starring Lili Taylor (Six Feet Under). Limited run thru October 24th. (audible.com/minettalane)
October 9th: Gazillion Bubble Show (New World Stages). A family phenom for your family from the Yang family of bubble virtuosos. "We are so thrilled to be bringing bubbles back to the stage and smiles to our audiences," says master bubble maker Melody Yang. (telecharge.com)
October 10th: The Essence (Official opening set for October 17th at the WP Theater). Subtitled A Yiddish Theatre Dim Sum, this fast-paced comedy introduces audiences to Yiddish language and culture via scenes, sketches, and songs in Yiddish (accompanied by English supertitles). Limited run thru December 23rd. (yiddishessence.com)
October 12th: Morning Sun (New York City Center—Stage I). An all-star cast that includes Tony winner Blair Brown, Emmy winner Edie Falco, and Tony nominee Marin Ireland take the stage in this world-premiere production about mothers and daughters, beginnings and endings in New York City. (manhattantheatreclub.com)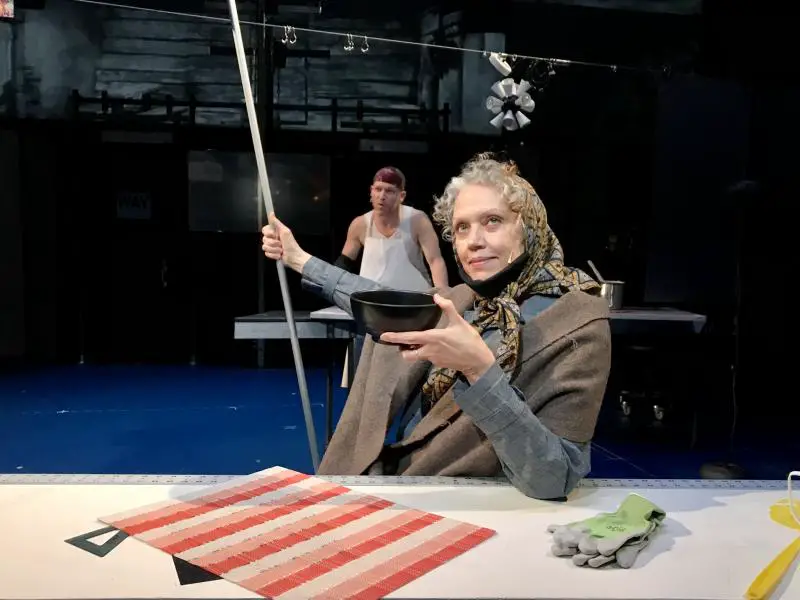 Photo by Michaela Murphy.
October 12th: The Mother (Official opening set for October 26th at the Performing Garage). Incorporating new music by composer Amir ElSaffar, the Wooster Group's modern American take on Bertolt Brecht's 1932 play evokes parallels between today's political unrest and the socialist revolutions that inspired Brecht. Limited run thru November 6th. (thewoostergroup.org)
October 14th: Fairycakes (Greenwich House Theater). Douglas Carter Beane's mash up of A Midsummer Night's Dream and classic fairy tales features a killer cast of Broadway's funniest people, including Julie Halston (Tootsie), Jason Tam (Be More Chill), Jackie Hoffman (Fiddler on the Roof in Yiddish), and Brooks Ashmanskas (The Prom). Limited engagement thru January 2nd, 2022. (fairycakestheplay.com)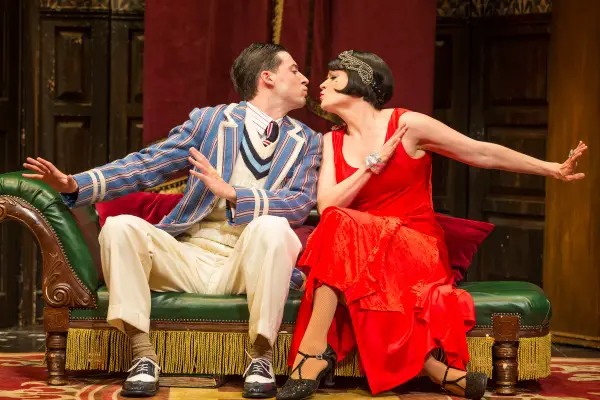 Photo by Jeremy Daniel.
October 15th: The Play That Goes Wrong (New World Stages). A madcap hybrid of Monty Python and Sherlock Holmes, this award-winning comedy is bringing down the house—literally—Off-Broadway. It's opening night of The Murder at Haversham Manor where an unconscious leading lady, corpse that can't play dead, and actors who trip over everything are only some of the hilarious mishaps. (broadwaygoeswrong.com)
October 15th: Tammany Hall (Official opening night is November 2nd at SoHo Playhouse). Site specific takes on new meaning in this immersive production unfolding in a building that may well have been a backdrop for the sort of intrigue, scandal, romance, and corruption surrounding NYC during the Prohibition Era. It's November 2nd, 1929, and prominent figures of the day are ready to mingle as Follies rehearsals take place onstage and drinks are served at the underground speakeasy. (sohoplayhouse.com)
October 15th: Ursula Eagly: The Nature of Physical Reality (Abrons Arts Center). A solo performance for an audience of one, the work uses shifts in energy, light, and sound to bend perception and create experiences of synesthesia. Limited run thru December 18th. (abronsartscenter.org)
October 20th: Morning's At Seven (Theatre at St. Clements). Paul Osborn's classic ensemble comedy centers on four aging Midwestern sisters and what happens when two of them opt to carpe diem before it's too late. Featuring a cast of theatre, TV, and film legends including Tony Roberts, Lindsay Crouse, Dan Lauria, Judith Ivey, John Rubinstein, and Patty McCormack. Limited run thru January 9th, 2022. (morningsat7.com)
October 21st: Nollywood Dreams (Official opening on November 11th at MCC Theater's Newman Mills Theater). Set in Lagos, Nigeria in the 1990s, Jocelyn Bloh's comedy centers on an aspiring ingenue whose audition for Nigeria's hottest director morphs into competitive tension and a potential love affair. Limited run thru November 28th. (mcctheter.org)
October 25th: Trevor (Official opening on November 10th at Stage 42). In this timely musical, 13-year-old Trevor struggles with what it means to become a teenager, including the challenges of harnessing his imagination and homing in on just how to fit in. (trevorthemusical.com)
October 26th: A Turtle on a Fence Post (Official opening on November 14th at Theater 555). Inspired by true events, this new musical comedy centers around a prominent New Yorker who's thrown into an unknown world by New York's most powerful man, and how the experience changes him and those around him. Limited run thru January 2nd, 2022. (turtlemusical.com)
November 2nd: Cullud Wattah (Official opening November 17th at the Public Theater). Erika Dickerson-Despenza's new Afro-surrealist play about three generations of Black women living through the current water crisis in Flint, Michigan. Limited run thru December 5th. (publictheater.org)
November 4th: The Dark Outside (Theater for the New City). Celebrated playwright Bernard Kops' play zeroes in on a family trying to keep it together as the world outside deals devolves. Starring Austin Pendleton and Katherine Cullison. Limited run thru November 28th. (theaterforthenewcity.net)
November 5th: Kimberly Akimbo (Official opening December 8th at Atlantic Theater Company's Linda Gross Theater). In this world premiere musical, Jersey teen Kim has an aging disease that has her looking like she's 72. Still, she's determined to find happiness despite family secrets, borderline personalities, and possible felony charges. Limited run thru December 26th. (atlantictheater.org)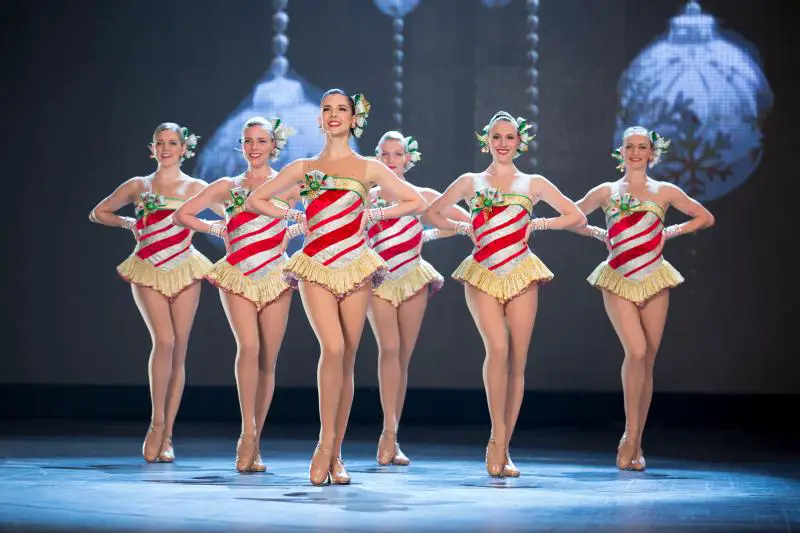 November 5th: Radio City Christmas Spectacular (Radio City Music Hall). 'Tis the season for New York's most iconic holiday show starring the world-famous Rockettes. From traditional numbers, like their March of the Tin Soldiers to jaw-dropping high-kicks against a technological fairyland of lights and special effects, The Christmas Spectacular is once again the season's most phenomenal must-see! Limited run thru January 2nd, 2022. (rockettes.com/christmas/)
November 10th: A Girl Is a Half-Formed Thing (Official opening November 18th at Irish Repertory Theatre's W. Scott McLucas Studio Stage). Based on the novel of the same name, the play tracks the inner narrative of a young girl, from birth to age 20, who's determined to make sense of the world around her despite growing up in Catholicism and poverty. Limited run thru December 12th. (irishrep.org)
November 11th: A Sherlock Carol (New World Stages). A coming together of Arthur Conan Doyle's super sleuth and Charles Dickens's famous seasonal story equals a theatrical tale surrounding the Christmas Eve demise of Ebenezer Scrooge. Suspenseful, heartwarming, and family-friendly! Limited run thru January 2nd, 2022. (asherlockcarol.com)
November 17th: Selling Kabul (Playwrights Horizons' Jay Sharp Theater). With shattering precision, Sylvia Khoury's thriller traces the human cost of immigration policy and the overlooked legacy of America's longest—and ongoing—war. Limited run thru December 23rd. (playwrightshorizons.org)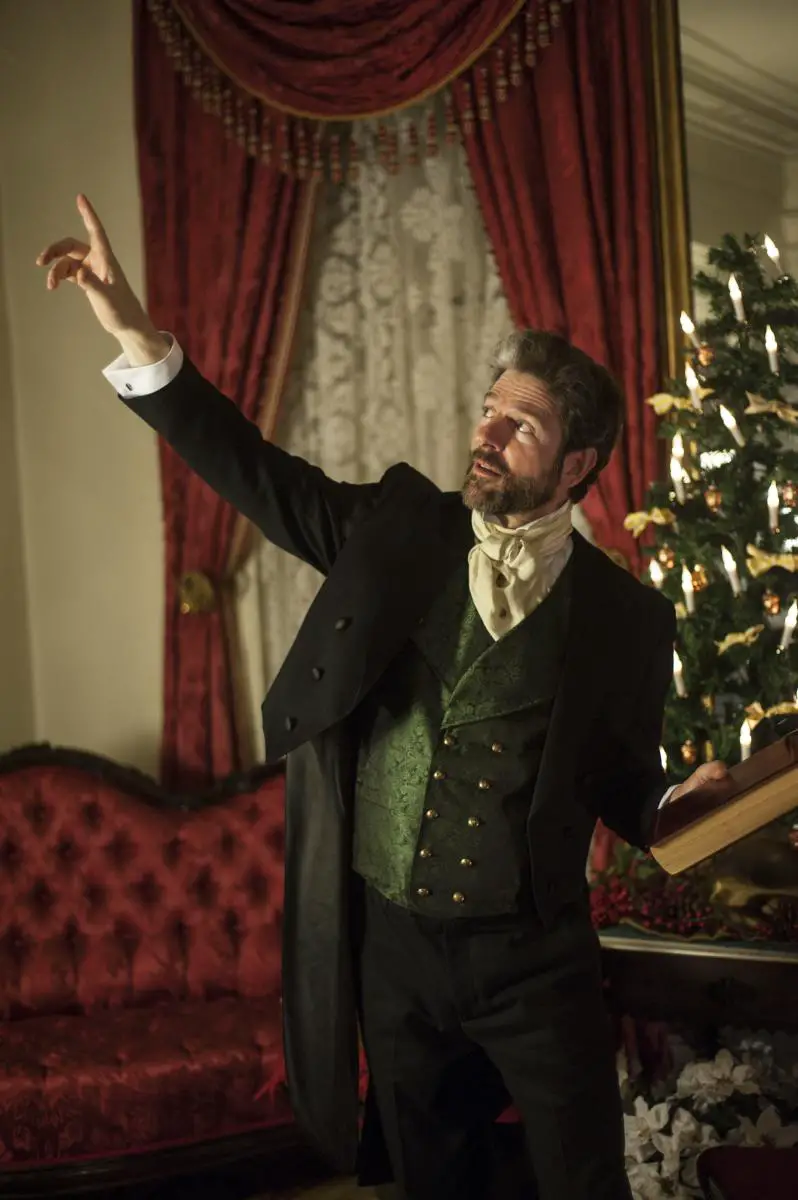 December 1st: A Christmas Carol (Merchant's House Museum). Join 19th-century author Charles Dickens as he brings to life his iconic yuletide tale. Adding authenticity to the experience is the site-savvy 1832 venue, graced with Victorian furnishings, holiday trimmings, and candlelight. Bonus: Friday & Saturday performances December 21st-28th include A Holiday Reception with Mr. Dickens. Limited run thru December 31st. (summonersensemble.org)
December 1st: Dick Rivington & The Cat! (Abrons Art Center). ONEOFUS/The Panto Project is back with a fab family holiday show set in NYC following the adventures of a young immigrant and kitty companion. This rags-to-riches tale comes to life with pop music, dance, and wild and wacky humor. Limited run thru December 23rd. (abronsartscenter.org)
December 4th: The Streets of New York (Official opening December 14th at Irish Repertory Theatre's Francis J. Greenburger's Mainstage). Irish Rep's holiday show is based on Dion Boucicault's 18th century play of the same name, featuring an adaptation, songs, and direction by Charlotte Moore. Limited run thru January 30th, 2022. (irishrep.org)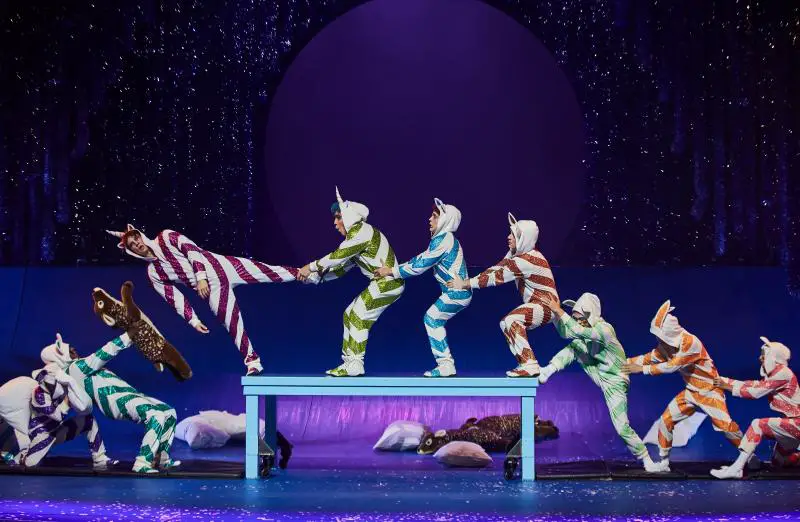 December 9th: 'Twas the Night Before…(Hulu Theater at Madison Square Garden). Cirque du Soleil's first holiday show is back—finally—after selling out to enthusiastic crowds in 2019. A message of sharing a friendship is delivered courtesy of delightful characters that come alive with Cirque's unique and breathtaking magic. Limited run thru December 27th. (msg.com/cirque)
January 6th: I Just Want to Tell Somebody (Theater for the New City.) Ronald Smokey Stevens has adapted his autobiographical novel into a one-man, two-character show dramatizing his lifelong battle with drugs while walking audiences through moments in theatre history that marked his triumphs. Limited run thru January 23rd, 2022. (theaterforthenewcity.net)
January 12th: SHHH (Atlantic Stage 2). In this world-premiere play, Penny flirts at an anatomy museum, Kyle tells stories of dismemberment, and Sally serves tea and biscuits, while Shareen whips up a mysterious potion. All in all, a unique combo plate of kink, trauma, pleasure, and revenge. Limited run thru March 13th (atlantictheater.org)
January 12th: Tambo & Bones (Playwrights Horizons' Mainstage Theater). In Dave Harris's world premiere work, two characters trapped in a minstrel show formulate an escape plan leading to a hip-hop journey that roasts America's racist past and explodes its post-racial future. Limited run thru February 20th, 2022. (playwrightshorizons.org)
January 12th: Under the Radar Festival (Public Theater). Now in its 18th Edition, this iteration's highlights include performances by the Devised Theater Working Group, who have been developing projects for the past two years. Limited run thru January 23rd.(publictheater.org)
February 3rd: English (Atlantic Theater Company's Linda Gross Theater). In an Iranian classroom, a handful of adult students are prepping for the Test of English as a Foreign Language. But the word games, listening exercises, and show-and-tell sessions just might be splitting them in half. Limited run thru March 13th. (atlantictheater.org)
February 3rd: sandblasted (Vineyard Theatre). Angela and Odessa are on a sandy search for something that might not be real in this theatrically daring story of waiting and hoping and time and healing by Paula Vogel Playwriting Award winner Charly Evon Simpson. Limited run thru March 13th, 2022. (vineyardtheatre.org)
February 21st: Dance of Death (Theater for the New City). Strindberg's two-part masterpiece is being presented together for the first time in North America by August Strindberg Rep. The play is a study of virulent marital dysfunction and bitter regret delivered with enduring theatrical passion. Limited run thru March 13th, 2022. (theaterforthenewcity.net)
April 13th: Wish You Were Here (Peter Jay Sharp Theater). It's 1978 and protests are breaking out all across Iran, encroaching on a suburb and its tight-knit circle of friends. With wit and humanity, Iranian-American playwright Sanaz Toossi chronicles a decade of life during war. Limited run thru May 22nd, 2022. (playwrightshorizons.org)
April 25th: Committed (Peter Jay Sharp Theater, Theater for the New City). A work of historical fiction about the last two days of controversial Dutch filmmaker Theo Van Gogh's life. Natalie Menna's play explores the collision of an artist's temperament and unyielding vision with modern political realities. Limited run thru May 15th, 2022. (theaterforthenewcity.net)
April 26th: Golden Shield (Official opening night is May 17th, 2022 at New York City Center—Stage I). When American lawyer Julie Chen files a class-action lawsuit involving a multinational technology corporation and the Chinese government, she hires her strong-minded sister as her translator. But what compromises will they make in order to win? (manhattantheatreclub.com)
April 30th: The Bedwetter (Official opening night is May 23rd, 2022 at Atlantic Theater Company's Linda Gross Theater. Based on the bestselling memoir of the same name, this new musical zeroes in on 10-year-old Sarah whose secret shame is spelled out in the title. Limited run thru JUne 19th, 2022. (atlantictheater.org)
June 2nd: Corsicana (Playwrights Horizons; Mainstage Theater). In this world premiere production, a woman with Down syndrome and her brother find themselves unmoored following their mother's death. Enter a close family friend who introduces them to a recluse artist and a story unfolds about caretaking and caregiving. Limited run thru July 10th, 2022. (playwrightshorizons.org)
SHOWS NOT RETURNING TO BROADWAY
Frozen
Hangmen
The Inheritance
Mean Girls
A Soldier's Play
West Side Story
Who's Afraid of Virginia Woolf