A shiny New Year has arrived, urging us to plunge (headlong or otherwise) into our annual list of resolutions. Dieting and de-cluttering aside, I recommend tackling the fun stuff first, especially the resolve to up our live entertainment ante—New York City theatre in particular. And as it happens, January is the perfect jumping off point. In fact, with seasonal shoppers and Times Square revelers heading home, this is prime time to ditch the winter chill factor and cozy up to some of Broadway's best, including the Tony winning musicals The Book of Mormon, Chicago, Dear Evan Hansen, Hadestown, The Lion King, Oklahoma!, and The Phantom of the Opera.
Credit: © 2019, Joan Marcus.
Naturally, this is only a partial list of the high-profile Broadway shows playing to standing ovations every performance. Original musicals like Aladdin, Come From Away, Frozen, Mean Girls, and Wicked continue to amass must-see accolades, as does an electrifying trio of jukebox musicals: Ain't Too Proud—The Life and Times of the Temptations, Jagged Little Pill, and TINA: The Tina Turner Musical.

Also worth checking out are the two Broadway previews currently underway. First off comes the big buzz revival of the Jerome Robbins/Arthur Laurents/Leonard Bernstein/Stephen Sondheim classic, West Side Story. Jettisoning the show's original choreography is that of Anne Teresa De Keersmaeker, whose work has been breaking new artistic ground since 1980. The all-new production is directed by Tony winner Ivo van Hove (A View from the Bridge) and features a predominantly young cast, 23 of whom are making their Broadway debuts.
The second preview is My Name Is Lucy Barton, a solo show adapted for the stage by Rona Munro from the bestselling novel by Pulitzer Prize winner Elizabeth Strout. The play stars Laura Linney, whose awards, four Emmys and two Golden Globes—alongside three Oscar and four Tony nominations—confirm her status as an actor of exceptional gifts and emotional range. To see her in a one-woman performance that has been described as "luminous" is clearly an opportunity not to be passed up.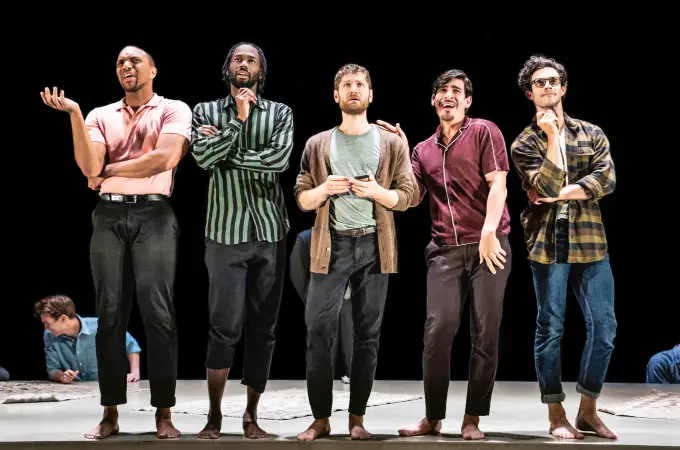 Jordan Barbour, Darryl Gene Daughtry Jr., Kyle Soller, Arturo Luís Soria, and Kyle Harris in Matthew Lopez's The Inheritance. Photo by Matthew Murphy.
In casting news, Tony Goldwyn will take on the role of Henry Wilcox in The Inheritance for a limited stint that began January 5th. He'll be filling in for Tony winner John Benjamin Hickey, who is taking a planned leave of absence to direct Neil Simon's Plaza Suite starring Emmy winner Sarah Jessica Parker and her husband, Tony winner Matthew Broderick (previews set to begin mid-March). Goldwyn, last seen on Broadway in last season's Network with Bryan Cranston, has a massive bio that includes such TV work as Scandal, Chambers, and From the Earth to the Moon, and films like Ghost, Divergent, and The Pelican Brief.
The acclaimed production, like the Tony-winning hit Harry Potter and the Cursed Child, is presented in two separate parts that can be booked back to back or on separate days. As for its storyline, the play is a 21st-century re-envisioning of E.M. Forster's Howard's End by playwright Matthew Lopez. Set in Manhattan, The Inheritance mesmerizes with dynamic performances and compelling direction by Tony and Olivier Award winner Stephen Daldry (Billy Elliot; The Crown)
Off the Great White Way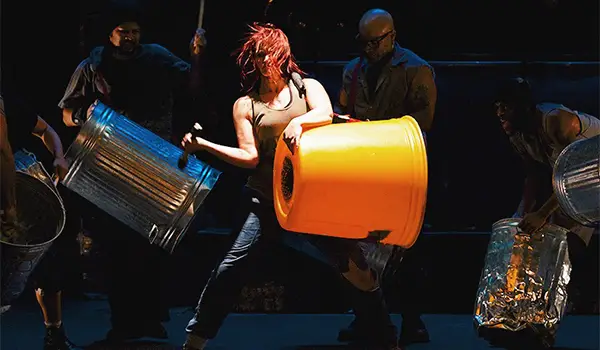 As you might have guessed, January also amasses points for being a terrific time to explore the city's sizable collection of Off-Broadway shows, starting with three long-running, family-friendly, highly original productions: the wildly funny, buoyantly messy, techno-surreal Blue Man Group; the percussion-savvy Stomp, with its cacophony of rhythms and seismic choreography (above); and the Gazillion Bubble Show, where visual razzle-dazzle comes wrapped in mondo-bubbles, cool special effects, and post-show photo ops.
Of the newer shows to catch, the spotlight is on several, including Little Shop of Horrors starring Emmy winner/Tony nominee Tammy Blanchard, Tony winner Christian Borle (Something Rotten!), and Tony nominee Jonathan Groff (Hamilton). FYI, Groff will be leaving the show on January 19th, his replacement being Tony nominee Gideon Glick, one of his costars in the original production of Spring Awakening. Glick, who originated the role of Dill Harris in the Broadway production of To Kill a Mockingbird on Broadway (currently starring Ed Harris), will begin Little Shop performances on January 21st.
While West Side Story has locked down Broadway when it comes to redefining Shakespeare's Romeo and Juliet, on January 14th, A.R.T./New York Theatres is launching the spoof Romeo & Bernadette, in which a misguided Romeo finds himself in 1960s Brooklyn chasing the daughter of a mob boss.
Aline Mayagoitia in a scene from Forbidden Broadway:The Next Generation at the Triad Theatre. Photo by Carol Rosegg.
And speaking of spoofs, get ready for the return of a bona fide NYC favorite: Forbidden Broadway: The Next Generation. Taking up residence at its new York Theatre Company home on January 15th, this proven crowd pleaser by Tony winner Gerard Alessandrini takes aim at the best of the best, from Hamilton to Hadestown, Billy Porter to Bette Midler…nothing and no one is sacred in this white-hot revue!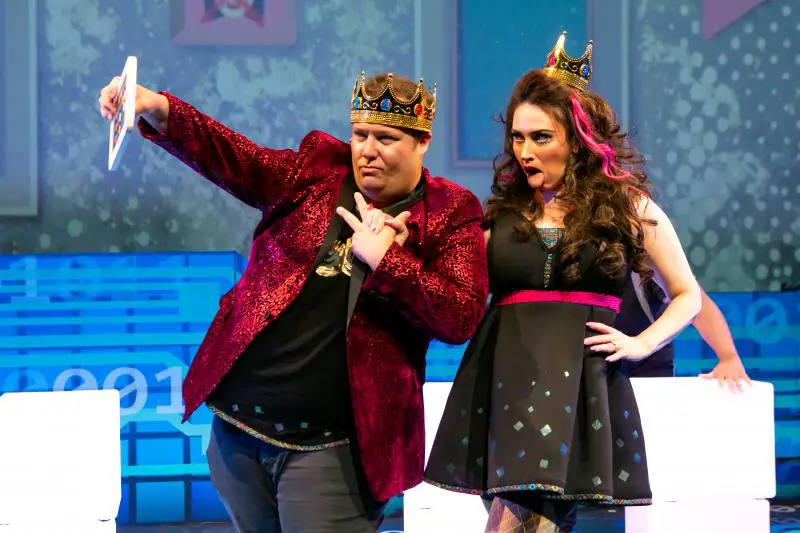 You'll heart Josh Lamon and Lesli Margherita in Emojiland at The Duke on 42nd Street. Photo by Jeremy Daniel.
Finally, get ready for a truly unique and timely new musical in which your favorite text addendums come to life. Welcome to Emojiland, a neighborhood populated by familiar Emoji characters (i.e., smiley face, princess, policeman, skull, construction worker, and so on) who, it seems, actually have a life outside of text messages. Not only that, they're dealing with all kinds of personal and interpersonal issues. And beware the software! Updates just might demolish their world. A number of first-rate Broadway veterans—including Tony nominee Lesli Margherita (Matilda), make up the ensemble cast that inhabits this funny and surprisingly poignant musical.