Released in 1969, Paul Mazursky's film Bob & Carol & Ted & Alice subtly satirized the "free love" '60s with an up-close look at two couples who decide to try out the era's looser sexual mores for themselves. Now, that exploration is taking place once again—this time on the off-Broadway stage. The New Group's Bob & Carol & Ted & Alice, playing at Signature Theatre, resurrects Mazursky's 1969 film with a nostalgic musical romp that gives the 50-year-old story an entertaining edge.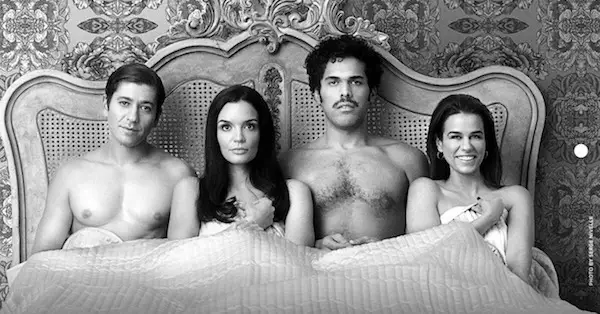 Photo: Serge Nivelle.

Directed by Scott Elliott, Bob & Carol & Ted & Alice centers on documentary filmmaker Bob (Joél Pérez) and wife Carol (Jennifer Damiano), a 30-something California couple whose research trip to a "Human Potential Movement" Institute in Big Sur turns them from skeptics of the Institute's New Age ways into true believers—and instills a newfound sexual openness realized when Bob confesses that he cheated on Carol with another woman. "I really don't feel jealous," Carol admits in response, prompting the couple's awakening. The couple pushes their new non-monogamous ethos on more straitlaced friends Ted (Michael Zegen) and wife Alice (Ana Nogueira), upending Ted and Alice's own marriage—and ultimately leading all four characters into bed with each other during a weekend in Las Vegas.
Jonathan Marc Sherman's book hews closely to the film, with entire scenes and lines of dialogue ripped wholesale from Mazursky and Larry Tucker's screenplay. But the off-Broadway production puts a musical spin on the story, with a scaled-down production that feels at once like a staged musical and an intimate concert—and, despite the subject matter, remains relatively chaste. (The small six-person cast also means that audience members are employed as extras for certain scenes, so those averse to audience participation should avoid sitting in the front row.) Appearing alongside the show's central couples is singer-songwriter Suzanne Vega, who serves as the piece's bandleader and amorphous narrator, commenting on the action through song while stepping in to perform the piece's smaller characters.
Jennifer Damiano, Joél Pérez. Photo by Monique Carboni.
The musical sticks to the original 1969 setting, with an overt sense of nostalgia that revels in '60s aesthetics and cultural touchstones, from the Twist to the counterculture phrase "tune in, turn on, drop out." Jeff Mahshie's spot-on period costumes embrace '60s flair while Derek McLane's set design, anchored by a background of stringed beads (lit in moody tones by lighting designer Jeff Croiter) instills a "groovy" vibe.
But even as it earnestly celebrates the '60s aesthetic, the show takes a more overtly tongue-in-cheek perspective on its characters' exploits than Mazursky's film, casting the characters more distinctly as aging squares desperately trying to be hip with the youths. "I'm the hippest 35-year-old kid you'll ever meet," Bob tells the 24-year-old San Franciscan he cheats on his wife with, for instance, after talking up his "groovy" beads that his "old lady" says all the "hip kids" are wearing now. The stage production plays up the comedy of the couples' sexual exploration, with amusing results—but also a slightly confused tone. For all its entertainment and comedic value, the production seems to lack a clear point of view, muddling earnestness with irony and wanting us to embrace the characters and their emotional journeys while also subtly judging them.
Bob and Carol's transformational trip to Big Sur also kicks the show off on a muddied note, as the characters' enlightening adventure that spurs the rest of the action is presented through a series of fragmented, underdeveloped scenes and overlong musical sequences that serve as a poor introduction to the characters' lives before their big spiritual realizations. But the show clicks into place with the arrival of Ted and Alice, settling into a more comfortable and well-developed structure with the help of Zegen and Nogueira's assured performances.
The talented cast does a lot of the heavy lifting to elevate the show beyond a mere rehash of the film, with strong comedic timing and an easy camaraderie. Zegen—once again finding himself in the '60s after starring in Amazon's The Marvelous Mrs. Maisel—and Nogueira capture Ted and Alice's blend of playfulness and anxiety, and though Pérez and Damiano's performances start off on uneasy footing, stifled by the weaknesses of the opening scenes, they eventually flourish, leaning into the absurdity and comedy of Bob and Carol's new outlook on life while still humanizing them.
Despite its strong performances, however, the piece is somewhat let down by Duncan Sheik and Amanda Green's atmospheric but ultimately unsatisfying score, which has a softcore period feel that lends itself to the production's cool '60s mise en scene. The score does serve the story, letting characters explain their desires and comment on the action, while using music to create a distinct ambience that distinguishes the production from the original film. Yet the unmemorable score pales in comparison to the snappier book scenes, and its function in the show—sometimes extraneous to the action onstage, sometimes integrated into it—feels undefined, trapping the show in a sort of purgatory between a fully fledged musical and a play with music.
Much like its titular characters, Bob & Carol & Ted & Alice suffers from an identity crisis of its own—yet despite their flaws, it's still fun to be with them along for the ride.
---
Bob & Carol & Ted & Alice runs at The New Group through March 22.