Some restaurants in New York City can open a door to another world. Galata is just such a place, where hospitality and authenticity come together for a transportive experience. From an unassuming side street in Midtown East you can access the best of Turkish and Mediterranean cuisine.
The quality of the food belies the moderate prices. Mediterranean cooking is known for being healthy and Galata keeps to that reputation, focusing on fresh ingredients and deft seasoning. To start, the shepherd salad is more than the sum of its parts: cuke, tomato, onion, and pepper, brought together with a tart blend of vinegar and lemon, for a refreshing version of a classic. On the side is a Turkish bread which manages to be both light and crusty. A meze plate will let you sample a run of appetizers, from smoky eggplant salad to fresh mozzarella Caprese to "cigar rolls," stuffed with cheese and parsley.
Signature entrées show off grilling skills, in kebabs, fresh seafood like shrimp or bronzini, and house "meatballs," which bring lamb and beef together into smoky patties that are packed with flavor. Simmered lamb shank, falafel, and homemade Turkish dumplings fill out the offerings.
Worth noting is the weekday lunch special, which attracts local office workers for a two-course $12.95 prix fixe, or set meals combining wraps, French fries, and a soda for $9.25. The meals make a perfect pairing with outings to neighbors like the Morgan Library or the Empire State Building.
The restaurant leans toward the casual side, although there's elegance in details like the glass candleholders on the tabletops, or the slender salt and pepper shakers. The interior has the charm of Istanbul, with accents of stone, copper, and dark wood. A sunny front room gives way to a copper-backed bar and two dining rooms. In back, a fireplace frame nods to the building's history as a century-old tenement.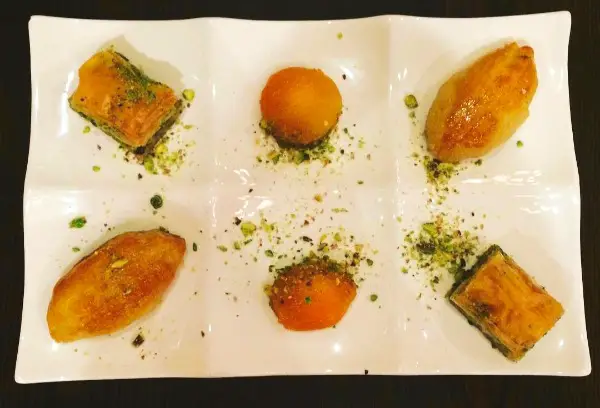 An impressive Turkish coffee setup beckons from behind the bar, but then so do beers on tap, well-selected wines, and a full bar. Do save room for dessert. A case holds mostly house-made treats, with Turkish custard and rice pudding being major draws, joined by cream-stuffed and pistachio-dusted apricots and a honey-drenched baklava. Close your eyes and it will be easy to feel like you're a world away.
212 E. 34th St. (btw. Second & Third Aves.), 212-683-9206, galatany.com