Dining in New York just lends itself to romance. Fine food, sharp service, and sophistication aplenty make it easy to have a special night out. Valentine's Day is no exception, with the city's best restaurants rolling out winter menus for February 2019 that make it hard to narrow down the choices. We've gathered up the best of the best—with surf 'n' turf, Champagne toasts, and chocolate mousse making their way into the mix—for our picks of the best Valentine's Day restaurants in NYC.
Valentine's Restaurants in NYC: Benjamin Steakhouse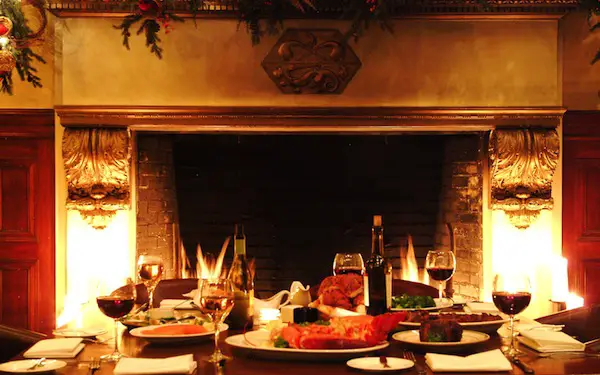 From beautifully marbled cuts of dry-aged beef and succulent seafood to refined service and charm, Benjamin Steakhouse in midtown is perfect for an intimate dinner (there's a reason it's the 2018 Concierge Choice Awards winner for Best Steakhouse). This year's Valentine's Day menu tempts with a spectacular prix fixe. Benjamin dry-ages their meat in their own aging box and you can choose from Porterhouse for two, bone-in rib-eye, Chilean sea bass, or USDA Prime filet mignon (paired with a lobster tail) on the special Valentine's Day prix fixe. Oysters, crab cake, and shrimp cocktail are among the starter options, and there's a champagne toast included as well. 52 E. 41st St., 212-297-9177, benjaminsteakhouse.com
Valentine's Restaurants in NYC: Benjamin Steakhouse Prime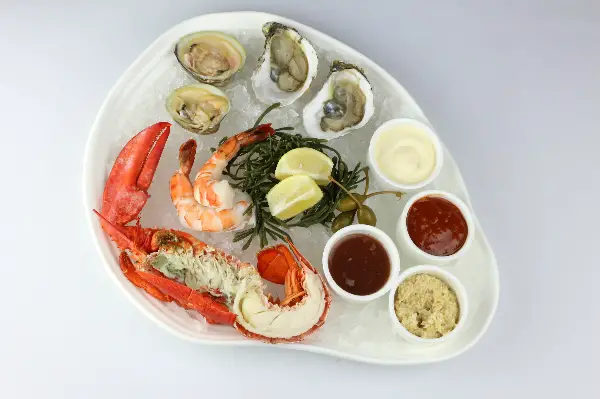 Benjamin Steakhouse's nearby sister spot Benjamin Steakhouse Prime, the 2017 Concierge Choice Awards winner for Best New Restaurant, also has a romantic Valentine's prix fixe dinner. Highlights include options like Blue Point oysters, sizzling Canadian bacon, New York strip loin, and a surf 'n' turf special with filet mignon, lobster, shrimp, king crab, a red wine reduction, bordelaise sauce, and a beurre blanc. Save room: dessert options include New York cheesecake, raspberry white chocolate mousse, and a chocolate mousse cake. The elegant space is conveniently close to Grand Central. 23 E. 40th St., 212-338-0818, benjaminsteakhouse.com
Valentine's Restaurants in NYC: Buca di Beppo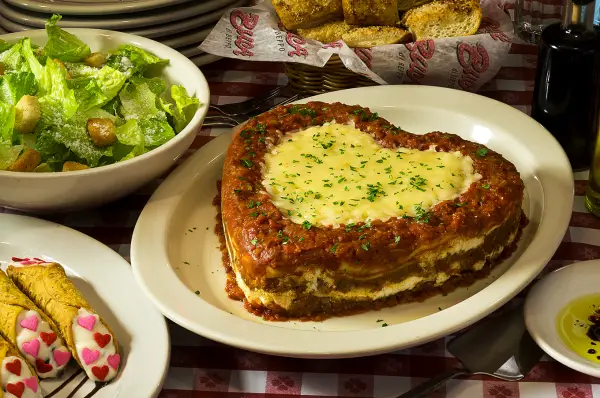 For a mix of fun and warmth (and a good deal), point yourself toward Buca di Beppo for Valentine's Day this year. For just $49.99 for two, enjoy Buca's "Classic Love" package, which comes with the house's famous heart-shaped lasagna, a mixed green or Caesar salad, garlic bread, and three mini cannoli for dessert. Eclectic décor, lively music, and engaging staff all add to the experience. 1540 Broadway, 212-764-6527, bucadibeppo.com
Valentine's Restaurants in NYC: Del Frisco's Double Eagle Steakhouse New York
Del Frisco's Double Eagle Steakhouse New York boasts a multi-level space of wood columns, winding staircases, and exposed wine cellars. This year for Valentine's look for a couple of amazing specials, in addition to the full regular menu, with its signature steaks and seafood, and new wagyu collection. (The award-winning wine list makes for the perfect accompaniment.) For an entree special, look to the 8oz. filet mignon with a butter-poached lobster tail, seared jumbo sea scallop, and grilled asparagus, topped with yuzu hollandaise ($59). A dessert special awaits afterwards, a dark chocolate cheesecake with chocolate-dipped strawberries, white chocolate curls, and warm Godiva chocolate sauce ($17.50). 1221 Ave. of the Americas (entrance on 49th St.), 212-575-5129, delfriscos.com
Valentine's Restaurants in NYC: Fogo de Chão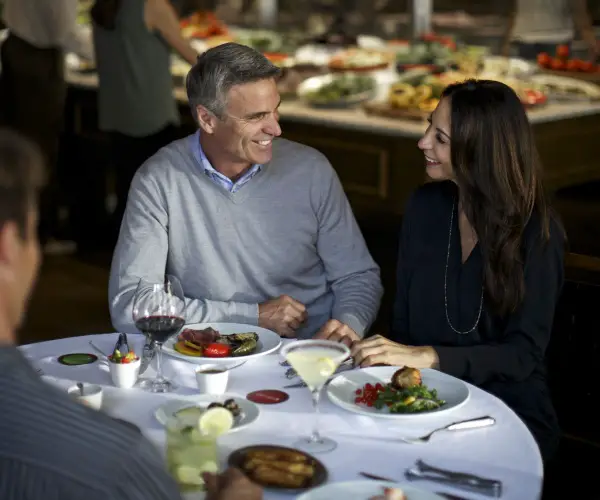 In 1979, Fogo de Chão began sharing the gaucho way of preparing meat in Porto Alegre, Brazil. Today, its gaucho chefs still expertly grill each of its 16 cuts of meat and offer continuous tableside service. For Valentine's Day weekend you'll find traditional Brazilian sides (cheese bread!), a market table and feijoada (stew) bar, and, of course, a selection of fire-roasted meats. Couples dining on between Valentine's Day (Thursday the 14th) and Sunday, February 17th will receive a Valentine's card for a complimentary lunch or dinner on their next visit (with the purchase of a lunch or dinner), whether that's in New York or back home at one of their two dozen-plus other locations (good from February 18th through May 2nd, 2019). 40 W. 53rd St., 212-969-9980, fogodechao.com
Valentine's Restaurants in NYC: Morton's The Steakhouse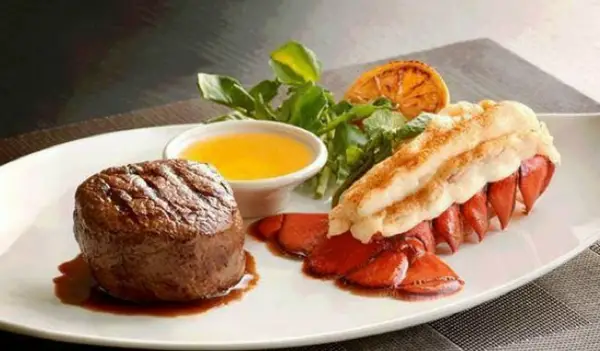 Morton's The Steakhouse manages a perfect balancing act between classic and contemporary. You can see it in the revamped dining room on Fifth Avenue (there's a second location in the Financial District), done up in cosmopolitan blacks and grays, and in the ever-evolving culinary offerings like tuna tacos and miso-marinated sea bass. Morton's serves only the top 2% of beef available in the U.S., so you know you're getting top quality in the center-cut filet mignon or signature cut prime New York strip. All served in serious steakhouse portions. Of course. For Valentine's Day, take advantage of a special "steak & lobster menu"—a succulent 8oz. filet steak topped with whole Maine lobster and Béarnaise sauce. It's just $59 and available on Valentine's as well as the entire week between February 9th and the 16th. (There's a matching cocktail, too: the "Love Struck," which mixes vodka, passion fruit liqueur, cranberry and lemon juice, and a prosecco topping.) 551 Fifth Ave. (on 45th, btw. Fifth & Madison Aves.), 212-972-3315, mortons.com/newyork; also visit their downtown location near the 9/11 Memorial at 136 Washington St., 212-608-0171, mortons.com
Valentine's Restaurants in NYC: Obicà Mozzarella Bar Pizza e Cucina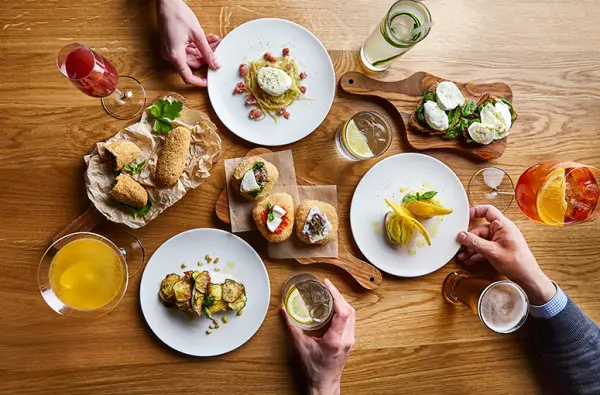 In Neapolitan dialect, the word "obicà" translates as "here it is," and if you're looking for some of the freshest and most authentic Italian in New York City, point yourself to Obicà Mozzarella Bar Pizza e Cucina, where you'll find it served right before your eyes. From Valentine's Day through Sunday, February 17th, don't miss a San Valentino specials menu. Your options include seared branzino with pink pepper, Angus beef tartare, rissoto rosso (beet with blue cheese/Parmigiano fondue), lobster taglierino, shrimp and squid with shishitos and baby artichoke hearts, and Angus filet mignon. Look for panna cotta or a "cuori di cioccolato" (chocolate-almond Caprese hearts) for dessert. Mangia! 928 Broadway, 212-777-2754, obica.com
Valentine's Restaurants in NYC: The Sea Fire Grill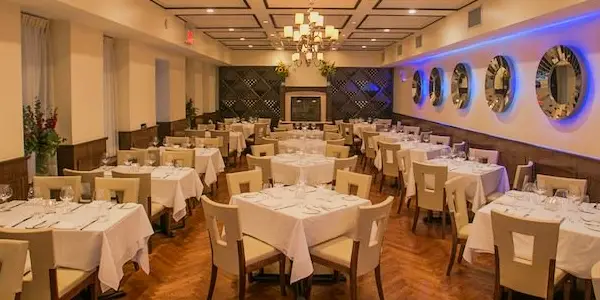 The Sea Fire Grill's superior service, super-fresh seafood, and cosmopolitan vibe make it a great Valentine's destination. A prix fixe brings options like a filet mignon-lobster-shrimp-king-crab surf 'n' turf special, Spanish octopus, oysters on the half shell, roasted branzino, and molten chocolate cake (there's also a champagne toast). 158 E. 48th St., 212-935-3785, theseafiregrill.com
Valentine's Restaurants in NYC: Suzuki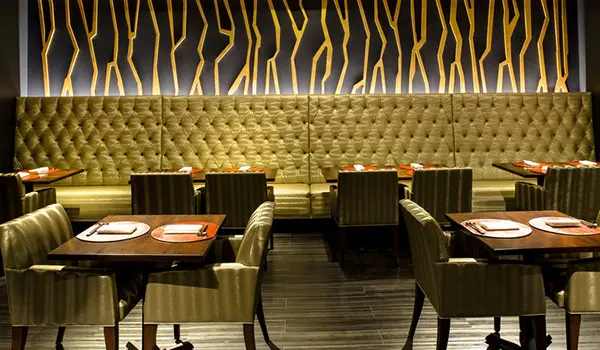 It's always exciting to open up a new frontier of experience, like the Japanese haute cuisine known as kaiseki. Midtown newcomer Suzuki is one of the few places in New York to offer kaiseki, showcasing menus of eight or more interconnected courses. A special Valentine's Week menu will be served starting Monday, February 11th, through Saturday, February 16th. 114 W. 47th St., 212-278-0100, suzukinyc.com
Valentine's Restaurants in NYC: Vida Verde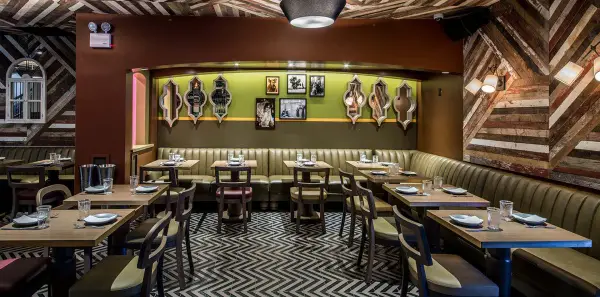 Vida Verde brings the tastes, colors, sounds, and scents of Mexico to Midtown West. For festive nights out, they're extending Valentine's to the entire month of February with a "Singles Fiesta" that includes DJs, drink specials, seasonal decor, and margaritas you'll fall in love. February 14th itself will be a highlight, with a bonanza Valentine's Day. 248 W. 55th St., 646-657-0565, vidaverdeny.com
Valentine's Restaurants in NYC: Woodpecker by David Burke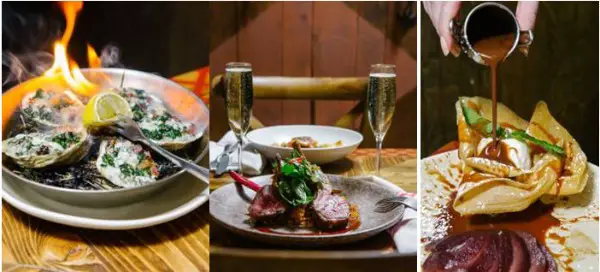 Famed chef, artist, and innovator David Burke will be serving up a romantic three-course Valentine's menu at Woodpecker by David Burke. Cozy up amid warm, candlelit vibes for prix fixe options that include oysters "Rockefeller Style" with spinach and blue cheese, tuna Scottato with blood orange and fennel, hay-smoked lamb chops, and wood-fired branzino. Save room for the Valentine's Day-inspired desserts like poached pear with chocolate sauce. The price is a moderate $75 per person, and a la carte service is available before 7:30pm on the 14th. 30 W. 30th St., 646-398-7664, woodpeckerbydb.com
Valentine's Restaurants in NYC: Zavo
Outstanding fine modern American cuisine with a Mediterranean twist awaits at Upper East Side newcomer Zavo. A stylish scene sets the frame for Valentine's Day where Zavo will be serving an extensive three-course prix fixe. Starters run from salads to salmon crudo to lobster bisque; seafood reappears on the entree list, joined by braised short ribs with burgundy and cherries, brick chicken, and upgrades like filet mignon, lamb chops, and lobster tagliatelle. (You can add to the romance with a "for two" selection like Porterhouse or an "ocean flambe.") Among the dessert selections? The famed "Death by Chocolate Cake" with chocolate ganache, vanilla semifreddo, and candied citrus peel. On Friday, February 15th, look for a special Love Affair performance, complete with romantic aerial acts, live Italian music, and classy old-school burlesque. 1011 Third Ave., 212-753-5500, zavonyc.com
Valentine's Restaurants in NYC: Celtic Developers Group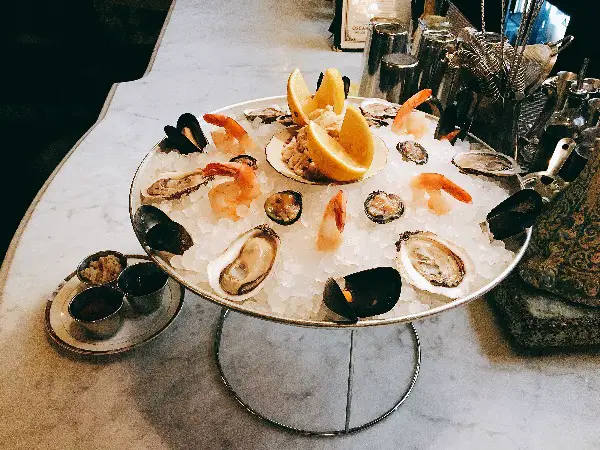 Seafood Tower for Two at Oscar Wilde. Credit: Celtic Developers Group.
Celtic Developers Group owns and operates midtown favorites Oscar Wilde, Lillie's Victorian Establishment, and Papillon Bistro & Bar. For Valentine's Day, Oscar Wilde will be following the theme "Love Conquers All" and serving specials like a Seafood Tower for Two , Maple Leaf Farms duck confit, and a Chocolate Bomb for dessert. At Lillie's in Times Square, you'll find a saffron Maine lobster risotto, and at the Union Square outpost they're introducing their Strawberry Decadence milkshake, which features vanilla ice cream, pound cake, strawberry syrup, and whipped cream topped with strawberries (it will be available the entire month of February).
---
Valentine's on the Water in NYC: Spirit Cruises and Bateaux New York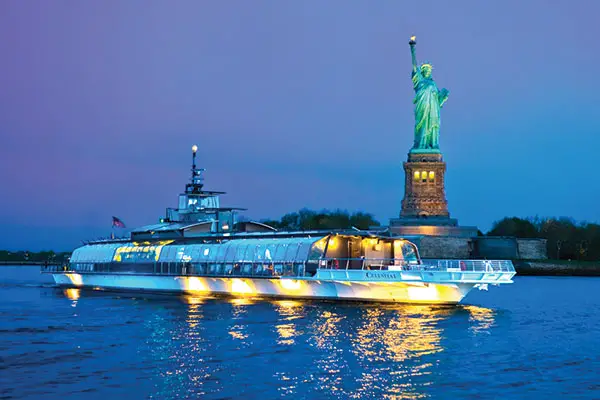 One of New York's most spectacular experiences is getting out on the water with Spirit Cruises and Bateaux New York. Spirit Cruises will celebrate Valentine's Day with three buffet dinner cruises in a row, Thursday the 14th through Saturday the 16th. In addition to three hours of spectacular skylines, you can also enjoy onboard entertainment, including a DJ. Hop aboard the all-glass Bateaux for a Hudson River spin, with plated Valentine's dinner cruises running Thursday the 14th through Saturday the 16th (on Saturday there's also a Valentine's lunch cruise). Bateaux's dinner cruises feature a live band and dance floor, on top of those unforgettable skyline views. Chelsea Piers, Pier 61, near W. 23rd St. on the Hudson. Spirit Cruises, 866-483-3866, spiritcruises.com; Bateaux New York, 866-817-3463, bateauxnewyork.com
Valentine's on the Water in NYC: Circle Line Sightseeing Cruises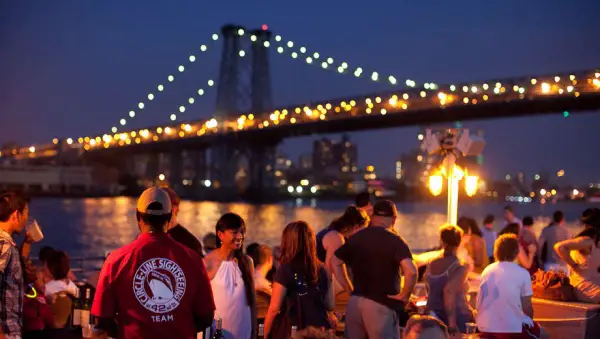 Cruise down the Hudson River this Valentine's Day with someone special and take in the romantically lit New York City Skyline and the Statue of Liberty at night. Circle Line Sightseeing Cruises offers a special "Harbor Lights With Your Honey" ride, with complimentary wine or beer, chocolate-covered strawberries, and more. Tickets are $60. Pier 83, W. 42nd St., 212-563-3200, circleline42.com
Valentine's on the Water in NYC: Hornblower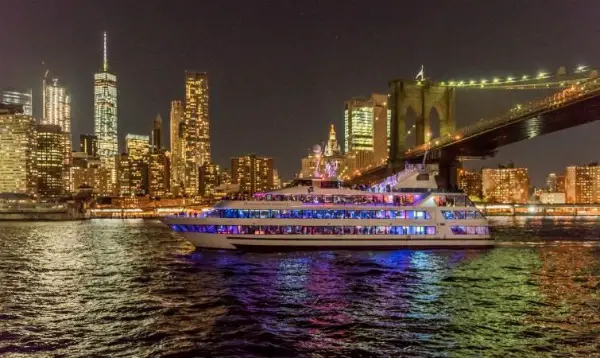 Hornblower has Valentine's cruises, too, the night of the 14th, plus Saturday the 16th, and a Valentine's brunch cruise Sunday the 17th. They also run a Valentine's Happy Hour for Singles aboard Alive After Five, and Vodka Is My Valentine party cruise aboard Rock the Yacht. The Valentine's Day cruise leaves from 353 West St., 646-798-2577, hornblowernewyork.com.
---
Looking for love in the city? Check out the romantic goings-on in Times Square on February 14th. We've got some great Valentine's ideas for couples in New York, too.