National Geographic Encounter: Ocean Odyssey is sure to be a highlight of your family's experience in New York. At this one-of-a-kind experience, you'll walk through chambers full of ocean life, with dazzling images of seals, whales, and all kinds of fish! When you walk out, don't wander around Times Square hungry, frantically searching on your phone for where to eat. Just go to one of these restaurants nearby, all of which are perfect for kids.
Carmine's
What kid doesn't love pasta? Carmine's, the popular Italian eatery just around the corner from Ocean Odyssey, is the perfect place to carbo-load for whatever you have planned next. Favorite dishes include the penne alla vodka, lasagna, and the ultimate classic: spaghetti and meatballs. Be sure to make a reservation, though—this place is like Grand Central West! 200 W. 44th St., 212-221-3800, carminesnyc.com
Dave & Buster's Times Square 
If you have energetic kids who need to blow off steam, take them to Dave & Buster's for arcade games galore. Air hockey, Mario Kart, Dance Dance Revolution, Skee Ball…The list goes on and on. Luckily, you and your family can also fuel up with crowd-pleasers like mini pretzel dogs, chicken fingers, and mac 'n cheese. Get $20 of game play bonus with City Guide's coupon! 234 W. 42nd St., 646-495-2015, daveandbusters.com
Shake Shack
We don't need to tell you about Shake Shack. You've probably already stood in line for a life-changing shake, a burger, or both if you've ever been to New York. Regardless, you won't find much better when it comes to classic American fast-food fare. Go for the Smoke Shack, fries, and a Black and White Shake. Your whole family will leave full and eager to come back. 691 8th Ave., 646-435-0135, shakeshack.com
Heartland Brewery
While the name might steer kids away from Heartland Brewery and Chophouse, the food and atmosphere are well-suited for families, which you'll see plenty of at lunchtime. Have the Kobe beef mini burgers, fried pickles, or sesame wings. On the dinner menu, you've got to go for the Chophouse Burger. 127 W. 43rd St., 646-366-0235, heartlandbrewery.com
Planet Hollywood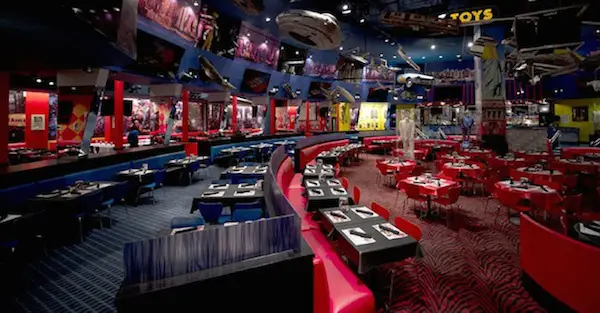 Walk a few steps from Ocean Odyssey to Planet Hollywood. This restaurant is chock-full of costumes, props, and memorabilia from movies like Wayne's World and the original Ghostbusters. Before you take in everything on the walls, order up some fajitas, a blackened burger, a pan pizza, or some crispy and delicious fries. Any or all of these are sure to satisfy your kids—and you! 1540 Broadway, 212-333-7827, planethollywoodintl.com
National Geographic Encounter: Ocean Odyssey is located at 226 W. 44th St. For more information, go to natgeoencounter.com.